To call 2020 a turbulent year for business would be a severe understatement. With an evolving set of rules by various state and local governments, businesses are having to think on their feet and take drastic steps to increase sales to stay afloat.
By August 2020, 29 prominent U.S. retailers filed for Chapter 11. At this speed, the final number for 2020 may rival retailers' bankruptcies following the financial crisis, which set a record with a final score of 48 in 2010.
That is just the tip of the iceberg since the statistic is showing just the big retailers. You also have hotels, gyms, cinemas, barbershops, and many other businesses that were hit hard.
On the other hand, ecommerce is booming. The pandemic accelerated the growth of ecommerce by five years. This is also just a tip of an iceberg, but a much more "positive" one.
4 steps to increase sales
Curious about how to successfully embrace the ecommerce boom to boost your business sales? We'll cover the following tips:
Consider utilizing paid traffic.
Lean into search engine optimization.
Leverage social media marketing.
Focus on optimizing conversions.
Ecommerce is showing us just one side of the digital business, but since the whole world was pushed to shift their work online—every imaginable niche in digital business has experienced growth.
No wonder there is a running joke, "Who did most for the digitalization in your company? COVID."
You cannot ignore the transition. Companies that were mostly "brick and mortar" are taking the important step of creating a new digital pillar to increase sales going forward. Others are abandoning the way they used to work and are putting all resources into their online presence.
The good news is that the barrier of digital entry is low, the bad news is that the competition is increasing. Even more so in times like these.
In this post, we will go over several steps to increase sales in competitive ecommerce markets or, if you are just getting started with online sales, provide some steps to research further.
With introductions behind us, let's get to it!
1. Consider utilizing paid traffic
Let's start with one of the main reasons why digital business is so popular — instant results. With paid traffic, you can create an ad campaign and see it in action in a matter of hours. In this section, we will start with the widely popular traffic sources and cover others that might be under your radar. Rather than repeating the obvious, we would like to give a few tips on steps you can take to increase sales through website traffic and conversions.
Google Ads
No list is complete without the behemoth in paid traffic — Google. If you are moving your business online, this will be one of the first places where you should look for paid traffic sources.
There is a tool that new (and even some advanced users) miss — Google Keyword Planner. Google's goal is to help you spend as much money as possible with them. So they give you a wide range of planning tools and analytics to monitor how your ads are doing and if they are showing at all.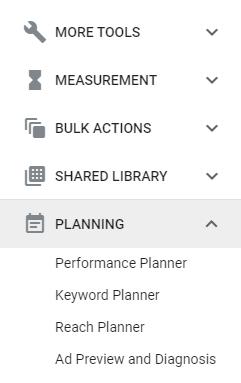 In the Keyword Planner, you may get a lot of new ideas for new keywords to target in your campaigns. These are some of the keyword suggestions for "best socks:"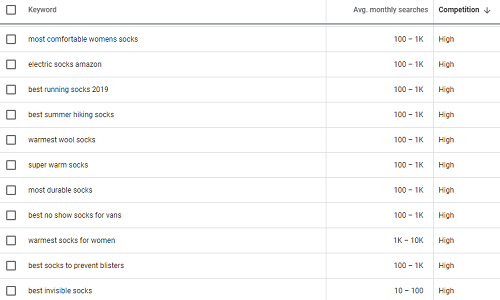 This may serve as an inspiration for new products, but most importantly it will help you to identify new keywords that you can add to your campaigns.
It will help you expand your reach, clicks and — finally — sales.
Facebook
If Google is a powerhouse when it comes to the range and detail of keywords that you can bid on, Facebook does the same, but for "audiences." You can choose among a staggering set of settings to make sure your ad is viewed only by a particular group of people.
First of all, make sure that you chose the goal that you are looking for. Do not set your campaign to traffic when you are looking for conversions. Actually, always go for conversions and set up your Facebook pixel.
This will allow you to build audience data, and later create a "lookalike" audience from people who have not yet clicked on your ads. This will significantly expand your reach without having to spend additional funds on audience testing. You would just replicate your success from the earlier campaign.
One tip that is under the radar, and a step worth trying to increase your sales, is choosing "engaged shoppers" under "behaviors."

This option will target users whose behavior is inclined towards an online purchase, or who recently made a purchase. Just imagine the efficiency of an ad that would target the interest of "fly fishing" combined with "engaged shoppers."
Pinterest
This platform is frequently ignored, even though for some businesses it should be the primary one. If you haven't considered Pinterest as a step to increase your sales—now is the time.
Pinterest has over 320 million users. The vast majority are women from the USA with a household income of $75,000 a year.
If you are in one of the niches favored by the Pinterest audience — fashion, lifestyle, travel, recipes, DIY, design, photography, etc.— you can get paid traffic for as low as $0.10 per click. At the same time you will be growing your account and over time receive more and more organic traffic.
LinkedIn
For many of us, LinkedIn is a platform where we connect with our colleagues. But if you plan to expand your online business and are looking for a good place to get B2B leads, LinkedIn should be a priority. The reason is simple. Linkedin reports that for many businesses in the B2B segment, traffic from LI generates nearly 80% of their leads.
Chances are that you already have a page on LinkedIn. So not only will you receive targeted clicks but you will also be promoting your LinkedIn profile, growing your presence.
Twitter
Twitter has a lot of business potential and it is time to leverage it. When looking for new paid traffic options, Twitter is a strong choice to put into your marketing mix.
Twitter provides you with many targeting options that will set a clear goal for your campaign. In addition to that, you will be growing your Twitter presence in the process.
While Twitter provides a good insight into campaign results and reach, to really leverage the platform you might want to automate content posting or schedule particular times, so consider using one of the Twitter automation tools to do the heavy lifting for you.
2. Lean into search engine optimization
Search engine optimization or SEO for short is a process of making your page more friendly towards search engines. If you have experience with it, you know that usually, it is a long road, but it does not always have to be that way.
Long-term strategy
SEO is a marathon. Only about 6% of websites will rank content on page one of Google within their first year. Treat it that way. Search for keywords that have high volume and medium difficulty, like these that I found through Ahrefs (a paid SEO tool)

If you want to increase your sales next year, make sure you put steps in motion today. It takes time before Google recognizes the value of your information. In this example, you could create a guide comparing "no tie shoelaces" and start building links to it.
With a keyword difficulty of 50 (which indicates the relative difficulty to rank and the number of backlinks you will need to get in top results), it will take some time before you will rank high.
Once you have created good content and enough links to promote it, you will start gaining search engine results page (SERP) rankings and over time get a notable share of the monthly traffic volume.
The process can take six to 12 months, or less if you have a domain in that niche with already established authority. In both cases, start building today to get the results next year.
Short-term strategy
SEO can be a sprint too. Yes, we know it is a contradicting statement but here is how it works. Let's continue with the same example of shoelaces.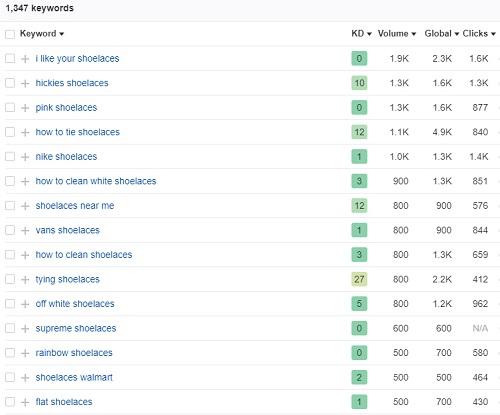 If you have an authority site in the sportswear/shoe niche, you could rank immediately in the top 30 simply by writing a quality SEO post on one of these keywords.
Getting to the top three (where 90% of traffic goes) will still be challenging, but in this case, it would take you three to six months to get ranked in the top 10. It will, of course, depend on the profile of your site and the profile of your competitors.
Immediate results
This niche strategy is usually referred to as Keyword Golden Ratio and it works for long-tail keywords, which are longer and more specific. Let's use "how to clean white shoelaces" for illustration.
If you google that keyword with "allintitle:" before it, you will discover that only 46 pages have this exact title. Given that there's a volume of 900 searches for this term in the U.S., this is a perfect candidate for this approach.
If you wrote a post for those keywords, and your site was of high standing, chances are you could land closer to the top 10.
You could go even further by giving a shot to a much more niche keyword sequence: "how to clean white shoelaces without bleach."

With only ten results, a site with good authority could move up the rankings in a couple of days. The downside is that the volume of this keyword search is really small. For this example, the U.S. volume is only 90 searches per month.
Your goal would be to find keywords that fit these criteria:
One long-tail keyword post will not bring a notable increase in sales. But when this strategy is applied consistently it will compound into a growth trend for many of your items and services!
3. Leverage social media marketing
Since you are reading about steps to increase sales, chances are you are already covering all the bases of social media marketing.
We would rather show you some alternative strategies you might not have considered yet. These are definitely worth trying when you are looking to grow your sales online next year.
Shoutouts
While Instagram and TikTok have their own ad platforms, there is another way to get even more personal with your audience—influencer shoutouts.
A shoutout is a time-limited ad on a theme or influencer account. You can get posts or stories on Instagram, or be mentioned in the TikTok video (depending on the shoutout platform).
The post or mention is accompanied by a link to your account in the description. Or users can click on the link in the bio that would lead to your website. It all depends on what kind of deal you make with the page administrator.
The market practice is for the ad to be there for 24 hours. The prices vary. Expect to pay $25-$75 for accounts with up to 100,000 followers. After that, it is very individual. An account with millions of followers can charge four to five figures for a 24-hour shoutout.
Let's clarify the two types of accounts from which you can buy these shoutouts:
1. Theme accounts
These accounts do not represent an individual or an influencer but rather a topic.
They are created with only one purpose in mind, to drive traffic to their own offer or to accept paid advertisements (shoutouts). You would find many similar examples on TikTok.
2. Influencer accounts
These are the classic personal accounts as you know them. Yet again, the same applies to TikTok and other platforms.
Account analysis
When you are preparing the list of accounts that you plan to reach out to with a proposal of a shoutout, make sure to take note of the activity on their posts. You want to see a healthy share of comments and likes.
There are many fake users and bot networks. So if you see an account with a million followers but only 10 comments and 100 likes under a post, the account is dead.
You can follow the account for some time to check if there are any recurring ads, which would mean that the offer is generating a decent amount of traffic.
Referral contests and giveaways
Another great way to increase traffic and sales is to create a referral contest. The idea is straightforward: You tell your audience that from the pool of visitors who will do a particular action (enter their email, follow your social media accounts, try your trial, etc.) you will pick one or several winners to receive a prize.
The prize can be anything that resonates well with your audience. A discount to your store, an extended trial, free use of your product or service for a limited time—anything that might interest your audience enough to do a simple action.
For a low price and with the use of your existing social media channels you may create a bit of virality around your brand, bringing in new traffic and customers.
4. Focus on optimizing conversions
While in the previous sections we discussed how you can drive more traffic to your site, now we would like to give some tips on how to make sure that all that incoming traffic converts to leads and customers.
Landing page
Consider creating a landing page for some of the traffic streams. Landing pages tend to convert much better than your website or homepage.
As you can see in the comparison above, the landing page concentrates on one call to action. This makes visitors focus on what is important and increases the probability of them taking that action. When there are many choices, visitors may not be able to immediately see the one they need or just get confused.
If you are promoting a special service or an offer, consider creating a dedicated landing page or editing your existing page so it prioritizes a particular CTA.
Webinars
Webinars were popular for quite some time, but 2020 gave them a huge boost. Now they are in all aspects of digital business. Most importantly, webinars are becoming a part of the sales funnel.
It is no wonder this is happening. Webinars provide you with an option to invite interesting speakers from all over the world and decrease the administration costs to zero. And with recordings and other tools, you can repurpose one webinar into several marketing campaigns.
As various webinar platforms are running in front of each other to cater to the growing market and capture as big a share as possible, you as a user can benefit from a wide variety of services for a cheap price.
Webinars can be used as a transition between a cold lead and a potential client. You can invite hundreds of people and present your service or product. This will allow you to establish authority and explain your value proposition. With the growing trust of your audience, you will also see a growing number of sales.
Also, webinars can be used as a sales tool for upsells and high-ticket products. You can create a VIP group of customers and present a special offer that only they can receive. The opportunities are truly endless here.
Chatbots
The popularity of chatbots is on the rise. They provide immediate assistance to visitors. You can use them as a welcome tool or product assistant. You can even use them to decrease your cart abandonment rate.
This all is wrapped together with cost-cutting, as once you invest time in the proper development of a chatbot, it runs on autopilot.
Consider building a simple chatbot to take care of some of the basic questions that your visitors may have. As sales can be optimized off-page and on-page, this is a simple on-page tool that might help you to convert more.
Exit-intent popups
Some of the strategies listed in the post may work better for you than others. One of the best ways to ensure that you capture as many visitors as possible, even with the traffic that will not be engaged enough to take action, is to use an exit-intent popup.
Exit-intent is the last frontier before the visitors leave your site, never to be seen again. In the example above, you can see an exit-intent popup from Optinmonster.
They use a slightly funny approach to it, but there are many ways to convert an existing visitor into a customer. Offer more information, discounts or contact from your sales representatives. These are all great tactics to apply on an exit-intent popup. This will ensure that when your visitors move their mouse out of the main website window you will still have a chance to capture their attention.
Summing up the steps to increase sales
In this post, we went over two critical steps that need to work together to increase your sales in the short- and long-term traffic and conversion.
You can get immediate results with paid traffic by using new platforms or being more specific about your audience targeting. Or, you can get great results by using SEO strategies that can provide a high volume of traffic in the longer term, or give you small wins immediately that can be compounded over time.
By leveraging shoutouts and giveaways on social media, you may tap a completely new audience that was previously indifferent to your brand or product.
Additionally, a combination of these two strategies can provide your brand a semi-virality while keeping the costs low.
When you plan your traffic campaigns, make sure you maximize the conversions of new visitors. You may want to consider creating a dedicated landing page for some of the traffic campaigns to ensure a focus on a particular CTA.
For cold leads, high ticket sales or lead magnets you may use webinars. They are extremely efficient due to their value to potential customers and a very low cost for your business.
To make sure that visitors are taken care of and they have a channel to give you feedback, use chatbots to ensure that there is a 24/7 point of contact. And to further increase the efficiency of your conversions, implement an exit-intent popup, giving you one last shot with those who are leaving your site.
As in everything related to digital marketing, the common denominator is testing. Based on your ideal client, choose appropriate traffic sources and work in-depth on a few, rather than waste effort all over the place.
Most importantly, stay consistent.