If you want your venture to stand the test of time, you have to care about more than just your bottom line. Your business needs to stand for something. Defining company values matters.
We're not talking about a gimmick for the sake of public perception, but instead, deep internal values that dictate how your company operates and how you show up in the world.
These are your core values that influence how your company operates, how your employees show up to work, how your customers interact with your business, and how your business appears to the world.
But how do you define your company values?
You don't just pull them out of thin air. Instead, you do a deep dive into the internal psyche of your company.
Below you'll get six different tips for doing just that. By the end of this post, you'll know exactly how you can start defining company values for your new or existing business.
How to start defining company values
As described in the introduction, your core company values will inform how your business functions, how inspired and motivated your employees are, and why your customers choose you over the competition.
Here are six ways you can start defining your company values today:
Determining your business values will take time and work, but it's time well spent. Let's dive in!
1. Figure out what makes your business unique
Your core values will guide how your organization operates both inside and out. We all have core beliefs that influence how we perceive and engage with the world. Your business values will work similarly — just on a larger scale.
But how do you figure out what your core beliefs are?
No matter what kind of organization you run, you have things that make you stand out.
Maybe you founded your company to go against the grain of how your current industry operates?
Maybe you give back 20% of your total revenue to a nonprofit organization?
Maybe you're the first fully remote company in your industry?
Spend some time with the questions below to define what makes your company unique and stand out:
What makes your business different than your competitors?
What can your business offer that others cannot?
How can you use your uniqueness to formulate your values?
Keep these standout features in mind as you move through the rest of this post.
2. Define your overarching mission
Now that you have a better understanding of your strengths, let's see how this extends to your overarching mission statement.
Your mission statement is your "why," and it's the reason why you're in business in the first place. Your company values are your "how."
Let's look at a few examples:
Airbnb

Airbnb's mission statement is to "promote people-to-people connection, community, and trust around the world."
You can see how these overarching themes extend out into their day-to-day operations.
Users can rent the homes of locals virtually anywhere in the world. Plus, the recently added Local Guides allow users to sign up for experiences that help them see what it's truly like to live there.
WordPress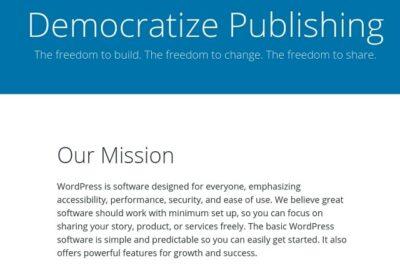 WordPress's mission statement is to "democratize publishing."
This is broken down further and spells out some of their company beliefs, including the belief that "great software should work with minimum set up, so you can focus on sharing your story, software, or services freely."
By offering free and open-source software that's beginner-friendly, you can see how they realize this goal.
Spotify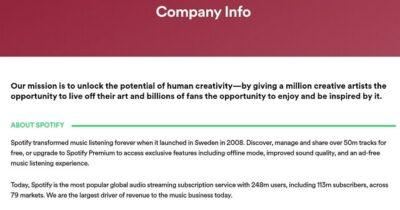 Spotify's mission differs in that they actually quantify their mission statement.
Their mission is to "unlock the potential of human creativity by giving a million creative artists the opportunity to live off their art and billions of fans the opportunity to enjoy and be inspired by it."
You can see how this dual-purpose shows up in their royalty payment system for artists, along with the intuitive app for listeners.
Related: What is a mission statement and why does your business need one?
3. Take a stand for something
One great way to make an impact with your company values is considering what you value more than your bottom line.
Precisely, what values would you place above profit?
Maybe it's environmental conservation, employee health and happiness, or community outreach and support?
Are there any instances where you'd choose your team over your customers to preserve your values?
Stand-out company values are built upon something you care about. You don't have to please everyone either — your values are allowed to polarize.
Instead of creating a feel-good statement that pleases everyone, try to make your values strong and unique to you. Creating your company values isn't a time to be wishy-washy.
Related: 7 steps for conducting a visioning exercise
Here are a few more examples:
Basecamp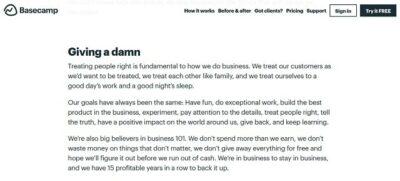 Basecamp is a software company that's been in business for 20 years. On their About page, you'll find their company values spelled out in the "Giving a damn" section.
They're quite simple but powerful.
Basecamp believes "We treat our customers as we'd want to be treated, we treat each other like family, and we treat ourselves to a good day's work and a good night's sleep."
You'll find their company goals spelled out too: "Have fun, do exceptional work, build the best product in the business, experiment, pay attention to the details, treat people right, tell the truth, have a positive impact on the world around us, give back, and keep learning."
Although these values are simple, they show that Bascamp is truly a human-first company, even in the world of software.
Charity: water

Charity: water is a non-profit, so obviously, they stand for more than just their bottom line.
Their mission is simple: "To bring clean and safe drinking water to people in developing countries."
They use their donations and money-raised to invest in sustainable and community-owned projects around the world.
There might be a bit of overlap here about what makes your company unique. However, it's heightened in a way.
Think beyond your company and into the world at large.
Think about the kind of positive impact you want to have on your employees, your customers, and your community.
Ask yourself the following questions:
What type of change is your business trying to make in the world?
Are you disrupting any business-as-usual practices?
Do you have any meaningful partnerships with other organizations or non-profits?
Related: 6 local business strategies to make stronger community connections
4. Choose values that define your day-to-day operations
Your core values are widely applicable throughout your organization and extend well beyond a mission and brand value statement that you print out and forget about.
The business values you choose should be widely applicable, from your daily operations to your long-term planning, and even your annual employee evaluations.
For example, it's easy to say that you value creativity and innovation, but how does it show up?
Instead of this being an empty value, you could schedule monthly breakout sessions where you have team members from different departments get together and problem solve.
Or, you could have quarterly team retreats to your local orchestra. Or, maybe you value employee health, so you cover monthly gym or exercise class fees?
Put simply, your core values need to be actionable.
Here's a great example.
The company Patagonia is 100% committed to sustainability, and their mission statement is to "save our home planet." But it's not just a surface-level commitment; it goes deep into every aspect of their business.
Here's a quick look at some of the things they stand for: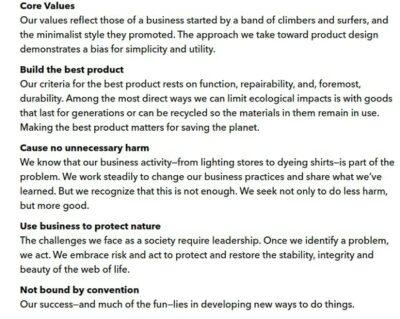 Notice how all of these relate to something other than profit. Plus, you can see sustainability in action with their recycling program, or the Worn Wear program, which seeks to reduce your carbon footprint by keeping gear in use longer.
As you seek to define company values that extend to your day-to-day operations, keep the following questions in mind:
Do you have any daily operating principles that are different from the norm?
In what ways can you make larger values (such as creativity, innovation and health) come to life?
Do you currently offer any incredible incentives to your employees they can't get elsewhere?
Related: How to write a mission statement you'll be proud to share
5. Embrace team collaboration to find your values
In a lot of organizations, you ask five employees what they believe the company values are, and you'll get a different response. Sometimes, this is because a company hasn't established their company values. But other times, they're so unclear they're near impossible for your employees to pick them out.
This is not only bad for employee morale, but for your bottom line too. Forbes found that seven in 10 millennials consider the values of a company when making a purchase.
One way to solve this is to get your employees actively involved in the company value creation process.
If you only have a handful of employees in your company, it's easy to get the whole team together for a meeting. But even with a larger company, you should still try to involve your existing personnel in any way you can.
You'll probably have a small group that's in charge of defining company values, but you should still try to solicit feedback from the rest of your organization.
Here are a few ways you can do just that:
Ask your employees why they wanted to work for your company.
Get team managers together to review the values and practices they use for managing their teams.
Host company-wide interviews or send an internal email blast to get feedback on your working company value document.
You can involve your existing customers in the process as well. If you have an email list, a simple survey will do.
For example, you can email your past and current customers and ask them why they buy from you. You can leave the question open-ended, or offer a checklist of options.
This will help to uncover hidden values that are already at play.
For example, maybe you think they buy from you because your prices are cheap, but it's actually because of your company origin story, or your commitment to American-made manufacturing.
6. Keep your values clear and simple
With all the questions and information above, it can be tempting to turn your company values and mission statement into a novel.
If you've gone through the process above, then you probably have pages and pages of information to sort through. Now it's time to simplify.
Your company values should be short and easy to remember.
You should be able to recall them off the top of your head and internalize them. Your employees should be able to remember the company values and see them operate throughout their day.
A good rule of thumb is to keep your company values to five or less. The smaller the number of company values at play, the stronger and more valuable they become.
For example, imagine a company that has a long list of 20 plus values. Not only would all of these be impossible to execute on, but the long list of values would dilute one another. If you try to stand for too many things you'll stand for nothing at all.
Here are a few tips to keep in mind:
See if you can combine overlapping values into a central theme.
Make a list of 10-plus values and cut them down until you have a few your company can't function without.
Get rid of bland values that don't excite you or your team.
Related: 9 ways to motivate employees
Conclusion
By now you should have a better vision of what your company values are and how you can define them. At the very least, you have a roadmap that you can follow and begin refining and defining company values.
Once you've created your list of core values, it's time to extend them into your organization: how you think, how you operate, how your employees work, and more.
Here's a quick recap of the principles to keep in mind as you define your company values:
Figure out your value proposition and what makes your business unique.
Define an overarching mission that's bigger than your company.
Take a stand for something that goes beyond your bottom line.
Think about how your core values can inform your daily operations.
Get feedback from your team and customers to inform your core values.
Limit your total number of values to a maximum of five.
Hopefully, you're ready to define some exciting business values that inspire your employees, your company, and the world as a whole.
This article includes content originally published on the GoDaddy blog by Cate DeRosia.