Managing a WordPress website is no small task, especially for a beginner. One of the first questions you'll ask is how to install a WordPress theme. Once you lock down a hosting provider, WordPress makes it easy to create a modern and professional site in minutes, using these handy design templates.
There are literally thousands of potential options at your disposal.
For starters, there are many free solutions on the WordPress.org Theme Directory. These are developed to a high standard and suitable for small businesses like yours. However, for those with the budget, premium solutions usually offer more features and support.
In this post, we'll talk more about WordPress themes and how they're an essential part of the platform. We'll then walk you through two ways how to install a WordPress theme, both of which will see you up and running in minutes.
What's a WordPress theme?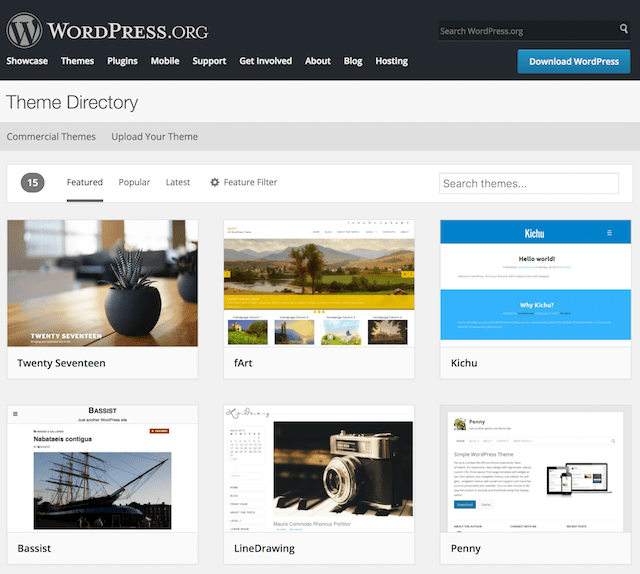 Themes are an inherent part of WordPress, and choosing the right one is important. If you aren't familiar with themes, they're templates that dictate how your website looks. They run the gamut from very basic offerings, all the way to full-fledged frameworks you can use to create almost any type of site imaginable. In addition, you can find themes catering to all kinds of niches, such as eCommerce websites, online portfolios, traditional blogs, and much more.
As for cost, there are two options:
Free. These themes are usually found at the WordPress.org Theme Directory (which we'll discuss more in a moment), and shouldn't be dismissed due to their low cost. They're often full-featured, although access to updates and support might require an upgrade.
Premium. If your budget allows it, choosing a premium theme usually nets you greater support, regular updates, and much more in the way of features. Sites such as ThemeForest offer thousands of themes to choose from, at a variety of price points (usually well under $100).
Your web host may also include a number of themes as part of your service. For example, you'll find a selection of high-quality pre-installed themes in GoDaddy's WordPress Websites package: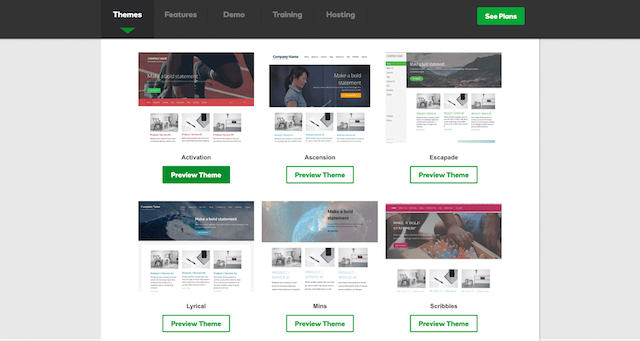 This offers the best of both worlds. You get a practically free theme with the quality and support of a premium offering, and also save the time it would take to find and install one on your own. Depending on how you've obtained (or will obtain) your theme, there are two main ways to add it to your site. Let's start by discussing free themes.
How to install a WordPress theme from the WordPress.org directory
As we've mentioned, the WordPress.org Theme Directory contains thousands of free themes, each personally checked for quality by a dedicated volunteer team. There are all types of themes available, and finding one to fit your exact needs should be easy. Even better, you can search for and install your theme directly from your WordPress dashboard.
Once you're logged in to your site, go to Appearance, and then click Themes: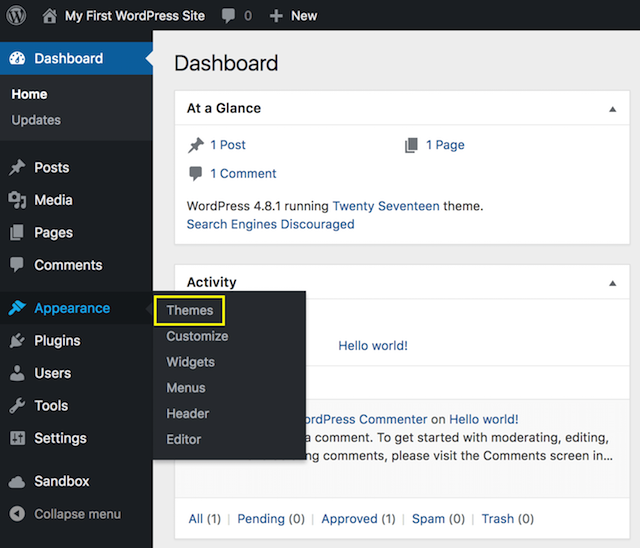 You'll see an overview of your currently installed themes (usually the WordPress default offerings). These are solid choices to begin with. To find something more unique, however, click Add New, which displays the content of the Theme Directory on your dashboard: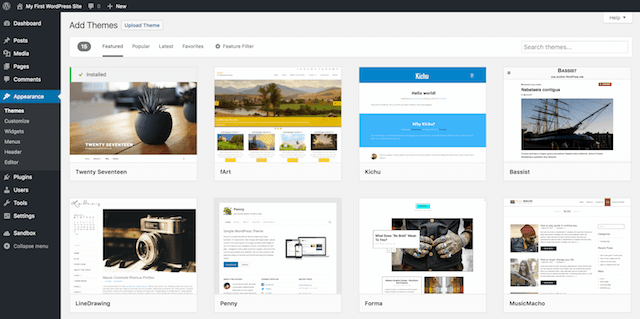 You can use the tabs at the top to browse the most popular or featured themes, and also filter your selections accordingly. Once you've settled on a theme, hover over it. You'll be presented with three options:

If you'd like to know more about a theme, click Details & Preview. Also, selecting the dedicated Preview button lets you see how the theme looks on your site without installing it.
Once you find a theme, click Install. WordPress will install the theme for you, at which point you'll be presented with the option to Activate. Clicking it will completely change the look of your site. At this point, the process is complete!
You're able to change themes as many times as you like, with no effect on your content, so feel free to experiment to find the right theme for you. This is the easiest way how to install a WordPress theme.
How to install a WordPress theme manually
If you've decided to purchase a theme (or obtain one directly from a developer), the above method won't work. You'll usually receive a .zip file with your theme, and while you could upload this via File Transfer Protocol (FTP), it's much easier to install it through your WordPress dashboard.
To do this, head back to Appearance, and then click Themes, and once again click Add New. However, this time click Upload Theme: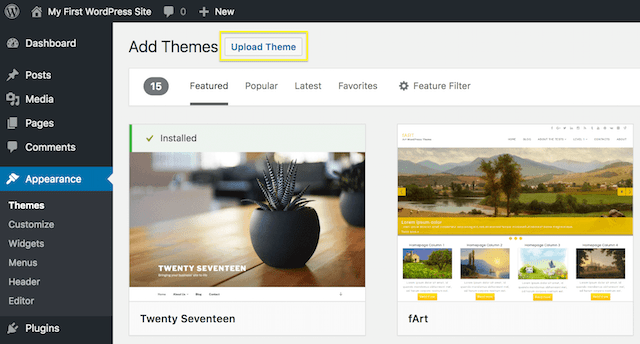 Clicking this button displays a file uploader. Simply locate your theme's .zip file, and then click Install Now. You'll see WordPress carry out the install, at which point you'll be presented with three links: one to return to the Themes page, another to see a live preview of your theme, and a third to activate it. To change your site's look, you'll need to click the last option — at which point, your new theme will be ready to go!
Conclusion
With all the elements you have when creating and managing a WordPress website, you'd be forgiven for waving the white flag every now and then. Installing a theme is often one of the first things you should do, but if the process for how to install a WordPress theme seems overwhelming it could put you off what is arguably the best platform for your small business.
In this post, we've discussed what themes are, and also walked you through two simple methods for installing them. One will be suitable for installing a free theme from the WordPress.org Theme Directory, and the other comes into play when you've either downloaded a theme directly from a developer or purchased a theme elsewhere. Keep in mind that GoDaddy's WordPress Websites provide a selection of quality themes pre-installed, so you can get started even more quickly.