Wondering how to make a website to sell clothes? Well guess what, friend. You couldn't have picked a better time — the online fashion marketplace is on fire right now! After all, everyone wants to look good, but only some of us have the money to buy what we think it takes. Even fewer of us have the gift of putting it all together. So if you can construct a killer outfit with thrift store threads, you have our undying respect.
According to a report from Goldman Sachs, online clothing sales will grow 20 percent by 2020. The report predicts that an "additional $50 billion of sales will migrate online over the next four years." You need to be there.
You owe it to the fashion-challenged out there to let them buy your wares or compilations with an online clothing store you can build and maintain completely by yourself. Give them an easy, convenient way to outfit themselves in the duds they want.
Here's how to make a website to sell clothes with GoCentral
GoDaddy's GoCentral Online Store makes it a snap to sell clothes on the web. Here's how:
Start your free 30-day trial.

Pick an awesome business name.

Craft a high-impact home page.

Add section content.

Create your store.

Add your details to the pre-built Contact form.

Add social media.

Polish, polish, polish and ... publish!
It's a good idea to consider the following before you actually start building your site.
-- A business plan. How extensive it is depends on your goals, but you should at least have some idea of what you want to achieve. And of course, you can always change your mind.
-- Details like shipping and payment policies that work for you.
-- A super-great name your fans will love to say to their friends. Get some great naming ideas here.
-- A brand aesthetic and style. Nail down a mood you want to create with your site so when it comes time to design, you choose the right font, colors and photos. Create a logo with the GoDaddy Logo Maker in just a few minutes.
-- A primary inventory list.
-- High-quality clothing photos. Find tips in this excellent post.
OK, now let's go into how to make a website to sell clothes!
1. Start your free 30-day trial
Free trials are amazing, especially with online store builders since they give you the chance to see how your new shop will look before committing yourself. Start your free trial then answer two questions about your business and pick an overall look by flipping through the pre-loaded options on the right.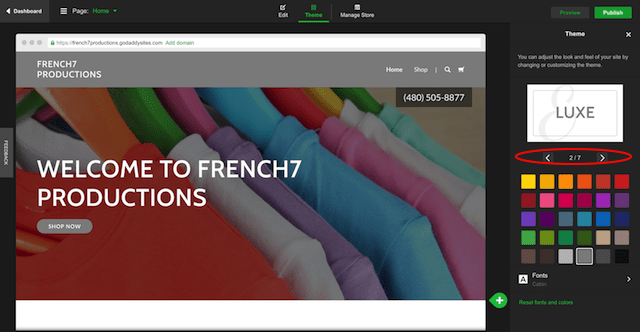 This shows you how your home page looks with different colors, fonts and text styles. Selling vintage? Try the Retro theme. For a sleeker, more sophisticated look, go with Slate.
2. Pick an awesome business name
Imagine two stylish people admiring each other's outfits. And surprise — one of them purchased hers from your store! Her fashion-forward friend is going to want the name of that store stat so she can get in on that. Make sure your domain name is easy to remember and a joy to say. Because if all goes well, people will be saying it often. Your domain will play a huge part in your business, so do your research and choose carefully.
Type in your favorite name right now to see if it's available:
3. Craft a high-impact home page
The photo on your home page is the first thing shop visitors will see, so it needs to be killer. To choose a photo for that space, click Edit at the top middle, select the Header section in the right sidebar and scroll down to Cover Photo. Upload your own photo (My Images) or look through the dozens of images in Stock Images to find one you love. To see how that photo looks in different themes, just click Themes at the top middle and try on your options until one clicks.
4. Add section content
To customize each section, simply click it. Change the headline and description by typing into the boxes on the right. Click on any photos you'd like to replace with one of your own or a different one of ours. Your changes will be automatically saved.
Want to add a section? Click on any green plus (+) sign then choose from the list of pre-built modules — Blog, Video, Subscribe and more. Then just add photos and text.
5. Create your store
Now for the fun stuff! Add photos of your stunning garb and configure details by selecting Manage Store at the top of the screen.

Use your dashboard to guide you through the building process — setting up your shop, choosing the payment options you'd like to offer customers and picking your shipping methods.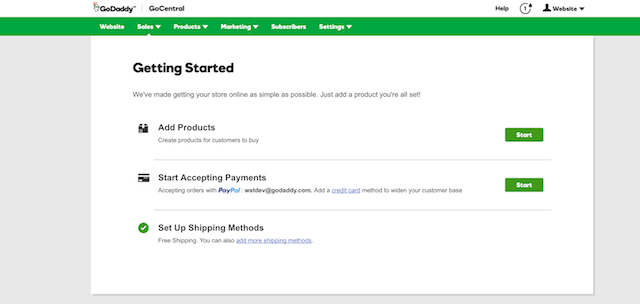 Are your photos gorgeous, your payment options chosen, and your shipping preferences decided? If so, you're ready to roll! Select Start to add your first product.
Adding products
You can add one product at a time or batches of them at once. Here's what it looks like when you add one at a time: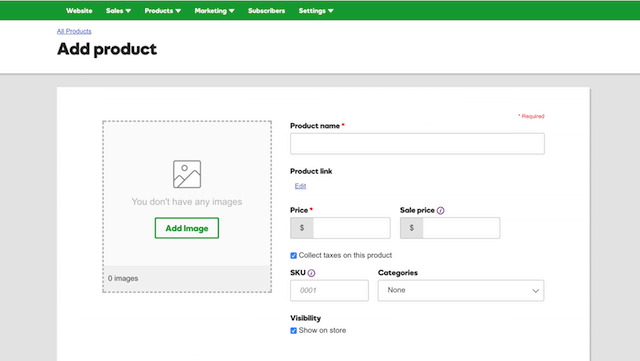 You'll configure your product information here. Upload up to 10 high-quality photos for each product — closeups, a model wearing it, even you making or sourcing the product. Add a name, a price and SKU if you like.
Adding payment info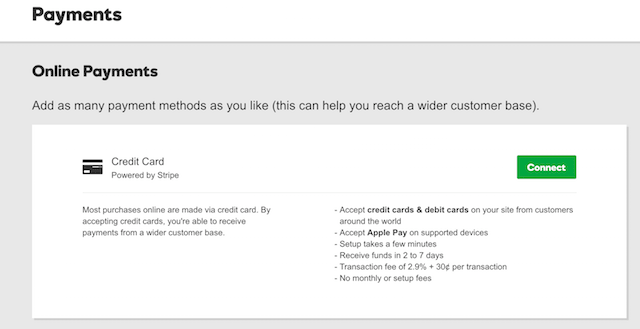 Adding online payment options — all major credit cards, PayPal and Apple Pay — is quick and easy. You can even enable your store to accept snail mail payments.
Configure shipping methods

Finally, choose the shipping methods you'd like to offer your customers. GoCentral lets you choose the United States Postal Service (USPS) and/or United Parcel Service (UPS) with these options:
-- Flat rate per order, which stays the same no matter where it's going.
-- Weight-based shipping, which calculates fees according to order weight.
-- Free shipping, shown to increase sales.
Offer as many shipping options as possible so your customers can choose the one most convenient for them.
6. Add your details to the pre-built Contact form.
A few minutes is all it takes to fill out your Contact form. Choose from one of five layouts, then add your pertinent details. Includes a map and directions for stores with locations open to the public.
7. Add social media
Add high-visibility social media icons at the bottom, inserting your Facebook, Twitter, Instagram, Pinterest and YouTube URLs with a few clicks.
Getting people hooked into whatever's happening on your social channels is a great way to reel them in.
Engagement leads to relationships, which leads to identification with your brand. Social media is where those interactions happen.
8. Polish, polish, polish and ... publish!
Use the green Preview button in the upper right to check out your progress as you go. Not quite there yet? Click Edit in the upper right to continue tinkering until everything shines (you'll go back and forth for awhile).
Do you love your new clothing store? When you do, click Publish. Congrats! That's how to make a website to sell clothes. Yay!
Now what?
Now that you know how to make a website to sell clothes, here are some other things to think about:
Define your unique selling proposition
Take some time to nail down your unique selling proposition. Do your customers know you can offer just what they want at the right price and have a great time doing it? If not, how will you communicate that to them? Think about what makes you, your site and your clothes buying experience different.
Use social media to engage
Get familiar with social media for business. Take advantage of all social media can offer, from photos to videos to reviews and beyond.
Have conversations with your customers on social media and post regularly (look here for tips).
For most businesses, this will be at least once a day, if not two to three times, depending on how many followers you have. Post enticing pictures of your outfits and new pieces, along with any deals you have going on. Always include a direct link to the item for fast and easy purchasing.
Keep the inventory flowing
How will you stock this online clothing store with awesome stuff? If you're selling used clothing, consider Etsy, eBay, and local vintage and consignment stores as sources, or even your own personal network (friend clothing swap, anyone?).
For new threads, consider local artists and crafters. See something lovely in a local store? Start researching and asking around. The partnerships you form could be the start of something beautiful. Steve Chou, an online store maven, has some good information about this in his blog.
Get in a DIY state-of-mind
How much of the business will be DIY? Can you handle styling, finding and working with models, etc., without hiring extra help? If you plan on adding a lot of new items often, consider doing as much as you can yourself. Need models? Ask your friends! Annie Rose of Deranged Designs has great advice for you here.
Make the most of email marketing
How will you get the word out about your business? GoCentral Online Store comes with a built-in email marketing tool that makes reaching out to customers fun and easy. And there are guided templates for all of the basics. But there are endless ways to promote your clothing and your ideas, including:
-- Contests
-- Holiday giveaways
-- Video styling tutorials
-- Behind-the-scenes blogging
-- Fashion shows
-- Outfit spotlights on social media
One of the least expensive promotional tools you have, email marketing will be vital to your growth.
Consider online advertising
Should you try paid advertising? Sites like Facebook and Twitter (and now Pinterest, too) offer paid advertising that targets the right consumers for you. If you try this on Facebook, we suggest selecting a metric such as 'website clicks' or 'website conversions,' because you want people to click through to your online store's URL, not your fan page.
Look into strategic partnerships
Would you consider partnering with other stores you admire? If there's a store you frequent, make it a point to introduce yourself. Start a dialog, tell them your plans and see if they'd be willing to give you a shout out on their website. Agree to do the same for them. Check out this article in Forbes for more about partnerships.
How to make a website to sell clothes explained
It's no secret that launching any business is scary. Do you have the time, the money, the grit? Truth is, even the least tech-savvy people are launching online stores and living out their dreams. You want in? Don't deny the world your fashionista super powers any longer. Launch your online clothing store and showcase your carefully curated duds using a powerful, mobile-friendly clothing store builder from GoDaddy. There's no limit to where you can take your business and your fabulous looks.