With all of the different marketing techniques, tech stacks and CRM platforms to source and convert leads, it can be hard to focus on which tool(s) you should invest both your time and financial resources in for maximum ROI.
While referrals, advertising, PPC, direct web traffic and networking are the most common ways of generating leads, one tactic that is more or less overlooked or just not executed to its full capacity is email marketing. Yes, email marketing may still carry a negative stigma due to the level of spam and junk that users receive; however, when executed in a targeted, well-planned way, it can nurture and ultimately convert leads to build your roster of clients (and your bank account — ca-ching!).
In this post, we look at tactics to nurture leads through email marketing, as well as some tips and tricks for crafting and sending effective marketing emails.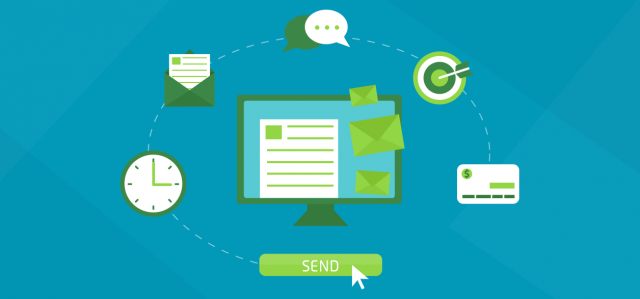 What is a lead?
Traditionally, a lead, in a marketing context, is a potential sales contact who expresses an interest in your goods or services.
Done right, a lead is a potential client who interacts with any of your online channels and completes a conversion.
Leads can come through a variety of channels, including:
Referrals.
Direct response to advertising like PPC.
Events or webinars.
Work completed in a specific industry.
E-marketing.
Email marketing: A massive ROI
The role of email marketing is to gauge a lead's interest in your product or service and to nurture it over time until it evolves into full -blown commitment to act. And it's got an impressive return on investment. For every $1 spent, email marketing generates $38 in ROI.
Businesses and individuals alike are becoming more and more comfortable with email marketing. Thanks to legislation like CAN-SPAM and advances in email filtering through gmail and other email providers, gone are the days where people buy and sell email lists that result in a significant amount of spam for the consumer. As marketers and business developers, we rely on having potential customers and clients opt-in to newsletter or email marketing in an effort to build a list of quality prospects.
News you can use: Newsletter sign-ups
First and foremost, to conduct email marketing you need email addresses! A newsletter or notifications channel can ensure you have an easy-to-use and a simple sign-up form on your website. If you don't have a newsletter, ensure you have a spot on your website or landing page for people to contact you.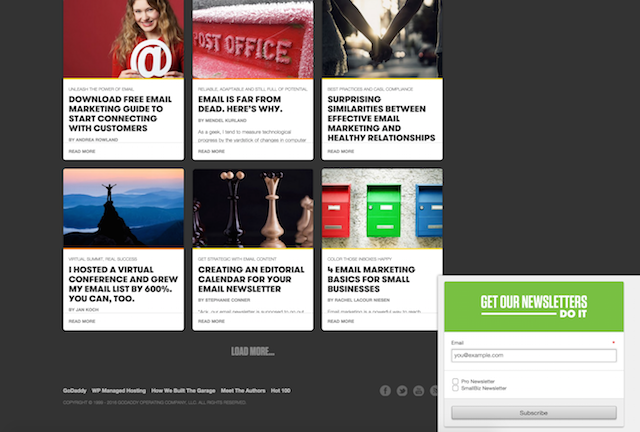 Invest in a marketing automation tool
Revenue for B2B marketing automation systems increased 60 percent to $1.2 million in 2014, compared to a 50-percent increase in 2013.
For years, CRM tools have been what many businesses have looked to for help in increasing their contacts and sales. However, over the past couple of years, businesses are investing in and adopting marketing automation tools to boost sales to grow their business.
Depending on your business — and budget — there is a marketing automation tool that will work for you. Spending time crafting and developing content for emails, as well as building lists, can be cumbersome; a marketing automation tool will help significantly in executing campaigns.
Define your client lists
The first step in creating targeted email marketing is to define the goals of your outreach. Are you looking to develop more local clients? Or possibly sell a product to a specific audience? Identify your goals and create lists that you can in the future send out content-specific emails. These lists will assist you with crafting campaigns for email marketing.
Create transactional email types
Perhaps a visitor came to your site and downloaded a whitepaper or signed up for your product support updates. Transactional emails are triggered by an action that a user takes on the site. These messages can be automated so that any time that a user downloads a whitepaper, an email will be delivered with a "thank you for visiting" or "here are other whitepapers you might be interested in."
You can develop and set up these transactional emails — typically referred to as "autoresponders" or "drip campaigns" — well in advance, and craft them to guide a customer through a sales cycle. A consistent and highly relevant series of emails will help build credibility and trust with leads.
Moreover, this steady stream of emails and content will keep your company top-of-mind with leads. That means that when they are ready to select a company to solve their problem, they'll be thinking of your company.
Include valuable content
The series needs to include content that provides value and is informative — and is not all about selling.
Companies who send automated emails are 133 percent more likely to send relevant messages that correspond with a customer's purchase cycle.
Seven email types you should add to your campaign include:
Case study. People enjoy reading a good case study. It will show potential leads your capabilities and expertise in your services and/or product — building credibility and trust.
FAQ email. This can include common questions about your services or products. Your support or customer service team is a great source of intel to create content.
Proven content. Source a favorite link or viral video that relates to your audience and is shareable! Your leads may share it — potentially building your list.
Article. Repurpose those older blog articles!
Video and audio content. Make your content more auditory. Record your email and send the audio, convert an old blog post into a video, or record a quick tip.
Quick tip. Choose ONE juicy tip and write a small email about why this one tip works and how to get started. Now, your readers have a single course of action and are more likely to implement your content — and open your emails in the future.
Parable. Storytelling is essential! You can use stories to sell services or products without coming across as "pushy."
Track and segment
The benefit of using email marketing automation is that it tracks a lead's progress through your email marketing campaigns. You can see which content or links they are interested in and begin to tailor the emails to specific products, services or solutions. This information will allow you to further segment your leads.
Segmented and targeted emails generate 58 percent of all revenue.
Segmenting will make your emails more relevant to your target audience leading to more opens, clicks, and sales.
Make it personal
Autoresponder campaigns are a great way to nurture leads, but don't overlook the power of a more personal approach. According to Experion, personalized promotional emails had 29-percent higher unique open rates and 41 percent more unique click-through rates in 2013. A tailored email from the company owner, the sales lead or even a team member may help to close a lead and create a sale. This type of email is helpful at the end of a sale cycle as it could help address any issues or obstacles that might have prevented the lead from pushing the go button.
Re-engage and ask for feedback
If your lead hasn't been opening your emails or clicking on links, send them an email to re-engage with them. People love giving feedback, so ask your subscribers for feedback on things like email frequency, content quality and subject matter to see if there's something you can alter to better suit their needs.
Remember the basics
Finally, if you're going to make the effort to nurture your leads with a thoughtful email marketing strategy, be sure to remember the basic of crafting a great email. Take care to:
Include an engaging (and SPAM friendly) subject line.
Write in a concise manner but infuse your brand's tone and voice.
Use relevant images.
Include links to your social media.
Include the option to unsubscribe.
Encourage them to share!
Email marketing might not be the sexiest of tactics, but it is still the most effective way to reach and nurture leads. Now get out there and harness the power of email marketing.