While weathering the COVID-19 pandemic, it's more important than ever to stay connected with your customers. You might be experiencing less foot traffic than usual as customers opt to stay home, or maybe you're only doing takeout or delivery orders.
During this difficult time, social media sites like Facebook, Twitter or Instagram can help you stay in touch with customers about important news and updates to your business.
5 ways social media can help you help your customers
Lets your customers know you're still here.
Promotes your online store for customers who need to stay home.
Retains customers with specials during the shutdown.
Engages customers despite social distancing.
Informs customers about business disruptions or changes.
Related: GoDaddy guide to social media marketing for business
1. Let your customers know you're still here
Due to COVID-19 restrictions, there's uncertainty about what's changed for businesses and customers alike. Use social media to let customers know you're here, and thank them for continuing to support small businesses like yours.
To help customers find you, add social media buttons and connect your Facebook business page to your Websites + Marketing website.
If you also have a physical location, share links to your social media accounts where customers can see them, such as a sign on the front door. Include social media links on marketing emails as well.
2. Promote your online store for customers who need to stay home
Some people just aren't able to visit physical businesses right now.
Reach these customers by promoting your online store on social media.
Build your brand's social media presence with posts about featured products, positive customer reviews, and current sales to drive visitors to your online store.
3. Retain customers with specials
Offer online-only discounts or waive shipping fees as additional ways to grow your online store's sales.
Also, link to your online store from your social media accounts' bios and posts.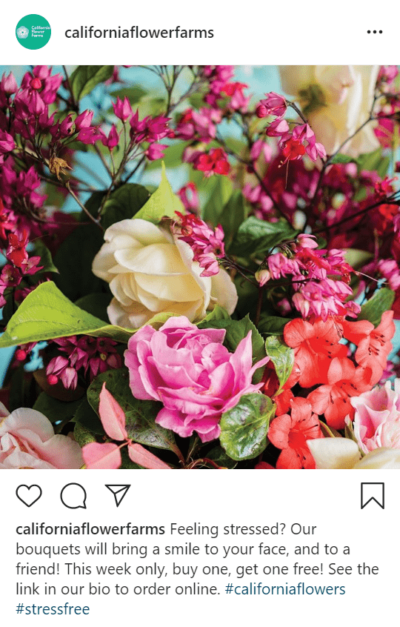 Spread the word about good deals to get your customers talking. Social media promotions can bring in new customers to your online store.
For example, encourage customers to share photos of your products, plus tag your business, for a chance to win a free item. Your customers' posts are visible to their friends, which then brings in more business to your store.
When businesses don't offer physical or digital products, they can still post about deals on gift cards, online-only services or upcoming virtual classes. One way to do this is through limited-time promos like adding an additional 10% to gift card purchases over a certain dollar amount.
As customers like and share your posts, they spread awareness about your business.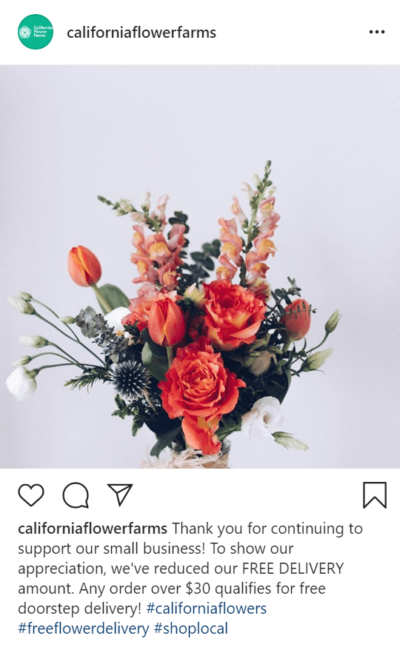 4. Engage with customers despite social distancing
With social distancing, you might be struggling at finding ways to communicate with your customers. There aren't tableside conversations about the daily specials, and customers are missing out on products that offer solutions to their problems.
This is where being active on social media comes in.
Engage with customers by frequently posting on your social media accounts (about a couple times each week) so your business stays present in customers' minds.
Try to respond to comments and direct messages to acknowledge customers' concerns.
This is a good practice all the time, but it's especially important now that there's limited in-person contact.
Related: Using social media to engage with customers in a crisis
5. Inform customers about business changes
Unfortunately, some businesses might need to temporarily close. If you're one of those businesses, urge customers to follow you on social media for important updates.
Your social media presence reminds customers that you're currently open, or if you're paused for the moment, when you'll be re-opening.
Post about any changes to your hours, steps you're taking to keep customers and employees safe, and any other differences in how you operate. As your business adapts, remind customers of available options including takeout, delivery or curbside pickup.
Related: 5 ways to keep customers informed about changes to your business
That's a wrap
Whether you're in lockdown, following social distancing or still figuring out your business' restrictions, it's tough for everyone. Social media offers the ability to do more than just market your business — it's a means to stay connected when in-person contact just isn't an option.
Remain active on your business' social media accounts to promote your online store and deliver updates to customers. If nothing else, your social media presence can bring people together in a time when it's really needed.
---
You can do this!
If you need a helping hand, we're here for you.
Above all, have faith in yourself. We have faith in you.
---