Business owners have a lot on their plate. You have to run your business, engage with your customers, take care of your employees and establish your brand on social media to have a successful marketing strategy. Luckily, we have the tips you need to establish your brand on social media. We'll help you check that essential component of your marketing strategy off your list to attract new customers and engage your biggest fans.
Establish your brand on social media
In order to create your unique brand presence on social media, you'll need to follow these steps.
Find your voice
Lock in your logo and brand colors
Optimize your social media profiles
Collect photography inspiration
Craft social media content examples
Create on-brand captions
Start posting!
Monitor engagement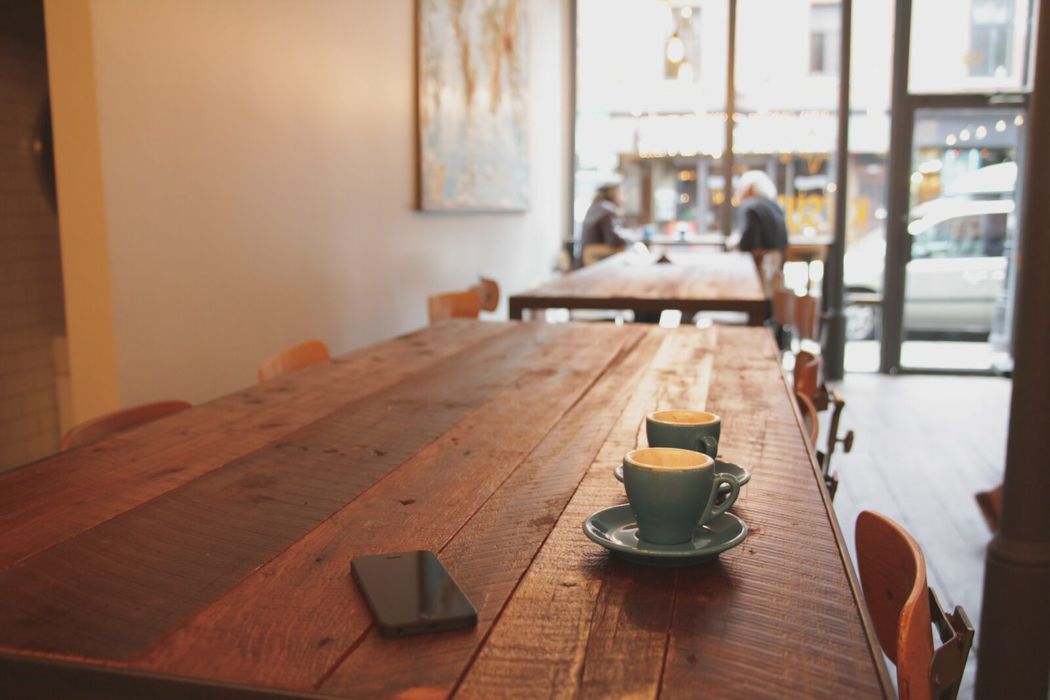 Find your voice
To begin to establish your brand on social media, you need to start with establishing your brand's personality and voice.
When it comes to your brand's unique voice and personality, being consistent with who you are is how you will gain and retain followers. But, before you can be consistently you, you'll need to establish you who are as a brand.
Start with 4 or 5 adjectives that represent your business. You'll be using these descriptors to inform your social media content. When coming up with your list, make sure the words you choose are in line with how you want to present yourself and how you want to interact with your audience.
Ask yourself these questions:
How would you describe your business to a friend, in a few words?
How would others describe your business?
What is the vibe like at your business?
How do you want your customers to see and describe you?
Let's say you run a coffee shop outside the city that specializes in serving delicious coffee and is passionate about selling beans from around the world in a comfortable, laidback environment. You choose the following adjectives to describe your business:
Cozy
Warm-hearted
Inviting
Knowledgeable
Neighborhood-centric
Passionate
Next, use these adjectives to come up with a voice brief. This is what you can use to fill out all of the bios and "about" sections across social media platforms. Using the adjectives for this fictional coffee shop, a voice brief might look something like this:
"We know you'll find yourself right at home here at Coffee Shop. With many varieties of coffees, including many that are locally-grown and delicious, homemade treats, we'll be the ones that get your day started right. We want to welcome all of our neighbors to our warm and inviting space built for everyone in the community to come together and enjoy."
If you're not sure if the voice you've established jives well with what your business is all about, get your colleagues, neighbors, kids and friends involved! Ask them what they think. They're members of the community you serve, and they'll know better than anyone if the brand voice you want to establish makes sense for your business.
Lock in your logo and brand colors
When you're thinking about your brand, you should also be thinking about how you want it to look when customers visit your social media pages.
What are the colors that most represent your business? Sticking with the coffee shop example, their cozy, warm, neighborly brand might choose more muted tones like light blues, beiges and light greens. If you run a Mexican cantina, your colors might be more bright and vibrant.
Now, think about your logo -- are the adjectives and colors you see as *you* represented in your current logo? If not, it might be time for a change.
If you don't currently have a logo, you can make your own with our DIY guide.
Editor's note: GoDaddy Social offers specialized branding and social media services. Talk to one of our experts here.
Optimize your social media profiles
Use that logo you've created or updated as your profile photo on your social media pages. And, update your descriptions to reflect your voice brief.
Your social media profiles are your digital storefront. Show off who you are and what you do for your local community!
You should make sure all of your pages are consistent (down to the names and handles of each page) to establish your brand on social media. That way, your customers can recognize you and know they're in the right place if they want to reach out with questions or comments.
Related: 6 steps to update social media profiles
Here's Cuvee Coffee of Austin, Texas with consistently-branded pages on Facebook, Instagram and Twitter.
Facebook: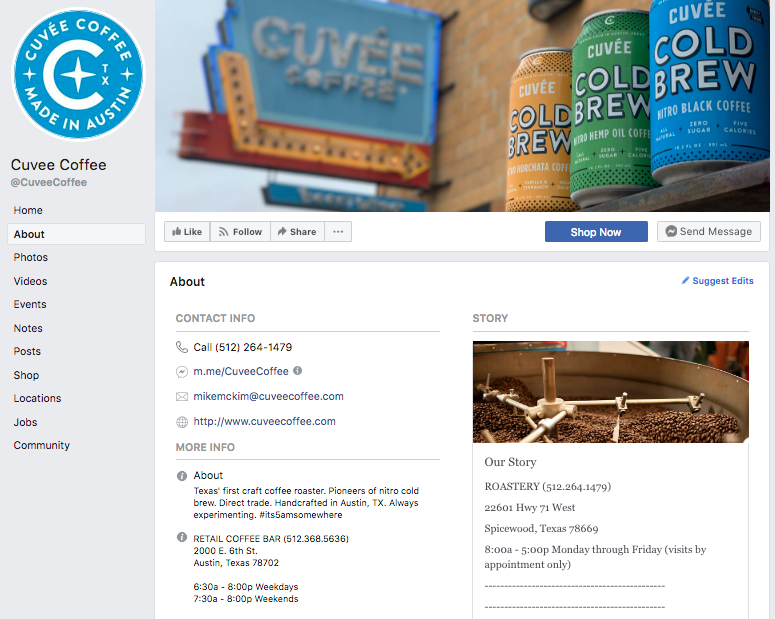 Instagram: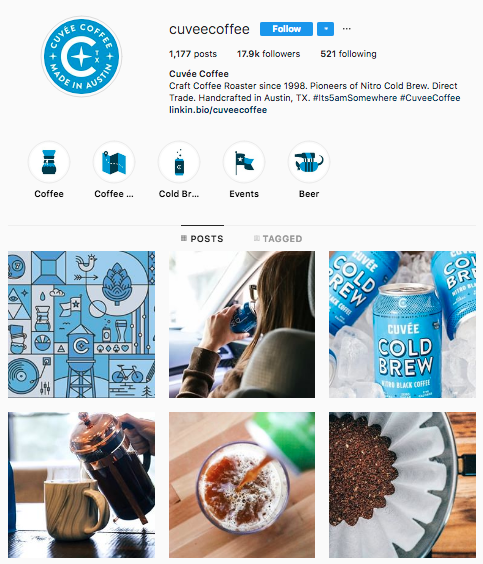 Twitter: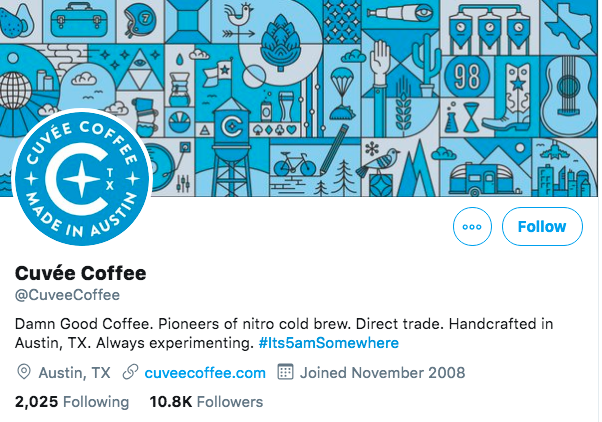 Note: Being consistent doesn't necessarily mean that every description or cover photo across Facebook, Instagram and Twitter has to be exactly the same. Keep in mind who your audience is to be sure that your page will resonate with them and provide them with a call to action. When they come across your profile, what should they do next?
In addition to updating and optimizing all of your social media profiles, make sure you also claim any unofficial pages on sites like Yelp and Google.
Even though you might not have created a listing on Yelp or Google, someone in the online community may have in order to write up a review of your business. Claiming and updating these pages allows you to start owning your presence there to be the voice of your brand.
Collect photography inspiration
The next step you can take to establish your brand on social media is to come up with an inspiration board of how you want your posts to look.
If you're the coffee shop from the examples above, you might find other coffee shops in your local area as well as national chains on Facebook, Instagram and Twitter and take screenshots of the posts you like. Maybe you go on Pinterest and find photos of coffee that feel like your business.
Use this inspiration/mood board to get creative in-house. You can use your smartphone to take photos in your business and create a stockpile of photos you love. You can use those photos to schedule out posts across your pages.
For example, Houndstooth Coffee in Austin, Texas has a lot of inspiration to offer. And, variety is key for them. They're always incorporating shots of their shop, product, employees, customers and community. Here's a snapshot of their Instagram grid: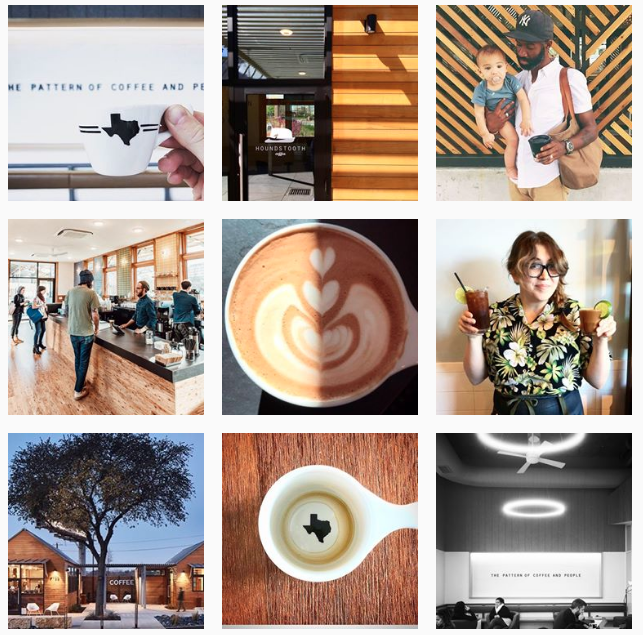 Here, you have interior and exterior shots, product shots and shots of customers and employees. All of these types of photos are serving to give their account lots of variety that's aesthetically pleasing. You can emulate accounts like this to apply to your business and product.
Craft social media content examples
Use the photos you've taken or gathered and think about how you can make these into captivating social media posts. Here's how you can start.
Organize the content you want to post into types or categories. Here are some ideas for content categories that will resonate with your audience.
Highlight an aspect of your neighborhood, city or town
The relationship between your business and your community is important to consumers. Use social media to celebrate the things that make your city or neighborhood special.
Shine a light on a unique characteristic of your business
The story behind your business is important to your consumers. Provide a deeper understanding of who you are and what you're all about in order to increase brand loyalty.
Connect consumers emotionally to your business
Feel-good posts are all about putting a smile on your customers' faces. By adding humorous, sentimental or inspirational posts, you can hook consumers and build brand loyalty.
Highlight a product or service that your business offers
You want to keep the products and services that your business offers top-of-mind for your customers. Showcase your products and services to encourage consumers to give you a visit.
Start with those categories and any other categories that feel relevant to your brand. Putting your content into categories that you can rotate can help you establish your brand on social media.
Create on-brand captions
Creating a voice and tone takes skill and time. It make take some trial-and-error to come up with the right kinds of captions for your branded social media content. Here are some tips for how you can come up with consistent captions that will help you establish your brand on social media.
Represent your business
You want to ensure that each one of your captions can stand alone as a reflection of who you are as a business. Your brand and your audience should inform every photo that you post and caption that you write. Think about how you want each caption to make your followers feel.
Add relevant hashtags
Using relevant hashtags in your caption will get new eyes on your business's content and help you boost your engagement.
Related: How to hashtag on Instagram and Twitter
Here's a simple, yet impactful caption from Austin's Radio Coffee and Beer. They also used emojis to amplify their message and added relevant hashtags to help get more eyes on their post.
Think outside the box with your hashtags! Are there local hashtags that are popular in your community? Are there existing hashtags that are relevant to the specific photo you're posting? Go ahead and work them into your caption to capture users searching for content like yours.
Start posting!
Get that content live on social media! By putting out a variety of content throughout the week, you'll keep your brand and business at the forefront of your followers' minds. Staying top-of-mind can help drive customers to your doorstep.
Related: How to create a content calendar, then post great content
Monitor engagement
You'll never know what's working and what's not -- and if all this effort is worth your time -- if you don't monitor your metrics. Keep an eye on your content to make sure your followers are engaging with it (i.e. liking, clicking and commenting.) If your posts aren't getting very much interaction at first, don't stress -- re-strategize!
Related: Social media metrics and ROI
That's how you can start to establish your brand on social media! Keep your eye on our blog for more tips on how to build up that brand presence online to get new customers and keep your fans coming back.
Engage your customers like never before with GoDaddy Social. We help businesses elevate their online presence on the platforms that matter most. Get started with us here.