During the process of naming your business you're likely asking some questions about the type of domain name(s) to register to help you create a strong online brand. One consideration is whether or not you should buy a premium domain name.
Domain names that are priced higher than standard domain names are called premium domains.
Such names are usually short and one word, making them meaningful and memorable — and thus more valuable.
Related: What are premium domain names and how can they turbocharge your online identity?
It's interesting to note that most domains are registered for the price of your morning cup of coffee. However, the ones that end up getting sold at a premium are domains that have more than one buyer willing to pay a lot more than a couple of dollars to acquire it.
For example, www.insurance.online is far more valuable than www.getyourinsurance.online. They are both relevant domain names for an insurance business. However, the former is more brandable and memorable than the latter.
If you go to buy a premium domain, remember GoDaddy's domain search page also highlights such points:


Related: The top 25 most expensive domain names
What makes a domain name premium?
Premium domain names are usually short in length, simple and brandable, and meaningful, memorable and category defining.

The inherent demand of certain domain names make them premium.
The fact that no two people can own the same domain adds an aspirational touch to them as a commodity. The ones that are more sought after attract people looking to buy a premium domain — and demand a higher price.
For example, www.cars.com, www.casino.online or www.magazine.store.
Each of these domain names can easily own the business category they represent. It's easy to conclude that the dollar value of a domain is in direct proportion to its perceived brand value.
There are multiple factors that qualify domain names to appeal to people planning to buy a premium domain:
Length: One- to two-word names that are usually easier to remember and appealing to a wider audience. For example, www.ces.tech.
Brandability: Catchy, unique names that immediately communicate their niche and make the brand stand out. For example, www.hello.space.
Keywords: Certain business or brand keywords when paired with the right domain extension become relevant and memorable. For example, www.magazine.store.
Another great example of a premium domain name that checks all three aforementioned characteristics is www.pineapple.store — the eCommerce website that is everything pineapple.
It is a fitting example of a domain name that exactly matches the business and the brand positioning it desires to have. No other domain name will do more justice to "Pineapple Store" than www.pineapple.store.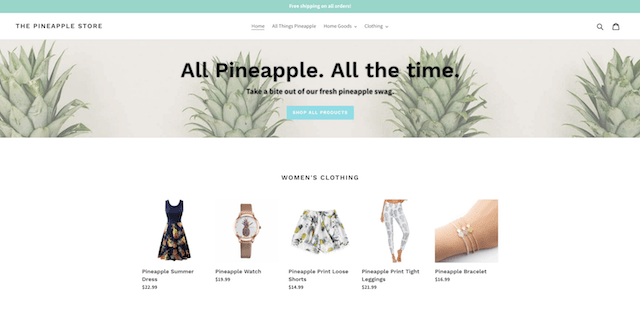 What specific branding benefits do premium domain names offer?
When you buy a premium domain, it's a long-term investment in your brand; it offers the exclusivity that is needed to build a distinguished online identity.
When you buy a premium domain for your online business, you are investing in an unforgettable and intuitive web address that will enable your business to gain authority over the business category you belong to or the target market you cater to.
Here are some of the reasons why businesses are willing to invest a huge chunk of their marketing budgets to buy a premium domain name:
1. Premium domains tend to bring in more traffic
While Google treats all domain names and domain extensions equal, there's still benefit when you buy a premium domain to drive more traffic to your website.
It's important to understand that to scale your organic traffic consistently, some of the most important factors are:
Original, relevant content that is in line with your business, posted frequently.
Credible backlinks linking back to the content on the website.
Mobile-optimized website.
However, once the website starts ranking high in Google search results, that's when premium domains play an important role in getting the maximum share of the search volume.
For instance, both, www.youronlinenutritionist101.com and www.nutrition.online stand a chance to rank equally high in search results. However, the user is almost always likely to click on the latter domain because it is automatically perceived to be more credible and "brand like" in comparison to the former.
This means that the websites with premium or brandable domain names attract more clicks (and trust) than the others, resulting in business growth.
2. Premium domain names are marketing-friendly
Since premium domain names are short, memorable and meaningful, they are great for business marketing. If used smartly, you can buy a premium domain for a brand narrative on social media as well as in offline marketing.
To get some ideas on available premium domain names, check out our domain generator, input a few short and memorable keywords and you'll see what's available on the market today
You are likely to remember www.magazine.store from a billboard or a print ad but recalling www.subscribemagazinesonline.com will not be easy.
Besides, in the era of voice search, it's imperative that you have a domain name that clears the radio-test to make your website ready for SIRI, Alexa and other virtual assistants looking to give you the best results for your voice queries.
3. Premium domain names help build authority in the industry
A "category-defining" domain name comes in handy if you are aiming to become the leader in your industry.
For example, www.bags.online or www.mobile.store have everything going for them to become the go-to websites for what they respectively represent — provided the website content is in line, too.
When you buy a premium domain, it's a brilliant way to establish brand positioning and credibility, especially in industries that see intense search volumes on the internet.
Related: Using multiple custom domains to control your online identity
Is it worth it to buy a premium domain?
Domain names are a business's online identity — a good domain name can help build a strong brand.
With the competition increasing at a phenomenal rate, brands are looking for monikers that add that additional value to their overall branding.
Maybe you're not looking for a domain name for your business. That shouldn't stop you from buying one as an investment. If you come across a domain name that is not exactly premium but has perceived value or business potential, buy it and flip it for potentially thousands of dollars.
For example, given that the stress management and mental wellness industry is booming, this domain name might be a good buy as an investment and could fetch you some returns:

How do you buy premium domain names?
If you're thinking of possible premium keywords, there's a strong possibility that they might be available on new domain extensions such as .tech, .store, .site, .online, .space, .fun, .press, etc.
Related: Domain extensions guide — What you need to know before you pick a domain name

While the registry reserves some of the top-tier names on the new domain extensions that it operates, most of them are still available. If you're keen on exploring or buying a few, check them out on GoDaddy's domain search.
Go ahead, give it a try:
A premium domain name might be just what your business needs to get to the next level.
Related: How to buy a domain name in 3 steps