Developing or establishing a brand's digital identity is a big responsibility that only grows bigger. It can be hard to know which platform to tackle first, which will provide the largest return, and what's going to make a difference to customers. Whether you're just getting started or trying to refresh your brand's online identity, it's important to determine what's necessary to protect yourself from imitators, customer confusion or digital embarrassment.
That's why we've assembled a quick checklist of what you need to do to ensure a strong and successful digital identity for your brand that will capture customers and accurately reflect your message.
Consistency and naming
So you have a primary domain — now what?
Just because you have a domain doesn't mean it's the right domain.
As your company grows and becomes more established, you might need to consider changing your domain, or registering multiple domains, to more accurately reflect your brand, company name or a changing mission. Twitter did just that when they bought Twitter.com in 2006 for $7,500 after originally launching as Twttr.com. That's a steal when you consider the company is now worth an estimated $3.7 billion.
Can't afford your dream domain? Consider pursuing domains on the aftermarket or using an alternative domain ending (like .shop, .online or .nyc) to get a domain name that better aligns with your branding.
Find the right domain name
Consider deep linking and microsites
Deep linking allows you to direct potential customers to a specific part of your site. This gives you more control over the experience they have and what they see. (In fact, there is a custom domain, www.onlinebrand.tips, that points to this post.) Instead of sharing the exact path or a shortened URL, you control the domain name and redirect to exactly where you want it. Another example is www.nikefootball.com.
Deep-linking and microsite tactics add a level of professionalism and personalization to your online presence.
Another way to direct user attention is by using microsites. Well-established brands have been using special, customized sites for some time — such as Netflix did for the "House of Cards" series. They created a domain for its fictional presidential candidate Frank Underwood. The campaign site is www.fu2016.com.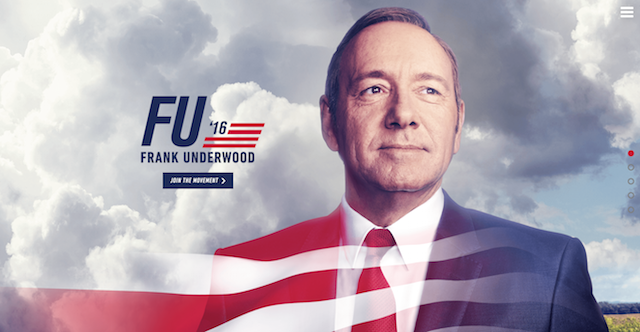 Brand protection
There are thousands of possible domain names a company can register. Instead of focusing on what's a possibility, focus on what matters. Think about potential misspellings that could happen to your company. Generate a list of names that you would hate for a competitor to register. Then, figure your budget and grab the most important names.
Site performance and security
Design for mobile
Did you know that mobile takes up the majority — 65 percent — of time spent on digital media? During the design process, make sure to test your site on smartphones and tablets. Not only for how they look, but also for how easy they are to navigate.
As you design or redesign your website, design mobile-first. It will pay off in the long run.
Focus on performance
Don't lose potential customers due to a slow site. Research shows that keeping your website quick and responsive is key to holding consumers' attention. For every 100 milliseconds it takes your site to load, you lose 1 percent of traffic. If you can shave 1 second off your website load time, you just increased traffic by 10 percent. To test the speed of your website, sites like webpagetest.org do a fantastic job with quick one-off tests.
To evaluate your website's effectiveness, download the 20 Website Design Mistakes checklist.
SSL matters
The web is shifting to fully encrypted. Google has stated that SSL on websites matters in search ranking. A new Chrome browser is going to start saying "not secure" on certain pages when they don't have SSL. At this point, you're only doing damage to your site if you don't have an SSL enabled all the time.
Is it if or when?
Many small businesses don't feel they are targets for hackers — and they couldn't be more wrong. Forty-three percent of attacks are aimed at small businesses. Typically, smaller businesses don't have the resources to defend themselves against security threats. There are website protection services that help customers stay up-to-date on the latest threats. They scan daily to make sure your site isn't exposed to the latest vulnerabilities.
How is your crisis plan?
When thinking about a security incident, communication with customers and the larger public is vital. Most recently, Dyn.com came under attack, impacting many websites. Instead of burying their head in the sand, they did a great job communicating continuously and effectively. Not only did this help them with their existing customers, but it also helped their public perception.
Having a crisis plan in place that emphasizes communicating will always help a company come through any issues quicker.
Engage across the web to level-up your digital identity
Taking your brand's digital identity to the next level also means you must pay attention to your presence on non-owned platforms, including social media networks. More and more often, customers are turning to social networks — especially Twitter and Facebook — to research and connect with businesses. That's why you need to keep your business's social profiles up-to-date and on brand.
Keep your brand's digital identity consistent across the major social channels.
Ideally, you'll have your social handle(s) under the same company name displayed in your domain. Make sure your imagery and colors are the same as on your website, and keep the branding and customer experience consistent.
Communicate with your audience
It's vital to track metrics across all channels, and as a bare minimum, your company should keep a close eye on social platforms (especially Instagram, Facebook and Twitter), review sites such as Yelp, and your Google search results. Many consumers are now airing grievances or giving praise online, and any modern business needs to be monitoring and communicating with customers on these platforms.
Consider tools that track social sentiment, provide digital metrics, and alert your team to online mentions of your brand. There are many tools to help with this. Some are free, like Google Alerts, and there are more robust solutions such as Hootsuite. In addition, enterprise-level social solutions like Sprinklr help manage engagement. Find out what your company needs and start investigating.