You're probably blogging for a particular reason. Maybe you just love to write or you're passionate about a certain topic. You've worked hard, are starting to get traffic to your website, have loyal followers, and people are interacting with your website. So how do you sustain your efforts as a blogger? In other words, how do you make enough money to pay for your daily living expenses as an entrepreneur?
Creating an e-commerce site to sell products, services and training related to the topic of your blog is a great way to start to monetize.
But how do you integrate your blog with an online store? That's a question I used to hear all the time during website building workshops for small business owners. I thought it was an odd inquiry at first. After all, I know of a bunch of companies (REI is one) that house both a blog and shop on their domain. Yet as I began to really explore the subject, I learned there's a bit more to the strategy of blog-store integration. It starts with answering two main questions:
Should my e-commerce store be on its own domain/subdomain?
While I don't recommend having your store on a separate URL, having a shop on a subdomain can be useful. Many times, a company chooses to separate its online store because they're using different pieces of web software for their blog and e-commerce solutions. For instance, if you've created a blog with WordPress and want to use Online Store for your storefront, you'll have to use a primary domain for one and a subdomain for the other.
Subdomains also make marketing a URL easier. It's easy to remember that GoDaddy.com is the e-commerce site, for example, and that www.godaddy.com/garage is the blog. Visitors can easily access their preferred site simply by typing a web address.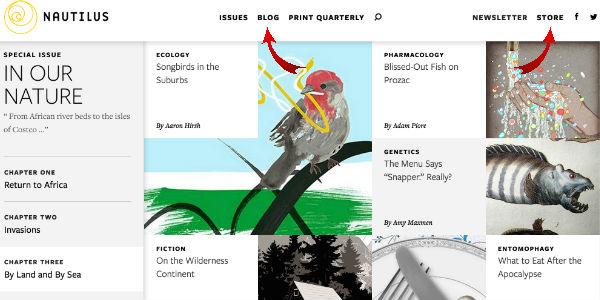 A great example of pairing a storefront with a blog is Nautilus. Visitors flock to the company's website because of its great content, which likely drives these same visitors to the Nautilus store to purchase merchandise that mirrors the type of content they love.
Let's talk about you. If you're already using WordPress, you might want to use the primary domain for both the web store and content. The WooCommerce plugin does a pretty rad job of integrating an online store seamlessly into your WordPress site -- which means it'll be much easier to access and cross-link products within your content. As for marketing a subdomain, you can always create a subdomain forwarder to allow people to type shop.yourdomain.com and be redirected to yourdomain.com/shop.
Should my blog or store be the focus of my website?
Just as in the case of Nautilus, people visit your blog because they're interested in your posts.
They return on a regular basis because they've made a reasonable assumption that you'll continue to provide engaging content. If they hop onto your site one day and find that it features products instead of content, they might be a bit confused or annoyed -- and curtail their regular visits. Your readers expect consistency so you need to provide a consistent experience.
If the primary focus of your website is blog content, keep that focus when you open a web store.
Use techniques like product cross-linking and adding the store to your navigation to drive visitors to your online store. Depending on how you market your blog, it might also make sense to include a blip about the new store in an email to your followers. Likewise, you can write a post about why you launched the store and what visitors can expect to find there.
But hey, that's my opinion. What's yours? Let me know @ifyouwillit or in the Comments.