We're stoked about launching the new GoDaddy Pro Hub, an experience totally tailored to the unique needs of website designers, developers, and freelancers. But if you're one of these folks (we call them Makers of the Web) you might be going, GoDaddy Pro isn't new! It's been around for a while.
And you'd be right. GoDaddy Pro has existed, in one form or another, for a few years. If you stick to a black-and-white definition, GoDaddy Pro isn't new.
What is GoDaddy Pro?
Made by and for web designers and developers, GoDaddy Pro allows users to manage all of their clients' websites from one, centralized location known as the Hub. These sites can be hosted on GoDaddy or elsewhere. The Hub allows you to handle them all!
The Hub by GoDaddy Pro makes it easy to access each client's website from just one dashboard with a single login. Designers and developers have the option to perform bulk updates across all of their clients' websites at the same time, making site management speedier and more convenient. From WordPress plugin updates to backups and evaluating site performance, GoDaddy Pro puts all of these tools at your fingertips in one convenient Hub.
What is the difference between GoDaddy & GoDaddy Pro?
Within the GoDaddy family, GoDaddy Pro is distinctly its own thing. It's an app, a platform, and a community. We built GoDaddy Pro from the ground up to not only meet your needs, but empower you to achieve even greater success.
Taking a closer look at GoDaddy vs. GoDaddy Pro, GoDaddy offers website hosting and domains to those who want to build a website. On the flipside, GoDaddy Pro focuses on managing multiple websites on behalf of a variety of clients.
While GoDaddy users are typically folks who want to build a single website or a small handful of websites, GoDaddy Pro is geared toward professionals who manage anywhere from 10 to 25 to even 100 or more websites.
Both GoDaddy and GoDaddy Pro offer affiliate and reseller programs that allow users to become partners.
GoDaddy is considered to be a Basic Reseller, while GoDaddy Pro is a Pro Reseller. The Basic Reseller program offers hosting, domains, and services related to running a website.

The

Pro Reseller program

allows professional web designers and developers using the GoDaddy Pro platform to grant their clients access to GoDaddy products and plugins to create greater style, functionality, and improved user experience for their websites.
Now that you understand the differences between GoDaddy and GoDaddy Pro, as well as their respective reseller programs, let's take a sec to dive deeper into the Hub by GoDaddy Pro.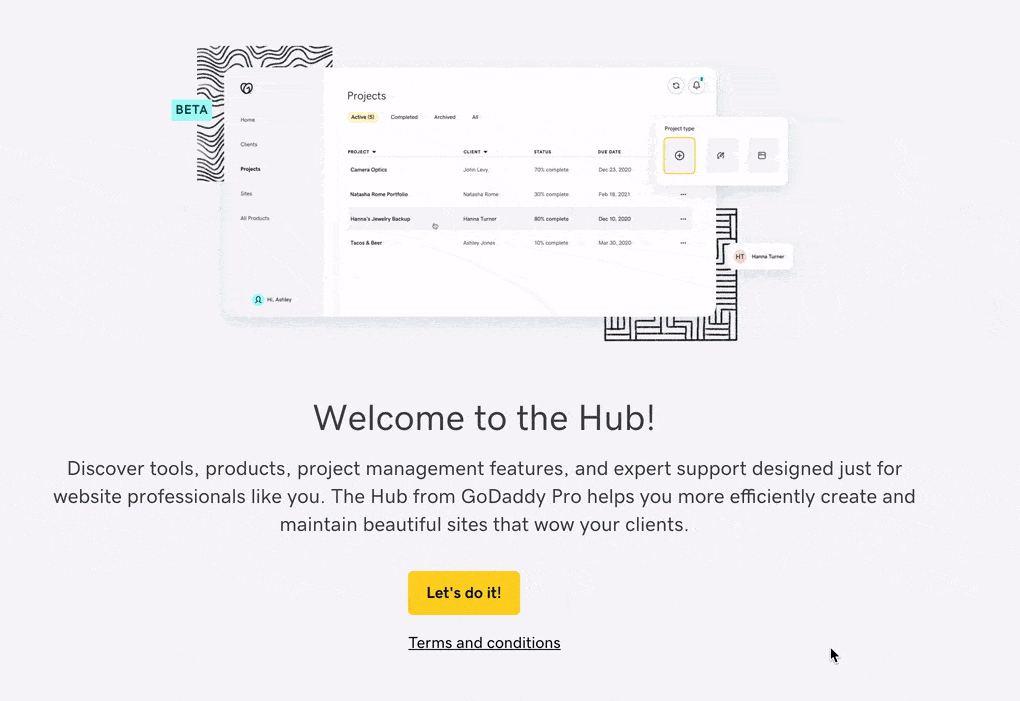 How does GoDaddy Pro work?
The GoDaddy Pro Hub includes access to every client and their website from a single dashboard. The Hub includes features like bulk WordPress updates, client shopping carts, and uptime monitoring. It's purpose-built to reduce the amount of time required for routine tasks.
The Hub by GoDaddy Pro makes the rote tasks of website management easier by allowing you to roll out batch updates across all of your clients' websites instead of having to do them one at a time. This frees up more of your time to engage with more of the creative work you love to do. It also makes for happier clients who can rest assured that their sites won't experience downtime and will be up-to-speed (ummm… in some cases, quite literally) with the latest updates.
Even better, you can accomplish all of this with just a single sign-on. You've got work to do! You don't want to be trying to remember the passwords for each of your clients' websites. The Hub allows you to get down to business and keep your clients' sites up and running smoothly.
Here are just a few of the features available to users within The Hub by GoDaddy Pro:
Daily backups and 1-click restore

Website security and scans

Notifications if a website is experiencing issues

Uptime monitoring

24/7 support from experienced agents

Prioritized support ticketing

Access to the Pro ManageWP interface that allows you to make bulk updates for WordPress core, plugins, and themes

Secure access to client websites and products via the GoDaddy Pro Clients dashboard

Create to-do lists

Leverage built-in project templates and timelines

A 30% discount on qualifying purchases for you or your clients

Access to the GoDaddy Pro Connect community to meet other designers and developers just like you
People who use the Hub report saving, on average, three hours each month for every site they're maintaining for clients.
How much does GoDaddy Pro cost?
GoDaddy Pro is free. There is no catch! A GoDaddy Pro membership gives you access to the Hub and more features designed to streamline your workload and manage more clients' websites in less time. From our project management features to site management tools, they're all included with your free GoDaddy Pro membership.
Some programs, such as the GoDaddy Pro Reseller program and Pro subscription may have added costs or fees included. While GoDaddy Pro is free, users can purchase a variety of premium products on behalf of clients. GoDaddy Pro memberships also include a 30% discount for qualifying purchases.*
How the GoDaddy Pro Hub continues to evolve
If you ever used GoDaddy Pro for site management, things might feel familiar when you log into GoDaddy Pro and check out the Hub. That's understandable. Turns out, GoDaddy Pro caught on quickly and there was an increasing demand from a user base with broader needs.
The Hub is the result of countless hours of research.
Through interviews with real-world website designers and developers, we gained an understanding of pain points and the tasks they face in a given day. Our product roadmap is packed with new features we'll be rolling out over the next few years.
A few more important things to keep in mind:
All your GoDaddy Pro sites and clients are automatically available in the new Hub once you opt in.
Currently, the Hub doesn't have all the features available in the old GoDaddy Pro dashboard.
The old GoDaddy Pro dashboard will remain available until we have feature parity in the Hub.
The new experience is meant to be more intuitive and seamless, but we have so much more coming and are committed to bringing the vision to life. (You should seriously check it out.)
How can you become a GoDaddy Pro member?
Not a member yet? It's easy to become a GoDaddy Pro member. You can sign up for free and create your account in minutes.
To create your account, you can use either your existing Facebook or Google profiles to easily create a login.

Don't want to use your existing Facebook or Google accounts? No problem! You can manually add your email address, username and password of your choosing to create your GoDaddy Pro account.

You'll also be asked to create a four-digit support PIN to use in case you need to contact Support.

From there, simply hit the "Create Account" button and you'll have access to all of the GoDaddy Pro membership features.

Once you've confirmed your login credentials, you'll see the Hub dashboard. Poke around and take a look at all of the features you can use. You'll want to start by exploring the left-hand navigation pane. From there, you can:
Yes, it's really that easy! Once you get familiar with the Hub and all of the cool new tools at your fingertips, you'll be able to manage all of your clients' sites like the pro you are, with just the touch of a button. Get started today and sign up to become a GoDaddy Pro member for free.
Getting started with GoDaddy Pro
For web designers, managing clients and websites is one of the most important (and difficult to streamline) aspects of the job. If you don't figure out how to do it efficiently, it becomes a huge time suck and source of frustration. But if you get it right, it's a fast track to recurring revenue and business scalability. Put simply: Better client and website management equals more money.
Of course, we're probably preaching to the choir. If you've been building websites for very long at all, you already know that's true. In which case, you're probably looking for a better way to do it. For the second part of this webinar series, we brought in Sandy Edwards, a veteran WordPresser and community events manager for GoDaddy, to demo the GoDaddy Pro dashboard for you and explain how it can simplify your process.
Accessing client domains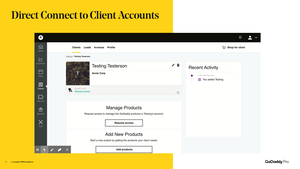 One of the most important features in GoDaddy Pro is the ability to connect directly to your client's GoDaddy account. You can use this connection to request delegated access to manage domains and products or make purchases on their behalf, depending on the level of access granted by your client.
"… you're streamlining your client management and able to really make sure that when you go to launch that site, you already have access to the domain."
Some other perks of managing your clients in GoDaddy Pro:
All client information is in one place: Name, contact information, websites & products.
Expiring product notifications: You can see when a client's products are about to expire, so you can renew (if you have access) or prompt them to renew via email.
Collaborating in WordPress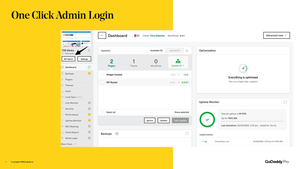 Sometimes you need to allow multiple people to access the WordPress Admin area, especially if you run an agency or outsource work to contractors. GoDaddy Pro solves this by providing one-click access to the WordPress Admin dashboard of each connected website.
You can add collaborators to your GoDaddy Pro account and give them access to specific sites to let them use the one-click WP Admin access. It's a seamless way to work together without having to share passwords.
Running multiple website updates and backups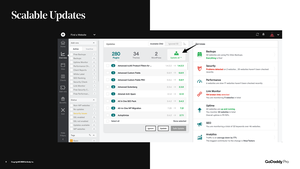 As an agency, WordPress, theme, and plugin updates are your bread and butter. GoDaddy Pro offers convenient update features to make the website maintenance aspect of your business scalable.
Update All
Update all plugins, themes, or WordPress core for every connected site at once. Or, you can check which ones to update all at once, and update others individually.
Safe Update
We've all done it. Run updates on all the plugins and themes on your WordPress sites only to find that something got messed up along the way. Safe updates ensure that you can revert in case anything goes wrong.
Check off anything you want to update and click safe update.
GoDaddy Pro creates backups of all the sites. (You must have backups enabled for this feature!)
A screenshot is taken of all sites, and then updates go through.
Safe Update checks all website statuses. If anything goes down, it automatically reverts only those websites.
Another screenshot is taken after update, and you see a before/after toggle screen to compare.
You will have a Restore button and an OK button so you can choose to proceed or revert if you notice a problem in the screenshot comparison.
Backups
Regular backups are an essential part of managing any website. You never want to be stuck in a position where the website is down or irreparably corrupted and your last backup was many moons (and many changes) ago. An easy solution to this is to schedule your backups through the GoDaddy Pro dashboard.
These are the intervals available:
Free: Monthly, Weekly, or Daily
Premium: Every 12 Hours, 6 Hours, or 1 Hour
With these options, you can create different tiers of website maintenance plans. Sandy used to work for a company who would provide daily backups on their base-level maintenance plans, but they would do backups every 6 hours for higher level plans.
Premium backups are only $2 per month per site, making it affordable for you to make more money from your tiered plans.
Automated client reporting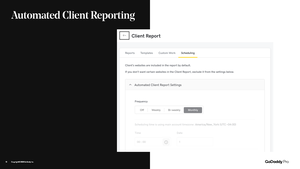 Your clients pay you because they trust in the value you're providing. The easiest way to reaffirm that value is to provide a regular report to show them what they're getting.
You can set up different intervals for reporting: Weekly, bi-weekly, or monthly. You can also choose which add-ons to show your clients on the report.
Report Customization
There are several ways to customize your client reports. Sandy's favorite feature is the custom notes area, which you can use to write notes about anything you've done for the reporting period, and it's added on to the report.
There are some differences between the Free version and Premium.
Free: Watermarked, emailed to client but not automated
Premium: Brandable, send from your email address, automatically generated & sent
Scalable website maintenance
So far, you've been introduced to the staple features for website management. There are a few more features in GoDaddy Pro that you can use to kick things up a notch and really scale your business further.
Client tags: Add custom tags to your client accounts to keep them organized.
Workflow: Use the Overview page to manage all updates, add-ons, and services at a glance.
Security scans: Run ad-hoc security scans for free, or use Premium to automate them.
Broken link monitor: Instead of installing another plugin, use GoDaddy Pro to monitor broken links.
Performance checks: Run on-demand performance checks for load speed, or use Premium to automate them.
Uptime monitoring: Get notifications for downtime to find out before your client notices, and add uptime to client reports.
SEO ranking: A lite SEO tool with very basic keyword & competitor tracking that provides client-friendly reporting to show the value of your SEO services.
White label plugin: Rename the GoDaddy Pro worker plugin so all your client sees is your branding.
Sandy's tip: Use the client support feature to let your client email you for support directly from their WordPress Dashboard.
Template builder: Add your preferred themes and plugins to a "template" for quick WordPress site spin up. You get up to 10 templates.
"One of the things when you're dealing with working at scale is the ability to manage all of the sites and maintain being organized"
Pricing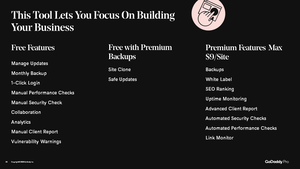 When you're building out your website maintenance plans, pricing is going to be top of mind for you. You'll want to make sure any tools or software you're paying for leaves you enough room for a healthy profit margin.
Almost everything on GoDaddy Pro is free. Premium features just give you better options, like White Label and automation. It might seem like these $1 or $2 Premium features would add up quickly, but activating all Premium add-ons only adds up to $9/site max. That's on top of all the time it saves you by automating maintenance tasks.
Bulk Plans
If you're an agency, or you just manage a whole lot of websites, there are bulk plans that make it even more affordable to provide website maintenance to your clients. Bulk plans give a discount on Premium add-ons for up to 100 sites per month with each bundle and does the math for you, so you don't have to figure out what makes sense for your budget.
How to show your clients the value of website maintenance
Offering website maintenance plans is one of the best ways to provide additional value to your clients while building recurring revenue for your business. It's a total win/win situation, but do your clients know that?
The key to showing the value of website maintenance is finding the right tool for the right price. GoDaddy Pro is a feature-packed website and client management tool that you can use to manage your clients' websites efficiently and make a healthy profit without having to pass a lot of costs on to your client.
---
How to manage clients in GoDaddy Pro
Client management often comes as an afterthought to web designers & developers, especially those who are new to running a business. After all, one told you that you'd be spending more time managing clients and running the business than building websites, right?
Some people manage everything through email. Those who are a little more organized might have a spreadsheet. Not many know that you can manage your clients through GoDaddy Pro. It functions as a sort of "lite" CRM to complement the website management tools you might already be familiar with.
We were fortunate to have Nealey, a GoDaddy project manager and expert in web design project efficiency, for our 3rd webinar in this series. He is a long-time GoDaddy Pro user and runs his own business, WP Jumpstart Pro, helping web designers build their brand and run a more efficient business. He provided some valuable tips and demos to show how using GoDaddy Pro to manage clients can increase your productivity.
Delegated Access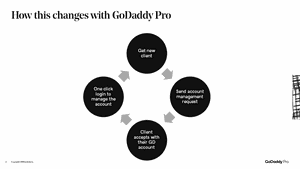 Like most of you, Nealey has been in situations where clients have sent him all of their personal information via email: account and website logins, even credit card information. This is dangerous, considering most people use the same password for most of their accounts, including bank logins.
Now you never need your customer's usernames, passwords, information again.
GoDaddy Pro Clients Demos
GoDaddy Pro provides a more convenient and secure experience by removing the need for a credentials spreadsheet or password sharing. Nealey demonstrated the key features of client account access during the webinar with us:
Add clients to the dashboard
Send an account access request
Access a client's account
You can watch the webinar recording if you want him to walk you through it. Or, you can get the steps from our help article: Add clients to my GoDaddy Pro member account.
Types of Account Access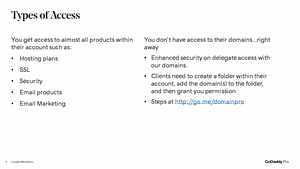 With the delegated access feature, you can request product-only access or access to products and purchases. Both levels of access will let you manage most products on the account. One caveat is domains. Due to increased security measures, your client may need to set up a folder to allow you access to specific domains.
If you need to help your client set up access to domain folders, see steps at go.me/domainpro.
Shared Shopping
Building websites for clients usually involves having them buy products like web hosting. The trouble comes when your client decides to purchase something else, bringing the project to a grinding halt.
Nealey shared a story about a client who decided to purchase a website builder instead of the cPanel hosting Nealey required. The client had to call support to cancel and refund the website builder and purchase the right hosting product. This one mistake set the project back by days.
GoDaddy Pro avoids these mishaps by letting you add products for your clients and complete the purchase or send them the cart via email. Any GoDaddy product you may want them to buy can be added directly from the GoDaddy Pro dashboard.
Watch the on-demand webinar recording for a walk-through on adding products for your clients. Or, you can get the steps from this help article: Add products for clients in my GoDaddy Pro member dashboard.
Rewards
On top of providing an easy, convenient way for you to manage your clients and help them buy the right products, GoDaddy Pro rewards you for purchases they make on connected accounts.
We're going to set our clients up with these hosting products and domains, everything else, already. Might as well get a little bit of a kickback for it.
You can use your points to save money on your own purchases. The rewards program has two tiers. Every member gets the 5% rewards, but once you hit 2500 points, you enter the GoDaddy Pro Plus tier and earn double the rewards.
---
How to manage multiple websites in GoDaddy Pro
When you're managing multiple websites for clients, profit and scalability are directly related to efficiency. We had Nealey, a branding and business coach for web designers, partner with us for a webinar to show you how he saves time on website management tasks.
How long does it take to manage individual websites?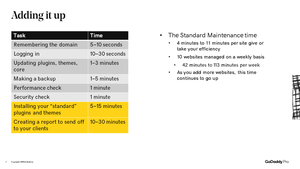 The amount of time required to manage each website varies by the individual and their skill set. By Nealey's estimation, it could be anywhere from 4 to 11 minutes per site, adding up to 42 to 113 minutes per week. Regardless of where you fall on that spectrum, you'll probably agree that it really adds up.
Eventually, you're spending a lot more time on the maintenance side of things … versus going and finding new business.
Save time managing all your websites in one place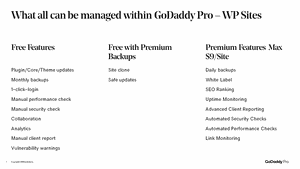 In the quest for bigger profits and better time management, it's not unusual for those in the web design and development business to try out a lot of different tools looking for the most comprehensive solution. Nealey is no different, and the one he landed on was GoDaddy Pro.
Nealey shared some of his favorite features of GoDaddy Pro, including a few you may not have heard of.
Add a Website to GoDaddy Pro
Integrating WordPress sites with the dashboard is the core feature of GoDaddy Pro that makes it possible for you to manage all your sites in one place. You can add non-WordPress sites as well, but they will not use the WordPress-dependent features like Updates.
Template Builder
The template builder is a feature you can use to create templates of your favorite themes and plugins. Then, the next time you go to spin up a new site you can do it quickly by applying your template to have all the themes and plugins installed at once. No more going into each individual WordPress dashboard to add themes and plugins one by one.
Custom Tags
Stay organized with custom tags you can create for your websites. These are commonly used to tag sites by their project status, the host they're using, or the website maintenance plans you created.
Collaboration
Invite teammates or hired freelancers to access your GoDaddy Pro dashboard and decide which websites they can manage. This feature makes it a lot easier to grow your agency and outsource work.
Bulk Add-on Management
If you have a lot of sites, you can keep track of which ones are using add-ons and make changes in bulk. There's also an option for bulk billing, which gives you a discount on add-ons when you have 100+ websites.
How Nealey manages his websites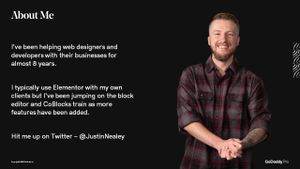 The first step to more efficient website management is developing a repeatable process. Once you have your process, you can refine and streamline it. Nealey has had 8 years in the website industry to refine and streamline his own process. He outlined his process and provided some pro tips, so you can learn from his experience to reduce time establishing your own.
Overview dashboard: Use the left side menu to filter websites by add-ons, status, or tags.
Updates section: Use the Safe update option (backups must be enabled) to safely update your themes and plugins in bulk. Nealey uses Safe update on all of his sites.
Comments section: Manage any new comments. Delete the spam!
Backups: Set up daily backups but switch to hourly when actively developing a site. That way, one mistake only loses an hour's work instead of a whole day.
Migrations: When you need to move a site from development to your client's hosting when you've finished the project, you can use the backups area to clone and migrate the site automatically.
Automation: Schedule automatic safe updates for plugins, themes, and WordPress core, so they can go through at a convenient time (such as Sunday at midnight) without you having to be up to access the dashboard.
WordPress Users: Manage the WordPress users from GoDaddy Pro, so you don't have to go into each WordPress dashboard to add or remove WordPress users every time a new stakeholder needs access.
Maintenance Mode: When you need to put up an "Under Maintenance" or "Coming Soon" page during development, you can turn this on from the dashboard instead of adding another plugin.
System Info: Check all the important server info for each site in the System Info tab. You can see the server OS, WordPress version, PHP version, site IP, memory limit, and more.
Show your value through automated client reports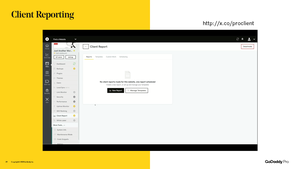 Establishing an efficient process for managing websites doesn't mean much if you can't properly communicate the value of your service to your clients. GoDaddy Pro's custom client reports give you the option to select which services and add-ons you want to include, the opportunity to leave notes about any special work you did, and options for branding.
The best part is you can automate your client reports as well. You can schedule them to send weekly, bi-weekly, or monthly and even choose a time and date.
You've got to be able to show your work and show your value that you're bringing to your client … and you do that with client reporting.
---
Must-have tools for a scalable website business
The key to building and growing a successful web design and development business is finding the right set of tools. As you scale, you'll need to find solutions for everything from hosting and website management to HR and marketing. Most people try out hundreds of tools before establishing their custom set.
We were excited to bring in Joe Howard from WP Buffs, a white label website management service, to share a few of his favorite tools. He has several years of experience in the industry and runs his own business as well as a podcast, WPMMR. You can leverage his expertise to save yourself hundreds of hours and dollars trying out different solutions.
Drive new leads with your website
If you build websites for a living, you have probably already sold your clients on the idea that a website is more than just a virtual business brochure. When done right, a business website is a powerful lead magnet.
Joe focuses on three main aspects that drive leads through his website:
SEO: A combination of high-quality content and optimized page and blog titles ensure visitors will find his website on search engines. Using "How to" in blog titles attracts searchers to instructional content.
Content marketing: A strong blog and free ebooks provide a lot of value to the searchers who were attracted to the site for the instructional content. They're also an excellent way to collect leads and email subscribers through lead generation tools like ConvertPro.
CTAs: Collect leads through buttons on service pages, a Live Chat feature, and pop-ups on articles. This gives visitors plenty of different ways to interact with you, depending on what they're ready for at the time.
"That's a great lead generation strategy: Educate first, build that trust, and then 'Hey, we can help you with that.'"
Save money with subscription services instead of hiring in-house
As someone who runs a subscription service, Joe knows the value they provide. When he needed design work for his ebooks and website, he decided to use manypixels. The monthly fee may seem steep until you think about how much hiring a full-time designer would cost. This solution saves money and provides unlimited designs, a clear benefit to those who have higher design needs.
You may not need a designer, but there are many other types of subscription services with price ranges for all stages of business.
Qualify leads with automated email campaigns
Every email address gathered by the ConvertPro integrations on the WP Buffs site comes to ConvertKit. ConvertPro is a tool for collecting subscriber emails while ConvertKit is a tool for creating and managing email campaigns.
Joe pipes subscribers into automated email sequences based on where they subscribed on the site. From there, he can track which topics they click in the emails to determine which readers are potential agencies and pull them into HubSpot through a Zapier integration. He wants to cultivate agency leads since that is his main customer base for WP Buffs.
You can use the same strategy for any customer base.
Use ConvertPro in WordPress to collect subscribers from your blog posts and free digital assets (like ebooks).
Tag them according to which lead magnet or article they subscribed from.
Build custom email campaigns in ConvertKit to cultivate the relationship.
Further channel qualified leads into a sales CRM to put them through your sales flow.
ConvertKit is an effective tool for segmenting subscribers to deliver targeted content or fill your sales funnel with qualified leads.
Build relationships that lead to sales with HubSpot
Every successful business needs a sales strategy, but WP Buffs doesn't embrace the "ABC" motto of "Always Be Closing." Joe uses email and content marketing automation to build stronger relationships with potential customers, instead.
After ConvertKit, HubSpot is the next leg of the journey where he cultivates leads by sending sequenced content that eventually leads to an offer. His goal it to provide enough value through communication that the recipient will want to schedule a sales call and sign up for his service.
Manage your team and projects efficiently with collaboration tools
As you scale your business and add more clients, projects, and teammates, managing everything can get scary. Multiple people may have to work on the same projects and communicate with each other in real time. Joe shared a few of the tools he uses to keep up with the day to day stuff.
Teamwork is a web-based project management tool that has extensions for pretty much anything work-related. For WP Buffs, Joe relies on the core Teamwork web app for project management and Teamwork Desk for support tickets. Teamwork makes it easy to assign, comment, and filter tasks.
While Teamwork offers a chat feature, Joe prefers Slack because it's more convenient for live conversations. It's pretty seamless between desktop and mobile, which is great for people who do a lot of their work on mobile.
15Five is a performance management software, and it's where Joe and his team keep track of their goals and objectives, through bi-annual reviews and 1:1s. It helps teams stay connected with their company values. You can even give someone a virtual "high five."
Building out your business toolkit
Throughout this series, we covered a lot of different strategies and tools you can use to start and scale your web design business. Everyone is going to have their own unique needs, but most web designers and developers will face some common challenges and will benefit from the same solutions. We brought in some industry experts to save you time and money by sharing some of their favorite methods and software, including our own GoDaddy Pro.
Connect With Us to Help Grow the Hub
For troubleshooting, count on 24/7/365 support from our experienced Care Guides — with a fast-track chat queue reserved exclusively for GoDaddy Pro.
You can catch up with us online a bunch of different ways:
If you're curious to see real-world proof of GoDaddy Pro and the Hub helping other web designers and developers, you can read about their experiences in stories we regularly publish about them. Apply as a contributor if you'd like to be featured next!
We built GoDaddy Pro based on insights from real people, and we're going to continue doing that. If you have an idea for making it better, please post your feedback in the community, through our feedback widget in the Hub, or connect with us on Twitter!
---
* See website for additional terms and conditions.