If you don't have a secure, encrypted connection for visitors to your website — which you can only get with a trusted SSL certificate — then your potential customers will be told by Chrome: Not Secure. Read all about how Google Chrome 68 is raising the bar on website security.
What can you do to get a secure website?
GoDaddy has all the tools you need to create a secure website, or to secure your existing site. Keep reading to learn how we can help you now, or give us a call.
Build a secure website with do-it-yourself tools
GoDaddy offers a number of tools that make it a snap to build a secure website, no technical expertise required.
GoDaddy Website Builder. You've got something you want to share with the world, but building your own website can seem like a daunting task. Who wants to deal with code, anyway? Luckily, you don't have to. Instead, GoDaddy Website Builder makes it simple to create your own secure website in about an hour .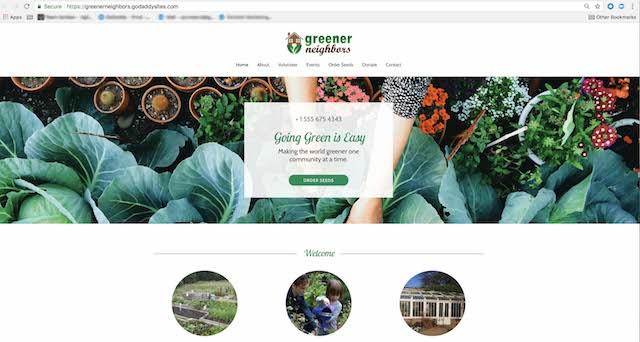 With GoDaddy Website Builder, your website will automatically display the lock — a security icon required by Google and trusted by visitors.
GoDaddy Managed WordPress Hosting.
Looking for an easier-to-build WordPress website? With GoDaddy's Managed WordPress Hosting, our Quick Start Wizard enables you to get a highly customized, professional looking WordPress site without having to download and install self-hosted WordPress (which isn't easy if you're not a pro). With just a few clicks you can access thousands of free themes and plugins that simplify the design process while providing powerful features. Plus, GoDaddy Managed WordPress helps make using WordPress easy and secure with automatic setup, backups and WordPress core software updates.
And you won't have to worry about Chrome displaying the Not Secure warning - all of the plans feature an included SSL certificate. Once activated with a simple one-click setup in your WordPress control panel, your site will display that trustworthy lock.
Secure your existing website with an SSL certificate
If you've already got a website but it is not secured with an SSL certificate, you'll need to get an SSL before Chrome and other browsers make the change if you want to avoid the Not Secure warning.
Check out GoDaddy's SSL Certificates. With an SSL certificate, your visitors will see that secure lock next to your domain name. An SSL encrypts all data that passes through the website to the server, so visitors' information is safe. GoDaddy SSL Certificates are trusted by browsers and use the world's strongest encryption. If you need help, GoDaddy provides 24/7 security support when you need it.
Get a secure website now
Now is the time to get a secure website or add an SSL certificate to your existing website to avoid the Not Secure warning displaying next to your domain name in the browser bar. GoDaddy's Website Builder, Managed WordPress Hosting and SSL Certificates can help!
You can learn more about tools to secure a website here.