Editor's note: GoDaddy's new WooCommerce Hosting plan makes it easy for you to start an online store. You can start editing your new eCommerce site in 70% fewer steps than leading competitors.
Ready to get started with WordPress eCommerce?
This guide will take you through the entire process — from the first idea for your domain name to your last plugins added — to start selling products on a WordPress website.
Whether you plan to build an empire or just sell a few hobby items, we can help you get going.
Getting started with WordPress eCommerce
In this guide, you will learn:
Let's get started!
Why choose WordPress for your eCommerce platform?
If you're looking for a platform to build an eCommerce website, it won't take you long to stumble onto WordPress. WordPress is at the top of many lists for preferred eCommerce site builders, and you may have even heard of the platform before starting your own eCommerce site.
Brand recognition isn't the only reason to consider listing WordPress as the top CMS (content management system) for eCommerce brands.
It's important to understand exactly why WordPress is consistently labeled one of the premier solutions for eCommerce businesses and how you can make the most of its versatile features and robust developer community.
A few of the top benefits of choosing WordPress for your eCommerce business include:
More than one-third of all websites run on WordPress.
WordPress prides itself on being user-friendly.
You have a whole community of resources at your fingertips.
There are tens of thousands of plugins to choose from.
As we dive further into these four benefits, you'll begin to realize just how important they are to your eCommerce brand. The flexibility and diversity of features available on WordPress make it a slam-dunk choice for many online retailers.
Related: Why WordPress — Benefits of WordPress websites.
1. More than one-third of all websites run on WordPress
The reality is, WordPress dominates the website management market. It's the content management system of choice for some of the world's largest brands like Best Buy, CNN, UPS and the NFL. If WordPress is good enough for these enterprise brands, then you can rest assured that it's good enough to handle your eCommerce business needs.
It's not just the big players who use WordPress either.
By 2019 estimates, WordPress claims about 60% of total CMS market share and 34% of all websites are launched and maintained through WordPress (a 4% increase from 2018).
When you consider how widespread the use of WordPress is, it should give you peace of mind.
It certainly would not be as dominant as it is if it was not arguably the best choice for building and managing a website.
2. WordPress prides itself on being user-friendly
When you look at the other CMS options on the market, you can clearly see why so many people are drawn to WordPress. This platform prides itself on being user-friendly and relatively welcoming to beginners.
In fact, WordPress began as a blogging platform that was built to make it simple for anyone to create a website and post content. This is still the foundation of the system, but it's evolved into a much more dynamic and encompassing website management software.
Whether this is your first online venture or you simply don't have time to develop a website while managing your business, WordPress is a relatively easy option for you. (Not quite as simple to use as a website builder, but an excellent choice for a robust online store platform if you're willing to put in a bit of elbow grease.)
3. You have a whole community of resources at your fingertips
WordPress is one of the largest open-source projects in the world, which means developers and contributors can create themes and plugins and offer assistance to users.
There are countless WordPress forums where you can ask questions and connect with people who are experiencing similar problems. It is highly likely that other eCommerce business owners have stumbled across any issues you are experiencing — which means you can usually find solutions easily for most roadblocks.
The popularity of WordPress means that you'll have a large talent pool to choose from in terms of experienced developers familiar with eCommerce sites.
If you eventually decide to hire a developer (or even contract someone out part-time), they are likely familiar with how the site works and have experience working with other WordPress themes and plugins. You will have a larger talent pool to choose from to find the best developers to help your eCommerce site.
By choosing WordPress as your CMS, you are opting for a content platform that comes with a strong support system. This is essential for seasoned professionals and young entrepreneurs alike.
Related: WordCamps and the WordPress community
4. There are tens of thousands of plugins to choose from
Let's say your online store has highly-specific needs. You need certain features that you're not sure you could get with a general theme or off-the-shelf platform solution. Well, WordPress has you covered.
WordPress uses "plugins," which are custom modules built to work with WordPress' framework to help users accomplish various tasks or integrate certain features to their site.
There are plugins for almost any feature you could want on your eCommerce site — from adding an Instagram photo feed to a page to integrating pop-up offers on your site, there is a plugin to help.
At last check, WordPress offers more than 50,000 plugins, from popular Google Analytics features to obscure tools that you likely will never need.
Plus, these plugins can be added with quick clicks and short lines of code, and they are easily updated when new versions are released by the developers. This makes them user-friendly to add, manage and remove.
GoDaddy and WooCommerce bring unmatched value
Our new WooCommerce Hosting plan comes with WooCommerce preinstalled, plus a variety of WooCommerce premium extensions including USPS Shipping Method, Subscriptions, Follow-Ups and more. These premium extensions are absolutely free for the life of the plan.
All this combined with our new onboarding experience with professionally designed templates makes it the easiest way to create an online store using WordPress.
Why a WordPress Ecommerce Hosting plan?
Building a successful online store can be a daunting task, even for web designers and developers. It's complicated and time consuming almost every step of the way.
You're running a business and understand the importance of saving time for yourself and your clients.
Our new WooCommerce Hosting plan dramatically simplifies the process. We believe it's the easiest way to build a powerful and highly-customized online store.
Editor's note: If you choose any annual WordPress Hosting plan from GoDaddy, you can also get a free domain.
Here's how it works. We started with WordPress.
WordPress is the world's most popular website builder. It's the top content management system (CMS) powering over a third of all websites worldwide. For comparison, the next largest CMS powers under 3%.
WordPress dominates, and for good reason. It's open-source software built by tens of thousands of developers around the world. That focus and community effort has resulted in the most flexible, feature-rich website platform available.
As the world's #1 web host, powering over 5 million WordPress sites around the globe, we see WordPress used every day by tech-savvy everyday entrepreneurs alongside web designers and developers.
We partnered with WooCommerce.
WooCommerce is the #1 eCommerce solution for WordPress. It has unmatched functionality and usage, powering millions of online stores around the globe.
On October 22, 2019, GoDaddy and Automattic (the parent company of WooCommerce) announced that we joined forces in a formal partnership.
Together, we're delivering an exciting new hosting plan that makes building a highly-customized online store easier than ever.
WooCommerce is now featured on our GoDaddy WordPress Hosting page
Now it's easier to launch & manage an online store.
Start customizing in 70% fewer steps
It takes 4 steps to set up a typical WordPress online store:
Choose a hosting plan
Install WordPress
Install WooCommerce
Install eCommerce plugins (add-ons that enhance the functionality of your online store, such as the ability to auto-populate USPS shipping rates into your cart)
This doesn't even take into account choosing a theme and design for your website.
We took those 4 steps, added selecting your design, and combined them down into just 1 simple onboarding flow
It not only makes the process easier but also lets you begin editing in 70% fewer steps than leading competitors.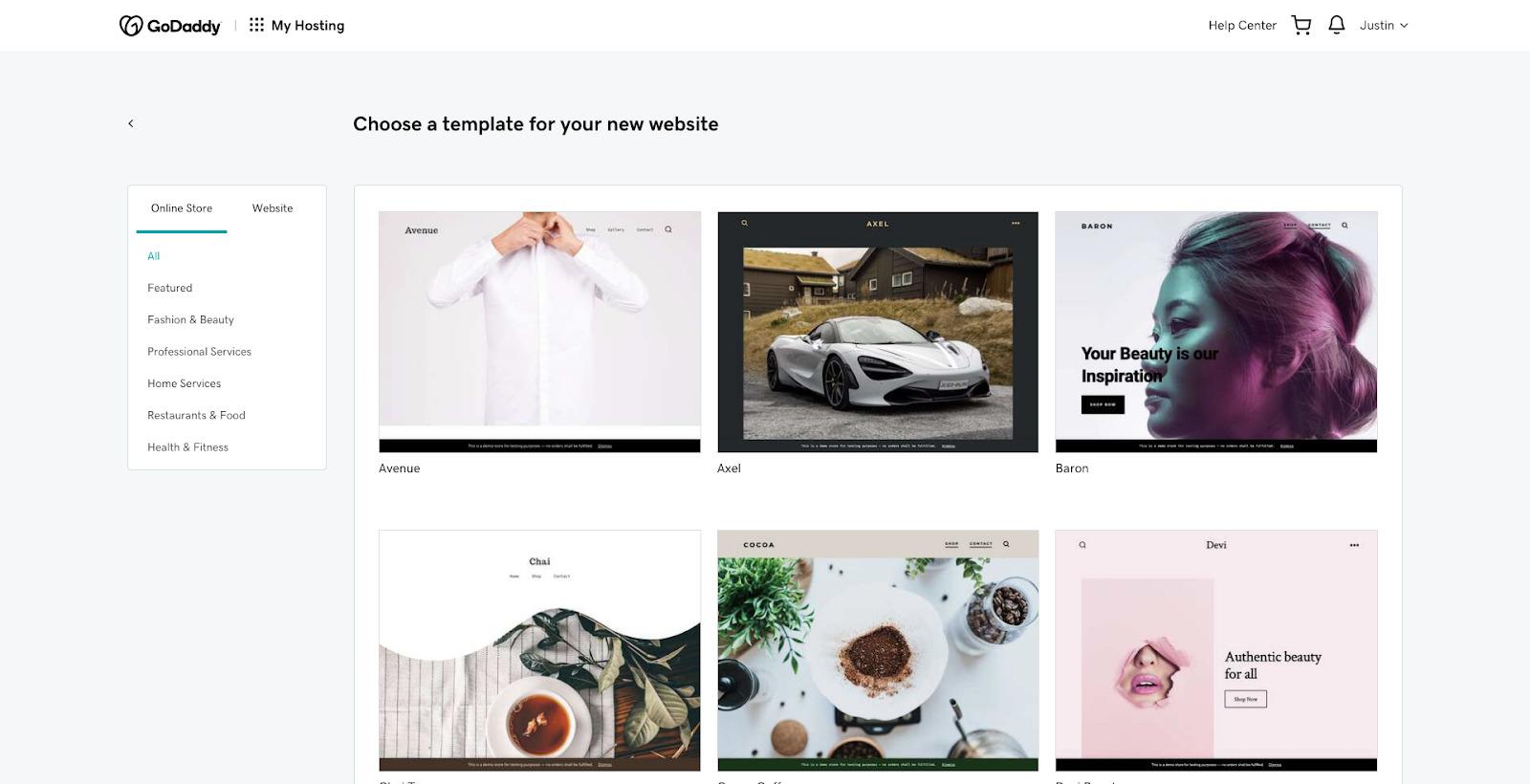 GoDaddy's new onboarding wizard and template gallery
Guided to success
The GoDaddy WordPress Hosting Ecommerce plan includes an "Action Center" that helps guide you to success. It will prompt you to complete key tasks as you build your site and set up your online presence. Some of these tasks include activating your custom domain, optimizing SEO, utilizing Google marketing credits, or setting up a business email address.
Free SSL, configured and automatically maintained
The Ecommerce plan includes an SSL certificate that is 100% hassle-free. Once you assign a custom domain to your site, the SSL certificate will automatically deploy and from there. The maintenance of the certification is 100% automated, including https redirects to ensure the lock symbol shows instead of a not secure warning.
WordPress updates done for you
Ensuring that your site uses the latest version of WordPress helps keep your site secure and running its fastest.
As part of the GoDaddy WordPress Hosting experience, we will automatically complete WordPress version updates. No work is required by you.
Automatic backups and malware removal
We understand the time, energy, and money that goes into an online store. That is why every one of these plans includes a 90 day rolling backup with the ability to download a local copy. We've also bundled in our Website Security Essentials malware removal and hack repair to clean up any malicious attacks to your website.
Caching and CDN to speed up your website
Website performance is an absolute must. The slower a website is, the more likely that visitor is to leave and never return. The WordPress eCommerce Hosting plan comes with caching and a CDN built-in.
Caching creates copies of a web page to serve to a visitor vs going through each and every request to deliver a page to a visitor. This improves your overall page speed which also leads to better SEO scores and visitor satisfaction.
A Content Delivery Network (CDN), is a network of servers that deliver content. The purpose of the CDN is to cache and more quickly serve static content based on the geographical location between the origin server and the user making the request. This means when someone in Japan visits your website hosted in the United States, it will load just as fast as a website hosted in Japan.
Staging site to avoid editing a live site
A staging site is increasingly important with an eCommerce website. Having the ability to make edits to a website without impacting a live online store can help save a few sales. Then when the edits are done, you can click a button to push those changes to the live site with ease!
The price of creating an amazing ecommerce site
You can create an amazing online store without breaking the bank. With the GoDaddy WordPress Hosting eCommerce plan, you'll get free access to over a $1,000 of WooCommerce extensions.
These extensions allow you to add unique functionality to your site such as the ability to sell subscriptions, sell personalized products, allow payment plans, and offer rewards.
Here is why WordPress ecommerce is right for you:
DIY Small Business Owners
WordPress is the most-used website builder tool in the world. It offers an incredible amount of freedom and flexibility, making it the tool of choice for tech-savvy DIY entrepreneurs and website designers and developers.
But with that flexibility comes complexity.
If you're already familiar with WordPress and WooCommerce or are somewhat tech-savvy and willing to learn, our new WooCommerce plan will be a great fit.
If you're looking for a quicker, easier solution and don't need the highest level of flexibility, GoDaddy's Website Builder might be a better option.
Web Designers and Developers
Setting your clients up on a Managed WordPress solution sets them up for long term success. They get all the benefits of having their website backup, secured, and optimized for eCommerce while you have a few fewer things to worry about.
You will also have the same type of access to a file manager, FTP, and database as you would with a standard cPanel hosting along with everything you love about WordPress.
Working with a client? You can use GoDaddy Pro to manage client's hosting accounts, send product recommendations, earn rewards and more absolutely free.
Ready to launch your online store with WooCommerce?
Start creating your online store today — plans start at $15.99 per month.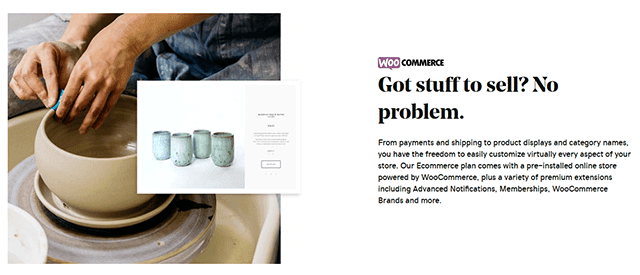 Getting started with WordPress eCommerce Hosting
Launching a new eCommerce WordPress store is easier than ever with our new onboarding experience. You have the option to choose from beautifully designed templates to expedite the building process or the standard WordPress experience.
You can look through various categories and even see how the templates look on different devices. All of the templates were designed using the native WordPress block builder editor and CoBlocks.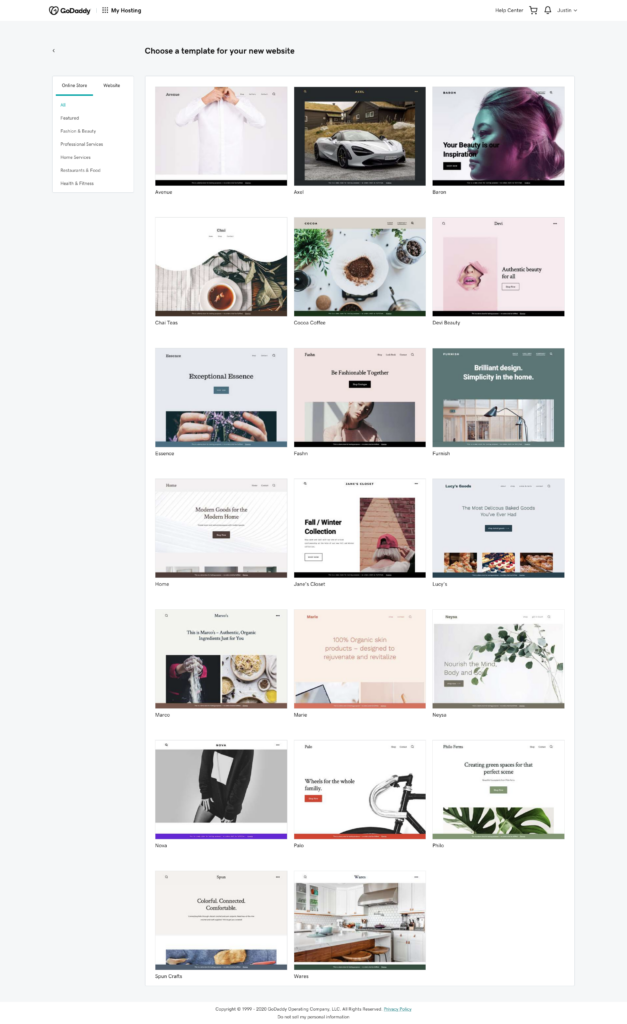 WooCommerce quick start wizard
Once you launch into the WordPress dashboard, your next step will be to go through the quick start wizard for WooCommerce. This will get your store address setup, shipping info, payment options, and more set up for your store. The wizard will also set up the necessary pages your store needs such as checkout, product listings, and a cart.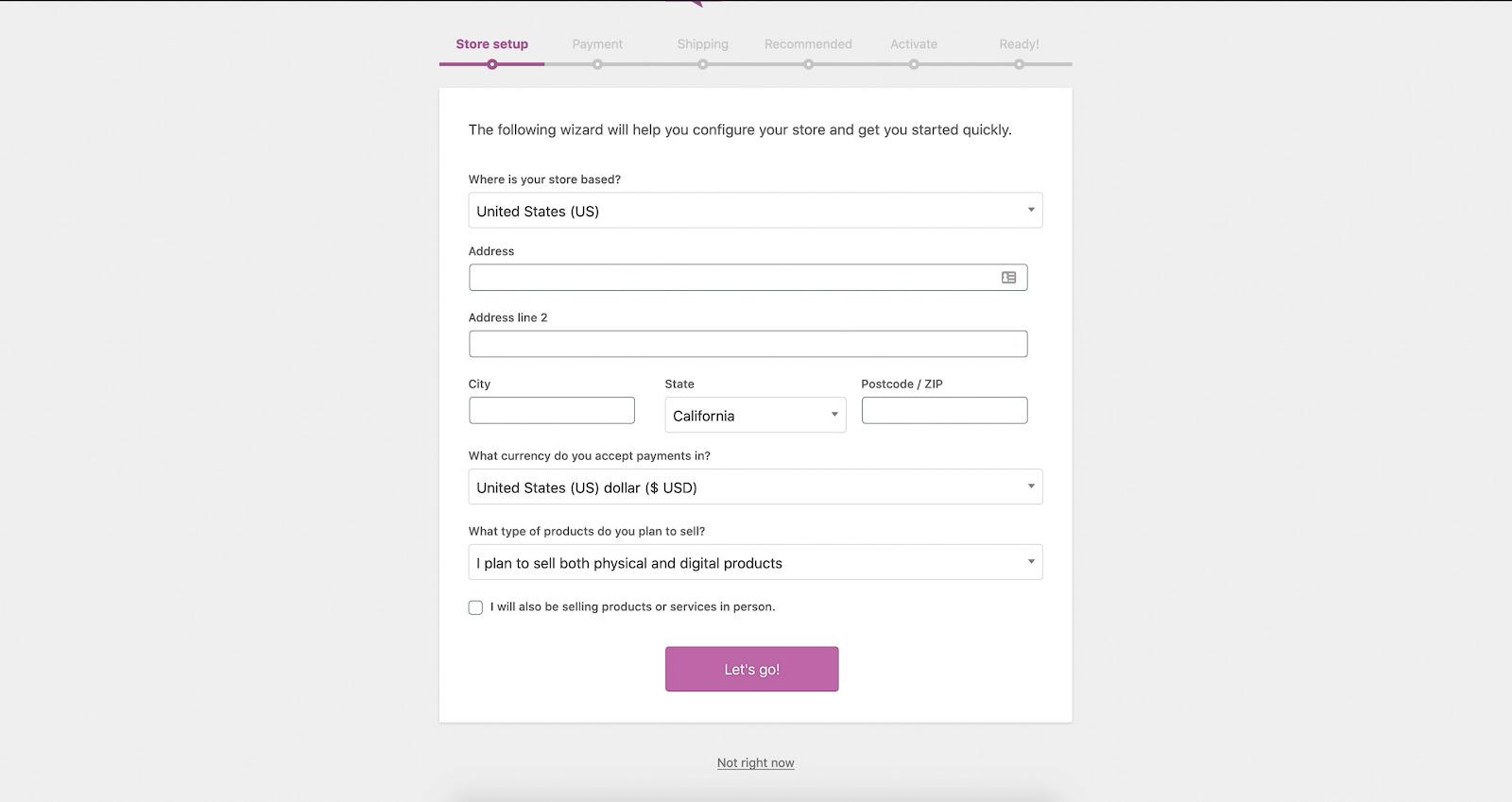 Accessing your free premium WooCommerce plugins
WordPress eCommerce Hosting with GoDaddy gets you access to a large library of premium WooCommerce plugins you can install for free on your site.
The plugins can be accessed by visiting the WordPress dashboard, mousing over WooCommerce on the left menu, and then click Extensions.
From here, you can go down the list of plugins used to extend the functionality of your store. Simply click Install Now when you find a plugin you want to be added to your site!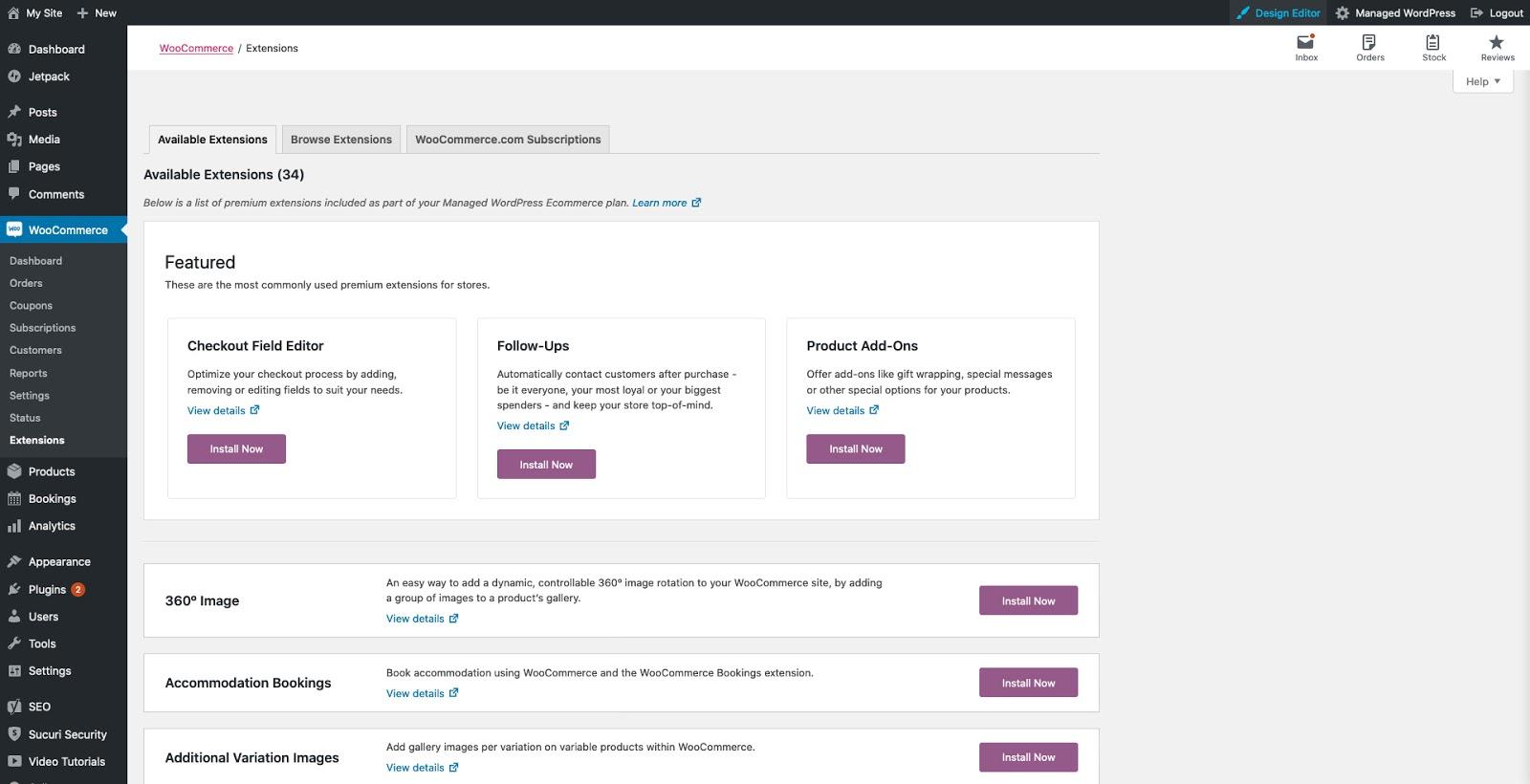 Setting up your first product
Now the exciting stuff! Time to get your products live on your website. You can add a new product to your store by navigating to Products on the left menu and then clicking add new. From here, you'll be met with various settings to fill out.
It might seem like an overwhelming amount of info to enter in but we'll take it step by step for you.
Product name and long description

This is usually the first step taken on a product. Every product will have to have a name associated with it but the description box below is not always used.
This description box is typically used when there is a lot of info needed to describe the product. If all you need is a short description, this area can be left blank.
Product Data

When adding a product, you also have to define what type of product it is. There are various product types available depending on your needs. Here are the descriptions and links for additional information from WooCommerce.com:
Setting up a simple product
Creating a simple product starts with setting your prices and choosing whether the product is physical or virtual.

Inventory
WooCommerce gives you the ability to track inventory, allow backups, and set the Product SKU.

Shipping
You can set shipping dimensions for each of your products. The shipping dimensions should be set on how your product will fit into a box. For example, you won't measure the full width and height of a shirt because it can be folded and fit into a smaller box.

Attributes
Attributes are used to assign details to a product such as size and color. You can apply as many attributes as you'd like. Custom product attributes can be created on the fly or you can set global attributes to be used by multiple products to save time and energy.

Product Short Description
The product short description will usually show up directly next to the product. Use this area to grab a visitor's attention and turn them into a buyer!

Product Photos
Pictures help products sell! These photos should captivate a visitor into wanting to learn more. If you don't have any product photos, the WordPress eCommerce Hosting plan comes with stock photos you can use.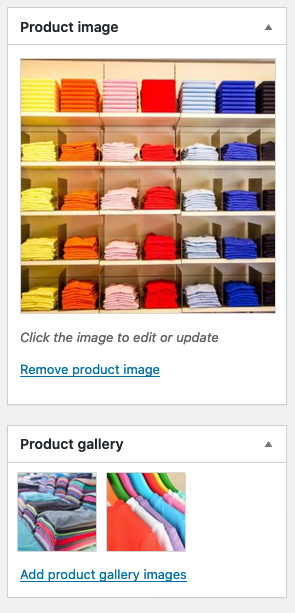 Product Categories and Tags
Categories help keep your products organized and make it easier for visitors to navigate throughout your website. You can create subcategories to set up a hierarchy with your products. The more organized, the better!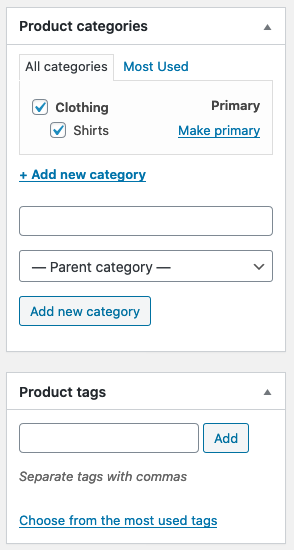 Publish!
Once this information is entered, all that's left to do is hit publish! A notification will appear at the top of your screen to view your product live on the website.
This is just a glimpse of what you can accomplish with WordPress eCommerce Hosting powered by WooCommerce. Each additional premium plugin extends the functionality of the website making it more robust and versatile to you or your client's needs.
What you need to build a WordPress eCommerce site
Most people think that you can set up a website in just a few clicks, and WordPress does its best to make that happen.
However, there are a few specific elements to your website that you need to know about in order to get your page up and running quickly.
Plus, knowing the different moving parts of your website can help you troubleshoot issues in the event that something does go wrong. Be prepared to handle the following elements while setting up your eCommerce site.
Related: How to plan a website
Domain
The domain is the name that you will use to identify your IP address or place on the internet. Google.com is a domain. GoDaddy.com is a domain. Finding a domain that is recognizable (but affordable) is often the first step when developing a website.
Many entrepreneurs will tell you that a strong domain name is one of the most important steps in building a successful brand in today's digital economy — even more so for eCommerce brands operating entirely online.
Erik Bergman had this to say when asked why he invested almost $1 million on the domain name Great.com for his charity affiliate project.
"Trying to build a successful online business without a great domain name is adding an extra hurdle to an already competitive race for customers' trust and attention — don't make branding harder than it already is."
While $1 million might seem like a lot for a domain, the most expensive domain name, Cars.com, actually sold for $872 million. Fortunately, you can expect to pay a lot less.
You are assured to find a domain name that perfectly represents your eCommerce endeavor, within your chosen budget — often for less than $20 per year.
Search for your perfect domain name
Related: What is a domain name
Hosting
Where you decide to host your website is another important decision and one which should not be overlooked. A hosting service houses the information related to your website or brand on servers that then render that information to end-users when they visit your website.
Choosing an outsourced hosting provider allows your website to run quickly and securely without needing to invest in your own servers. You will have a team of experts managing your data and keeping the servers running smoothly.
GoDaddy is one of the most reliable and trusted hosting providers available to eCommerce businesses. Plus, GoDaddy offers hosting especially for WordPress websites (more on that below).
Theme
An eCommerce theme is a created design overlay for your website that displays your products and information to potential customers.
Most customers won't care about your hosting or your CMS, they just want to see a beautiful layout and a navigation that is easy to use.
WordPress gives users the option to choose from hundreds of free themes — most of which can be used for an eCommerce site — but there are also thousands of premium eCommerce themes (under $100) for businesses to choose from.
We will address a few popular WordPress theme options later in this guide.
Plugins
WordPress uses plugins to make it easy for you to add or remove functionality to your website.
The first, and most important, plugin that you will want to add to your eCommerce site is WooCommerce or another popular eCommerce plugin that enables you to facilitate eCommerce transactions on your website.
This plugin is the backbone of your eCommerce site. Choosing an off-the-shelf solution like WooCommerce allows you to use a trusted, optimized product that your customers are already familiar with.
If you need help setting up the plugin, you'll have no trouble finding FAQs and a reliable support team. Many WordPress themes are built to work within eCommerce frameworks like WooCommerce, so integration is typically smooth.
Along with your eCommerce tool, you will likely find other plugins to improve your business operations and the user experience of your site. These plugins can monitor your SEO, give you customer service options, and provide clear analytics to help you make better business decisions.
While too many plugins can slow down the speed of your site, a healthy blend of the right plugins can help you take your eCommerce business to the next level.
We will also cover popular plugins that you may want for your page later in this guide.
Secure Sockets Layer
A Secure Sockets Layer (SSL) is an element of encryption technology that connects a web server and a browser.
If you are managing an eCommerce website, then your customers will be sharing their credit card information, addresses and other private data. You can't afford to lose this. Major brands do everything they can to protect customer data and still have breaches.
By adding an SSL, you are giving your website an extra layer of protection and providing peace of mind to your customers.
Related: SSL security — Why it matters and how to add HTTPS to your website
Branding
Once you have the technical aspects of your eCommerce site up, you can turn to your branding. These brand elements include things like your logo, color scheme, content guidelines and other factors that define your brand identity.
You should consider putting your brand elements together in a style guide which can include rules for how to add images and how to respond to customer service issues.
Developing a style guide will take time at first, but once you have it, it's easy to stay within your set rules as you grow your product pages and eCommerce site.
Related: How to choose brand colors and use them on your website
If you understand these elements going in, then you should have no trouble getting your site set up quickly, and then you'll be able to focus on growing your eCommerce brand.
Editor's note: A logo is an important part of your branding efforts. Try GoDaddy's Logo Maker for free and create your logo today.
What to look for in a WordPress eCommerce hosting plan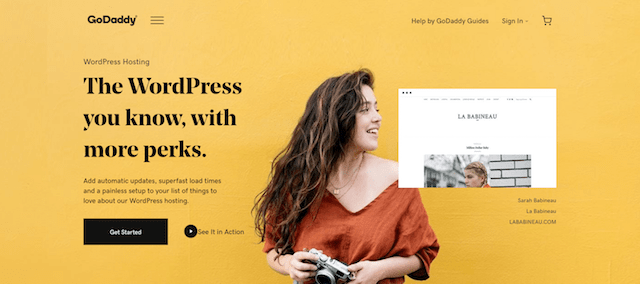 When you start the setup process of your WordPress eCommerce site, you will focus on the technical aspects of getting the best domain name and finding the right hosting solution.
While many entrepreneurs have an idea for what they want visually for their webpages, they aren't sure what they need in a hosting plan. By following the criteria below, you can find an optimal hosting provider to maintain your site speed, storage and security.
Editor's note: GoDaddy WordPress Hosting makes selling online a snap. Building WordPress eCommerce sites for clients? Check out the WordPress Ecommerce Hosting plan.
Storage
Site storage allows you to safely maintain data, files and other sources of information. With high storage levels, your hosting provider can pull information quickly — keeping your site running fast.
Your site speed is crucial for a number of reasons, but especially for SEO and the consumer experience. Your hosting plays a large role in determining the speed of your site, so it's important to keep storage in mind as you compare hosting plans.
The more storage you need, the bigger the hosting plan you will want to get; however, some providers allow you to add extra storage a la carte.
Expected website traffic
How many people do you expect to visit your eCommerce store? Right now, you might be happy with just a handful of visitors from around the country; however, the goal should be to grow your traffic exponentially.
After all, the more visitors you get to your eCommerce site, the more sales you'll make.
Most hosting plans can only handle a certain amount of site visitors and calls to the server at once. If the server gets overwhelmed, the page will slow and could even crash. Because you don't want to create a poor user experience with a slow or dead page, you need to find a hosting plan that aligns with your expected number of daily visitors.
Security
Web hosting means providing so much more than just a home for your website.
Look for valuable security features that are built into your site: daily malware scans, DDoS protection, customer service, phishing alerts for comments and messages. If your hosting provider can identify or prevent these security attacks, then you can focus on managing your eCommerce site.
Scalability
Of all of these, scalability is probably the most important feature of your WordPress eCommerce hosting.
While you might only have about a thousand monthly visitors when you first start out, this number could grow significantly as you market your business — this is especially true if your business is seasonal, and you experience traffic peaks in November and December.
While a basic hosting option might meet your needs for the next year, it helps to have the option to upgrade in the future.
With this in mind, try to find flexible plans that will not lock you into one specific plan for too long. You never know when you might need to scale quickly, so it's nice to know you have that option — should you need it.
Related: How to choose the best WordPress hosting plan
What is the difference between managed hosting and self-installation?
When it is time to choose a hosting option, you can either work with a hosting service (like GoDaddy) or develop your own hosting options through self-installation (or unmanaged hosting).
There are pros and cons for working with a third-party service or working on your own, and knowing these differences can help you choose the path that best meets your WordPress eCommerce needs.
Pros of managed hosting
Server-side expertise. You have access to customer service and developers who are familiar with WordPress and will make sure your site is protected on the server.
Additional features. With a hosting service, you get extra features like security checks, more storage, and performance monitoring to protect your eCommerce site.
Scalability. When you need more resources or space, you can typically scale up to a larger plan for your website with few hiccups.
Cons of managed hosting
Potential restrictions on plugins. The hosting service might limit the plugins you can use, or some might not work with the server. (This drawback is rare for most eCommerce businesses, though.)
Higher prices. You might have to pay more for the services you need. However, what you pay more in price you often save in time.
Pros of self-installation
Total flexibility and customization. You can develop a hosting process that completely meets your unique needs. You're also not paying for features that you don't use.
Not limited by plans. You don't have to pay more than you would want for the features you need.
Basic services offered. If you just need hosting, then an unmanaged service will provide that for you, they just won't go above and beyond for your business.
Cons of self-installation
Few resources. If you want something done, you will have to do it yourself or you will have to hire someone.
More technical expertise required. This is not a good option if you are not familiar with the server-side of websites.
Lack of protection. Many of the restrictions set by managed hosting platforms are meant to protect site owners. You may make a mistake and damage your website without those restrictions.
This is a quick checklist that you can reference when you are considering hosting your site yourself or hiring a third-party hosting provider. Simply put, more experienced eCommerce entrepreneurs could benefit from unmanaged hosting, but less technological business owners may want the managed options.
Related: What is managed WordPress hosting?
How to choose a WordPress eCommerce theme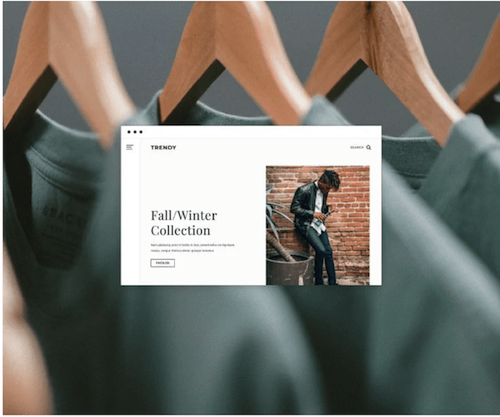 Once you have the infrastructure built for your WordPress site, you can start to get creative with the layout and design of your online store.
As we mentioned earlier, WordPress is a favorite option of many eCommerce entrepreneurs in part because it is intuitive — you don't need an expert web designer on your staff to develop a website.
The vast majority of site managers operating on WordPress choose from one of the many available eCommerce themes, instead of building a custom theme from scratch.
WordPress lets users select from free themes internally, but there are thousands of premium (paid) themes on the market. A quick search of ThemeForest shows more than 11,000 WordPress themes, varying by use and design.
Many WordPress themes are free to choose from, and the average site manager pays about $40 for a premium theme. That being said, some themes are more or less expensive depending on their design, and you may end up paying a little more to have a design that you love or functionality you need.
The visual appearance isn't the only factor to consider when choosing a WordPress theme. You want your eCommerce site to be usable, which means you also need to consider these criteria:
User navigation
eCommerce plugin compatibility
Mobile optimization
We will review these criteria and what role they should play in your WordPress theme selection so you can choose the best option possible for your eCommerce brand.
User navigation
The majority of your users will likely land on one of your product pages, but your marketing efforts will also draw people to your home page, category pages or blog.
How will people find your categories and subcategories? Will the theme make them curious about your deals and top products?
Look at the navigation set up of brands like Macy's and Dick's Sporting Goods to see how their home pages bring customers deep into their product pages — and deeper into the sales funnel.
Larger eCommerce brands spend millions of dollars on design and testing, so you can piggyback off them by trying to mimic design elements such as how they facilitate the buyer journey.
While you are considering your navigation options, look at how compelling the home page is compared to other websites in your niche. Good navigation can bring people in, but a poorly-designed home page will drive customers away.
eCommerce plugin compatibility
Not all eCommerce plugins will work with your theme.
Most themes aren't made for eCommerce, though they can handle common eCommerce plugins like WooCommerce.
If you decide on a WordPress theme that was not built for eCommerce specifically, make sure it will function with the eCommerce plugin you intend to use.
As you test your themes, look for notifications letting you know if the theme doesn't support a particular plugin. This means more work for your development team to get the two elements to work together. Some site managers might prefer to just choose another theme instead.
Mobile optimization
It's 2019 and creating a mobile website isn't optional. It hasn't been optional for several years now. More than half of your traffic will likely come from mobile sources, which means your theme needs to be easy to use and accessible from a smartphone.
Google made it clear that websites need to be mobile-friendly and mobile websites need to be fast. They reported that websites that load in less than five seconds receive twice the amount of ad revenue and have 70% longer sessions. Not only that, but most users expect a page to load in two seconds.
If you want your eCommerce website to be successful, you can't afford to lose customers who bounce from a slow website. Make sure your theme doesn't slow your business down and that it is easy to navigate through a smartphone.
Related: How to revamp your business's mobile experience to better engage your customers
6 best WordPress eCommerce themes
With tens of thousands of eCommerce WordPress themes to choose from, it can be overwhelming to figure out where to start. Fortunately, there are a few highly popular themes that you can select and adapt to your eCommerce needs.
These themes are frequently used for a reason — they are intuitive for customers and easy for site managers to work with. They're also compatible with the plugins and widgets that most eCommerce sites need.
Storefront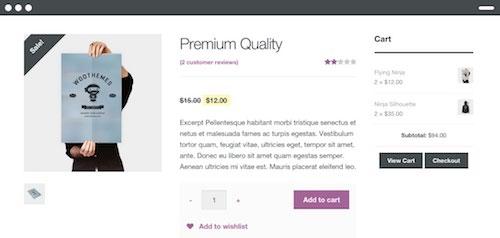 Storefront is the top choice for eCommerce brands that use the WooCommerce platform. To get an idea for how popular this option is, this theme has been downloaded more than 3.4 million times.
Storefront is accessible for diverse audiences and offers several extensions and add-ons to meet your needs. This theme (and many of the extensions) are free, but you can purchase additional add-onsThis is a great option if you want to upgrade your theme for only one or two features.
Optimizer
Optimizer is one of the most frequently downloaded themes of 2019. Site managers choose it because of the drag-and-drop design features, dozens of free templates, mobile optimization and SEO optimized design.
The best part is that its basic version is free.
However, if you want to upgrade to premium features (which offers advanced customization) you can buy the theme for a monthly fee. For entrepreneurs just getting started in eCommerce, Optimizer's flexibility might make a lot of sense.
Bellini
Developed by Atlantis Themes, Bellini has been used by more than 1,200 WooCommerce stores. Its design is product-focused, so you can decide how you want your category pages laid out in order to entice customers. This theme is also developed with SEO in mind to help your rankings.
Bellini Pro is available for a nominal monthly fee and offers additional home page and header layouts, along with Google Analytics integration. Bellini Free is free to use and is an excellent option for smaller stores.
eStore
The eStore WordPress theme is developed by ThemeGrill. While the basic version is free, the premium version is affordable and boasts several additional widgets and options to improve your eCommerce website.
This is a great option if you are particular about your design, as the pro option gives users access to 600 Google fonts and more than 15 colors.
ColorMag
ColorMag is another theme developed by ThemeGrill and could be a good option for your website if you don't want to use eStore. While eStore is meant to be used for eCommerce, ColorMag can be used for any type of site.
You may need some creative design and adjustments to have the layout meet your eCommerce goals. However, the strong visual elements will be sure to intrigue your customers. It is WooCommerce compatible. This theme has a fee for the pro version but is otherwise free.
Shopisle
Shopisle is developed by Codeinwp and offers a free WordPress theme for eCommerce stores plus a paid pro version. Shopisle offers a free 30-day money-back guarantee If you're not happy with this WordPress theme or don't think the extra features are worth the investment.
The chosen themes above can give you a sample of what top design features you should look for in your theme. Even if you choose a different eCommerce theme, you can avoid paying extra for something that might be free in another theme.
How to choose WordPress eCommerce plugins
After you set up the technical aspects of your eCommerce website and choose your favorite theme, you can begin to add valuable tools and systems to make site management easier.
Many WordPress websites have about a dozen plugins on their sites, with 20 being the recommended cap. Plugin management can get out of hand if you're not careful, so follow these steps to make sure you choose the best options for your site.
Identify which plugins you need the most
Plugins should not be added randomly. Make sure you prioritize the top plugins that you need to make your site function properly. With this in mind, your lesser-important plugins will have to function around your top players (not the other way around).
For example, WooCommerce is one of the top eCommerce plugins on the market — and one that many eCommerce sites can't live without. It is compatible with most themes and easy to navigate and adapt.
WooCommerce, or another eCommerce plugin, should be the first that you install because of its importance to the site's core purpose.
Make sure the plugin is updated regularly
As you look at your different plugin options, start by checking how frequently the tool is updated.
If you have to choose between two plugins that do the same thing, make sure you go for the one that is updated and improved on a regular basis.
Plugins should be updated regularly by their developer to keep compatible with new versions of WordPress and to prevent hacks and fix bugs.
Fortunately, WordPress will alert you if you try to install an outdated plugin or when it's time to update an existing plugin, to prevent you from the risks of outdated plugins.
Related: How to update WordPress like a pro
Look for backend support
Another feature that you should add to your plugin search checklist is backend support.
What will happen if the plugin breaks or causes problems on your website?
A plugin with a support team will be able to update the tool and get it back on track faster than a plugin without one.
Check for impacts to your page speed
Some plugins are known for being a little clunky. While you may think they're valuable, they could put a drag on your code and actually slow down your website —creating a poor user experience and hindering the optimization of your site as a whole.
Fortunately, there are ways you can identify this problem before you install the plugin.
Check the comments and reviews online for the tool. If people mention site speed, beware. You can also check these comments for other warnings and even some tips to get the most out of the plugin. Finally, you can run a site speed test before and after the plugin is activated to see if there is a noticeable change.
Only add one plugin at a time
Plugins are unpredictable in how they act on your website.
You might not have a problem with the first dozen plugins that you add, and then the next plugin causes everything to come crashing down.
This will be hard if you know what plugins you want and are eager to get your site going, but the payoff will be worth it.
Try to let a few days pass between installations and make sure your site is unaffected by the added plugin.
Related: How to add plugins to WordPress
Uninstall ineffective or unused plugins
If you find that a plugin that you thought was valuable never actually gets used on your website, uninstall it. This prevents a plugin graveyard from collecting on your website. Even if the plugins are inactive or stopped, they could cause trouble later.
Note: Most reputable plugins will have guides on how to install and uninstall the plugins. For example, WooCommerce has dedicated process docs for installation that your team can follow during the setup and removal process.
To manage plugins effectively, designate an approval process within your company for adding new ones. This way, as your company starts to grow, you won't have rogue employees adding plugins whenever they see fit.
Take measures to keep your WordPress eCommerce site safe for your visitors.
8 Best WordPress eCommerce plugins
If you need a tool for your eCommerce website, there is usually a plugin already available for that. You can find everything from SEO tools to design plugins to make your pages stand out and draw customers in.
That being said, all of these plugin options can be overwhelming. Check out a few of our top picks that we trust to work well with your WordPress eCommerce site.
WooCommerce
As we mentioned earlier, WooCommerce is one of the top plugins for launching an eCommerce site using WordPress. You will likely find everything you need, from setting up payments to shipping.
WooCommerce is free, but it does have a large extensions store where you can add extra features. These additional options include free Facebook and PayPal widgets alongside pricier subscription management services.
Related: 15 free WooCommerce extensions for new eCommerce sites
WP eCommerce
WP eCommerce is an alternative to WooCommerce. If offers an eCommerce system for WordPress with additional add-ons and features for your site. Like WooCommerce, the initial program is also free.
If you are not very tech-savvy, consider their "hire an expert" option where someone from their network of WordPress developers will help you.
Yoast SEO
Yoast is a great SEO tool if you don't have a search background and want to quickly make sure that your content checks all the boxes.
This plugin is free, but you can upgrade to more advanced features. Add a keyword to each page and control your slug, meta description, social media blurbs, readability, and other important content elements with this easy tool.
MonsterInsights
Every eCommerce site needs analytics information to learn where customers are coming from, what pages aren't converting, and the demographics of your top buyers.
MonsterInsights is a tool that easily connects your WordPress site with Google Analytics to get the data you need. No coding is needed, which is why this plugin has been added to more than 2 million WordPress sites.
WPForms
WPForms makes it easy to set up a contact form on your website. The basic plan is affordable and lets you create unlimited forms, with unlimited entries, and multiple pages with advanced requirements.
If your eCommerce page offers bigger ticket items or consultations before purchase, this plugin could be incredibly valuable.
Related: How to take advantage of the power of contact forms for selling online
MemberPress
If you are planning to offer a subscription service (like a monthly makeup box), consider MemberPress. This paid tool can make it easy for you to manage monthly members and subscribers. You can also send specific coupons to audiences to engage and upsell them.
BackupBuddy
Developed by iThemes, BackupBuddy allows you to backup your information in the event that you lose it. This includes payment history, customer information, inventory and basically every part of your eCommerce site. The reasonable annual cost of BackupBuddy is worth the peace of mind it will provide.
Envira Gallery
WordPress does offer a free Gallery option, however, you might not like how this tool presents your photos. Envira Gallery is a good alternative if your eCommerce site is highly visual and you want to win customers over with your images. Envira Gallery is extremely affordable and can make a difference for your overall revenue.
As you can see, some of these features are more essential to your website than others. While a plugin like WooCommerce keeps your entire business running, tools like MonsterInsights or Yoast add more subtle benefits to your brand.
Related: 5 of the best WordPress plugins for eCommerce
Confidently create your eCommerce WordPress site
Setting up an eCommerce site on WordPress is fairly easy, but it does require careful thought before you start.
Choosing a great domain name, knowing how your site will be hosted, what it will look like, and what tools you need to succeed can help you launch your new online store without a hitch. From there, you can start growing your sales and impressing your customers with your web presence.
Use this guide to prepare for your eCommerce site launch. Select a theme and identify your domain and hosting plan before you start the development process. Once you have all your ducks in a row, you can get your new WordPress eCommerce site up and running.
Happy selling!
This article includes content originally published on the GoDaddy blog by the following authors: Bob Dunn, Towhidul Islam and Tom Rankin.