Big Marlin Group hooks clients nationwide with a personalized approach to full-service marketing
Jamie Hein, VP of business development for Big Marlin Group in Gilbert, Ariz., offers insight into the phenomenal growth of this marketing agency. Led by CEO John Allen, Big Marlin Group has differentiated itself in a competitive market by taking the time to learn and understand its clients' enterprises before developing customized marketing strategies.
Big Marlin Group
What's the elevator pitch for your business? Describe what you do.
Big Marlin Group is a group of dedicated marketing pros who can solve business and marketing challenges in a constantly changing digital world. We are an Arizona-based agency with a customer base in 14 states and growing.
We have a national reputation for beating expectations.
We handle everything marketing — from traditional to digital. The difference between us and them: we take time to learn and understand your business before applying the right marketing strategies.
What inspired the start of Big Marlin Group?
The directors of BMG collectively own the entire company. With the spirit of our CEO, John Allen, we inspired to be the best and enjoy the most of what we did for our customers.
All of our early backgrounds come from developing marketing businesses within large media companies. There we all worked together for many years, but were controlled by the corporate powers and limited as to what services we could provide to our customers. So we left and started our own company where we could offer both traditional and digital marketing services.
We love helping customers achieve their business goals, and to do that we need to become business partners, not just a vendor.
We are good at what we do and wanted to share it with the world.
What first steps did you take to get the business off the ground?
We built a business plan which defined who we wanted to service, what services we would provide, how many employees it would take to sustain the work, and the financials needed to support our business
We had strong relationships with many customers we worked with at the newspaper media company; since day one many decided to come work with us.
What challenges did you face early on?
Keeping up with the growth. We started off small, selecting just a handful of clients and employees who we knew would fit perfectly in the culture we wanted to create. But because relationships have always been our strong suit, the number of clients continued to grow — therefore, so did our staff.
We had times where we had more work than bodies, but we made it happen.
What big wins have you had so far?
Grown our customer base to 14 states across the US and growing.
Our digital team are all Google AdWord-certified and we manage enough customer spend each month to get us the top badge with Google – Premier Partner.
We have won projects against national agencies.
We created a marketing vertical specific to YMCAs: Built from our 23 years of experience working with YMCAs, it utilizes Y marketing best practices that can be used across all Ys in the U.S.
We built a leading digital platform (Digital Counter) that integrates with business platforms for YMCAs all over the U.S. It provides the ultimate user experience when it comes to online program and membership registration.
Our name has turned into a brand.
Where do you see your business in 5 years? 10 years?
In five years: Have four successful industry-specific verticals; hire additional qualified employees who will help with the growth, or look for smart partnerships with other companies that will allow us to scale; and our company will become more and more employee owned.
In 10 years: Grow into a significant national agency where we are competing with the big dogs.

Dealing with clients
What's your ideal client?
Our ideal clients are companies in any industry that are looking to grow to the next level. They are open to sharing the ins and outs of their business so we can approach strategies the best way we know how. And they have to like to have fun!
Customers utilize our marketing skills at many different levels. We can act as a business's entire marketing department or fill voids where it might be smarter for them to outsource.
We work great alone or with an internal marketing team.
How do you find new clients?
Most come from referrals or networking, and our own marketing campaigns.
How do you retain your clients and encourage repeat business?
Customer relationships are key — all employees are very hands-on for all our clients.
We focus on the big picture.
We don't just meet our customer's needs, we anticipate them.
We are very transparent when it comes to results — numbers speak for themselves so metrics are key to our success.
We understand that change is constant and we embrace it.
Have you ever had to fire a client? What was that experience like?
Yes, we have, but not many. I can only think of two in the 23 years we've been doing this. We handle customer relationships like we would with employee interviews — we look for the right fits. Sometimes you just don't mesh well with one another. Goals might not align with one another, or they are stuck in their ways and have a hard time accepting change.
What's your approach to contracts and project agreements?
We always start with a meet-and-greet to get to know one another. If both parties agree to take on next steps, we then complete a SWOT analysis to really understand the business. Based on that, we create a scope of work or proposal that describes the services we feel would best get them to their overall goal. Once the proposal is approved, we set up a meeting to go over the business's strategic goals. From there we create marketing goals that will achieve the strategic goals.
Then we go to town and start reeling in the leads for our customers.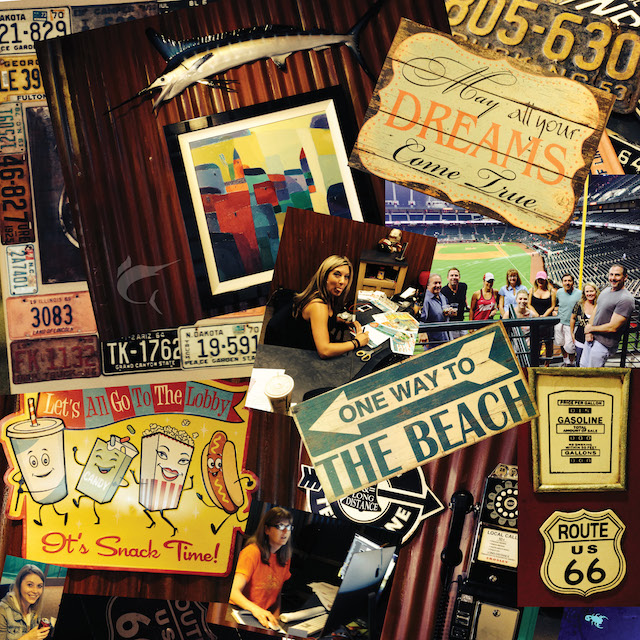 Your working environment
What's your office/studio setup?
It's a very open environment — we have a few offices, but for the most part all employees work in an open area. We have custom wall structures in place that provide each with personal space. The office vibe/décor has a Mexico/Cabo feel — bright colors, fun lights and wall art. We've got workplace-centric lighting for a better environment, a fleet of beach cruisers for lunches/happy hours, great music and a special scent.
How do you work? What's your day-to-day routine?
We have a team of account managers, digital specialists, designers for both print and web, web developers and management. Most areas work directly with customers on a daily basis.
Every morning we check our personal emails and our support emails for web and for the YMCA business system integration we have for online program and membership registration. We create and implement marketing campaigns, manage and optimize all our digital campaigns, update reports and metrics. We have customer meetings to discuss new ideas, how a campaign wrapped up, or how it's progressing toward our goals.
What tools do you rely on?
We lease dedicated servers from GoDaddy for all our customer websites that we manage.
Other tools include:
These tools allow us to operate efficiently and effectively so that we can provide the best solutions for our customers.
Fun, growth & learning
How does the Big Marlin Group crew like to spend time outside of work?
We all work hard together so when we can, we play together. We like happy hours, and sometimes we even get to have them with our customers.
We take Cabo San Lucas trips together as a way to thank our staff for all their hard work.
Many employees unwind by reading, hiking, camping, visiting family/friends that are out-of-state, playing with their dogs, and spending quality time with their family.
What's your guiding business philosophy?
If we do right by others, others will do right by us.
Where do you turn for inspiration?
Our fearless leader, John Allen.
What advice do you have for aspiring freelancers and entrepreneurs?
Don't ever stop learning. Learn as much as you can and then teach others.
Have fun! If you aren't, then is it all worth it?
Thanks for taking the time to talk with us, Jamie. Visit the Big Marlin Group website, and follow the company on and Facebook, Instagram, Google+ and LinkedIn.