How to open a bar: 10 steps for success
If the idea of socializing with friends, mixing drinks, and staying out late sounds like something you'd like to do as a career (and not just on the weekends), you've probably wondered how to open a bar. Of course, in reality running a bar isn't all fun and games. It takes dedication and hard work to keep things going. And to be successful in this entrepreneurial quest, there are a few things you need to do correctly.
How to open a bar in 10 steps
Pull up a stool and let us show you how to open a bar, including 10 things you need to properly execute to make your cocktail dreams a reality.
Write a business plan.

Identify your target market.

Set up a business entity.

Register trademarks for your name and logo.

Choose a location.

Design your bar.

Get the proper licenses.

Set up an opening day promotion.

Plan and execute a marketing strategy.

Keep track of inventory and accounting.
Eager to open your doors? Let's dig into these steps a little deeper.
1. Write a business plan
Any new business starts with a business plan. Some are more comprehensive than others, but for a bar, your business plan should be pretty detailed. At minimum, you want to include details in your business plan on the following
A description of your business. This should explain your bar in detail, including the theme, atmosphere, business structure and overall value proposition.
Market analysis. This involves evaluating your competitors, their business strategies, and how successful or unsuccessful they are. Additionally, it should include details on your bar's target audience (more on that below).
Products and services: This section should cover your products, market and organizational development. Be sure to reiterate your value proposition here.
Management and organization. How is your business structured? Who are your managers, and what experience do they have in the industry? Answer these types of questions in this section of your plan.
Financial projections. This section will always be wrong because no one can predict the future, but do your best to estimate what you expect to make in profit/loss over the next three to five years.
It definitely takes time to get your plan in order. If you need more help, check out these examples and templates provided by Bplans.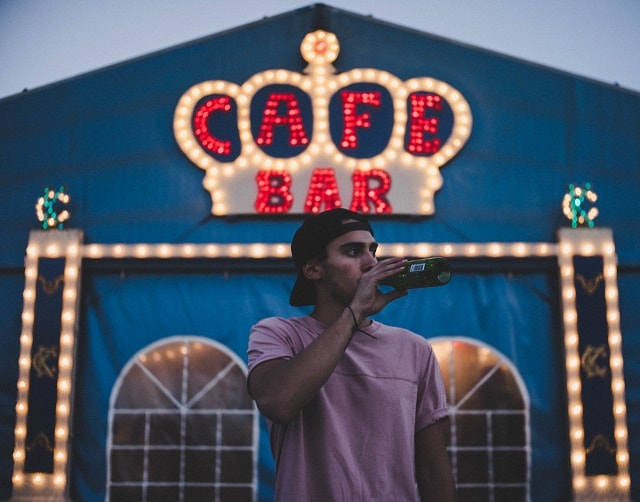 2. Identify your target market
Identifying your target market can help you better understand how to present your value proposition to your potential customers. To identify your target audience, create an avatar of your best potential customer that includes things like demographics, how they spend their free time, and other psychographic traits. Check out this post for more detailed info on creating a customer avatar.
3. Set up a business entity
Unless you want to take on the liabilities of owning and opening a bar yourself, you need to set up a business. Setting up a Limited Liability Company (LLC) on behalf of your bar is one of the best ways to ensure that you don't have to personally take on the liabilities of the bar. For example, if someone slips and falls in your bar and decides to sue, they sue your business entity instead of suing you.
4. Register trademarks for your name and logo
Setting up a business entity protects you from liabilities, but you also need to protect your brand — and that means protecting your name and logo. Technically, just making use of them protects your name and logo, but in order to gain enforceable protection for your brand, it's important to register the trademark for your logo and name. Failure to take this step can, in some cases, allow other businesses to use your brand elements without consequences.
Editor's note: Struggling to come up with a logo for your bar? Check out GoDaddy's Logo Design Services to have a professional create something beautiful.
5. Choose a location
Location is one of the most important aspects when determining how to open a bar. Without choosing the proper location, you might risk losing the ability to grab the attention of your target audience.
Here are a few things to consider when choosing your bar's location:
Your bar's style. Are you casual or stylish? Choosing a location that reflects the style of your bar can influence people's decision to come through the door.
Your target market. Are you targeting college students or high-end business types? Choose a location that's convenient for your audience.
Zoning. Are you allowed to open and operate a bar in this area? Confirm this before you sign a lease or purchase property.
Rent/mortgage expenses. Ensure that you can make up this expense in sales.
Editor's note: They say location is everything. So once you've found a new home for your bar, make sure everyone knows how to find it. Check out GoDaddy's Local Business Listings to get listed on directories like Yelp, Google, Foursquare and more. A strong online presence really helps to bring foot traffic to your new physical location.
6. Design your bar
The design of your bar goes hand-in-hand with your brand. Not only does your brand help you attract the right customers, but delivering on your brand message helps you keep them coming back. When evaluating the stylistic elements of your bar, make sure everything is complementary. The music, décor, and lighting should all work together to reinforce your brand.
If you need inspiration, check out some of these cool bar design ideas. Whatever you decide to go with, ensure that your design creates a memorable experience for your target audience and corresponds with your brand.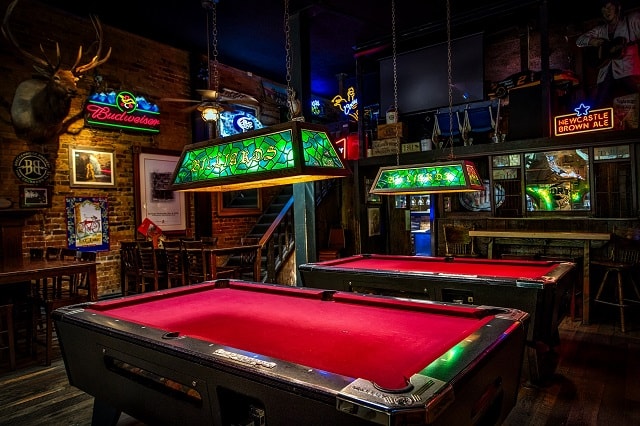 7. Get the proper licenses
Here are a few of the key licenses you'll need to open your bar:
Certificate of occupancy. This certifies that your building is properly maintained to host a certain number of guests.
Liquor and food service license. These are unique to your state, and you need them to legally serve food and alcohol. Keep in mind that a food service license doesn't let you serve alcohol in your bar; you'll need to get the liquor license for this.
For more information about acquiring a business license, check out this post.
8. Set up an opening day promotion
Putting on an awesome opening day promotion can generate a lot of buzz for your bar. If you can afford it, give away some free food or drinks on opening night. This can be an effective way to generate press and social media buzz for your new bar. Who doesn't like free stuff?
9. Plan and execute a marketing strategy
Marketing is one of the most important elements of growing your bar and keeping it alive. You can't expect to simply open your doors and watch customers flow in; without marketing, you won't be able to sell enough drinks to stay opened for long. So, ensure you have an ongoing marketing plan in place that both attracts customers and keeps them coming back.
Check out some of these bar marketing ideas to get started on your way to becoming a bar marketing master. And don't forget your website! Check out this 5-step guide to build one for your bar.
10. Keep track of inventory and accounting
Inventory and accounting is an important part of tracking your bar's success, so ensure you have a system in place for both before opening up shop. Proper inventory tracking helps you determine how you should price your drinks, and which ones your bartenders should be recommending to new customers. Whether you use an accounting software or hire a bookkeeper, it's important to effectively track your bar's profits and losses.
Now that you've learned the basics for how to open a bar, it's time to get to work. Cheers to your success!