How to plan a website in 7 steps
The GoDaddy product information in this article is outdated and currently under review for accuracy. For the latest up-to-date product information please visit godaddy.com
Whether you're an aspiring entrepreneur, blogger or small business owner, having a website is a must in today's society. But walking blindly into the world of site creation can be a bit daunting. Fortunately, we've got you covered with a detailed list of to-do items to plan a website before you build it yourself or hire a professional to do it for you.
Use this post as a template that outlines exactly how to get your new website ready to launch.
How to plan a website in 7 steps
Creating a reliable website plan will help you organize your efforts, collect the assets you need, and start off with an outline of your goals and a clear path for achieving them.
The website plan template will serve as an anchor you can refer to for any later decisions as well as a roadmap that can be used to set deadlines and targets.
As you plan a website, here are seven steps that will guide you through the process.
Read on for a website plan template that will help you launch your site quickly, easily and strategically.
1. Identify your website goals
Before you start building a website, you need to know why you are building it.
What is your primary objective?
What do you want your website to accomplish for your business?
Is it strictly informational, or are you selling products?
Are you looking to increase engagement with customers via your site?
Is your goal to leverage your website to bolster year-end profits?
Knowing the answers to these questions will help you create a plan that is strategically tied to your business goals, so it's important to always start at square one: the purpose of your website.
Start thinking about the broad purpose of your website
The purpose of your website is the reason why you want to build it. It's the somewhat obvious reason for what you think a website can do for you. You might think the purpose is to:
Attract traffic and grow an audience
Show your products
Share what you know
Advertise your business
Entertain your readers
While those are good reasons to have a website, they won't necessarily help you do anything specific, which is why you need to turn the purpose into a concrete goal.
Turn your purpose into a concrete goal
The goal is the real, concrete reason why you want (and need) a website. It's what you want to happen as a result of having a website.
To find your concrete goal, start with the purpose that seems obvious and then keeping ask yourself "why," until you get to the real purpose. Examples of this might be:
| Broad Purpose | Concrete Goal |
| --- | --- |
| Attract traffic and grow and audience | Sell an eBook to your audience |
| Show your products | Sell more products |
| Share what you know | Build authority and get speaking engagements |
| Advertise your business | Get clients to register for a consultation |
| Entertain your readers | Build your newsletter subscriber base |
As you can see in the examples, this exercise narrows your focus so you can see what you actually want your website to do. You can see the conversion or action that you want to drive on your website.
Decide what your website needs to help you reach your goal
Understanding the goal for the website (the action you want to trigger) enables you to start designing a strategy that leads to that conversion.
When you plan a website, look at your goal and determine what your site needs to help you accomplish the objective.
For example, if your goal is to:
Sell an eBook to your audience — You need to funnel users to your eBook product pages and have a way for them to make their purchase.
Build authority and get speaking engagements — You need to highlight your expertise through blog posts and drive users to your contact page.
Build your newsletter subscriber base — You need to create interesting and engaging lead magnets and add opt-in forms on your site.
Break down your goal and determine the elements you need on your site (such as opt-in forms, landing pages, etc.) to reach that goal. Also, design the funnel on your site to drive audiences toward the action you want them to take.
Related: 6 tips for moving your customers through the sales funnel
2. Identify your target audience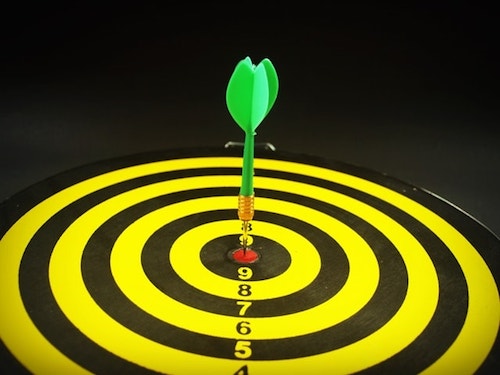 Once you know what you want users to do on your site, you need to figure out who those users are.
It's critical to clearly identify your website's target audience when planning your website.
Only then can you create strategic plans to get website visitors to take action.
Why you need to know your target audience
If you're trying to attract everybody to your website, you're probably not going to attract anybody. Casting a wide, broad net does little to help with driving traffic, connecting with audiences, or driving conversions. So, you need to know exactly who you are trying to reach.
If you skip this step and fail to clearly identify your target audience, it can lead to a variety of marketing problems.
You won't know how to talk to your audience. If you don't know who your customers are and what they like, want and need, it's difficult to know how to speak directly to them. When you can clearly visualize your audience, it's much easier to create copy that resonates with them.
You will develop weak, vague branding. Great branding pulls in a specific target audience. If you don't know your audience, you can't design your branding to reach them. You will end up creating branding elements that target everyone, which end up being unmemorable, bland and boring.
You will struggle with building lasting customer loyalty and affinity. When your brand and marketing messages are weak and generic, they won't resonate with customers. If you can't connect with customers in this way, you will struggle with building lasting brand affinity or loyalty.
You will attract the wrong customers. Vague messaging will not only prevent your target audience from being drawn to your brand, but it will also draw in the wrong type of customers. When your communication isn't targeting the right audience, you may attract unqualified leads and customers who can't benefit from your offerings.
You will blend into the competition. When you don't know who you are trying to attract, you can't build a brand with a point-of-view. And without a strong brand identity, you risk looking like everyone else in your industry. Your company won't stand out or connect with customers.
You won't be able to effectively use targeted advertising. Through targeted social media advertising campaigns, you can choose who sees your ads based on details related to demographics and interests. If you don't know these things about your ideal audience, you won't be able to launch effective ad campaigns that target the people most likely to buy from your brand.
Now that you can see why knowing your audience is so important, let's look at some tips for getting to know your ideal customers.
How to get to know your target audience
You may think you already know who your target audience is. Maybe you have an idea in your head. Unfortunately, that image in your mind might be wrong.
A lot of brands and marketers make incorrect assumptions about their audience.
The only way to truly know who your audience is and what they want, think and need is to do research. To get insights into your target audience, you can do a few things.
Interview your customers. Get to know the people who are already buying from you. Conduct in-person interviews with readers and past customers and shoppers.
Interview your ideal buyers. Get to know the people you want to sell to. Identify people who would be your ideal customer and interview them as well.
Send out surveys. Collect feedback in a more streamlined way but sending out small surveys to your past customers and email subscribers.
See what customers are saying online. If you can't get customers to talk to you, go to the places where they share their opinions online. Engage in social listening by browsing hashtags related to your brand or industry, and visit review sites to collect feedback.
See what your business data says. Business data is information about the products and services you sell as well as how customers engage with your offerings. Knowing what you sell, when you sell it, how often people buy, and similar information will help you get to know your customers and see how they make purchasing decisions.
See what your website stats say. Google Analytics website traffic monitoring can also offer insights into how your customers act. Use your website data to see what pages customers visit, how often they visit your site before they buy and other metrics to get to know your audience.
Once you collect this information, you will get a better idea about who your customers are and what is going on in their heads. From there, you can create a clear and detailed description of your customer, also known as a buyer persona.
Related: Conduct a survey to find out what your customers are really thinking
How to create a buyer persona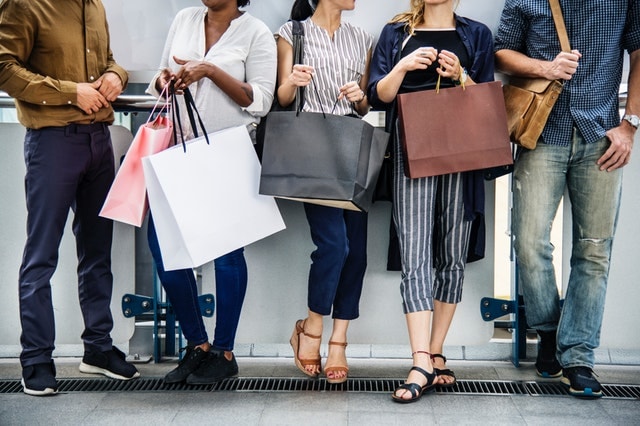 A buyer persona is a semi-fictional character you create to represent your ideal customer. It is a description of an imaginary customer who meets the criteria of your target audience.
To build a buyer persona for your brand, imagine your ideal buyer and then fill in the following information that describes him or her:
Demographic details
Age
Gender
Income
Location
Family situation
Annual income
Education
Professional details
Industry
Job title
Company size
What are his/her professional goals?
Psychographics
Personality traits
Values
Attitudes
Interests
Subconscious and conscious beliefs
Motivations
Priorities
Influences
Favorite blogs/websites
Favorite magazines/books
Favorite thought leaders
Beliefs / Goals
What does he/she believe strongly in?
What are the characteristics of his/her personality?
What are his/her personal goals?
Challenges
What keeps him/her up at night?
What are his/her pain points?
What challenges is he/she facing?
Buying process
What is his/her role in the purchase process?
How does he/she regularly buy?
What are his/her objections to purchasing?
By filling in these details, you create a customer profile that describes your ideal buyer. Then, you can bring the details to life by turning it into a narrative that tells a story about your target customer.
Don't just describe the persona as a list of details. Add a photo to the story and write a few paragraphs about who they are and what they need.
Having a narrative and photo of your target audience will make it easier to shape your marketing messages. You will keep this image in mind as you create your website.
3. Define your unique selling proposition
So far in your process to plan a website, you've determined your goals and defined your target audience. Now, you can start developing marketing strategies for reaching the audience and encouraging them to act.
The first step in that process is creating a unique selling proposition.
What is a unique selling proposition?
A unique selling proposition, or USP, is something special that makes your brand, products or services different from and better than your competitors.
It explains the selling points that get prospects to act and take a step closer toward becoming your customer.
It grabs the attention of your ideal customers and is the reason why they choose you over all others.
You need to know your USP as you plan a website because your entire site will be positioned around your unique selling propositions. All of your copy and content will be positioned to subtly (and sometimes not so subtly) promote your USP and drive website visitors to buy from your brand.
How to develop your unique selling proposition
To develop your unique selling proposition, think about your brand, products and services and answer the following questions.
How are you different from your competitors?
Why does that difference matter to customers?
What specific benefit do customers get by choosing you over the competition?
Why does that benefit matter to customers?
Don't rush through this exercise. The things that immediately come to mind might be too obvious. Spend time really digging into how your offerings truly help your customers and solve their problems.
Related: How to find inspiration from your competitors (without stealing their ideas)
Tips for finding your USP
If you're having a hard time identifying your unique selling proposition, use the following tips for help.
Think about what your customers value and how you help them get those things.
Think about the problems your customers have and how you help solve them.
Consider the unique strengths that your brand brings to the table.
Look at your competitors to see how you can differentiate your brand.
Remember, unique selling propositions aren't specific to eCommerce sites and service-oriented businesses. If you're a blogger, you're likely "selling" information and want to establish yourself as a thought leader. The above questions still apply — what are you doing to do to set yourself apart from the crowd?
For more tips, use this guide on finding your unique selling proposition.
4. Secure a domain name (and hosting)
Now that you have finished a big portion of your website strategy, you can start getting ready to set up your site. Begin that process by securing a domain name.
What is a domain name?
A domain name is the heart of your website address, and you need a domain (and web hosting) for your website to show up online.
Think of it this way: Your website is like your house. Your web hosting is like the land your house sits on. And your domain is like your street address.
As you learn how to plan a website, it's important to know the difference between a domain and hosting and to understand how they work together. These two elements can be purchased together or separately, although many times they are purchased together.
Likewise, hosting is included with some website builder solutions — including GoDaddy Website Builder and Managed WordPress (more on that later).
Domain names and web hosting packages are purchased for set periods of time and their pricing varies depending on a variety of factors. For hosting, those factors include the amount of website traffic you expect and the complexity of your website.
Domain name costs typically range from $2 to $20 per year and hinge on factors including the demand/popularity of the domain name and/or its extension.
Related: What is a domain name and How to find the best hosting company.
Choosing a domain name
As you choose a domain, you have two pieces of the domain to consider — the custom phrase that comes before the "dot" and the domain extension. In these examples, the domain extension is in bold.
The most common domain extensions are .com, .net, .info, .co and .org. These were the first domain extensions that existed, which is why many sites use them. They are also in high demand because they are the most recognizable.
Related: Domain extensions guide — What you need to know before you pick a domain name
But, now there are hundreds of new domain extensions known as generic top-level domain names (gTLDs) you can use. You can now choose domain extensions that are highly relevant for your brand, such as:
domainname.guru
domainname.nyc
domainname.photography
domainname.marketing
domainname.consulting
When you choose a domain for your site, you will need to come up with the branded phrase that comes before the "dot" as well as the extension that will come at the end of your website address.
Related: 10 tips for choosing the perfect domain name
Go ahead — give it a try
 Purchasing a domain means that you register the domain for a set amount of time. You don't buy it and own it forever. You need to continually renew the domain over the time that you want to keep and use it.
Related: How to buy a domain name
5. Pick a website builder
At this point in planning your website, you're ready to decide which website builder will be the best for your project.
When it comes to building your website, you have four options. You can:
Use an easy DIY website builder like GoDaddy Website Builder.
Use a more advanced DIY content management system like WordPress that requires a bit more technical know-how (although GoDaddy's Managed WordPress Hosting makes starting a WordPress site much easier).
Use custom code and start from scratch rather than using a pre-designed template.
Hire a professional web designer to do it all for you.
With all your business information laid out and a domain in hand, take a closer look at what type of website platform will best suit your needs.
As yourself the following questions to get an idea about your needs for your website.
Do you want to blog?
Do you want to collect visitor information?
Do you want to sell products or services?
Will you accept electronic payment?
Will you use a calendar or schedule appointments?
Do you want to track inventory and shipping?
Do you want total control over the site's code?
Do you prefer an easy-to-use builder?
Are you going to hire a professional?
Are you going to design on your own?
What's your budget?
These answers will help you determine the type of platform that will work best for you.
[quiz-cat id="60034″]
Option 1: DIY website builder
Website builders are typically drag-and-drop tools. That means they don't require you to learn or write any custom code. You select a theme or website layout, and drag pre-set elements to where you want them on each page.
Website builders allow you to easily add structural components (such as spaces, dividers, background images, custom headings, footers and menus) as well as design elements such as:
Images
Videos
Text blocks
Titles
Galleries
Forms
Slideshows
Buttons
You can create multiple pages in a few hours by simply dragging and dropping the elements where you want them on the page.
If you're short on time (or money) or simply don't want to add "web design" to your already overflowing plate of tasks, then a site builder such as GoDaddy Website Builder might be in your best interest.
GoDaddy's solution is cost-effective, incredibly easy to use, and comes with many built-in features — like SEO tools, SSL and email marketing.
With its swipe-to-style interface, hundreds of industry-specific themes, professionally selected photos and more, you'll have everything you need to build a site — in under an hour. Even better? You can try it first for free.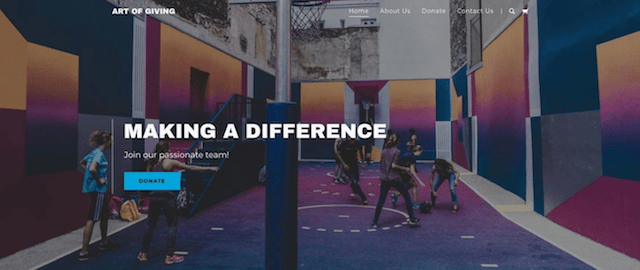 Option 2: DIY content management system
If you want more options than what are available with a DIY website builder, you may want to choose a DIY content management system (CMS) like WordPress.
Building a website using a CMS like WordPress provides a balance between ease of use, flexibility and scalability.
Creating a website using WordPress, for example, requires some intermediate skills — such as installing the plugins that will boost your site's functionality. If you choose to go with the free version of WordPress, you'll need to purchase a hosting account and install the WordPress files. You'll also be tasked with maintaining your site's security through any necessary software updates, backups, etc. It's not easy, but also not too difficult if you've got some tech chops.
If you want the customization and functionality that a WordPress site offers, but don't have the time or skills to handle the more technical aspects of creating and maintaining a WordPress website, a solution such as GoDaddy's Managed WordPress Hosting could be the answer.
The Quick Start Wizard makes launching a new WordPress site fast and easy — no coding or CSS knowledge required. You'll also get access to thousands of free themes and plugins, daily backups, automatic WordPress core software and security updates, and GoDaddy's award-winning 24/7 support.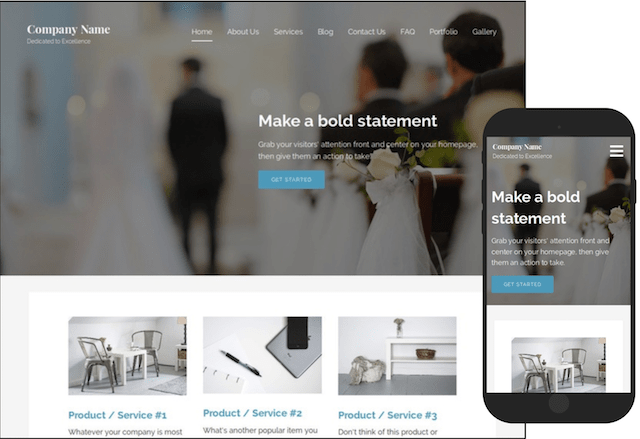 Option 3: Custom code
This method gives you the ultimate flexibility. However, coding your own website requires specialized knowledge and is almost certainly impractical for your needs.
To go this route, you are going to need to use a web programming or scripting language that provides instructions for either the "client" side (a user's web browser) or "server" side (the server where your site's files are stored). Those languages include:
ASP/ASP.NET
CSS
HTML
JavaScript
Perl
PHP
Python
Ruby on Rails
XML
The operating system of your hosting account determines which languages you can use so if you choose to go this route, be mindful of what language you want to use when you purchase hosting.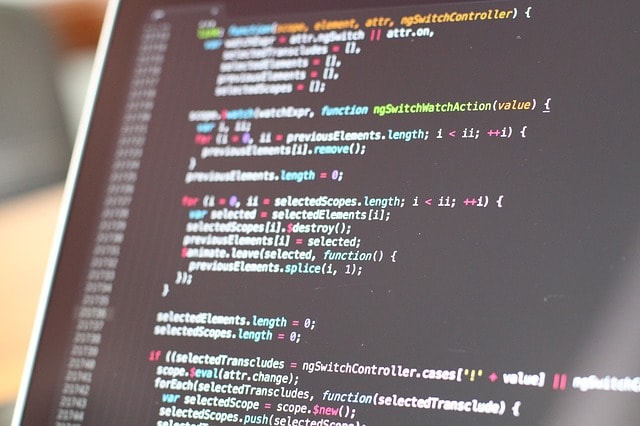 Option 4: Hire a professional website designer
If you don't want to go any of these routes, you have one other option. You can hire an expert web designer to create your website.
A professional web designer will take the information you have collected and construct your site for you. That site may be built through one of the options mentioned above. The designer may use a website builder, content management system or custom code for your site. The price of your site will be more expensive for custom projects and less expensive when designers use prebuilt themes and drag-and-drop tools.
Ask the designer what they will use to build your site to get an idea about their work, experience and pricing. Also, keep the following questions in mind as you research to find the perfect designer to work with.
Has the designer committed to a career in web design?
Does the designer provide direct access to their completed work?
Are they good at communicating?
Do they have references?
Do they have a portfolio?
Do you like their portfolio?
Are their previous projects high-quality?
Related: What to look for in a website proposal from a web pro
Before you hire a designer, get to know them and their work to make sure that they are the right person for the job.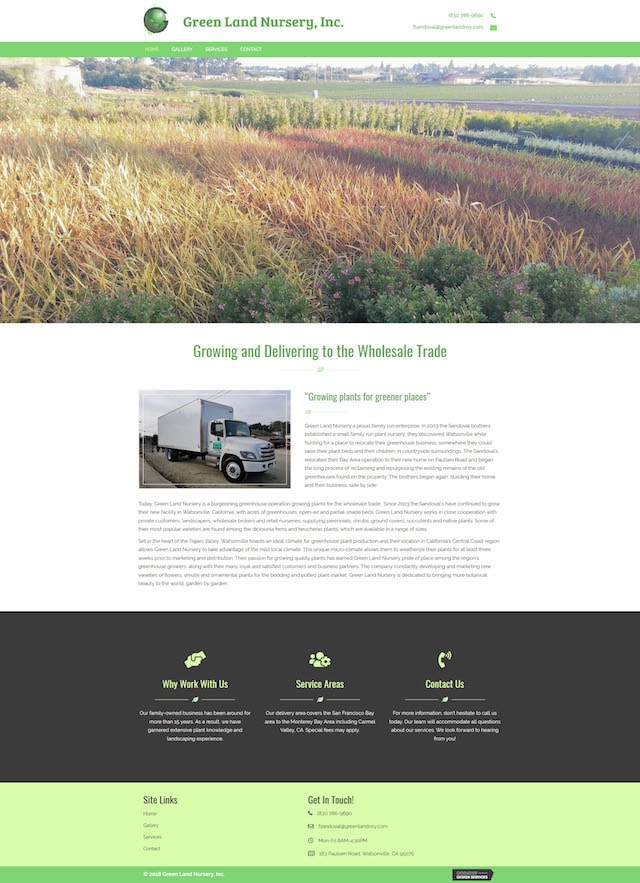 And, before you decide to start the project, go through the rest of this website plan post to make sure you have all of the strategic, design and copy ideas you need to launch the right way.
Once you've determined the type of platform you're going to use, it's time to start creating design elements.
6. Create and collect design elements
Now, you have a strategy, domain name and platform for where you will build your site. The next step in this website plan template is putting together the content you will need to fill your site. Start this process by creating and collecting design elements.
Create and collect branding design elements
Brand design elements are graphical representations of your business. They are the design elements that help customers get to know and remember you. These design elements define your brand personality and help customers feel what your brand represents through the use of:
Colors
Logos
Images and photos
If you aren't sure what this means, look at competitor websites and sites you love for inspiration, in addition to website themes and templates available in website builders.
Pay attention to how other companies use branded designed elements to tell a story about who they are.
Once you decide on the elements you will use to graphically represent your brand, outline all of these elements and standards in a brand style guide. When you have a brand guide, you can create consistency across your website and all of your other marketing materials as everyone on your team will have a guide to direct the look and feel of your content.
Related: How to choose brand colors and use them on your website
Pick out a theme/template you like
Even if you aren't going to use a theme for your website, you can benefit by browsing through theme showcases.
The best way to figure out what you want out of your site is to look at what else is out there.
You can identify what you like and what you don't and then use that in your development process.
If you are building your site using WordPress or a website builder, pick out a theme/template that you will actually use. Note that you don't have to use the exact look of the theme. There are ways to customize the style and design to match your branding and preferences.
If you are hiring someone to build your site or doing custom coding, pick out two to five themes that have elements (such as color schemes, layouts, functionality, fonts, etc.) that you would like to see on your site. Provide these themes to your designer to show them what you like or don't like. Or, use them as inspiration if you choose to code your site yourself.
Create and curate images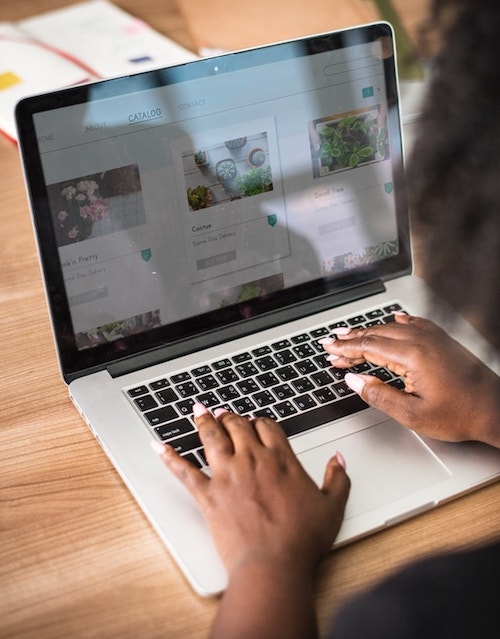 Images for your website are just as important as they copy that will fill your pages. They visually display your offerings and help audiences get to you.
So create and curate images that will help you represent your brand, products and services.
If you have products, take professional, high-quality photos of them. Get three to four shots of the product to show it from different angles. Customers want to see what they are going to buy, so product images will be vital for driving sales and interest on your website.
If the website is about you (i.e. a personal or professional blog, consulting website, etc.), get a few high-quality photos of yourself. Make sure whoever is taking the photos understands that you will be using these on a website. You will want a variety of shots and angles. The best photos for service professionals include a few shots where you (or your staff) are near the edge of the frame as well as in the center.
If you are selling a service that has an end result, take photos of your finished work. This would include screenshots if you are a designer or photos of a completed project if you are an artist.
If you are selling an abstract idea or lifestyle, find stock photos (that don't look cheesy) that represent the feeling you want people to have about your brand.
Create a file with all of your brand design elements and photos so it will keep them organized until you are ready to start putting your site together.
Related: How to use Canva to create branded images in less than an hour
7. Create content for your core website pages
Now you know how to plan a website and you have everything you need to build it. You just need one final thing — your copy content.
For a standard website, you should have content prepped for five key pages: the home, about, product/service, testimonial/review and contact pages. If you plan to have a blog on your site, you should also have at least one blog post ready to go.
Here are a few tips on creating the content you need on your site.
Home page
The home page is your first opportunity to tell your business's story and start driving website visitors toward the end goal you set out for the site (to get them to join your list, buy a product, etc.).
Lay out your home page content so it introduces who you are, what you do and how you help as well. This starts to lead visitors down your conversion funnel.
As you create your home page content, remember to:
Keep it simple. Don't go into too much detail. Use short, scannable blurbs and then drive users to longer pages for more information.
Put important information first. Users typically don't scroll very far down the page so put all of the most important information near the top of the homepage.
Explain how you help. Catch attention right away by clearly stating what you do and how you help your audience solve a problem.
Present your unique value propositions. Immediately show what makes you different from competitors.
Include calls-to-action. Design strategic calls-to-action that move users through your site toward your end goal.
Related: 8 costly call-to-action mistakes to avoid
About page
Your about page is a chance to go deeper into who your brand is, what you do and why you do it. Tell a story that answers the following questions:
Who is the site is for?
What can visitors can do on the site?
Why the site is different than others like it?
Why did you start this venture?
Was there a moment or event that sparked your desire to bring your idea to the web?
Your about page will likely be one of the most visited pages on your site. So, if you are rushing to launch, get something up quick. Then when you have more time, go back and spend time fine-tuning your about page.
Product/service page
More than likely you are using your site to sell something, whether that is a service that clients must call to schedule or a product that customers can buy directly on the site. So you must have a landing page for your services or an eCommerce product page for your items for sale.
Use this page as an opportunity to showcase and promote your offers and provide:
Information: general details about the product/service
Assurance: the reasons why customers will benefit from the product/service
Motivation: words that guide interested prospects to the next step toward doing business with you
Related: How to strategically use copy and visuals on product landing pages
Testimonial/review page
Customers need to learn to trust your brand before they will choose to do business with you.
You can build that trust by creating a page filled with customer testimonials or reviews.
Real reviews and testimonials connect with readers in ways that sales copy cannot because the messages are authentic views of other people's experiences with your brand.
Related: How to ask for testimonials and reviews from your clients
Contact page
The contact page may feel like a boring, afterthought page, but it is one of the most visited pages on a website. Plus, it's usually one of the first touchpoints that customers encounter when they decide they are ready to work with or buy from you. So don't overlook this page.
Starter blog posts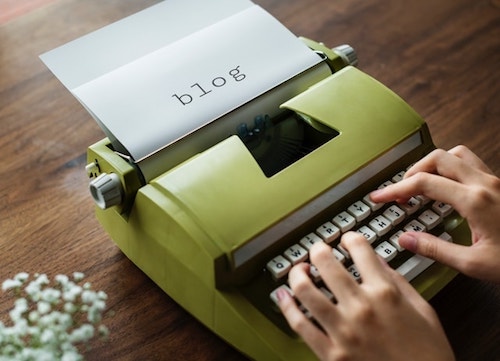 If you choose to add a blog to your site, it helps to have some content ready to go so you aren't left with a blank blog page. You can get started with two types of posts.
Write a post about your launch. Tell readers about you, your inspiration, and what you hope to accomplish with your site. By welcoming readers and introducing yourself, you will start to build your relationship early on.
Write your first blog installment. Now that you've introduced why your site exists, write another blog post that will show readers what they can expect to find there in the future. Write a post that is an example of the type of content your readers can come to expect from your site when it is totally up and running.
Related: Web content development — What to include on 5 core website pages
Write the content yourself or hire a writer
If you choose to write the content yourself, read up on copy and blog writing best practices. Get tips for how to write a blog post that is engaging, interesting and formatted for online readers.
And, learn copywriting tips that help you write landing page copy that leads audiences through your online sales funnel and converts them into customers.
If you don't have the time or inclination to write your own website content, consider hiring a freelance writer to help you create awesome website content. If you work with a writer, include tips and outlines for content creation for each page with links to resources to learn more. Include written content, images and videos. Find a writer who understands the importance of CTAs on each page and on-site SEO.
Put your website plan template into action
Phew! Now, you have everything you need to plan a website and start to build it.
This post helped you create a website plan template that:
Identified the goals for your website
Identified your target audience
Defined your brand's unique selling propositions
Secured a domain name (and hosting) for your site
Planned the best way to build your site
Created and collected the design assets you need
Created the copy content you need
Now all that's left is putting your plan to work. Take the next steps to bring your business, idea or project to life and launch your site!
Get the tools you need to get your business online — including the right domain name and website — at GoDaddy.
This article includes content originally published on the GoDaddy blog by the following authors: Mukul Sheopory, Tom Rankin and Andrea Rowland.