How to start a pressure washing business
Welcome! I'm guessing you're here because you want freedom, control over your schedule and your income, and would like to start your own business. One way to accomplish all this and more is learning how to start a pressure washing business.
Pressure washing doesn't require a ton of money to start up, isn't too hard to learn, and will help get you outside — rather than stuck chained to a desk.
Below you'll learn a few good reasons you should consider starting a pressure washing business, as well as tips to help you get started.
Editor's note: Need to get your pressure washing business online fast? Websites + Marketing is here to help.
How to start a pressure washing business in 5 steps
Tired of having someone else tell you how long you'll work and how much money you'll take home? Learn how you can be your own boss — start a pressure washing business.
Check your skills.

Get the right equipment.

Set your business up right.

Put your business online.

Start booking jobs.
Before we dive into the steps you'll need to take, let's talk about what makes pressure washing a good business to get into.
Why start a pressure washing business?
Nothing beats the feeling of being in control of your own time. Once you learn how to start a pressure washing business, you'll be in control of where and when you work, and how much money you make. Plus, you'll be able to enjoy the fresh air and get a nice workout while you're getting paid.
Some people just aren't cut out for desk jobs. If that's you, read on.
You'll also be the one who decides how big your company gets. For instance, you can start small and keep just a handful of clients. Or, you can expand out into different regions and niches, like driveways, decks and patios, commercial buildings — even heavy machinery cleaning, truck washing and more.
The only one in charge of how big your business grows is you. All you need is enough physical stamina to use the equipment, and the desire to keep working for yourself.
How to start a pressure washing business
You've probably dreamed about breaking free from the 9-to-5 grind. By starting your own business, you can make this a reality sooner than you think.
Below you'll learn the steps necessary to get your new pressure washing business off the ground. We cover everything — the skills you need, the equipment required, setting up your business the right way, getting a business website and bringing in new work.
1. Check your skills
Pressure washing takes a little more than just buying a pressure washer and spraying down a person's driveway or siding. There are all kinds of things you'll need to learn — like how to pressure wash without damaging the surrounding plants and surfaces and how to clean delicate or hard-to-reach areas.
The best way to learn the actual techniques are to borrow a pressure washer from a friend, or rent your own and test it on different kinds of surfaces. Naturally, YouTube has a ton of great tutorials that will walk you through the basics of using a pressure washer. Watch, learn and practice on your own (or friends') houses and driveways. Be sure to follow these safety tips while operating any pressure washer.
Another great way to learn the business is to work for someone else. Get hired by an established pressure washing business with good reviews. Log some hours, learning all you can — not just about handling the equipment but about what to charge and how to schedule. Then when you're ready (and can afford to buy or rent your own equipment), strike out on your own.
2. Get the right equipment
To start your own pressure washing business you're going to need your own equipment. Sure, you could probably get by renting equipment to start, but sooner or later, it'll make more sense to own your equipment.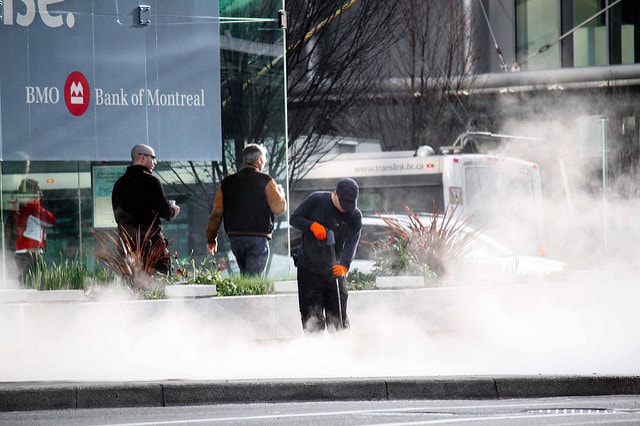 Here's the equipment you'll need:
Pressure washing gear — a pressure washer, nozzles, chemicals and surface cleaners
A truck or van to haul your pressure washer and equipment
Uniforms or work shirts for yourself (and workers if any)
Decals to go on the side of your truck or van
Pressure washing software, to manage scheduling, client info, and collecting payment
There are also other setup costs, which we highlight below.
3. Set your business up right
To set your business up, you'll need to get the proper licenses, insurance and permits. The exact permits you'll need will depend upon your local laws and regulations, so contact your local licensing office or county clerk to find out the requirements in your area (the easiest way to start is to Google "find my county clerk").
Name it.
Name your business and buy a matching domain name. This will become your web address (for example, dougspressurewashing.com). Get tips for choosing a great domain name here.
Get a business license
To operate as a legit pressure washing business, you'll need a business license. Here's how to get one.
Register your business for tax purposes
If you own a business, even if it's a fledgling sole proprietorship, you have to pay taxes. Study up on the kinds of taxes you might have to pay (hint: self-employment taxes and sales taxes), and make sure you've got all the red tape ironed out before you start selling your pressure washing services.
Get insured
Buy liability insurance, workers compensation and equipment insurance. This will protect you against any property damage that happens while you're working, injuries to yourself or your workers, or damage to your equipment.
4. Put your business online
With your business set up and your equipment purchased, it's time to start drumming up leads for your new pressure washing venture. Now, you could take the old-fashioned approach and pass out flyers to every home and business in your local area. Or, you could let the internet work for you, sending you jobs while you sleep.
Not convinced you need a website? Read
this
.
If you want to get your first lead or trial, this afternoon, then handing out flyers is probably your best choice. It's time- and energy-intensive, but the chances are high that at least one person will give your services a try.
But in-person promotion won't make sense forever. As you get more business you'll want to spend time pressure washing, not knocking on doors.
Harness the power of the web
A simple way to generate leads is to build a website. Even if you're not technical, building a website is easy. All you need is a domain name and a web host. If you're a total beginner, try a swipe-to-style site builder like GoDaddy GoCentral. This website builder will walk you through all the steps to creating your very first website, no programming skills required.
Your pressure washing website doesn't need to have dozens of pages; in fact, the elements below will be more than enough.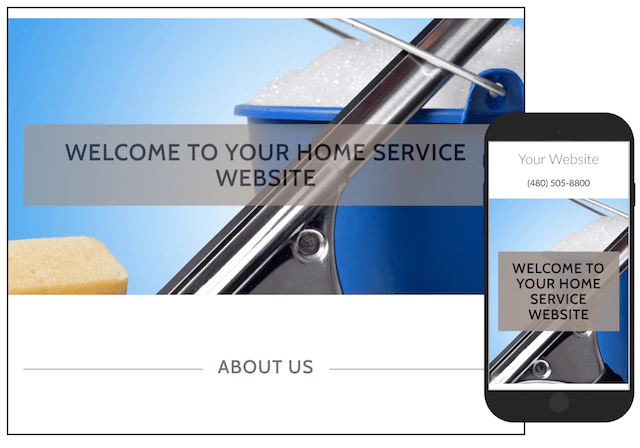 Home page
Your home page will be the first thing customers see, so make sure it's obvious that you're a pressure washing business. Include at least one high-quality photo, your hours, location and a way to contact you. Got a comment from a satisfied customer you have permission to use? Include it here.
Services page
This page will break down the services you're offering. If you offer multiple packages, list them here, including details on what's included (and what's not). You can also include pricing on this page if you wish.
Contact page
Your contact page is probably your most important page. Include your hours, business location, phone number and email address.
About page
How did you get started? Your about page gives you a chance to tell your story about the why behind your business. Use this to connect with your site visitors and show off your expertise.
A blog
A blog isn't necessary when you're first starting out. But, it can be a great way to generate more leads over the long-run. When you're ready, take a look at this guide. It will walk you through starting a business blog.
For a detailed walkthrough on the GoCentral site builder, take a look at this post.
5. Start booking jobs
There are probably hundreds of ways for you to get work. We already talked about passing out flyers in the section above. But, aside from doing in-person marketing, you can turn to the internet to bring in jobs, all without leaving your house.
One of the simplest ways is to get your business listed in the local listings. The main one you'll want to worry about is Google My Business. By having your business listed here, it will show up when customers turn to Google and search for terms like "pressure washers in my area."
To claim your Google business listings, click on the blue link above and follow the steps on the screen. You'll be asked to enter your business information and go through the verification process (takes about a week). Fill out your profile as completely as possible, including photos.
Promoting your business should never stop. You can check the Digital Marketing Suite where you can find all the tools you need to promote your business. To further your marketing knowledge and your business, take a look at some of the ideas in this post.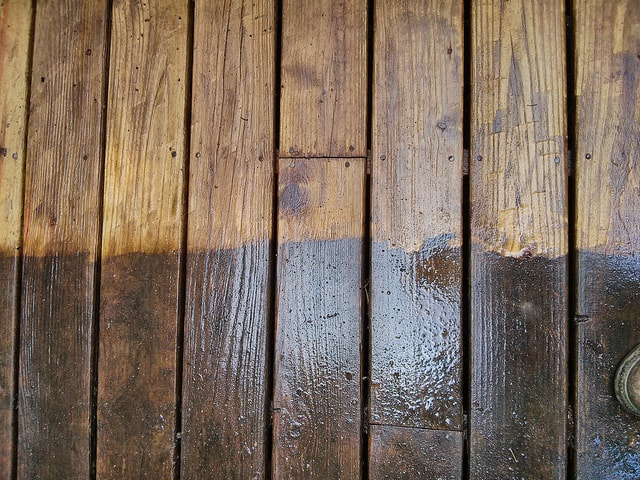 Ready to dive in?
Now you know how to start a pressure washing business, the decision is yours. Does this seem like something you could be good at and enjoy? If so, follow the guide to get started. Hopefully the tips above will help you get your very own business up and running.
Get tips on how to bring customers to you with our checklist
The above content should not be construed as legal or tax advice. Always consult an attorney or tax professional regarding your specific legal or tax situation.
Image by: Ivana Cajina on Unsplash