FAQ page: Benefits, best practices and examples
Your website is coming along nicely. You have a lot of the basics down: a home page, an about page and a contact page. But there's one other often-overlooked page that plays a key role in your visitor's transition from casual browser to customer — or even brand advocate. That's your FAQ page, also known as frequently asked questions, help or support.
What is an FAQ page?
Your FAQ page is a well-organized collection of valuable, honest answers to questions that customers (and partners) ask about your products and services.
While your about page focuses on stories about your brand and company — such as how you got started and what you stand for — your FAQ page focuses specifically on questions about your products and operations, from product contents to shipping timelines to return or refund policies.
Editor's note: Build a beautiful website in under an hour with GoDaddy Website Builder — complete with every page you need, including an FAQ page.
Why do I need an FAQ page?
Many businesses decide to build an FAQ page when they, or their customer service team, gets tired of answering the same question over and over and over. But there are many more reasons to create an amazing FAQ page for your website, even before the questions become frequently asked.
When casual browsers visit your FAQ page, it signals that they are actually sales prospects.
By checking out the FAQs, they're clearly indicating that they're interested in learning more about your products or services.
Here are a few other ways you can use you FAQ page:
Earn trust with your customers
Proactively providing information on an FAQ page easily helps you build trust with your customers. If you're positive and transparent in your FAQ answers, your customers get a good sense for how you're going to behave in the rest of your business.
By publishing these answers where anyone can see them — yes, even your competitors — you demonstrate that you have nothing to hide.
Beyond the trust factor, you also establish your brand as an authority in your industry.
Reduce barriers to purchase
Many consumers today want to do their own research, not wait for a salesperson or customer service rep to get back to them. In fact, it can take between six and eight touches before someone is ready to talk to sales  or move forward with buying.
A well-crafted FAQ page can provide many of these touch points, and help move clients from the interest stage to the decision (or even buying) phase of the sales funnel.
If you sell online with an eCommerce shop, FAQ pages and help pages keep visitors on your site for answers, instead of heading back to a search engine. That increases the likelihood that they convert from browser to buyer.
Alleviate concerns your sales copy may not address
You write your sales copy to be as compelling and motivating as possible, but your ideal customers may still have concerns or objections you can't address easily.
Your FAQ page can provide visitors the reassurance they need that this buying decision is the right one.
You can even address questions they hadn't thought to ask. That shows them that you've really thought through every aspect of your product.
Related: 5 ways to use urgency to boost eCommerce sales

Improve SEO
Your FAQ page gives you the opportunity to target additional keywords and use alternate phrases to describe your products and services, both of which improve your SEO. This extra content is full of valuable information for your customers and search engines. It's often picked up for featured snippets on search engine result pages.
Build your brand voice
Your FAQ page is a great place to practice using your brand voice.
Whether you're friendly and approachable or buttoned up and professional, using the same tone throughout your FAQs helps you establish and extend your brand personality.
The key to doing this successfully is to be consistent throughout your website and marketing materials.
Reduce stress for your customer service department
The last, but certainly not least important, reason to have an FAQ page is to reduce stress and workload for your customer service department.
Rather than fill their phone queues and inboxes with the same repetitive questions, allow your customer service department to shine by helping customers with more unusual requests.
Your customers also will thank you for empowering them to do more on their own without waiting for a response from a busy customer service representative.
Related: 5 ways to wow with customer service on social media
How to write an FAQ page in 3 steps
Now that you know the benefits of having an FAQ page, it's time to start creating your own. To do that, there are three important steps:
Identify your frequently asked questions. 
Write answers to each question.
Organize the questions and answers on the FAQ page.
Let's take a closer look at each step.
1. Identify your frequently asked questions
One of the first things you'll need to do is identify your actual most commonly asked questions. The best places to find these are your customer service inbox, customer support tickets and call logs.
After you've collected those questions, consider the follow-up questions that someone may have after you've answered the initial question. For example, if one of your common questions is about shipping, you can follow up with questions and answers about upgraded shipping options and gift packaging. Ask (and answer) the questions they haven't even thought about asking yet.
You also can strategically create additional questions that educate and drive demand for your products or services.
For example, a business coach might post the question "How many clients do you work with at a time?" In the answer, she can state that she only works with five one-on-one clients at a time, so each client can get adequate attention on their business. The exclusivity built into this question and answer helps drive demand and give the potential client the insight that they'll be getting plenty of personalized attention.
Finally, you can turn common sales objections into questions.
If you're providing an exclusive or high-quality product, such as handmade candles infused with essential oils, you may often get objections based on price. Your FAQ page can share why your candles are worth the higher price than they may find at their local home decor shop, based on the slower burn time and essential oil enhancements.
Overall, your FAQs should focus on questions that are highly relevant and drive engagement and conversation with your customers.
Don't add questions that nobody would ever actually ask, like "Who are the awesome ladies who make these candles?" or "Man, that candle smells so good. Can I eat it?" While you may see those questions as clever or engaging, they also can be distracting to customers who have real questions they'd like answered.
2. Write answers to each question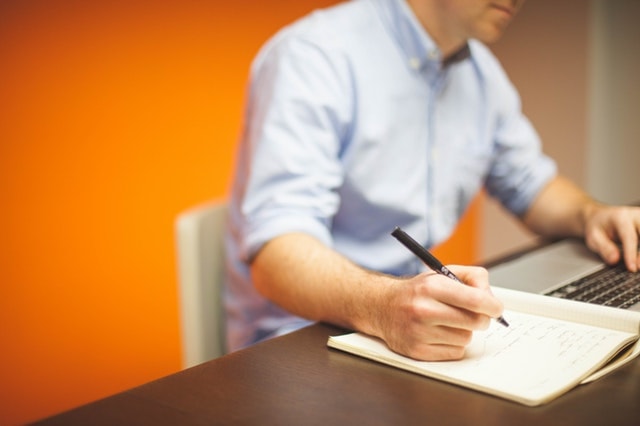 Once you've picked out the questions you want to address, make sure to structure the questions appropriately.
Write your questions from your customer's point of view with openings such as "How do I …?" Then answer them as the business owner using language like "We provide" or "You should …"
Once you have all of your questions written, it's time to start answering. Be sure you answer your questions in a positive way.
For example, one of the questions may be about how you compare to a competitor. Rather than point out flaws in the competitor's product or service, focus on the advantages to and benefits of your product.
When you start writing, you might find yourself a fount of knowledge, with answers flowing like spring runoff.
You might have to temper your enthusiasm a bit and focus on only providing the answers customers really need. Otherwise, your potential customer could get overwhelmed and move on to another choice. It's better to be clear and concise than overly precise.
Of course, your FAQ don't have to just be written content. Some of the best FAQ pages include images and video to help answer user questions!
3. Organize the questions and answers on your FAQ page
FAQ pages usually have a lot of information, so it's really important to make it easy for readers to find what they're looking for. One way to do this is to organize the page into sections, such as "shipping timelines" or "about the product."
You also may want to integrate short versions of your FAQs onto specific product pages. This is a great way to enhance the content (and SEO value) of your product pages.
Broad questions that apply to all your products, like shipping timelines or return requests, should be part of a centralized page, linked to from your navigation or footer.
If you have a complex product or collection of product offerings, you may want to have a self-service help desk to organize your FAQs.
It's also impossible to answer every question, so be sure to include ways for your customers to reach you if they happen to have an infrequently asked question. This may include a support email address, phone number, contact form or even a chatbot.
Get inspired by great FAQ pages
Looking for a little bit of inspiration on how to write an FAQ page? Here are some great examples of FAQ pages from well-known brands that can get you moving in the right direction.
This company uses a help desk organized into categories, such as blades and shaving products, all with cute custom graphics. Once you get into the category you're interested in, you'll see more traditional lists of questions like "What are the ingredients in Dream Hair Cream?" or "Why should I buy True Hair Fiber?"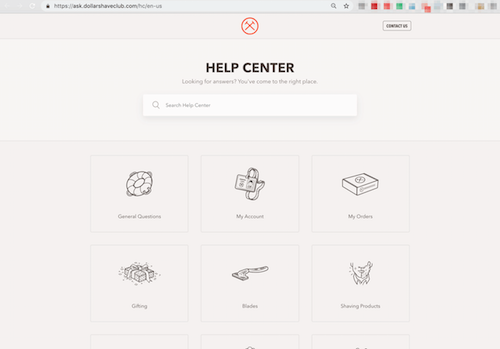 Similar to Dollar Shave Club, bedding company Purple has categories for the nuanced browser, but they also pull some of their most popular questions front and center, including "How do I return the mattress for a full refund?"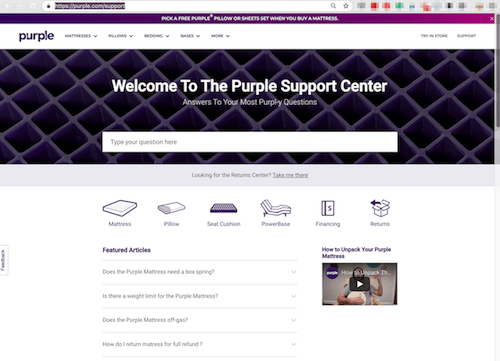 Vat19, a novelty gift shop, integrates FAQs on individual product pages, like this one for NanoDot cubes. You'll even find questions from the community — spelling errors and all.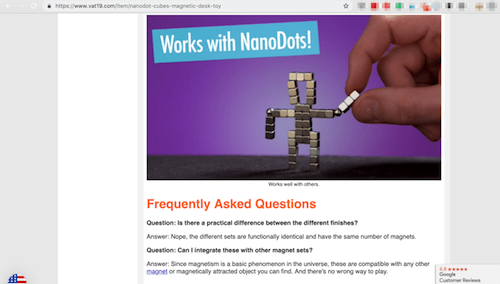 If you offer a lot of different services, you probably have a lot of FAQs. Ancestry's support page includes a search option front and center to help visitors find what they need before moving into common questions for their two most popular products: Ancestry DNA and the classic Ancestry account. They also feature popular articles that may not exactly be the question you had, but do give you new ideas on how to use the site.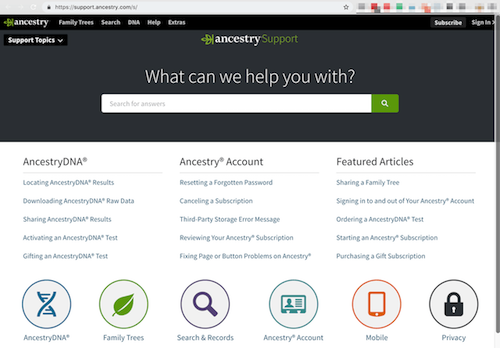 Hulu not only keeps their support pages simple, they also make sure they're timely. In April 2019, for example, they featured questions about how to watch "Game of Thrones" on Hulu (just in time for the final season premiere), as well as details on watching Major League Baseball. Hulu also personalizes its FAQs if you're logged in, to anticipate your needs.
Cards Against Humanity does a brilliant job of maintaining its brand throughout the FAQ page. If you're familiar with the game, you already know it was developed to be irreverent with a healthy dose of rudeness. That personality definitely comes through in one of their questions about returns:
I would like to return my order.
If you want to return something unopened that you bought within the last six months, we can help you out. Just reply to your confirmation email. If you bought your thing from Target or Amazon or anywhere other than this store, you'll have to take it up with them.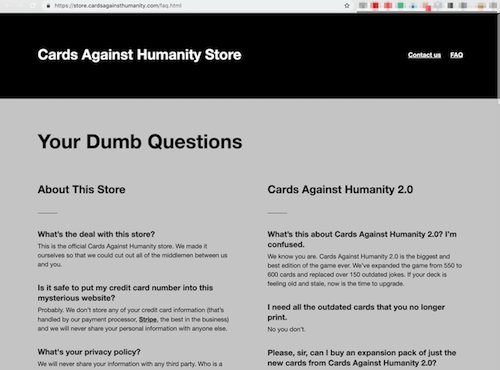 As one of the largest businesses in the world, Salesforce takes a slightly different approach to their FAQs, with each product line (or cloud, as they call them) having its own FAQ page. The pages are easy to scan to find the question that you have — plus some you didn't know you had — with plenty of links to additional resources including blog posts, eBooks and contact pages.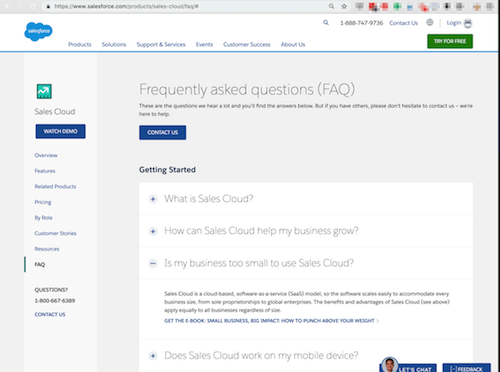 Next steps
Whether you call it FAQ, help or support, adding an FAQ page to your website or product pages can help you accelerate the buyer's journey from casual visitor to intentioned buyer.
A well-thought-out collection of questions and answers can save valuable customer support time, extend your brand and even help your SEO.
It's easy to get started by simply reviewing your most common existing customer service questions and answering them on your website. Your FAQ page will evolve and change as your business grows, so there's no time like the present to get started.
The GoDaddy product information in this article is outdated and currently under review for accuracy. For the latest up-to-date product information please visit godaddy.com