Making passion pay: How to sell prints online
The online art scene can be an intimidating place. The vast sea of online art galleries can make a single artist feel like a tiny fish in a very, very large pond. But the sheer number of online art marketplaces out there is actually a testament to the fact that print-on-demand models work — and art prints and other products with original art on them (clothing, home decor, etc.) are in high demand. And that means that any artist can learn how to successfully sell prints online.
Sell prints online through an art marketplace
There are a lot of online art marketplaces out there, each of which caters to slightly different clientele. With a little research — and a solid understanding of your own niche — you can select the site(s) that serve your market. Most of these marketplace sites are pretty intuitive, and you can be set up to sell prints online in just a couple of hours.
Zazzle, for example, is a print-on-demand giant that allows you to upload your art and instantly offer it for sale on everything from playing cards, to wall clocks, to leggings and more.
DeviantArt, while similarly a giant in the online art industry, features a different overall aesthetic. It functions primarily as a social network for artists through which you can also sell prints online (and originals). Quite a few artists have even been "discovered" for high-profile jobs and projects through DeviantArt.
Pro tip: Use this helpful guide to navigate the Print-on-Demand world.
Sell prints online from your own shop
Online art marketplaces are an awesome place to get started, but you're at a serious disadvantage if you don't also have a personal website with sales functionality. As you build a name for yourself online, you want potential collectors to be able to find you on your home turf.
You'll likely take home more of the profits if you sell prints online through your own website, rather than sharing royalties with a marketplace.
Developing your own eCommerce site will also give you more control over every aspect of the transaction from start to finish. You'll retain your customer's contact information (invaluable as you build your mailing list) and have better control over processing returns to make sure all of your customers stay happy.
But starting your own website doesn't have to be a stressful experience. You can create something elegant, functional and easy-to-use — without ever writing a single line of code yourself. Just follow these simple steps.
How to sell prints online
Search for a domain name.

Build an easy-to-use online store.

Add content and products to your shop.
1. Search for a domain name
You'll want something simple and easy to remember that will continue to serve you as your style and career evolve. The simplest solution is your first and last name (i.e., johnsmith.com). If you're looking for something a little more unique, why not go for .art or .gallery? They're newer, which means you have more opportunity for a domain name that truly aligns with your work (bonus — they're specific to art!).
Check to see if your .art domain name has been taken yet:
2. Build an easy-to-use online store
There are a few key elements required to successfully sell prints online from your own website:
A payment system. You'll need to be set up with a payment gateway like Paypal or Stripe so you can accept payment directly on your site.
An SSL certificate. Since you'll be accepting credit card payments directly on your site, you'll need an SSL certificate to protect your customer's credit card information from theft. Most eCommerce platforms will include the option to purchase and install an SSL certificate for your site.
A way to ship products. Unless you'll be exclusively selling prints through a service like Printful, your site will also need shipping and possibly download functionality.
There's no shortage of options available to you, depending on your level of experience with coding and web design. If you set up a WordPress website, for example, there are tons of plugins available that will easily add shopping cart functionality to your site.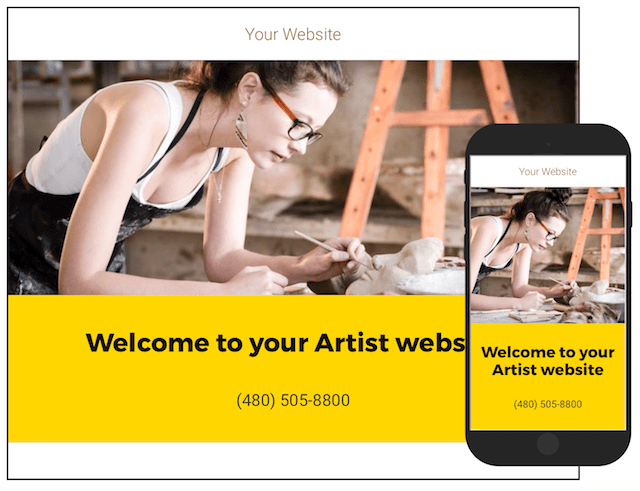 One of the easiest options is GoDaddy's new GoCentral Online Store. This is especially simple if you purchase your domain name through GoDaddy. You get 30 days to go in and tinker around with it. You don't even need to provide a credit card to get started.
GoCentral Online Store is an all-in-one online sales solution that includes a shopping cart, payment processing, inventory management and an SSL certificate. This is a great option for artists who really just want to focus on creating art and let someone else handle the back-end work. Choose a pre-built template you like, then customize it with your own colors, logo, words and images.

3. Add content and products to your shop
This is the fun part — fill your website with text and photos of you and your work. Be sure to include an About page, contact information and a portfolio section with photos and descriptions of works-in-progress. Add links to your Facebook, Twitter, Instagram, Pinterest, LinkedIn, YouTube and Google+. Then, fill your shop.
Pro tip: If you're using a print-fulfillment service outside of your personal eCommerce site, you might want to consider adjusting your prices to incorporate any cut the service might take. If the service is going to take $1 from your $10 T-shirt, consider making the shirt $11 on your site to keep your profits steady.
After you've added your products and set the pricing, be sure to set up a variety of payment options for your customers.
GoCentral's online payment options include credit and debit cards, PayPal Express and Apple Pay.
Finally, decided on shipping — free, flat-rate, weight-based or real-time carrier calculated — and then send your site off into the internet. Now that it's up and running, learn how to attract art buyers with a visual-oriented platform like Pinterest.
You can make money selling prints online
If you take only one thing away from this article, let it be this: No matter what kind of art you create or how intimidated you feel by the online art sales industry, you can make money selling your work on the internet. There are many different ways to approach it, but online art marketplaces and personal eCommerce websites, particularly when used simultaneously, are two of the most effective ways to sell prints online. Good luck!
View our step-by-step guide to selling your art online.
[