GoDaddy guide to unique business ideas.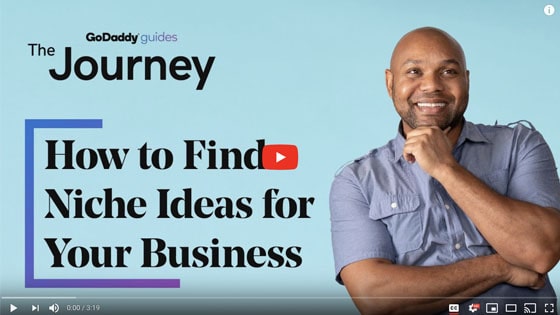 You can be the next big thing. Yes, you! All it takes is some grit, know-how and a nifty idea.
Unique business ideas are what this economy is built on. Big and small businesses alike started out as a spark of an idea in the mind of a budding entrepreneur. Every industry is filled with examples of niche business ideas — and it's time you got in on that.
Making a unique business idea a reality requires research, expertise, timing and a dash of luck.
Unique business ideas
When people think of niche business ideas, they often think of popular inventions and multi-million-dollar products like the infamous Snuggie. However, you don't need to go on "Shark Tank" to build a successful business — simply look for opportunities within your local market.
Brainstorm your one-of-a-kind business idea by trying to find a solution to a problem.
Look at your surroundings. Does your community have a lot of pet owners but not a lot of carpet cleaners? You could be the solution to that conundrum by opening up a mobile floor cleaning service.
Or maybe there's a task in your daily life that takes up your valuable time. You're definitely not alone there, so why not think of a solution and turn it into a unique business idea?
By doing a little bit of research, you might find that you have a million-dollar idea.
You don't need to reinvent the wheel to find unique business ideas.
Not ready to jump into the entrepreneurial waters just yet? Try freelancing or take on a side hustle.
The gig economy gives entrepreneurs the opportunity to follow their dreams while avoiding some of the financial risks.
Would-be entrepreneurs can use freelance writing, ridesharing or even dog-sitting to supplement their finances while maintaining a full-time job. Or do you have a hobby you absolutely love, like sketching and painting? Try selling custom portraits on a site like Etsy.
Creative entrepreneurs can find unique business ideas almost anywhere they look. While it's wise to start with solving a problem, you can also find opportunities in markets that are underserved or just in a hobby you love. Start generating some domain names for your unique ideas, you can also use this process to validate your new idea, an available domain translates to an active opportunity.
Check out the resources on this page to get inspired. Once you have that unique business idea, it's time to make a dent in the universe.