What is a content management system and what CMS does GoDaddy support?
What is a content management system? For many established and aspiring entrepreneurs, it's the star of their digital presence and a key driver of business success.
Simply put, a content management system (aka CMS) is a framework for managing digital content. We'll get into more specifics later, but it's important to understand up front that if you're talking about a WordPress website, for example, you're talking about the WordPress CMS.
WordPress is a content management system.
A CMS designed for web content management, like WordPress, makes it easier to manage the digital content — think web pages, blog posts, podcasts, videos, etc. — that brands use to market their products or services. They typically support multiple users and can be customized to cater to various business goals and needs.
The right content management system, used to its fullest potential, can help you start and grow a thriving business.
You've probably heard of online tools like WordPress CMS and Drupal, which are two of the most popular CMS options on the market. Perhaps you already have been using a content management system, and if that's the case, you can likely attest to just how invaluable they really are.
But if you don't have a CMS integrated into your business model, and want to learn more, you're in the right place.
Related: Create It — Building your presence, brand and product
Understanding content management systems
Here's what we're going to cover in this article:
By the end of this article, you'll know all you need to get started with a CMS like WordPress. Let's hit it, shall we?
What is a content management system?
Broadly defined, any software that facilitates the content creation process can be classified as a CMS. In addition, the purview of these systems often extends to the editing process as well as all subsequent organization and publication therein.
Perhaps the most valuable aspect of a solid CMS is that it eliminates the need for deep technical expertise in order to operate it. You read that right:
In the age of the CMS, you can easily manipulate your content without a shred of technical expertise.
Whereas you once needed to have at least basic coding knowledge to manipulate content online, like building a website from the ground up with HTML and CSS, you can now create and modify digital content it to your specifications without coding experience.
Although CMS systems were once very costly (and therefore inaccessible to most businesses), the emergence of options like WordPress CMS — which is open source and available free of charge — has democratized the application of CMS. Moreover, the potential uses for these systems has exponentially grown over the years, providing even more versatility.
Types of CMS software
If you do decide to add a CMS to your business, you'll have three main categories of CMS software to choose from. Let's discuss each one briefly so that you can make an informed decision.
Open source
This kind of CMS is so named because you can find it available to download on a web server for free. Thanks, internet!
Open-source CMS bears no license or contracts, though you may need to invest in additional features like technical support, plugins or templates/themes. To create a website using an open-source CMS like WordPress, you'll also need web hosting — the space on the internet where you place your website's files.
But, because there's no big financial investment up front, open source is an easy one to recommend for users just starting out with a CMS. In fact, some of the most popular systems out there — like Joomla!, Drupal and the aforementioned WordPress — are prime examples of open-source CMS.
Proprietary
As its name implies, proprietary content management systems are created by one company, and then licensed out. In order to use one of these, you'll need to purchase a license from the software's owner and often pay an ongoing fee for future updates and customer support.
Like open-source CMS, you may opt for additional upgrades to the standard software package, though that all depends on how intuitive the CMS is, and how many of its features apply to your operation.
Be careful though, as these customizations can be costly and add up fast. Common proprietary content management systems include Microsoft SharePoint and Sitecore.
Software as a Service (SaaS)
These CMS platforms — which include most cloud-based systems — embrace a subscription model often presented as a consolidated package. Because of that, a key benefit is that you're dealing with a single service provider.
Pricing is typically available per-user or per-site and includes data transfer, storage and support services as well as content management.
Some SaaS products are based entirely in the cloud, while others provide partial cloud systems allowing for customization. In either case, you'll enjoy broad accessibility across your devices and real-time updates.
How a content management system works
Modern content management systems provide a consolidated solution for the management of virtually all web content. You can set up access for different users, giving them each the ability to take action on projects at various levels of access (or permissions).
Although the content may greatly vary, most CMS systems share the same basic features:
Create content
Of course, you can create entirely new projects within a CMS, and these systems typically provide an easy-to-use framework to get started and the means to translate that ideally for an online environment.
Publish content
Much more than just the ability to post on the web, CMS formats your content so that it is easily readable by users and provides you with a venue to distribute it with the masses.
Store content
Most CMS systems have an internal database wherein you can store your content, including text, images, audio or video files. This gives you a one-stop destination for all your files, preventing the need for entirely separate storage space.
Manage workflow
Although not all content management systems are overly concerned with workflow, you will likely seek out this feature if you manage a team. Use your CMS to assign tasks and keep your team accountable through a variety of roles with differing levels of access.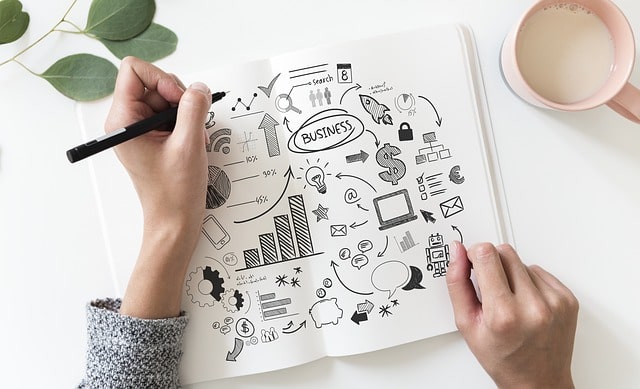 Enterprise content management vs. web content management
While content management systems are universally concerned with the creation and management of digital content, you'll find they actually have two different applications. Depending on your specific needs, you will either primarily use your CMS for enterprise content management (ECM) or web content management (WCM).
For ECM, the CMS is merely a tool used to make it easier for your team members to collaborate. What this means is up to you. Perhaps you are using your CMS to manage sensitive documents and ensure that everyone is literally on the same page or to keep your records and digital assets accessible to your entire team. Regardless, you leverage the role-based access of your CMS to serve your overall business goals and drive productivity forward. Sharepoint is a good example.
With WCM, the focus is on the content that publishes directly to the external web (i.e., what is publicly visible to users). Roles are used to designate authors, and WCM creates, edits and ultimately publishes to the internet, unlike the internally focused ECM content secure behind your company's firewall.
Despite their differences, WCM and ECM both operate relatively similarly. They simply publish their managed content in separate destinations.
In both WCM and ECM, a content management application (CMA) provides each user with a graphical user interface (GUI) to manipulate the content without dealing with any HTML code whatsoever. Then a content delivery application (CDA) lends back-end support once content has been released.
Why should you choose a content management system?
Now that we've answered the question of "what is a content management system?" in detail, it's time to decide if using one is right for your business.
Spoiler alert: It probably is.
In fact, odds are unless you won't be putting anything online for your business, you'll need a CMS to keep track of all the things. And when you're an entrepreneur, there are a lot of things.
So, what value can a CMS bring to your venture?
Flexibility
This isn't a boring, set-it-and-forget-it content management solution.
Your CMS can grow and develop with your business and its needs.
From plugins and extensions to integrations with systems you're already using, you will constantly find more ways to get the most out of your CMS.
For instance, add WooCommerce to customize the WordPress CMS for eCommerce, or supercharge your SEO with the Yoast SEO Plugin for WordPress.
Want to give your website a new look? With a content management system like WordPress, you have thousands of different themes (which give your site its appearance) to choose from.
Affordability
Given the strength in your CMS software, you'll be amazed at just how reasonable the rates are. Many popular options even offer tiered payment plans so that you don't have to pay for any more than you need to.
After all, you can always expand on the functionality you use as time goes on.
No coding experience necessary
For many CMS admirers, this is the most attractive part of the deal.
While hiring a web designer may still be a good idea for some business owners, you don't need to know how to do any HTML (or any other kind of code, for that matter) to use these systems.
You can customize it to look and function the way you want, and the system will handle the coding for you. It's that easy. And, it doesn't hurt that if you do get tripped up on anything, YouTube has hundreds of tutorials for virtually anything you would want to know about CMS customization. Plus, the most popular CMS platforms have active user forums.
Easy installation
Set aside any fears you might have about those lengthy installation processes because, especially with managed CMS solutions, you don't have to be a tech expert to set up a CMS.
Most reputable web hosting companies offer simple setup solutions for popular CMS software.
Related: How to find the best hosting company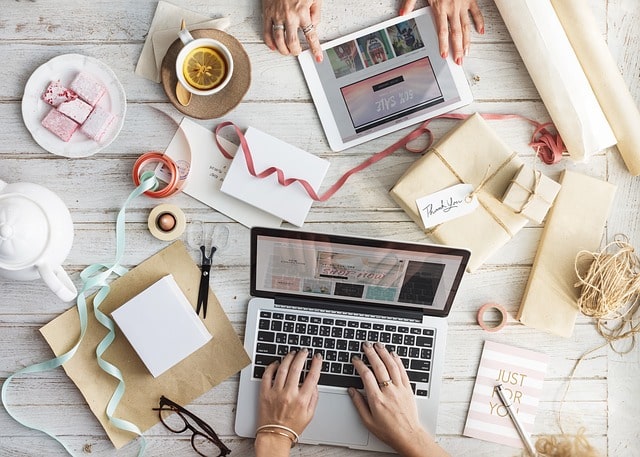 Customizable
Whereas some other systems offer rigid functionality, your CMS won't ask you to simply work around its limitations. In fact, you'll be able to customize your system to an insane degree. How your site looks, the way it processes content and the integrations tied to your CMS can all be changed. You can finally bring your vision to life.
Smooth updates
You shouldn't have to jump through hoops to make a quick edit to your content. So your CMS doesn't ask you to. If you need to make a change, just log in and do it in real time. There's no "processing" time needed for this to show up on your site. It's all instantaneous, ensuring that everything is always 100% up to date.
Caveat: You will need to stay on top of the necessary software and security updates. The popularity of the WordPress CMS, in particular, makes it a target for security breaches.
Related: How to update WordPress like a pro 
Access controls
Security is naturally a key concern for your business.
Most CMS software uses a role-based permissions system that gives you the freedom to assign tasks and levels of access to different groups of people within your organization. The only people able to see or interact with sensitive data are those authorized to do so.
Ideal for collaboration
One of the key objectives of your CMS is to keep you and your team united in serving your company's mission. The ability to share content both externally and internally makes it easy for you to work together since you'll essentially be sharing the same digital workspace.
Access anywhere
Most CMS software is cloud-based at this point, and this is a tremendous benefit for your business. No longer will be you be trapped by the walls of your office. You can work anywhere with an internet connection.
Search function
With a wealth of indexing features, most content management systems make it easy to identify and retrieve a piece of content. Moreover, as any edits are made, you'll be able to tell who changed what and when.
Templates
When you're busy running a bustling business, you want to find a quicker way of getting things done without sacrificing the quality of the results. That's where templates can be particularly useful, and as it turns out, CMS software either already comes loaded with templates, or you can easily download them for your own purposes.
Languages
How much you use this feature will depend on the nature and scope of your business, but content management systems typically are designed to provide multilingual functionality and/or support. Even if you don't have use for it now, you never know where the future will take your business.
Related: Complete guide to WordPress multilingual setup
Search engine optimization
Your content isn't really serving its purpose if it isn't being seen. Thankfully, the best CMS platforms tend to place an emphasis on SEO, either with built-in tools or plugins (hello, Yoast!) that can help you govern how well your URLs, text and other facets of your content mesh with current SEO best practices.
Related: Beginner's guide to search engine optimization for small business websites
The most popular CMS software: WordPress, Joomla! and Drupal
At this point, you've learned a lot about what CMS software is, how it works and why you should most certainly consider using one for your business. Now comes the trickiest part of all: deciding which system is right for you.
Of course, you have several possibilities out there waiting for you, and ultimately, you'll have to be able to narrow it done to just one.
The three most popular content management systems are: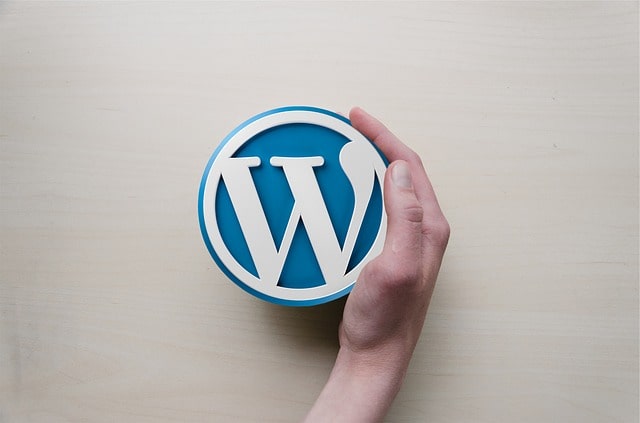 We've mentioned this one a couple of times, but it's so ubiquitous that it bears repeating.
WordPress dominates the web. It's used on more websites than you would imagine. Large or small, WordPress is everywhere. Let's look at some interesting WordPress stats from BuiltWith:
Nearly 25 million live websites use WordPress.
More than 32% of the top 1 million websites are using WordPress.
50% of the websites using a CMS, use WordPress
Everyone from publishing companies and universities to banks and consumer product companies uses WordPress. This wide adoption and usage shows you the true capabilities of WordPress and that it truly is so much more than a simple blogging platform.
Related: Why WordPress? 7 benefits of WordPress websites.
WordPress makes it easy to:
Sell products worldwide. Getting started with WooCommerce is relatively straightforward. Plus, there's a complete set of both free and premium extensions on hand to help you build out wider shop functionality over time.
Lock in recurring revenue via membership modules. Creating a membership site on the WordPress CMS isn't difficult with a dedicated membership plugin. The membership model makes your content available via subscription or signup.
Create your own tribe with a community site. The forum plugin bbPress, for example, integrates smoothly with the vast majority of WordPress themes and gives you a stripped down set of community options with the click of just a few buttons.
Handle customer support professionally online. Dedicated customer support themes and plugins such as those offered by Hero Themes enable you to quickly put together slick and serviceable customer-facing FAQs and knowledge bases.
Dominate your niche with a directory. Directory plugins such as Templatic's Directory and GeoDirectory enable you to both create and monetize listings, with the option of adding advanced features such as ratings and reviews, should the fancy strike you.
What really makes WordPress stand out so much, is its versatility.
Though it is based on PHP and MySQL, WordPress is available as a free download that you can install on a hosting account, or via hosting providers like GoDaddy as a managed CMS solution.
In both forms, it's particularly popular among writers, but its powerful integrations and customizations lend it a variety of practical uses.
WordPress gives users the ability to build a fully-featured, fully-customized website. Myriad themes and plugins are available to create a WordPress site that looks and performs just the way you want it to.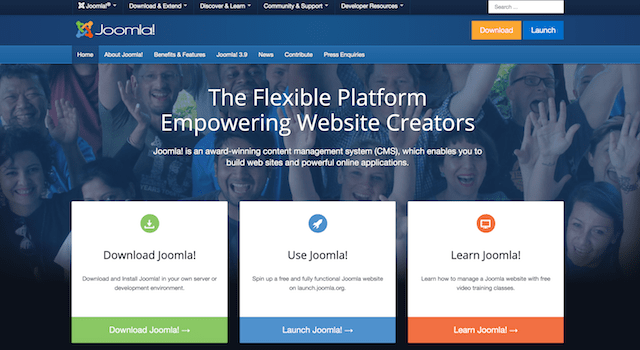 Joomla! is another popular content management system. Developed by Open Source Matters, this PHP-based CMS is generally considered more advanced than WordPress but isn't necessarily as good a fit for non-tech savvy users.
The Joomla! CMS offers a wide variety of features — including blogs, RSS feeds, multilingual support, search and caching — that might make it a great choice for businesses with mixed content.
Customizable system. With thousands of verified third-party extensions in the Joomla! Extensions Directory and both free and paid high-quality templates, you're free to customize without touching a line of code. There's also lots of free documentation and video training to guide you through the setup.
Powerful SEO tools. Customize your content's SEO settings for optimal availability and searchability. Assign a meta description, keywords and robots settings for each menu item to make your content stand out.
Diverse core functionalities. Easily redirect URLs, tag your content, create an RSS feed and add 15 different custom field types to articles, users and contacts. With search, your visitors can find the content they're looking for quickly and easily.
Scalability. Joomla! can adapt to your business's complex needs to scale and add new features. Use an Access Control List to give different types of users granular access rights and Overrides to manipulate output easily without hacking the core, meaning your updates go smoothly.
Multilingual. More than 70 translation packs make your site multilingual out of the box.
Highly secure. Built-in two-factor authentication and extensive access controls keep your site secure. The Security Strike Team often releases patches before exploits are widely known.
Customizable design. With template frameworks, the ability to create custom templates, and Jlayouts that allow you to render HTML from objects and arrays of data, you can create a one-of-a-kind site with responsive designs based on Bootstrap.
Edit content. Add extra functions to your content in one click with editor buttons, drag and drop images onto your pages, and create categories with nesting and no limits on depth.
Professional support. Find the answer to your question quickly by reviewing Joomla!'s extended documentation, consulting a worldwide community of developers in the forum and more.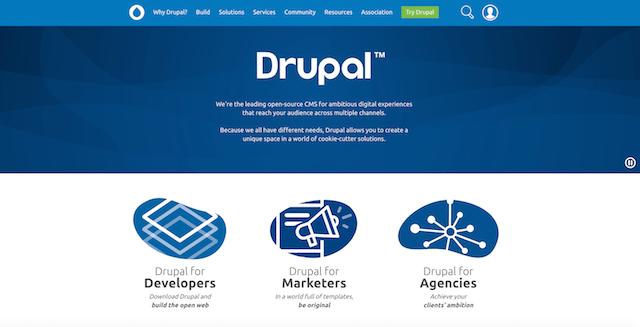 Alongside WordPress and Joomla!, Drupal is the final remaining piece of the "big three" most popular open source CMS software. Primed and ready to handle custom post types, Drupal truly empowers the user to take control of the entire process, especially the user management and permission settings.
Drupal is considered by many to be the Ferrari of open-source content management systems.
In the hands of a knowledgeable developer, the sky's the limit in terms of what it can do. Because it's open source, Drupal has a large and ever-growing community that continually looks to give back to developing the CMS and its modules.
Drupal offers a number of features designed to maximize productivity, visibility and integration with other systems so that you can focus on growing your business:
Improved SEO. Drupal's suite of search engine modules help to make your website more search engine friendly.
Look and feel. Drupal's extensive templating engine provides the ability to achieve the look and feel you desire to enhance and reflect your brand image.
Easy API integration. Drupal makes it very easy to connect content and APIs to your website, so your business can leverage the wide ecosystem of online digital APIs.
Search. Drupal's powerful search options and taxonomy system enable categorization of content so you and your users can access quickly and easily.
Content management: Whether it's videos, testimonials, news stories, products or people, Drupal's ability to manage large amounts of data makes it a powerful tool for many businesses. If your business involves categorizing data, products or people in diverse ways, Drupal provides the enterprise-level horsepower to manage your content.
Easy content creation: With Drupal, you're no longer bound to a third party for content creation. Drupal's user-friendly interface allows you and members of your staff — even if they have little to no knowledge of HTML — to enter content and render it correctly. This is a great tool for small businesses where everyone on staff (including you) has to wear many hats.
This is the rub: Drupal isn't the easiest CMS for beginners.
Much like that Ferrari we were talking about earlier or your trusty Japanese hatchback, a website requires regular maintenance in order to run smoothly.
Open source means your website will need regular security updates and backups, fixing modules, and improving functionality from time to time. If that's not your thing and you aren't planning to hire a professional web developer, you might want to consider a simpler CMS like a managed WordPress solution.
What content management systems does GoDaddy support?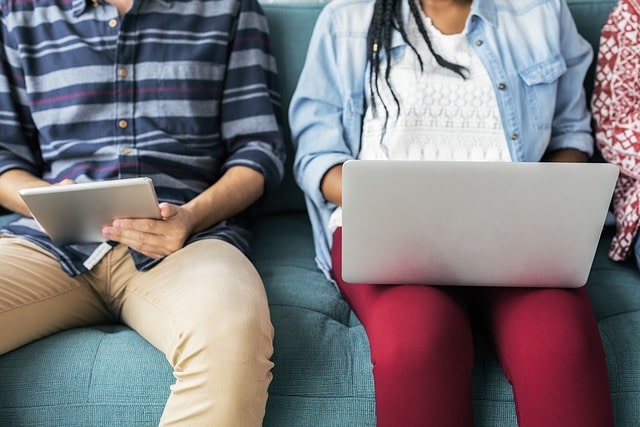 GoDaddy's hosting can be used for self-installation of popular CMS including WordPress (free version from WordPress.org), Joomla!, and Drupal. Managed WordPress Hosting is available for easy installation and complete support. Easy installation is available for Joomla! and Drupal as well.
Here's how to install WordPress on cPanel at GoDaddy.
GoDaddy + WordPress CMS
If you're looking for an easier way to get started with WordPress, GoDaddy Managed WordPress Hosting is a great option. Here's why.
GoDaddy Managed WordPress is fast and simple, and offers a variety of features and options:
Quick Start Wizard. Launch a new WordPress quickly with GoDaddy's exclusive Quick Start Wizard. It collects information about your business and then uses this info to help you choose a theme, and populates the content onto your site.
Managed and automated tasks. Be assured your site is safe with nightly backups. You'll also always be on the newest version of WordPress, with all security updates applied.
Speedy sites. Boasting a 0.215 second page load time, load-balanced servers and a clustered server environment, GoDaddy is prepared to scale for big traffic spikes while maintaining high performance.
Auto-migration for quick transfer. Have an existing WordPress site that you want to move to GoDaddy's awesome hosting? Migrate your WordPress site to GoDaddy with one click using the auto-migration feature.
Test on your staging site. Create a staging site with one click so you can test any changes and update plugins and themes before publishing them live.
Basic SEO needs handled. The WordPress search engine optimization tool handles your site's basic SEO needs to help you get found by Google and other major search engines. No tech skills required.
Malware scanning and removal. Say goodbye to scary malware, which hackers can use to steal your customers' information and ruin your reputation. All GoDaddy Managed WordPress Hosting plans include automatic daily malware scans. Malware removal is included with the Ultimate plan — finding and removing malware before it does damage.
Daily backups. Rest easy knowing your files and databases are secure. Restore files or folders with one click.
Award-winning customer support. Along with these features, you'll enjoy 24/7/365 support for help with anything and everything WordPress CMS. And that's priceless.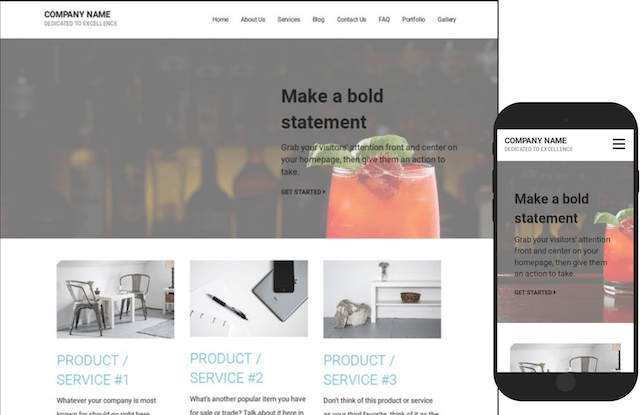 GoDaddy + Joomla!
Interested in using Joomla! as your content management system?
Here are some features and benefits of hosting your Joomla! site on GoDaddy:
Migration made easy. Get set up in minutes with GoDaddy's one-click Installation tool. Have an existing site or Joomla! hosting account? Migrate it from within your cPanel admin panel.
Performance, speed and uptime. With several redundant locations in secure data centers across the world, GoDaddy guarantees a 99.9% uptime for your site.
Dedicated storage. You'll never need to worry about shared resources again! With dedicated storage, you won't be impacted by other users.
Security. Free trusted SSL certificates come with many plans.
Here's how to install Joomla! on GoDaddy.
GoDaddy + Drupal
Prefer Drupal as your CMS? Drupal Web Hosting from GoDaddy has you covered. Here's what GoDaddy offers for the Drupal CMS:
One-click migration. Use the one-click Installation tool to easily migrate your site.
High performance, speed and uptime. With multiple redundant connections on powerful servers in secure data centers all over the world, you can rest easy knowing you're guaranteed a 99.9% uptime.
Plans to fit all requirements. Whether you need a starter web hosting plan or are looking for a private server that can scale, GoDaddy can meet your needs.
24/7 local support. Get tech support and troubleshooting help from customer care agents who speak local languages every hour of the day.
In addition, GoDaddy offers a few plans for business hosting on both Drupal and Joomla!
Here's how to install Drupal using cPanel on GoDaddy.
Conclusion and next steps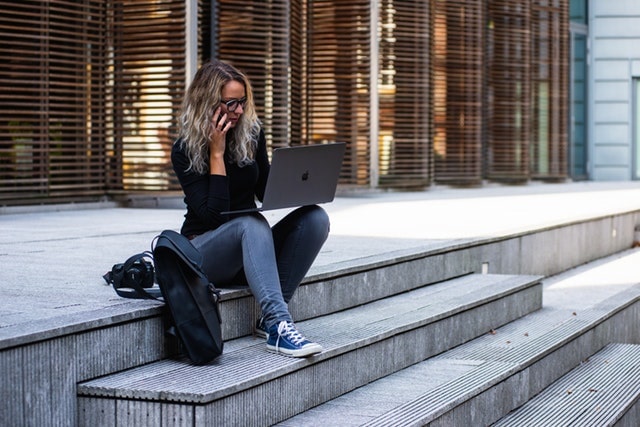 So that's all you need to know about the glorious world of CMS in a nutshell. We've explained how they work, what features you should be looking for in your ideal CMS, and even discussed some of the most popular systems out there.
Still, this is only the beginning.
Once you do have your CMS up and running, you'll want to fully explore its capabilities and test some new functionality.
Consider this your first step into streamlining your operation.
The objective is not only to create an easy-to-use environment for your team to generate and store content but to optimize your operation from top to bottom. When you have optimized your backend processes, the difference will inevitably translate to your customers.
In fact, one of the next steps to explore is introducing a CRM system into the mix. Managing customer relationships isn't a job for just one tool, however. A wide variety of applications cater to such critical elements as customer data, sales automation, lead tracking and marketing.
Your CMS handles the backend side of things, but don't neglect your business's connections to current and prospective customers alike.
Take advantage of the freedom and efficiency afforded to you by your CMS and pass it on to your customers. The content and your customers go hand in hand, after all. So too should your CMS and CRM systems complement each other.
But, we'll save that for another article. For now, hopefully, this post has given you plenty to think about.
This article includes content originally published on the GoDaddy blog by the following authors: Anne Stefanyk, Christopher Carfi, Steve Burge, Naomi Miles and Sean Loiselle.
Image by: Edgar Chaparro on Unsplash
The GoDaddy product information in this article is outdated and currently under review for accuracy. For the latest up-to-date product information please visit godaddy.com