Andrew Sheffield and Rachel Kaplan were ready to make 2020 a big year. The couple moved in together on March 1, 2020, started planning trips, and looked forward to an adventure-filled future. But, like the rest of the world, their plans came to a grinding halt thanks to the COVID-19 pandemic. Work slowed down (disappearing in some cases) and income was lost.
Andrew, a licensed real estate agent with Keller Williams, and Rachel, a yoga instructor, faced uncertainty given their industries were hit hard early on. Starting a service business during the first year of a global pandemic was not on the list of 2020 goals, but somehow it worked and they are standing tall two years in.
A 2020 origin story
Andrew worked with his dad for many years and when his father retired at the end of 2018, Andrew took on the business solo, a new challenge for him. As the pandemic made its way into daily life in 2020, more challenges popped up for Andrew.
Clients stopped listing their homes at the onset of the pandemic and no one knew if and when the real estate industry would pick back up. Andrew lost income as commissions dried up.
He needed to find something fast to make up for the lost income. Because so few places were hiring at the onset of the pandemic, he took a job at a small startup business that was delivering organic vegetables door-to-door. With people staying at home and avoiding grocery stores, the business grew exponentially and they needed help with logistics and production.
It was a difficult transition, going from being an independent contractor in real estate to packing vegetables, but Andrew took the work on with a positive attitude and helped the company grow.
By the summer of 2020, Rachel was teaching via Zoom in the studio and Andrew still worked long hours at the organic food company, but he hit a ceiling.
After four months, Andrew realized he couldn't grow there and needed something more. Rachel agreed and they sat down to talk about Andrew's idea of an interior painting company.
Andrew knew there was a need in the market as real estate sales began to pick back up — then reach record highs — and they were going to fill it.
With his background in real estate and working with local tradespeople, as well as his experience painting properties in his younger days, they decided to create a business that the community could trust.
They got to work on defining the business and by the end of June and into the early July of 2020, Interior Painting of Asheville was taking shape and they got online.
Rachel helped Andrew get the business on Facebook and Instagram and created content for the world to consume. They purchased a domain and coupled that with other products from GoDaddy to seamlessly build their website.
With his background in real estate, Andrew had seen plenty of painting companies without websites or a Google presence.
"​​Our customers seek out their services online first," Andrew says. "By positioning ourselves online in a way that is consistent and is also very polished and professional allows our customers to experience us before they even pick up the phone or send the email."
When it came to naming the company, Andrew and Rachel thought about how people shop around for services such as painting — they go online first and search on Google.
They tapped into the power of SEO to finalize the seemingly simple name. But, that simple name brings business in through online searches. Local customers search for interior painting and, with that in the name of the company, they pop up first.
And their initials, I.P.A.? Sounds familiar, right? It was a happy accident that they also live in a major craft beer city where IPAs flow in abundance.
"I think it's really fun and has lots of potential for future marketing purposes," says Andrew.
But the business needed more than a seamless online experience for customers and an easy-to-remember name. Superior and reliable service was a must.
Their motto, "fast, clean and affordable" and core values of reliability, friendliness, positivity and growth are what they built the business on. These values represent them as individuals and defines their business. They want to leave their clients feeling better than when they met them.
"​​That's something that I believe really sets us apart," Rachel says.
Growth and growing pains
They got a painting job from a colleague in Andrew's office — a big job that required more than Andrew could handle. Rachel wasn't available to take it on, so they went the old-fashioned route (by 2020 standards) and went to Craigslist to find their first employee.
That first job turned into a second, then third and fourth. At the same time, the real estate market began to rebound nationally. Home sales shot up, causing a spike in demand for their services.
"Before we really knew what was happening, this idea of how to create an extra source of income turned into a business and the need was just so apparent," Andrew says.
Andrew had his best year of production ever in the last half of 2020, as he went back to real estate in addition to growing his business. But that kind of production leads to burnout, especially as an entrepreneur.
"I was worn out, I was stressed out. I was not taking care of myself as I normally would and it was starting to show. And there was a specific moment that I remember where I was having a heart-to-heart with Rachel and discussing backtracking, dissolving, shutting it down," Andrew says.
In that same moment, Andrew got another lead, right to his inbox. He had an a-ha moment — in real estate, getting a qualified lead could be so difficult, but this one came so passively.
With this, he didn't have to chase it and his services were in-demand as the real estate industry picked back up. They simply needed to refine their systems and surround themselves with individuals who were ready to work hard and embody the company values.
They also needed to define the work they would take on. From the beginning, they envisioned a simple process that allowed them to be an efficient painting company.
A personal referral ended up being a learning moment for the company. After being asked to take down wallpaper, they found drywall covered in black mold. This was beyond their scope and they had to take a step back and get back to interior painting only.
Thanks to their stellar customer service skills, Andrew and Rachel walked away from that job with everyone happy. And, they learned that sticking to interior painting was the way to go — no exteriors, no power washing, and no repairs.
Since that experience, Andrew and Rachel stay focused on their goal to deliver the best interior painting experience to clients. They continue to connect every day to define the company, asking "How can we make this business better tomorrow?"
Being committed to their core values of positivity and growth allows them to grow a successful business within their community.
Where they stand in 2022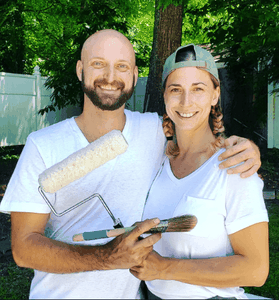 It has been nearly two years since Interior Painting of Asheville came to be and there are no signs of slowing down.
They started with an idea, coupled with a website with GoDaddy, and a few jobs. Now they are closing out their second year as a profitable business with employees, all while dealing with a global pandemic — not a position either of them expected to be in.
"We stand stronger together now that we have these amazing humans around us supporting this vision and working so hard…providing amazing service to our customers that cannot stop talking about out how amazing our team is," Andrew says.
Their calendars are fully booked with jobs, too, with a waiting list of customers who can't wait to work with them. As the world returns to some semblance of normalcy, Andrew and Rachel look forward to growing and building the next phase.
It's difficult for Andrew to let go and allow others to take on roles within the business, but he knows that it is necessary to continue to grow and thrive, especially as their calendar fills up and their personal lives continue to evolve — Andrew and Rachel got married in April.
"That's kind of been our next step after really getting the business going and started and getting through COVID. How do we continue to grow into the next phase? Luckily, we've got some really clever ideas and tons of support."
And just because "Asheville" is in the name, doesn't mean they are stopping there. They have dreams to grow bigger and beyond Asheville.
"Be on the lookout for 'Interior Painting of wherever it is that you live,'" Andrew says.
Learn more about Interior Painting of Asheville and other small business owners here.