Why is it so important to improve the efficiency of a multi-author WordPress site? Creating a website that new visitors can trust is vital. It might be the most important aspect of your site.
Most people overlook it because they're too focused on getting more traffic or posting useless tweets. The truth is if visitors come to your site and don't trust you as a legitimate resource in your industry, you're toast.
There are a few ways to make yourself more trustworthy and translate that feeling to your website:
Incorporate an A-rating from the Better Business Bureau.
Add some positive testimonials from your happiest customers.
Use a free or paid SSL certificate to your visitors know any information they send you is encrypted and that you're serious about security.
Add positive language like, "We won't share your information" or "All credit card information is encrypted."
Produce a lot of highly-authoritative content for people in your industry.
That last one, writing a significant amount of quality content, is key to increasing your clout.
Every niche has experts, and those experts are determined by the quality content they've produced. A few good articles is great, but hundreds, thousands, or tens of thousands of relevant and engaging articles will tell people they've found something special.
Most people tackle this challenge by accepting guest authors to contribute content, or even by paying experienced writers to produce content for their blog.
A multi-author WordPress site can help you crank out more content
But while this is a good strategy for scaling your content production, it can backfire quickly if you don't keep things organized.
Here's how you keep your multi-author WordPress blog running efficiently so you don't have to spend hours on end editing bad content and managing writers.
5 ways to keep your multi-author WordPress site running smoothly
Create writer guidelines
Hire good writers
Add all your writers to an email list
Use the right plugins
Send follow-up emails
Let's explore those tips in more detail.
1. Create writer guidelines
If you have multiple people who write for your blog, this one is essential. When someone submits an article, do you really want to send emails back and forth with basic edits to the structure, grammar and layout of a post? With the thousand other things that need to get done, you don't have time for that.
Share a public document on your website with all your writers. That way when they get something wrong, you can point them in the right direction.
Your guide should include:
Why people should write for your blog. How many visitors do you get every month? How many subscribers will the article be emailed out to? Will the writer receive a link back to their website? These are what entice good writers to engage with you.
Universal requirements for all content. Do you have a minimum word count? Does all content have to be original (never published online before)?
What you won't accept. This includes topics that have been covered before, anything too promotional, etc.
How to set up their profile. If you're going to ask people to write their posts in the WordPress dashboard, give detailed instructions on how they should fill out their profile so that their author box displays correctly.
Specific content requirements. This goes into more detail on things like external links should open in new tabs, how to add images, layout and formatting, etc.
Include some fine print. This would include things like you having final editorial decisions and your website owning the content once it's been published.
Why public? Then people who want to write for your blog will take a look before getting in touch with you. This acts as a vetting system and wards off people who aren't big fans of following directions. (You can check out the GoDaddy blog contributor guidelines here.)
2. Hire good writers
This might seem obvious, but it goes deeper than simply hiring people who have written a few good articles.
While having someone who can provide solid content is going to help you engage readers, you also need your writers to have other qualities that will in turn save you time.
A writer who's excellent at following directions will write posts according to the rubric you provide and will save you a ton of time in the editorial process.
Someone who knows their way around the backend of WordPress and can write and format their content in the WP dashboard will save you hours migrating and laying out content from Google docs.
A responsible writer won't leave you guessing. When you can trust your writer will finish the content they promised by the due date, it takes a lot off your shoulders.
Making some stylistic mistakes on a first post is to be expected, but you want writers who don't make the same mistake twice, can follow your Writer Guidelines to a tee, and will make your editorial process that much faster.
The goal is to not have to meticulously edit every article that goes out.
Eventually, hiring the right writers for your multi-author WordPress site will lead to having a well-trained team that can repeatedly and efficiently go from blank post to published masterpiece.
3. Add all writers to an email list
Add every writer you bring on board to an email list. Send them an email every month with updates to your writer guidelines, new topics that are available to write about, and even prizes for the most viewed or most shared posts of the previous month.
This will turn your group of writers into a community that's invested in your website.
Having a quality writer-for-hire on your side is much different than bringing someone onto a team they feel invested in.
4. Use the right plugins
Edit Flow is one WordPress plugin that will get your blog's writers and content in order. You can keep your editorial calendar current, notify writers or editors when a post needs review, and it even allows you to set budgets for your content.

One of the best features of Edit Flow is the editorial comments. When you need a writer to make edits, you can add comments under the post in the WordPress dashboard — no more emails back and forth with your writing staff.

Co-Authors Plus is another great plugin for extending WordPress's capabilities to handle multiple authors. This plugin allows users to assign multiple bylines to posts, pages, and custom post types via a search-as-you-type input box. Co-authored posts appear on a co-author's archive page and in their feed.
5. Send follow-up emails
After new posts have been published, send out emails to all your writers reminding them to share it on social media, include it in their newsletters, and in general share it with their WordPress friends. This can be a powerful way to get more eyeballs on your website's content from your own writing staff.
You can use the plugin Better Notifications For WordPress to automatically send emails to all your contributors when a new post has been published.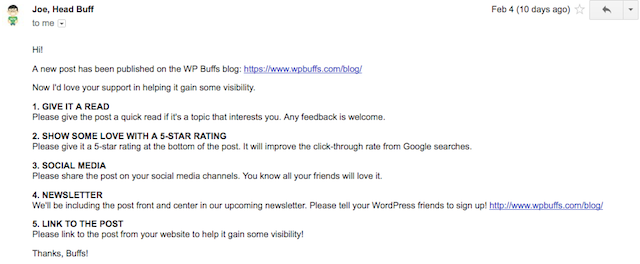 An efficient writing process will save you tons of time when you have a few writers on board. When you have tens, or even hundreds of authors, a lack of efficiency can have a huge financial and emotional impact on you and your team.
Whether you have a blog with a large team or are thinking about creating a multi-author WordPress site, make sure you focus on the writing and editorial process at the start so you and your website can finish strong.