If you're having a hard time finding a memorable domain name with a legacy domain extension for your online business, you might want to check out how the .store domain could help.
Over the last two years, the retail industry has cemented its position in the world with over 2.14 billion online shoppers in 2021.
And as many older businesses move online, along with newer ones mushrooming all over the virtual landscape, it's a good idea to seek out alternative domains that fit your brand and boost visibility — especially since acquiring the right domain name is as competitive as running the business itself.
In this article, we will learn how businesses can leverage new domain extensions to secure brandable and click-worthy domain names. We will also explore why .store is the best domain extension for online stores. But before we get started, let's learn why domain extensions are important.
What is a domain extension and why should it matter to you?
To appreciate the importance of .store domains for ecommerce, it's important to understand why a domain extension is an integral part of your online brand.
A domain extension or a top-level domain (TLD) is the last part of your website address, comprising the letters that follow the last period after the entity's name. The most common domain extensions are .com, .net and .org, which have been around for decades.
In fact, the .com domain is as old as 1985.
It came around when people had no idea how the internet would take over the world. Compared to then, there are over 1.9 billion websites in cyberspace today, and the most sought-after domain names on traditional domain extensions are likely already taken.
Do new businesses have to settle for what's available?
Fortunately, no. Hundreds of new domain extensions have emerged in the last decade. These alternative domain names allow new businesses to secure more memorable and brandable domain names.
For instance, mobile.com has already been acquired by AT&T. But, instead of going for something like m0bile1.com, which seems spammy, you can opt for mobile.store, which is more brandable and meaningful.
What advantages do new domain extensions offer new businesses?
New domain extensions span a wide range from niches such as .tech, .store and .press to generic such as .online,.space and .site. If you have or plan on starting, a business in the ecommerce industry, your best bet would be a .store domain.
Read on to learn why new domains, such as .store for ecommerce, just make more sense.
Related: What are the most common domain extensions?
1. New domain extensions offer more relevant options
Easy availability means that brands have more room to play around with. Brands can easily filter through different options and eventually settle for their top choice, one that best represents them online.
Additionally, many domain extensions have not been around as long as their traditional counterparts. This means that new domain extensions, such as .store, .tech and .online, allow businesses to find an exact-match domain name.
For instance, bigthrift.com might already be in use but bigthrift.store is available.

2. New domain extensions eliminate compromise
Premium domain names are a viable business commodity that people often buy and resell at higher prices. If you've tried to register a domain name on popular domain extensions in recent years, you've likely noticed that the domain name you seek is already in use. Even those that are available come with exorbitant price tags.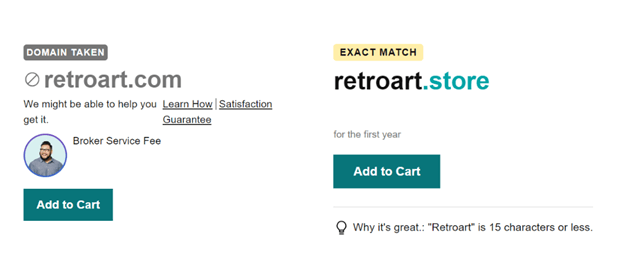 New businesses may not be in a position to spend thousands of dollars on securing a high-quality domain name. But they may have a better chance of finding an exact match on a new .store domain extension.
3. New domain extensions improve brand perception
Businesses today are always looking for ways to break away from tradition. New domain extensions provide the perfect way to break through the clutter for (positive) disruption.
Not only are they more easily available and more economical, but they also make for more meaningful and indicative domain names. An ecommerce business with a relevant domain extension, such as .store, helps set the right user expectations from the get-go.
For instance, if you see a domain name like designbooks.store, you know that this is a website that sells design books.
4. New domain extensions often have global appeal
New domain extensions were conceptualized in the new millennium. And like most things born in the digital age, they were crafted keeping the internet's global reach in mind.
Geographical boundaries no longer restrict businesses. You can be a local Vietnamese artist, but your most significant client base may be in Australia. Or, you can be a Bangalore-based SaaS company, but you could be selling your software to companies in the Bay Area.
New domain extensions are designed to transcend geographical, language and cultural barriers.
They make use of universally-understood terms. For instance, .online, .store and .tech are recognizable terms even in non-English-speaking countries. Also, unlike country-specific domain extensions like .uk, co.in, etc., they don't restrict your scope of business to a particular region.
What to consider when choosing a domain name for an online store
A domain name is a simple yet crucial tool in building an effective online brand. It is the first online touchpoint between you and your customers. The best domains for ecommerce are ones that:
Resonate with what your company does
Inspire trust
Provide valuable business information in a concise and captivating manner
Here are three key factors you should consider while coming up with a domain name.
1. Searchability
People will use similar keywords when searching for businesses like yours. It is worth taking stock of these keywords and incorporating them into your domain name.
This works when you have an exact match domain name, which allows people searching specifically for your brand to find you. For instance, if you search for the Emirates store, the first result you see when using the keywords "emirates store" is emirates.store.
It also works when your domain name exactly matches the generic keywords that people use to search for businesses like yours. For instance, if your domain name is stainedglass.store, it will match the keywords a person will use when searching for stores that sell stained glass.
2. Memorability
The best domains for ecommerce are short and simple, so they are easy to communicate, remember and type. Communicating important information such as your brand name and your niche in a straightforward way makes your domain name truly memorable.
Consider these domain names: vintagecomics.store, gardendecor.store and petcorner.store. They all use relevant keywords and a contextual extension, such as .store domain.
3. Voice search optimization
According to a data report from PwC, 71% of people would rather use voice search than physically type a search query. And with voice search popularity on the rise, it's becoming more and more prudent for new and small businesses to optimize their digital presence accordingly.
Naturally, domain names with the following attributes are better from a voice search perspective:
Use fewer and simpler words
Do not include numbers or special characters
Avoid modified spellings
For instance, compare these versions of the above-mentioned domain names: vintagecomicbookstore.com,gardendcor.com and petzcorner.net. They are either too wordy or semantically different from their corresponding search keywords.
Is .store the best domain extension for ecommerce?
If you're looking to buy a domain name today, you will likely be spoilt for choice. But from all the options available for ecommerce ventures and online stores, the .store domain is as close to the most relevant that you're going to get.
Considering all the benefits that new domain extensions afford, the .store domain is easily one of the best extensions for an online store. Here is why you should choose it to build your ecommerce store.
1. The .store domain is highly relevant
A meaningful domain extension like .store automatically puts you in the league of today's online sellers. This is because of the context that the word provides. All people need to do is look at your .store domain to know that you're an ecommerce store. This can help you save time and marketing dollars because it establishes the right user perception for you.
2. The .store domain helps establish a brand presence
Not only is it meaningful, but the .store domain extension also presents several opportunities for ecommerce businesses to set themselves apart with a short and snappy domain name.
Short and simple domain names are more memorable and more likely to appear in voice search results.
For instance, let's compare a domain name like abc.store to abcstore.com. The former is shorter, easier to remember, and stands out among other common domain names built on traditional extensions.
Moreover, the .store domain names like veganleather.store and usedcars.store are an exact match to the keywords people will often use to search for such businesses.
3. The .store domain is keyword rich
New domain extensions are as valuable as traditional domain extensions. A relevant .store domain can significantly contribute to boosting your web page's search engine rankings. This is especially true when coupled with other aspects that boost SEO, such as website user experience and high-quality content,
By setting the right user expectations, an informative and meaningful domain name like magazine.store attracts relevant traffic right off the bat. This helps build your website's credibility in the eyes of search engines.
Who is using .store?
If you're still not convinced why the .store domain is the best extension for online stores, take inspiration from these innovative global businesses that are already using it.
Dudeperfect.store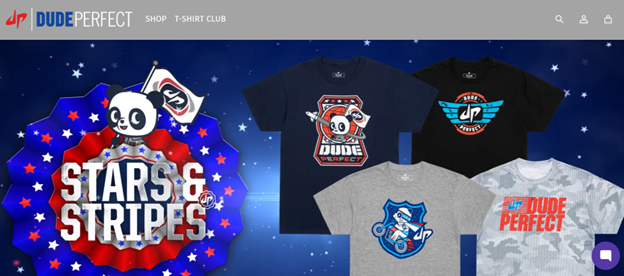 Dude Perfect is a sports and comedy group that was started by five former college roommates. Today, they've become one of the biggest YouTube channels with over 50 million subscribers worldwide and are known for enthralling videos that feature stunts, sports tricks and breaking stereotypes.
Their merch store uses the domain name dudeperfect.store, which gives their store its own identity that is separate from its official website and YouTube channel.
Blacktailor.store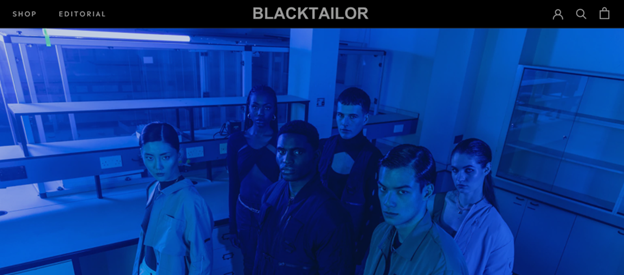 Fashion retailer, Blacktailor, has successfully carved a niche for itself and has a domain name that perfectly matches its innovativeness.
Blacktailor uses its unique selling proposition — cargo pants that are functional, stylish and affordable — to set itself apart from competing men's fashion brands. It follows strict production and quality guidelines, making each of its products come across as a true-blue Blacktailor product.
Wyldblue.store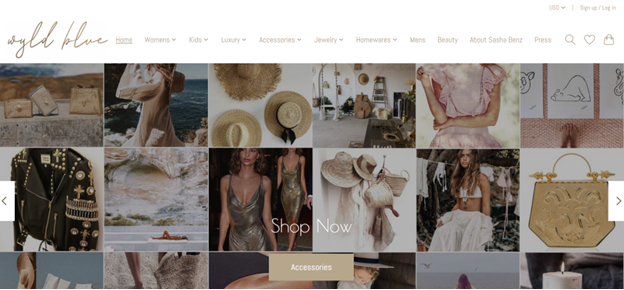 Named after her eldest child, this Australian fashion stylist's line of curated fashion is known for its treasured finds and beachy aesthetics. Wyldblue's online store sells a unique range of clothes, accessories, homeware, beauty products and everything in between.
Products are sourced from design houses all over the world, and each piece has a story to tell. Although based out of the United States, Wyldblue has a global appeal and ships internationally.
Related: How stunning brands use a .shop domain to sell more
Should you buy a .store domain for your store?
While every ecommerce brand is different from others, following certain guidelines can help these types of stores build a strong foundation for their online presence.
Keeping factors like availability, affordability, memorability and searchability in mind, it is easy to see how .storedomains for ecommerce check all the boxes. So, when you consider the best domains for ecommerce, the .store domain is a clear frontrunner.
Find the perfect .store match for your online business using GoDaddy's Domain Name Search tool to browse available options.