Click-to-call plugins are great for businesses who are looking to enhance the customer experience by making it easier for customers to find the business phone number. Taking advantage of click-to-call plugins creates an omnichannel experience on your business' website.
It doubles as an app by giving customers the option to call your company while they navigate your website for more information.
Related: How to use omni-channel marketing to grow your small business
5 great click-to-call plugins for WordPress websites
If your business uses WordPress and you want to enhance the customer experience by offering a click-to-call option, consider these five great click-to-call plugins for WordPress websites:
Call Now Button.

Click to Call Button.

Excitel — Click to call.

Really Simple Click to Call Bar.

Contact Page with Click to Call by MightyCall.
Let's look at each plugin in more detail.
1. Call Now Button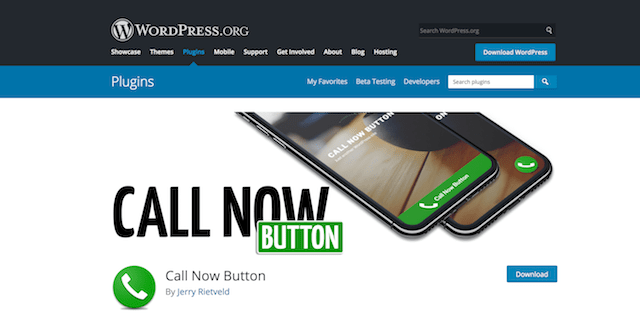 Call Now Button offers WordPress users great features for businesses looking to optimize their mobile apps and websites. Call Now Button gives users a bar at the bottom of their screen to make it easier to call a business.
On websites optimized for mobile devices, webmasters can customize the size of the button, choose where it's located, change the color, enable click-tracking, change the button text, and change the phone number at any time.
Being able to adjust these settings is essential for businesses because it opens up the possibility to split test each setting and see what converts best
If a green button is better than a red one, you can change it.
If you want consistency throughout your website's color schemes, you can adjust the color to fit everything else. Having options personalizes the user experience, which in turn makes it possible to offer better overall customer experiences.
Related: How to create new phone leads with your mobile device
2. Click to Call Button
Click to Call Button is another of the click-to-call plugins worthy of your consideration. Just like Call Now Button, Click to Call Button will help businesses optimize their apps and websites by adding a call icon for website visitors to press when they want to make a quick call.
Some more advanced features include call recording, voicemail and SMS messaging. WebRTC allows users to turn their browser into a phone, similar to how VoIP phone systems like Skype work. Other advanced features include inbound call handler, SMS and email notifications, control the plugin through SMS, and SMS forwarder.
These all help WordPress users stay on top of who's calling, when and why.
Related: Use click-to-call to attract more customers to your small business
3. Excitel — Click to call

Excitel — Click to Call, again, offers website visitors another way of communicating with your business. It offers, as the name suggests, a click-to-call button, but also offers much more.
Users can, for example, set the hours at which a website visitor can call the business — that way, no one is waking up at four in the morning because someone overseas forgot how time zones work.
Some other great features that really make Excitel's plugin unique among click-to-call plugins are several lines for simultaneous calls, call metrics, export call data to Excel, and chat. Having several lines open for multiple calls is a great way for even small businesses to handle situations as quickly as possible.
Quick responses lead to happier customers.
Exporting call metrics to excel helps users organize the data however they see fit. Chat options help agents and customers communicate while already on the phone, which can come in handy for sending useful links.
Related: 7 tips for offering top-notch phone support for IT and admin services
4. Really Simple Click to Call Bar
Really Simple Click to Call Bar is, in fact, one of the simplest click-to-call plugins. Users can customize the call button to their liking so it can stay consistent with the rest of your website or app. The customizable features can also be split tested to ensure the call button is optimized to its fullest potential.
This is an imperative for any business that's heavily reliant on phones, because customers have to have as seamless an experience as possible.
If they're on their phones, the odds are slim of them being patient enough to click through page after page to find your business's contact info. Make it easy with a simple button on the home screen to make a call immediately.
5. Contact Page with Click to Call by MightyCall
MightyCall has a stronger emphasis on optimizing contact pages than click-to-call features, but the plugin does offer both and it has to be highlighted. MightyCall's plugin "adopts the look and feel of your theme" in order to make the page look as natural as possible.
The contact page includes your business name, address, phone numbers, emails and business hours. Pages are optimized for mobile phones, which is essential for the plugin to be as powerful as the others.
Other important features including:
No coding required for the plugin to work.
With the free MightyCall visual editor, you can turn on and off blocks on your contact page, list your company name, business hours, address, contact information, and upload images in a carousel format.
Those are pretty nifty features for a click-to-call plugin.
The final word on click-to-call plugins
Click-to-call plugins are an essential for any business looking to optimize their website. They help customers get in contact with businesses quickly, which helps to improve the overall customer experience significantly. This is because people are often looking for quick answers to whatever questions they have for a business.
The longer a business takes to answer these questions, or the harder it is to figure out how to contact a business, the less likely customers will make another purchase.
These click-to-call plugins offer basic customization features that can be split-tested to ensure websites are optimized to their fullest potential. Users can play around with colors to match the rest of the website, making it look as natural as possible.
They can even customize the text in the buttons as well as where the buttons will be located. This is important for customers looking to access your website via their smartphone or tablet because smooth transfers aren't guaranteed.
Businesses have to keep a close eye on every small detail to make sure it's just as easy to access contact info on their phone as it is on their computer.
With these five great click-to-call plugins for WordPress websites, your business can improve the customer experience for free and with little effort. What else can you ask for?