Texting is quickly becoming a communications staple for businesses everywhere. And why not? It's easy to grab your phone, type out a quick message, and be on your way. That kind of immediate information really appeals to customers — in fact, 90 percent of leads prefer texting as opposed to phone calls. With so many potential customers right at your fingertips, it's imperative your business text etiquette is top notch.

4 text etiquette tips for small business owners
When texting customers, the last thing you want to do is come across as unprofessional. When it comes to text etiquette for your small business, keep these tips at your fingertips.
Keep timing in mind.

Watch your tone.

Respect customers' privacy.

Be professional.
If you want to capitalize on the highest-rated contact method for customers, then you need to start texting. And these text etiquette tips can help.
1. Keep timing in mind
While texting your BFF at 10 p.m. on a Tuesday night might be the norm, the same can't be said for your clients.
Always be mindful of the clock, and don't text after business hours.
When you're texting during the appropriate hours, be sure to respond to your customers promptly. You don't want to keep them glued to their phones for updates or to waste their time. And if there's too much back-and-forth? Don't be afraid to call!
2. Watch your tone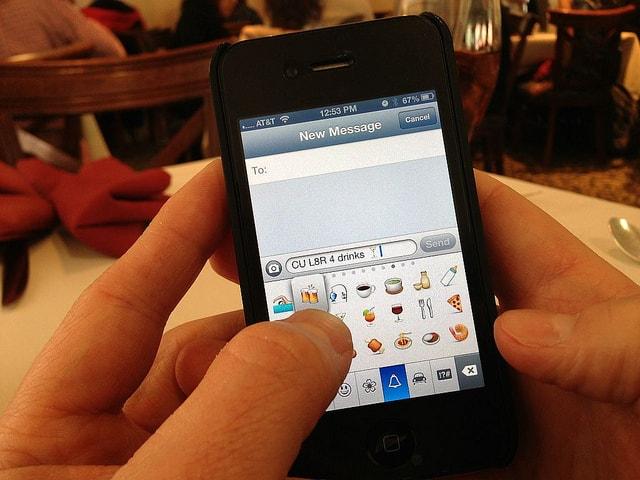 It's just like your momma always told you — watch your tone. Of course, we're not talking about a little sass when you want to stay up late or eat dessert before dinner (we hope). When it comes to text etiquette, we're referring to the casual lingo you might use among your friends, but perhaps isn't the best for clients.
Be respectful and consider who you're texting.
All caps, which are generally received as yelling or shouting, aren't the best for business communications. Stay away from aggressive messages, and don't button mash the emojis (no matter how much you love them).
3. Respect customers' privacy
No one likes to be pestered. First and foremost, make sure you have permission to text. A lot of people are hesitant to share personal information like their phone number, so don't abuse it. Text responsibly by limiting the number of messages you send and saving confidential information for a different medium.
4. Be professional
Professionalism is the underlying key of all these text etiquette tips. If you want to come across as a bonafide business owner, then you'll need to act like one. And in this case, that means double-checking your messages before you rush to hit the send button.
Grandma or Greg? Text too quickly and potential client Greg just might find out how much your love your g-ma.
Keep an eye out for autocorrect and voice-to-text errors, and don't change set dates, meeting times or events via text. If your client misses that important information, you could cost yourself a customer.
Conclusion
When it comes to texting for business, there are a ton of benefits at your fingertips. But it's imperative that you follow these text etiquette tips to ensure your communications are well-received. And to top it off? You need to make sure your business line is set up for success. Consider using a tool like GoDaddy SmartLine. Get a second phone app for your business, and text from your business line with confidence while keeping your personal information private.