Now that you've decided to open a WordPress eStore with WooCommerce, it's time to start planning. While the combo of WordPress and WooCommerce simplifies eCommerce, planning is still at the core of any successful online enterprise.
Using the tips and information below, along with the links to WooCommerce plugins and extensions that I've peppered in, you'll be able to solidify your costs, processes and procedures in advance of launching your eStore.
Choosing your theme
Naturally, the first thing to consider is layout and features. This is where choosing the right WordPress eStore theme comes in. You'll want to find a theme that is well supported and compatible with the latest versions of WordPress and WooCommerce. Woo recently had a major update to version 3.0 that required some themes and many plugins to update as well, so make sure you pick a theme that is compatible.
A big perk of the 3.0 update for your WordPress eStore? The new WooCommerce gallery experience on product pages. It features improved functionality and mobile performance, among other improvements.

When browsing through themes, go through the provided demos with a fine-tooth comb. This is time well spent! The demo will show you all the capabilities of the theme and what can go where. Look at navigation, home page layout, logo placement and responsiveness in particular.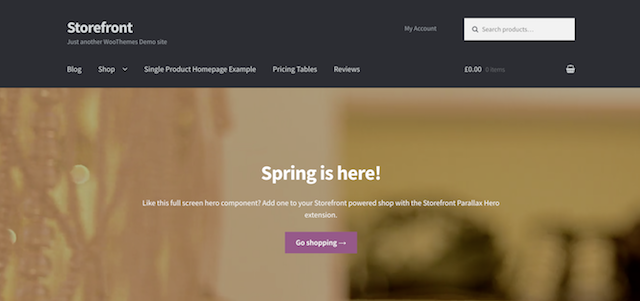 Also, try to find the theme that showcases your products and information in the way that meets your goals best. There are many nifty WooCommerce-specific themes — such as Woo's free Storefront theme — that cater to various product layouts and features. Keep in mind that having to change the established layout of any theme will most likely require customization by a developer and can get expensive.
Picking plugins for your WordPress eStore
Now that you know how your products and content will display, what type of features will you need? Are you looking for product customization, inventory tracking, shipping tables or order management? What about products? Will there will be product variations, such as size, color, etc.?
Make a list of all the features you would like to incorporate into your WordPress eStore, and then start investigating your plugin options.
Your due diligence should include checking out the support ratings of the ones you choose. Also confirm that the plugins are compatible and tested with the current version of WordPress and WooCommerce.
While there are a slew of free WooCommerce plugins available, there will be instances where a pro or premium version is required. Premium plugins generally offer more features and enhanced support.
Establishing your payment options
You are selling online, so figuring out how you will accomplish transactions is critical. What forms of payment will you accept and what will be the fees involved? You'll want to review various payment processors, as each charges different rates. Some have a monthly fee, percentage taken out and/or per-transaction fee. You need to run these numbers and factor in this cost to your pricing model.
Will you accept personal checks and money orders? Make sure you include how you handle these in your store FAQ.
Collecting competitive intelligence
Before developing even a single page of your WordPress eStore, set aside some time to review what similar sites are already doing in your market. Unless you are offering a über-niche product or service, assume your competition is substantial. How can you differentiate your site from all the others online?
Look at what your competitors are already doing successfully and look for an opening to do something better.
See if you can integrate those concepts in a unique or different way. You do not want to be a "me too" store — that is a tough hill to climb. Try to become more specialized (if possible) and plan on being a rabidly aggressive marketer. Both will cost you in time and money, but are usually worth it.
Determining your pricing profile
When establishing pricing, include all costs to get to your bottom line: SSL, hosting, theme/framework, domain, email, plugins, extensions, payment gateways, credit card processing fees, advertising, products and inventory, packaging supplies, etc. (For more on expense planning, read this article.) You can also install a WooCommerce plugin that tracks costs of goods sold right in your dashboard.
Formulating your shipping program
WooCommerce offers the ability to offer multi-level modes of shipping. It allows you to offer free shipping on orders over a certain amount or for specific products. You also have the option to base your shipping on location, weight or dimensions. However you set it up, it's a good idea to always offer shipment-tracking functionality, which can be delivered through an extension.
If you are shipping globally, don't forget to consider what you need to know to complete the required customs paperwork.
Posting policies on your WordPress eStore
Make sure it's easy for customers to find all the information they might need about your WordPress eStore and making purchases. Develop a comprehensive FAQ page that anticipates every possible question your potential customers will have. This is your opportunity to link to other policy pages that contain the answers to the questions customers might have before placing their orders. Make sure that your policies pages and terms are detailed and up front.
Clear, concise and simple applies here!
At a minimum, posting return, lead-time, shipping, privacy and security policies are absolutely necessary, and each should be easy to find on your site.
Planning customer service strategy
This is going to be critical to your success. Excelling in the customer-service arena can be what separates you from others offering the same or similar products and services. Want folks to talk you up?
Offer an incredible customer service experience.
Having a clear thought-out strategy in place from the start can also help you through any growing pains.
When determining your shipping schedule, factor in time for the printing, processing and packing of orders so you can establish reasonable customer expectations. Most new to eCommerce are surprised at how time consuming order packing can be when done properly. You'll also have to budget time for answering customer email inquiries quickly, updating order statuses and entering shipping details into WordPress.
One way to save time when preparing to open your WordPress eStore is configuring your order status emails in advance.
Whenever you update an order's status, WordPress will send out a relevant email, including that much-desired shipping confirmation your customers are waiting for.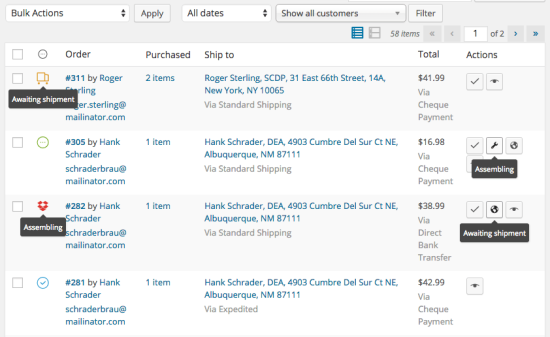 I use the WooCommerce Order Status Manager. This product allows you to create and edit custom messages and integrate them seamlessly into your WooCommerce order management flow every step of the way. You can even edit core order statuses and trigger new order emails when things change.
Creating a marketing plan and budget
What are you going to do to get your site "out there?" There is no "build it and they will come" online — you'll be lucky if you ever make a sale with that approach! If you want to be successful, you need to establish a marketing strategy.
The first step is to set up your store newsletter so you can start growing your mailing list. GoDaddy Email Marketing, MailChimp and Constant Contact are just a few companies offering easy-to-integrate WordPress plugins for email.
Pay-per-click campaigns are also a great way to market your WordPress eStore. They can run from a few hundred to thousands of dollars a month depending on how competitive your market is. Keep in mind, any online advertising program you initiate will require substantial time for you to test and tune effective campaigns.
Additionally, your marketing plan should include spending time networking on social media, as well as implementing aggressive traditional marketing efforts offline.
Pro tip: Be sure to grab your Twitter, Facebook, Pinterest and Instagram username/page names so you can get those accounts set up before your eStore launches. You will then want to create a consistent posting schedule for each.
It's time to sell
As you get ready to launch your new business, do not underestimate the importance of planning and putting "pen to paper." The more detail the better. These are the details you will not only rely on, but will need to map out your store and plan for success. Once you address each of these requirements thoroughly, you will be ready to build your WooCommerce WordPress eStore and start selling.