This article was updated on May 4, 2018.
As a business owner, you're always on the lookout for methods to boost sales. It costs more to create a new customer relationship than it does to maintain an existing one. Knowing that no customer is more valuable than a repeat customer, one sure path to increasing sales is to consider establishing a customer rewards program.
Benefits of a customer rewards program include:
More sales for less effort: Established customers return more often and spend more over time.
Differentiation: When customers have a choice between equivalent vendors, they will go back to the one where they get free stuff.
More data at your fingertips: Gather data from your customers about when and how often they purchase, and what they buy.
Motivation to shop: Those who see progress toward a reward are more committed to keep working (shopping) to achieve that goal.
Connection with a wider audience: Share program promotions and coupons with your mailing list and social media channels — and enlist customers to spread the word for you!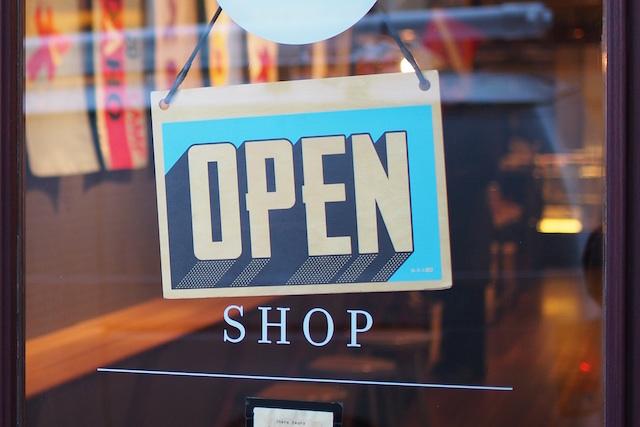 4 steps for starting a customer rewards programs
If you're not sure where to start when it comes to creating customer rewards programs, don't fret — we've got you covered with these four steps.
Evaluate program objectives.

Articulate program benefits.

Define program logistics.

Reward details.
Ready to see how it all comes together? Keep reading to get organized and review primary factors regarding design and implementation of the program.
1. Evaluate program objectives
Design of the customer rewards program is completely under your control and creativity, but it's a good idea to identify your business objective in order to better target your customers. Are you going to:
Increase sales volume with existing customers
Increase purchase frequency with existing customers
Analyze spending habits of existing customers
Bring in new customers
Recruit away customers who currently spend with your competitors
Depending on your goals, your answer might be different. Once you've determined your reason for creating a customer rewards program (at least for now — this could always shift later down the line as your business grows), it's time to think about your customers.
Can you define target audiences that are a subset of your customer base? Parameters to define sub-audiences could include:
Age
Gender
Geographical location
Shopping habits (volume, frequency)
In-person vs. online shopper
Social media user (and which platform: Facebook, Twitter, LinkedIn, Instagram…)
There's a lot that goes into creating a buyer persona, so be sure to check out this post.
2. Articulate program benefits
While you might know the ins and outs of your program, your customers won't. You'll need to clearly identify the benefits for signing up, as well as promote your program as a whole.
Can your customers expect to:
Save money
Save time
Get free stuff
Special or early access to merchandise
Special or early access to events
Dedicated service or support
Be sure to describe your program in a way that is easily understood by your customers.
Pro tip: Be sure to check out any rewards programs from your competitors, too. Can you offer comparable benefits or the same benefits at an enhanced level? What sets you apart from the rest? Highlight those benefits.
3. Define program logistics
When it comes to logistics, there are a lot of things to consider. Let's break it down.
Events
Is there an important event or publicity coming up where you'll have an additional opportunity to launch or advertise the program (e.g., holiday shopping or paid advertising on TV, web or print)? What is the timeline for this event or publicity, and how much in advance does the program need to be ready to go?
While you don't have to release a customer rewards program around a specific event or holiday, if you are planning on introducing it during a specific time for marketing purposes, get your ducks in a row ahead of time.
Technology
Exactly how are you going to implement your customer rewards program? Address questions like:
Will you pay to have your own custom app developed?
What is your overall budget/investment to pay for app development?
Will you use a third-party solution?
What is your monthly budget to pay for a third-party solution?
Pro tip: There are a few existing options out there already, such as Belly, Perkville, FiveStars, PunchCard and Flok.
The customer factor
Once you've got a platform selected, it's time to get nitty-gritty with the details.
How will customers enroll in the program? Options to consider are:
In-store by completing a form
In-store with help from an employee
Automatically enrolled with first purchase
Smartphone app
On website
What is the "currency" of the program? It could be:
Number of purchases
Total dollar amount of purchase
Alternative currency measured in units of what you sell (e.g., mileage traveled)
Will your reward program have a special name for points accrued? Even if you're tracking dollars spent, considering equating dollars with a creative name for points. Brainstorm names including these factors:
Financial equivalents (e.g., dollars, bucks, pounds, cents)
Exclusivity terms (e.g., inner circle, insider, elite, member, nation, team, priority, premiere, club)
Acronym (e.g., variation on VIP, using "very important _________")
Tiered names (e.g., bronze, silver, gold)
A play on your business name or brand (e.g., National Car Rental Emerald Club matches their green logo; Macy's Star Rewards program matches the star in their logo)
Will customers pay in advance to be a member of the program in exchange for special benefits? If so, what are those benefits? Can you estimate a dollar equivalent for those benefits, as a way to quantify them to members? These are all important questions your customers will want to know before signing up for a customer rewards program.
They'll also want to know how to track their rewards — after all, those goodies are why they signed up in the first place.
Tracking options might include:
Smartphone app
Log into website
Regular email status reports
Status automatically included on in-store receipts
How will you measure performance of the program?
Number of members
Increased activity of members
Number of rewards earned and claimed
Measuring customer loyalty is important. You need to be aware of what's working and what isn't so you can adjust as need be to better suit your customers' wants.
How will you advertise the program?
In-store signs
Direct mail
Website signup form
Email to your mailing list
Employee recruiting
It's important to think about how you will educate employees so they can recruit customers, too. Your marketing efforts are great, but social proof is fantastic.
Pro tip: Need an email marketing platform to create beautiful campaigns in no time? Check out GoDaddy Email Marketing to create and track emails that align with your brand.
4. Reward details
Now it's time to think about the goodies — the things your customers are eager to enjoy. They'll want to know how they're earning their reward points, redeeming them, and any other benefit you can possibility think of.
How will customers earn points?
Initially joining the program
Birthday
Anniversary of joining the program
Reaching pre-determined milestones (time as a member)
Reaching pre-determined milestones in spending
Business milestones (e.g., give members bonus points for your business's anniversary)
Referrals to others who purchase
Sharing on social media
Participating in in-store activities or games
How will customers redeem their reward points?
Coupons/discounts applied to general sales
Coupons/discounts applied to specific products/services
Free products or services
A free transactional service that they would otherwise pay for (such as shipping)
Attendance at a special event
What other benefits can you offer to program members?
Expanded limits on existing policies (e.g., if the standard return time frame is 15 days, offer members an expanded return window of 30 days)
Dedicated service options, such as a special call-in phone number
Bonus services (e.g., free shipping or gift wrapping)
Bonuses related to partnering businesses (e.g., airline rewards can often be redeemed with partnering hotels or car rentals)
Pro tip: An easy way to convey all this information is to create a dedicated page on your website with your customer rewards program details. Don't have a website yet? GoDaddy GoCentral Online Store is an easy way to create a beautiful site for your business in less than an hour.
Customer rewards program options
Wow, that's a lot of information! If you're still feeling a little unsure with all these details, that's OK. Design of the customer rewards program is completely under your control and creativity, but you can check out the most popular methodologies below to get a better idea of what might work for your business.
Reward purchase quantity
You've seen this approach at local stores where each purchase is of similar value (think coffee shop, frozen yogurt store, or car wash). Make purchases and eventually earn a reward equivalent to one of those purchases.
Reward total spending
Rewarding spending amount can be a better option when a variety of products are offered, and customers have a wider spending range over time. This method provides an incentive for both purchase frequency and size. In addition, you have the option to choose alternate currencies: dollars spent, miles traveled, hours of service purchased.
Upfront payment for future rewards
Customers get immediate access to attractive benefits — but at a cost. Consider the success of Amazon Prime: customers pay an annual fee up-front, in exchange for unlimited free two-day shipping and other perks. With an advance investment, customers will be motivated to shop with you again to make sure they get their money's worth.
Key success factors
What key elements will make your customer rewards program successful?
Motivate customers in a way that benefits your business
Encourage behavior that improves your bottom line: whether that means shopping more often, buying more per purchase, shopping online as well as in person, giving referrals, posting reviews, or engaging on social media.
Keep rewards valuable, relevant, and exclusive
To some customers, the most valuable reward is a discount or store credit toward future purchases. To others, it's access to special privileges, such as free shipping, or early access to sale items or events.
Choose rewards that are perceived as benefits, and are directly related to your business.
Make progress easy to track
In order to leverage the psychological power of a loyalty program, customers must be able to see their progress so that they're motivated to reach the next milestone.
Go digital with your program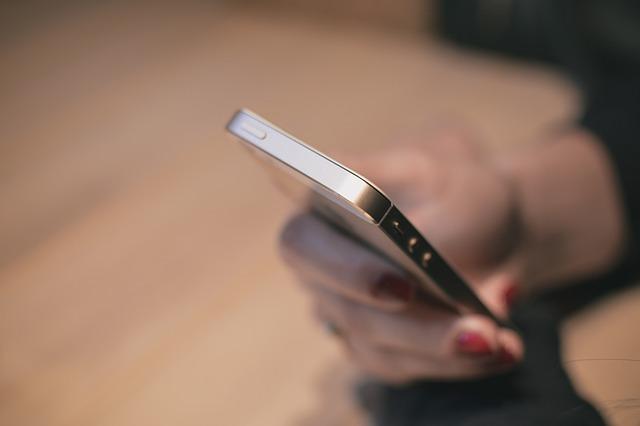 Initially, businesses offered punch cards that customers kept in their wallets. While simple to initiate and execute, it's darn near impossible to figure out whether the program is actually improving your bottom line. Low startup cost is overshadowed by the lack of useful data collection, the possibility of cheating the system, and the burden on customers to remember their card.
Fortunately, no one leaves home these days without their smartphone.
Digital loyalty programs driven by smartphone apps remove several obstacles:
No more cards to remember or carry
No need to punch, stamp, or otherwise physically track each transaction
Data becomes readily available
Then again, the idea of creating a custom app can be daunting. Fortunately, there are numerous companies providing mobile apps and services to drive reward programs at a reasonable cost, as mentioned above.
Or consider integrating Sweet Tooth right into your existing eCommerce site powered by Shopify, BigCommerce, WooCommerce, or Magento.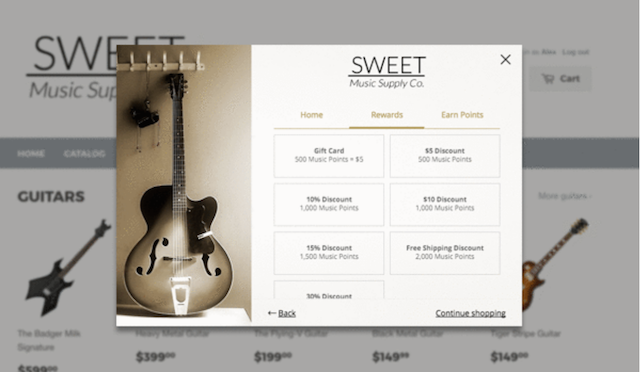 Use these strategies to maximize program performance
Get the most out of your customer rewards program with these strategies:
Keep it simple: Make it quick to join, easy to earn points, and simple to claim rewards. Don't make customers work to participate.
Reward non-shopping activities that encourage spending: Give customers bonus points for bringing in their own friends via referral, or sharing on social media.
Advertise in multiple ways: Promote in your brick-and-mortar store, on your website, via social media, through direct mail, and in your email newsletter.
Talk it up in-house: Encourage employees to recruit customers to join. Consider rewarding employees for recruiting efforts and results. Even better, automatically enroll shoppers with their first purchase.
Stay flexible: Continually evaluate ways to improve, revise, and enhance the program based on customer and employee feedback.
Get creative: Don't limit point accrual to purchases. Reward participants for joining the program, and reaching milestone dates such as birthdays or membership anniversaries.
Consider tiered reward levels: For your VIP shoppers, devise ways to earn bonus rewards beyond the regular program, or access to VIP-level benefits.
Scrutinize the data: Use your reward program to evaluate customer shopping behaviors.
Make sure that the business boost outweighs the cost of the program.
Don't invest in a program until you're ready: A rewards program only brings customers back if you're already providing high-quality, reliable products and services, at the right price. Without these factors in place, your effort in implementing a customer rewards program will be ineffective.
In conclusion
A rewards or loyalty program can be a cost-effective way to nurture customer relationships, provide a competitive edge, and gather additional data about customer purchasing patterns and satisfaction. Good luck getting started!