Today, running Darkhorse Gifts is a full-time job for Aydon Cuddington and Kirk Quesnelle, but it wasn't always that way. Before they had a firm understanding of search engine optimization (SEO), they were running an Etsy store that sold high-quality, custom-engraved gifts, but they weren't maximizing their traffic — and by extension, their revenue.
However, once they understood Etsy search and the power of keywords — particularly how to utilize long-tail keywords — everything changed. "Once I figured out what people wanted, I would target longer-tail keywords, and, all of a sudden, sales started coming in," Kirk said in an interview with Marmalead.
Etsy SEO is the process of improving the visibility of your shop and its products in search engines like Google, as well as within Etsy's search function. SEO can be challenging, but it's important to have a basic understanding of SEO best practices, so you can optimize your shops for search and get your items in front of more potential buyers.
Need a jump-off point to start optimizing your own Etsy shop for SEO? Here are eight simple ways to help customers discover your listings.
1. Include your primary product in your shop title
Your shop title is a brief bit of text that describes your store so shoppers know what you make and sell, and it's one aspect of your shop you can use to influence SEO.
The text will also be the page title for your shop and is the first thing a user will see in the search results, so take advantage of the opportunity to title your shop appropriately. Think of a title that indicates the kind of products you sell. For example, Etsy shop SilverDollarCandleCo makes and sells candles. However, don't sacrifice creativity for SEO — this shop title works because it's unique to the business and memorable.

This tactic works great because shoppers will likely come across your store even when searching for a generic product term.
Your shop title can be up to 55 characters long, and when you enter a new shop title or edit the existing one, you'll be able to preview how it will appear in Google search results.
2. Use keywords in your listings
Keywords are a big part of SEO, and it's no different on Etsy, but how do you go about determining which keywords are right for your shop?
How keywords work in Etsy search
First, you need to know a bit more about how Etsy determines the placement of listings in search results. Items in Etsy's search results must match a user's search, and items that are an exact match will appear highest in search results.
For example, if a shopper searches for "cat shirt," the search algorithm will find all items that match both "cat" and "shirt" in either listing tags or titles. Then, the algorithm will use keywords to place those items in the most relevant order.
Here's what Etsy considers when ranking search results:
An exact phrase match is stronger than matching the search terms individually. For example, "cat shirt" will be placed higher than a match for "cat" or "shirt."
If a word or phrase in a search appears in both the title and tags of a listing, Etsy considers that listing more relevant than a listing that features the search term in the tags or title alone.
Words at the beginning of titles are more important than words at the end. For example, "cat shirt blue size large" would rank above "blue size large cat shirt."
Finding keywords for your Etsy listings
When deciding which keywords will perform best for your listings in search, first think like a shopper. If you were looking to purchase a specific item or type of item, what terms would you use to search for it? Test those keywords by typing them into Etsy's search tool to see what comes up to determine if it's a good fit.
You also want to think in terms of specifics or long-tail keywords. These keywords contain three or more words and are closely linked to sales because there's less competition, and users searching for precisely what they want are more likely to make a purchase. For example, if you include "gold personalized name necklace" in your keywords list, users who search for that exact term will easily find your listing, and shoppers in the market for a gold personalized name necklace are likely to purchase one.
When considering potential keywords, it's easy to rely on physical item descriptions, such as an item's size or color, for example. But don't overlook other opportunities to reach shoppers who may be searching for items for certain occasions or that fit certain aesthetics, for example. In addition to describing your product in terms of what it is, consider other search terms a buyer might use, such as the following:
Occasions: Etsy users may search for terms like "bachelorette party," "stocking stuffer," "first anniversary," or "tacky sweater party."
Style: Shoppers often have an aesthetic in mind, so consider how this affects how your listing is found. Is your product "rustic," "minimalist," "nature-inspired," "art deco," etc.?
Solutions: Does your product offer a solution to a buyer? Consider how a user may search for a problem solver like "drawer organizer" or "microchip pet tag."
Finally, use SEO tools to research which keywords are most searched for. You can use a popular tool like Google Keyword Planner or an Etsy-specific search tool, such as Marmalead, which helps Etsy sellers find and analyze keywords specifically for their shops.
3. Avoid using the same keyword too often
When a buyer searches for something on Etsy, the search algorithm won't display more than one or two listings from a particular buyer regardless of how well the listings match the user's search. This is known as de-clumping, and Etsy does it to ensure that a variety of different shops appear in search results.
For example, a search on Etsy for "blue vintage dress" reveals several different shops, as illustrated in the screenshot below.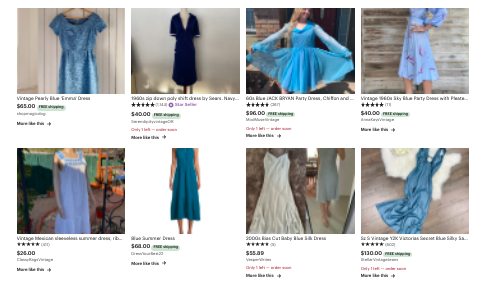 FlyingAppleVintage has only two listings that appear in the above results even though a search for "blue vintage dress" within the shop itself reveals pages of listings that meet that criteria, as indicated below.

Because of this de-clumping in Etsy search results, you shouldn't use the same primary keyword for more than a few of your items, or you'll simply be competing against yourself in search.
For example, if you sell a variety of vintage dresses in your shop, it doesn't benefit you to use the keyword "vintage dress" for every dress you have for sale. Instead, vary your keywords, using "vintage dress" only a couple of times and coming up with similar keywords like "vintage gown" or "antique sundress."
4. Use all 13 tags in each listing
When you're setting up a product listing, you'll be required to fill out certain fields, including the listing title, category, and description. These fields are mandatory, as indicated by the asterisk beside them, and Etsy considers the information provided in all of these fields when displaying search results.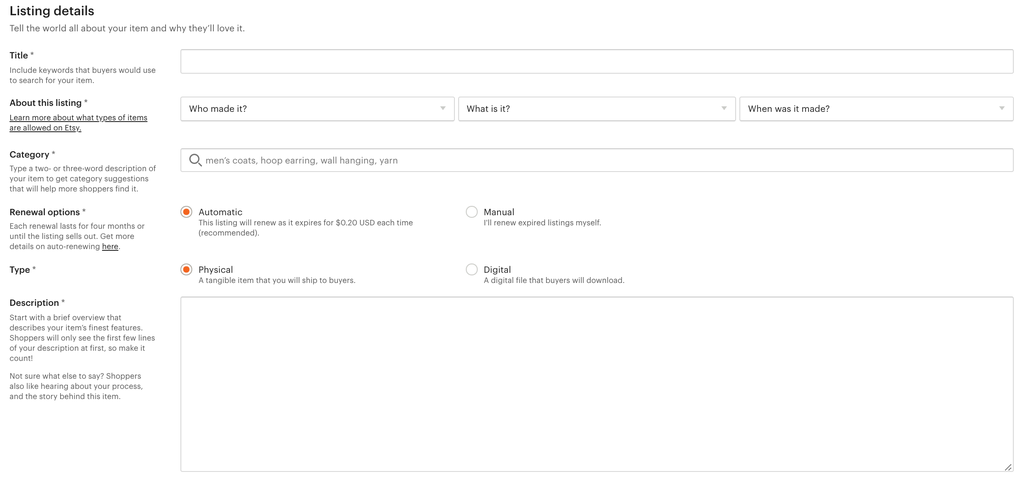 The tags section isn't mandatory, but it's extremely important to include a variety of tags to optimize your listings for search. You can use up to 13 tags, and it's best to use all of them as you can show up in more searches that way.
Here are a few "don'ts" to keep in mind when it comes to tags:
Don't repeat tags. For example, if you sell headbands for babies, you don't want to use both "baby headband" and "infant headband." Instead, diversify tags to get your items in front of more sellers by using a variety of tags such as "baby headband" and "infant headpiece."
Don't use a tag already included in attributes. For example, if you've already indicated you're selling a red-and-gold scarf when you filled out your item's attributes — the extra details you can add about your listings after selecting a category — you don't need to add a tag for "red and gold scarf."

Don't include plurals or misspellings in your tags. Etsy looks at root words when a user enters a query, and it also redirects users who make common spelling mistakes.
Don't add tags in multiple languages. Use only the language you selected when you set up your store. Etsy will translate listings for you.
When you're brainstorming tags, consider synonyms people may use to search for your item, such as "cap" and "hat." Also, think of how differences in shoppers' regions could affect how they search for an item. For example, if you sell flip-flops, you might also want to use "thong sandals" to reach buyers in other countries. You can also include long-tail keywords in your tags.
5. Front-load listings with keywords
Put the important details about your shop or item — in other words, the keywords you want to rank for — at the beginning of every field when making a new listing. This not only catches a shopper's attention but also helps Etsy determine which items fit with a user's search term.
When listing products you have for sale on the items' listing page, consider how you can get the most important features of your item in the first few words of the following areas:
Item title: Clearly describe your item at the beginning of the item title, and use keywords a shopper would use to search for this particular item.

Item description: The first 160 characters of your item description are used to create the meta description for your listing page, which is the text that appears beneath your page title in search engine results. While your description can be longer than 160 characters, it's important to place your product's vital keywords within the first 40 characters.

Shop sections: Your shop can have up to 20 custom sections, each of which will have a separate page. Each landing page will have a page title based on the section name.

Like your shop title, these page titles are what a user will see in a search engine that links to your shop. Section names can be up to 24 characters.
6. Renew your listings regularly
Recency plays a role in how Etsy's search algorithm works. When a new listing is created, it gets a small, temporary boost in search results. This is so the Etsy search can learn more about how buyers interact with it to determine the listing's quality score. Renewed listings get a similar — but smaller — boost, which can last anywhere from a few hours to a few days, depending on how often users search for particular items.
While Etsy cautions that continually renewing or re-listing your items isn't an effective long-term SEO strategy, it can occasionally be useful to renew specific listings at certain times. For example, if the keyword your item is optimized for is extremely competitive, it can be helpful to give it an extra boost, especially during times when more people are searching on Etsy and making purchases, such as during the holidays.
If you decide to manually renew a listing, do so at higher traffic times when Etsy users are online and shopping. If you renew a listing at 3 a.m. on a Tuesday, for example, you likely won't see much of a boost as this isn't a peak traffic time.
7. Promote your shop to get inbound links
Both Etsy's algorithm and search engine algorithms strive to provide search interesting and relevant results. One way they do this is by displaying pages or listings that are frequently linked to other sites. While you can link your Etsy shop to your website or blog, it's worthwhile to pursue other linking opportunities. Incoming links from well-trafficked sites help you rank higher — it's about quality, not quantity. Here are a few ways to do that:
Share items from your store on social media sites where they can be easily re-shared, such as on Pinterest.
Reach out to other websites and bloggers about your shop to have them feature your listings and offer to do the same if you have a platform
Request reviews from influencers in exchange for a free product.
Connect with other Etsy shop owners to discuss ways you can do cross-promotion of your products.
Also, consider starting a referral or affiliate program for your shop to harness customer loyalty.
8. Provide a great customer experience
Etsy wants to provide customers with the best possible shopping experience, so the marketplace considers whether a shop is in good standing with Etsy policies and provides good customer service. These factors will increase the likelihood that their listings will rank higher in search results.
To ensure your shop is in good standing with Etsy's policies, complete every section on your store, including About, Shipping, Payment Options, Returns & Exchanges, and Privacy. Stores with these sections filled out are considered to be more established, giving them greater selling potential and higher rankings in search results.
The quality of customer service you provide can also help or hurt your shop's SEO. Answering customer queries promptly, processing returns and exchanges, and responding to negative feedback can lead to great reviews and have a positive effect on search ranking. However, disputes with buyers or issues with intellectual property infringement can hurt search ranking.
Grow your Etsy shop with SEO
As you gain experience selling on Etsy, you'll find you have endless opportunities to refine your SEO skills and help customers find your listings. Whether you're experimenting with different keywords or improving your customer service policy, there are always steps you can take to make your shop more searchable and successful.
After all, that's exactly what Darkhorse Gifts did. As more and more users purchased from the shop and engaged with Aydon Cuddington and Kirk Quesnelle, it allowed Darkhorse Gifts to grow the business and offer more items for sale. "We've even been able to start building a team to help with the demand," they note in their Etsy bio.