Did you know that 21 percent of small businesses think that it is beyond their technical expertise to build a website? GoDaddy's Website Builder intends to change this statistic. Even if you're a non-technical user, you can build a website in under an hour all by yourself. Think about that for a minute. In the time it takes most people to get to work, you can build and launch your online business.
Sixty-eight percent* of GoCentral customers who published their sites, published them in within an hour of signing up for their free trial – it's the truth.
In this post, we'll show you how to build a website in under an hour and publish it on the internet. You can even accomplish this with your mobile phone.
Build a website in under an hour in 4 easy steps
Start your free trial with GoDaddy.
Pick your business category.
Customize your design.
Preview and publish.
Ready to get started? Let's give it a go!
1. Start your free trial with GoCentral.
First, click here to sign up for your free, one-month trial — you don't even need to enter your credit card information to get started.
Simply click on the Start for Free button and set up your account. You can cancel at anytime during your first month for any reason, either from inside your online account or by calling our 24/7 customer support team at 480-505-8877. If you're already an existing GoDaddy customer, you can log in with your existing account rather than create a new one.
2. Pick your business category.
Next, you enter your business category or idea — anything from bakery or photography to real estate or charity. There are more 1,500 business categories to choose from.
3. Customize your design.
In the builder, you'll see design choices and professional images customized for your business category.
Now comes the fun part — make the website your own. Pick the design that works for you, tweak the verbiage, and even add your own images. Or you could simply pick from the professional photographs that come free via our partnership with Getty Images.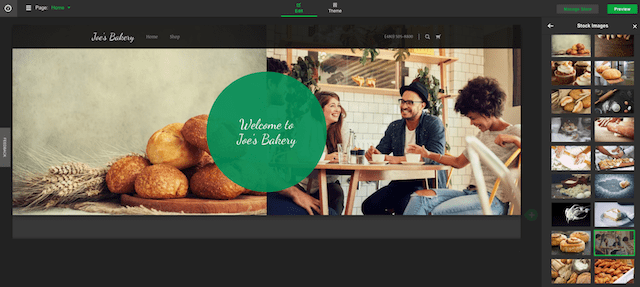 You can adjust the layout or the color scheme of your website by selecting the Edit or Theme buttons. You can also add a new section to your page by clicking on the green + button.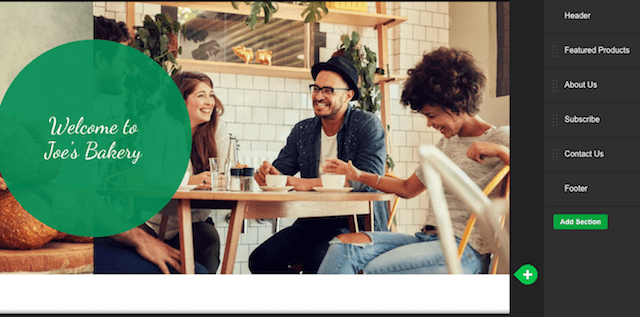 This will give you various options for sections (like Blog, Calendar, Contact Form, Photo Galleries, Videos, etc.). You can pick any that you want to add to the page. And you can add as many sections as you like: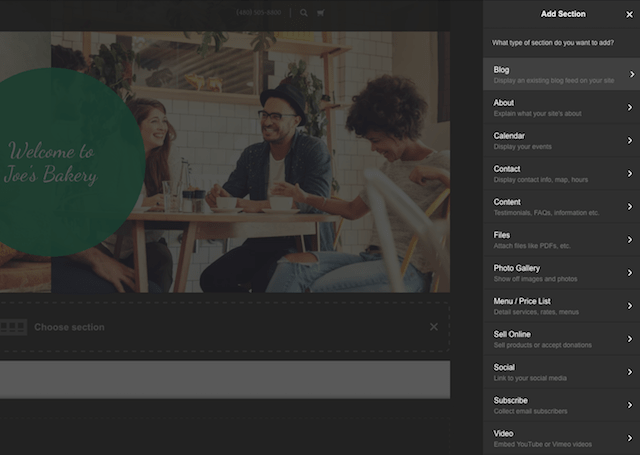 At any point, you can add a new page by clicking on the Page menu, which you can find at the top left of the page (and of course add more sections to that page using the green + button).
4. Preview and publish.
Once you've finished adding and customizing pages, you can click on the Preview button at the top of the page. Here, you can see what you site will look like to visitors, both on mobile phones and via their desktops.
Every website built using GoCentral is automatically customized for mobile phones, so you don't have to worry about doing anything extra for that.
If you want to make any further tweaks, you can always click on the Edit button. Once you're satisfied with the way your website looks, you can hit the Publish button and launch your sire for the world to see!
Start building with GoCentral
That's it! That's all it takes to build a website in under an hour. You can always come back and add features to enhance your online presence — like a custom domain name (you get a free domain with GoCentral, but can change to a custom domain for an additional fee for enhanced branding potential), email marketing or a shopping cart— or optimize your site for better rankings with Google. You can even integrate your website with Facebook!
So yes, you can build a website in under an hour even if you are not technical (and even from your mobile phone). So don't hesitate any longer — get your stop watch ready and try Website Builder for free today.
Free content creation worksheet
Need a little extra assistance? Check out our handy Content Creation Worksheet. It's the perfect way to make sure that your new website starts off on the right foot.

Content Creation for Websites from GoDaddy
* Based on data from all GoCentral customers who published their websites between September 2016 and June 2017.