Want to learn how to build and sell websites? Here's how I'm doing it. You see, I'm a virtual assistant who offers website building (or "website creating" as I like to call it) as one of my services. In the past, I was primarily a WordPress gal who stood firm that there was nothing better for building and selling websites for profit.
Then I met Moe. And Moe threw me a few curve balls.
Moe had a 4-year-old restaurant website that was built by a buddy who disappeared and never touched it again.
I know what you're thinking, "That sucker was still working?" Yes and no. Mostly no. Moe not only needed an updated design, but a new backend to replace his expired, un-updated mess.
Moe was not a happy camper with the upfront cost that I presented to him to get everything updated and functioning properly on WordPress. That was when I called GoDaddy to see if there were any other options. I was introduced to GoDaddy website builder — and if you're curious about how to build websites for money, this is a tool you should get to know.
How to build and sell websites: GoDaddy website builder vs. WordPress
Why use a website builder like GoDaddy website builder instead of WordPress? This question makes me giggle.
As I stated before, I stood firm on using only WordPress. But I soon learned that GoDaddy website builder offered all the features that Moe needed for a low monthly fee. It was music to my ears! They were all bundled together, so I didn't have to piece together the features he needed using various plugins — which as we know can create a large bill for the client.
If you're looking for how to build and sell websites that just about any client can afford, GoDaddy website builder offers a great solution. Building and selling websites for profit is easier when the tools you use automatically lower upfront costs for your customers.
GoDaddy website builder offered a one-month free trial, so I thought, why not? Moe needed a solid, reliable, good looking restaurant website that offered a storefront with an SSL in place to sell his BBQ sauce. (Did I mention it's awesome BBQ sauce?)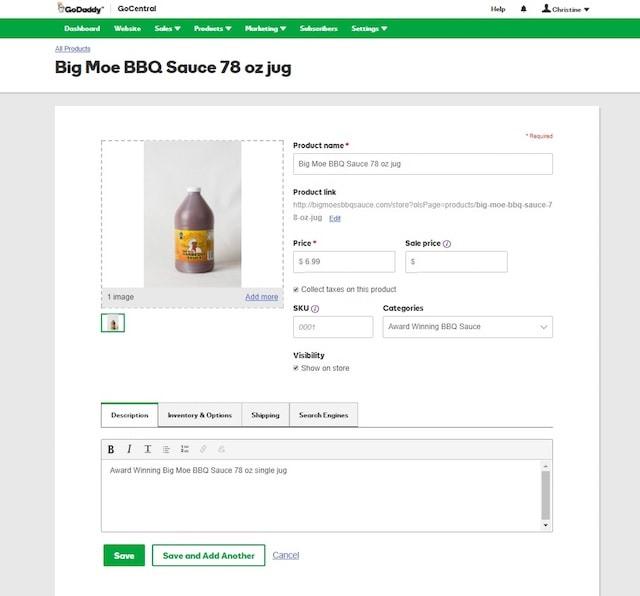 Using WordPress and plugins like WooCommerce to get all the features necessary for a reliable storefront can be a browbeating experience for anyone without extensive experience in web development.
GoDaddy website builder enabled me to get Moe's storefront up and running in 30 minutes.
The layout is user friendly and modules flow in an organized working order.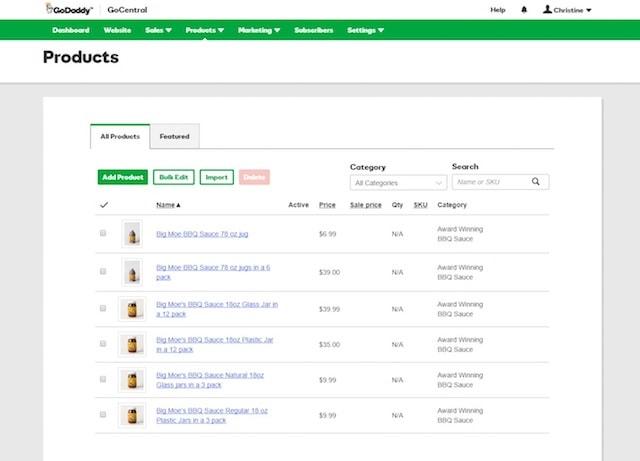 The biggest difference I found between GoDaddy website builder and WordPress is that all my edits are done on the right side panel, and those changes are instantly reflected in the left viewing area. You can see what your work looks like at exactly the same time you're entering it.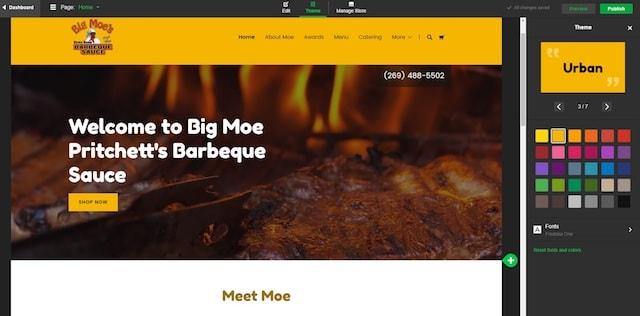 There's no clicking "Preview" or "Update" to see how your page design looks, as you do with WordPress. (Those extra click times can add up, making building and selling websites for profit a challenge!)
This real-time editing feature is a huge timesaver when you're looking into how to build websites for money. As the old saying goes, "Time is money!"
What are the GoDaddy website builder features, and what types of clients are they good for?
GoDaddy website builder gives you the ability to have bells and whistles without the high cost. There are four different plan levels to choose from, and they all include mobile responsive design, hosting and 24/7 support.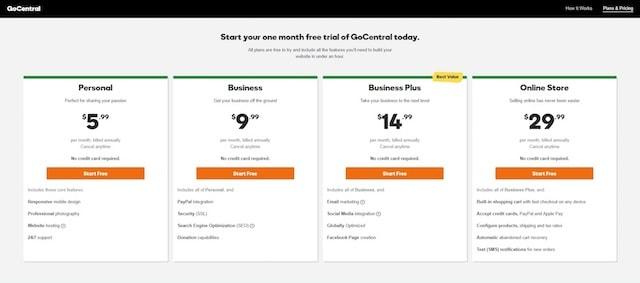 A Personal Plan is great for the client that wants what we call a walking brochure. They want to edit text or images but have no need to take any sort of payment. Think of it as a holding place for information.
A Business Plan is for a bit more of a serious client, because they understand the advantage of good SEO and have a need for an SSL certificate.
A Business Plus Plan is for a client who wants to get into the game with their online marketing. They understand the need for the Business Plan features, but also want to integrate marketing tools to help get the most out of their online presence. Business Plus includes built-in email marketing and social media integration.
The Online Store Plan is the most comprehensive package available. It's for a client who wants to not only get the most out of their online presence, but use their website to generate revenue by having an automated storefront. Like Moe with his awesome BBQ Sauce!
Accelerate the customization time
The biggest difference I noticed between how to build and sell websites with GoDaddy website builder and WordPress is the process of selecting a theme and the design style.
WordPress gives you an empty slate, and it can be time-consuming to start a design from scratch. GoDaddy website builder has pre-built responsive theme styles — recommended to you based on your site name and industry — ready to go.
You can customize color, font, text and images, of course, but there are literally hundreds of personalized features and thousands of high-quality stock images out-of-the-box for endless possibilities.
It really does have foolproof design tools to help you make the style 100-percent originally you!
Building and selling websites for profit boils down to time
The less time it takes for you to produce a quality website, the higher pay in your pocket. That's what GoDaddy website builder does for you … while still providing a quality, responsive website that you'll be proud to present to your client.
Editor's note: Consider charging a per-project rate instead of a per-hour rate when building and selling websites. By working more efficiently you can complete additional projects without bringing down the cost. Learn more about choosing the right pricing model and see what pricing mistakes you should avoid.
Offer monthly services to earn recurring revenue
I've learned that once you know how to build and sell websites to potential clients, it's your "in" — pitch your client to do a monthly service package with you.
Let's be real. Recurring revenue is the golden ticket in this line of work.
Let me break it down for you.
Whether you're dabbling in web design and development on the side or it's your bread and butter, building and selling websites for profit lets you show your digital chops and creates seemingly endless opportunity for a long-term engagement with clients.
How? Services like website maintenance and management, blogging and email marketing to name a few. For eCommerce clients, building and maintaining an online store. Let's get that social media management in there, too! You can see how once you learn to build a website, the avenue for a continuous cash flow is wide open.
Again, let's be real, isn't that the golden ticket?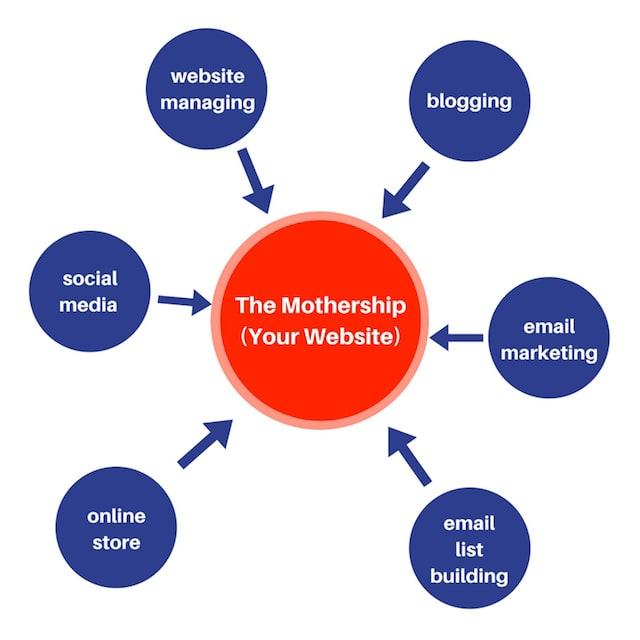 Editor's note: Struggling with selling? Learn how to sell without feeling like a slimy salesperson.
Putting it all together
Let's recap:
Know your client's needs. Moe needed a simple website to sell his products, but he didn't have the budget for a complex WordPress project. GoDaddy website builder had the necessary features at a reasonable price.
Work fast. Moe's site was ready in 30 minutes. GoDaddy website builder's library of designs and easy customization allows you to streamline your process. The faster you work, the more projects you complete, the more money you make. What worked for Moe can work for many other small business clients.
Price based on value, not time. Don't punish yourself for working efficiently. Charging a fair per-project rate increases your margins. You'll have more time to focus on your business and more profit from each project you complete.
Upsell for recurring revenue. Beyond the first project, you can sell recurring monthly services like website maintenance, content creation, social media management, email marketing, and much more.
Give it a shot. Start free with GoDaddy website builder and get all the necessary tools that can help you start making your dream site for free.
You can also choose one of the best website builders that provides the ability to create a professional-looking website and access premium features for business growth.