This article was originally published on Sept. 5, 2013, and was updated on April 28, 2020.
Why should you know how to create an Instagram account? With over 1 billion accounts active each month, Instagram is a dynamic and inspiring platform to connect with customers and prospects.
With an active business presence on Instagram, you can build and promote your brand and generate sales.
Ninety percent of Instagram users follow a business on Instagram, and more than 200 million Instagrammers visit at least one business profile daily. That's a lot of opportunities to connect and drive sales.
With options for both organic growth and paid advertising reach, there's never been a better time to create an Instagram account for your venture.
Related: GoDaddy guide to social media marketing for business
How to create an Instagram account for your business
In this guide, we'll help you get your Instagram for Business account set up, along with tips and tricks to attract followers:
Let's take a look.
What you can do with Instagram
Instagram is a natural fit if you're selling products or promoting something with a strong visual appeal. Still, this photo- and video-sharing platform can benefit almost any business. You can:
Give your followers a behind-the-scenes look with products in production
Grow your social proof by encouraging followers to post photos or videos of them using their product or service
Share your brand personality with candid videos as Instagram Stories
Boost brand awareness with contests and partnerships
Highlight philanthropic and service by posting photos and videos from volunteering at charitable events
Demonstrate your expertise with how-to posts and videos — even as a service provider
Plus, Instagram isn't just for reaching your existing customer base. With the strategic use of hashtags, you can expand your reach. But before we dive into hashtags and content planning, you'll need to get your account set up.
Related: Ultimate Instagram guide for your small business
Instagram for Business account setup
Before you create your Instagram Business account, there are a few things you'll want handy:
A name for your account. Ideally, your business name, not more than 30 characters. It can only contain letters, numbers, periods, and underscores. You can't include symbols or other punctuation marks as a part of your username.
A blurb about your business. This "biography" describes your business on your profile page. It can only be up to 150 characters, so brevity is key.
A profile photo. Your profile photo appears in the newsfeed with your user name, so make sure it's something recognizable, even when it's tiny. It can either be your logo or a picture of you.
A link to learn more. You can only link to one page on your profile, and links within post descriptions aren't clickable, so this link is super important! I recommend building a beautiful link-in-bio page for all of your social media profiles and other popular links.
Related: Social media image sizes — The 2020 cheat sheet
Setting up your account
Once you've got all your information organized, it's time to get started. Instagram is primarily an on-the-go platform, so you're going to want to download the app. It's available on the Apple App Store or the Google Play Store.
But, when you're setting up your account, you can do it right from your web browser. Visit Instagram's homepage https://www.instagram.com/accounts/emailsignup/ to get started.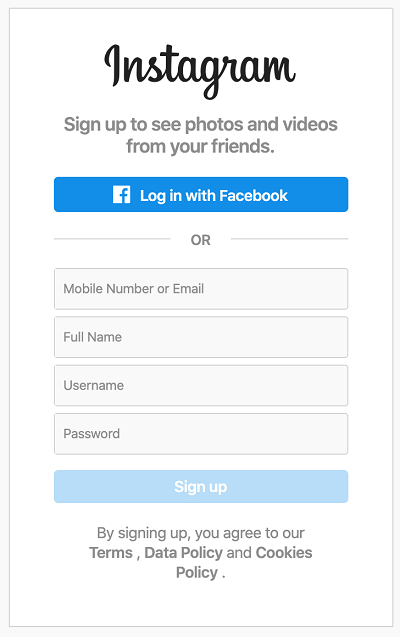 One caveat to know — if you already have an Instagram account for personal use, you'll need a different email address for your business account.
You can only have one Instagram account per email address or phone number.
You can also create your Instagram account using your Facebook account. If you want to expand to Instagram advertising, you'll want to connect your Instagram account to your Facebook account and Facebook business page — we'll cover that more later.
You'll need to confirm your account with a code sent to your email. Then, you're off to the races to get started with setting up your profile.
Add your profile photo, bio and website link
On your browser, in the upper right-hand corner, you'll see a little grey circle with a silhouette inside. That will take you to your account page, where you can edit your profile and upload your profile photo.
Remember: Your profile photo will be cropped into a circle, so make sure what you've chosen looks right!
Upgrade to a professional account
Once you've got your account set up, you'll need to switch to a business account. With a business account, you can add business information like store hours, physical address, and phone number.
Even if you're not running a brick-and-mortar business with regular hours, there are many benefits to a business account.
With a professional business account, you'll be able to see insights about your stories, posts, and followers. You can also see how your stories and promoted posts perform and how followers are interacting with your content. You'll even be able to see:
Likes
Comments
Shares
Bookmarks
To switch to a professional account on your mobile device:
Go to your profile and tap the three lines in the upper right corner.
Tap Settings.
Tap Account.
Tap Switch to Professional Account.
Tap Business.
From here, you can also connect your Instagram professional account to your Facebook Business Page. It's optional, but it's a great way to make it easier to use all of the features available across Facebook and Instagram. You can only connect one Facebook Page can be connected to your professional account.
Add details, like your business category and contact information.
Tap Done.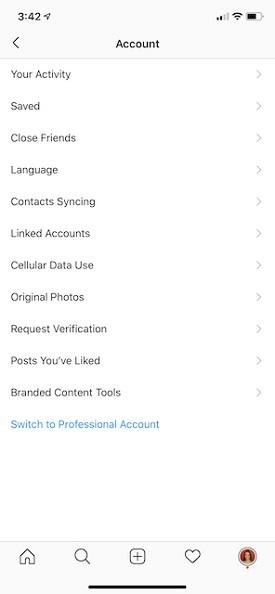 For now, you can only do this upgrade from a mobile device. You can also use Instagram as a platform to sell products, selling on Instagram is a great opportunity for any type of business.
Using your Instagram account
Now that you've created your account, it's time to start posting!
To create your posts, you'll either need to post directly from the mobile app or sign up for a scheduling tool like Later or Tailwind. There are several different kinds of posts that you can create:
Single image posts
Multiple image posts
Short videos (up to 60 seconds)
Instagram also has complementary apps to create content:
Boomerang: Boomerang creates mini videos that loop back and forth. Some fun examples can be opening and closing a box, peeking over sunglasses, or other "teaser" type content.
Layout: Layout allows you to put multiple images into a single collage-style post.
Instagram also has video options, including stories, live video, and ITGV.
Instagram Stories: Stories are short videos that live for a short time on your profile – just 24 hours. While you can post multiple stories together in a series (up to 4 minutes), each individual story is only 15 seconds. You can record stories directly from the app or upload a pre-recorded video. You can also upload still images as stories.
Instagram Story Highlight: Your Instagram stories can also be saved to your profile for future viewing indefinitely. Think of Story Highlights as curated collections that anyone can tap into any time to learn more about you and your brand.
Instagram Live Video: Instead of uploading a pre-recorded video, you can also do a live video directly on Instagram. With live videos, you can choose to let your users comment while you're doing a live stream, giving you enhanced community interaction. After your live video is complete, you can either save it to your stories for future viewing, or your camera roll for future use. Live videos can be up to 60-minutes long.
IGTV: IGTV is Instagram's answer to youtube, designed for mobile viewing of longer videos, often 15-60 minutes in length. IGTV does offer a separate app as well. If you've got a lot to say about a specific subject, you can create an IGTV series for your followers to watch. Share previews of your IGTV videos to your Instagram account and Facebook page to increase viewership.
Related: 3 ways to use Instagram stories for digital storytelling
Posting frequency
Instagram followers value quality over quantity when it comes to posts. As a visual-first platform, you want your images — whether they're photos or graphics — to stand out and slow the visitors' scroll.
You'll write captions to go with each image, but the image itself is what needs to stand out.
So when choosing a frequency, focus first on your image quality and find a cadence that works for you.
Related: How to plan an Instagram marketing strategy to attract business
What to post
Stumped on what to share on your Instagram account? Consider adding:
Photos of your team, product and services
Events, giveaways and specials
Customer quotes and testimonials
User-generated content
Holidays and celebrations
Related: How to plan out your Instagram feed in Photoshop
Growing your following
After you've created and shared several posts, it's time to start inviting people to like your page. Depending on your existing social presence and the size of your business, you may start small with friends and family, or expand quickly to your existing customer base.
Update your website and team email signatures to link to your new Instagram account.
Share exclusive content on your Instagram account with teasers on other social media to encourage engagement.
Engage with your followers — answer their questions and thank them for their comments. An active account gets seen more often.
Related: 4 ways to get more Instagram followers
Using hashtags
Hashtags are words or keywords to label your content to help your followers and potential followers to find valuable content. A hashtag starts with a hash (#) and then can be a word or series of words, like #marketing or #contentmarketing.
When you tag a post with a hashtag, it then appears on the page for that hashtag, making it easier for new followers to find your content. In fact, Instagram users can choose to follow hashtags in addition to accounts.
Each post can have up to 30 hashtags, and each story can have up to 10.
Opinions vary on how many hashtags you should use; a good rule of thumb is to use as many as are highly relevant to your business.
According to Later, it's better to find and use hashtags that are smaller, niche, and have a more engaged audience that's relevant to your industry than to use the most popular hashtags on Instagram.
You can find these targeted hashtags by looking at what hashtags your audience, competitors and industry leaders are already using. By visiting the hashtag page on Instagram, you can also see related hashtags to expand your hashtag collection.
Related: How to hashtag on Instagram and Twitter
Maintaining your Instagram account
Now that you've set up your Instagram for Business account, started building your followers and are using relevant hashtags, you'll want to continue to care for it, just like any other social channel.
Continue to post regularly. You can post a mix of candid photos from your life or business, staged photos and brand photos, and even quotes.
Monitor your hashtags. One of the best ways to get "found" on Instagram is the strategic use of hashtags. Use a mix of hashtags that already reach your target audience and new hashtags that are just getting a following.
You can also create your own branded hashtag.
Review your hashtags regularly to ensure you're still reaching your ideal audience.
Engage with your followers. Don't just use your feed as a place to broadcast your messages. Ask your followers questions, get their opinions, or even share some sneak peeks of upcoming events or new products. The more engagement you get on your posts, the more those posts (and others) will get seen.
Try new features. Instagram regularly adds new features, like Stories and IGTV, that allow you to share videos with your followers. These new features help you gain even more traction and connection with your customers and followers.
Now get out there and get posting with confidence!
This article includes content originally published on the GoDaddy blog by Andrea Rowland.