When you're a nerdy girl in real estate, you don't just sell houses, you sell them with flair. That's just what the two women behind Nerdy Girls have — a whole lotta flair. It's what has helped them not only with their Instagram engagement, but also with their real estate business in general.
Their first Instagram post went live on Dec. 28, 2016. Though it was a simple post, it turned into something that Katharine "Kate" Hickland (aka the original nerd or queen nerd, if you will) could never have predicted. It turned into a community.
The Nerdy Girls Instagram account is fun, educational and brings together people who are passionate about Tampa, Fla., in a highly entertaining fashion. Their following is considered small by "internet famous" standards at just over 6,400 followers, but it steadily grows every week and shows no signs of slowing down.
How to be successful with your real estate Instagram account
The women behind the successful real estate business, Nerdy Girls, know what it takes to create a real community on Instagram.
Pick a killer name.
Bring a friend along for the fun.
Embody your brand.
Be authentic and content ideas will come easier.
Don't focus on the numbers; focus on the Instagram engagement.
Get more followers, the right way.
Don't act like a real estate agent on Instagram.
Now let's dive into their expert tips for owning the real estate space on Instagram.
1. Pick a killer name
In 2016, Kate attended a real estate conference in Orlando where the focus was on marketing and content creation. During that conference, the idea for Nerdy Girls was born. Originally it was just supposed to be a blog — a side project. But as she started working on it, she realized it could be so much more. This idea could become her brand and her business. Posting to Instagram, she decided, would be one way she could create and build that brand.
Knowing she herself was a bit nerdy and that her perfect customer would never want a "stuffy, pushy or boring" real estate agent, she decided to be authentic. She embraced her inner nerd and used it to sell houses.
Unfortunately, "nerdygirls" was already taken, but "sellnerdy" was available, so Kate quickly grabbed it on Instagram and Facebook. Speaking of which, this is why you shouldn't wait to claim your dream social media handles.
With the brand in place and social media accounts ready to go, the next step was adding killer content to her pages and solidifying her place as queen nerd in the Tampa real estate market. And that's exactly what she did.
Related: Real estate social media marketing that sells
2. Bring a friend along for the fun
Creating a brand is better when you have a partner to share it with. But it's important that the person you choose embodies your brand just as much as you do. Otherwise, the audience will see right through it.
Kate brought Michelle James on board shortly after Nerdy Girls was formed after fate brought them together. Six years ago, Michelle was the photographer who took Kate's first headshot. Later, they ended up working for the same real estate brokerage. Their personalities meshed so well that partnering up just made sense.
They've been the Nerdy Girls ever since.
Related: 3 signs it's time to bring on a business partner
3. Embody your brand
When deciding on a brand theme, go with something you know or at least can fully embody.
The girls love geeking out about things many folks would consider, well, nerdy. From "Star Wars" to "X-Men," hilarious puns to educational humor, the Nerdy Girls post about all of it.
Oh, and history, too — specifically Tampa history. In fact, posting about Tampa history is one of the things that gets Nerdy Girls some of the most Instagram engagement. For example, they shared an image of the above postcard from 1945. To date, it's one of their most popular posts that still gets comments and likes.
They often post historical facts about the neighborhoods they are selling in as well. Perusing their page, users can get fun, bitesize nuggets of Tampa history.
Of course, they're in this to make money, which is why they also weave in photos of the homes they're selling. But even these posts are done with nerdy flair.
In fact, what gets them the most attention and Instagram engagement, is when they wear costumes that show off their inner nerds.
Case in point: rolling up to a house showing in a stormtrooper outfit.
This post of Kate sitting in a house they're selling dressed as a stormtrooper is their top post of 2018 so far. Not only did it get them lots of attention for their profile, it also helped generate interest in the house that was for sale.
I happen to know they keep Chewbacca, stormtrooper and Darth Vader masks close by in case a photo opp should arise.
You never know when you'll need to let your nerd flag fly!
Related: What's your brand personality? Take our quiz to find out!
4. Be authentic and content ideas will come easier
When I asked Kate what her best advice was for posting content that is consistent and on brand, she hit the nail on the head.
"Figure out your secret sauce," she says. "After a while, you realize what works, what doesn't and what is the most time-consuming. So we have a pattern of posts, mostly to keep us sane: a funny quote we borrow from Pinterest that we rebrand, a historic post that usually includes an old photo and cool tidbits about Tampa's history, a current photo of our real estate life, and finally a funny meme either Florida- or nerd-related. Some days we change it up because we get inspired or something comes up. But this way we keep it fresh and we don't get bored. Other things that help? Preplanning posts and dividing the social media load between the two of us."
Dividing up the social media duties is key to ensuring you're posting on a consistent basis.
That's why it's so helpful to have a partner, or at least someone who works for you, who embodies the brand and can help you carry the weight.
Editor's note: Not enough hours in the day to work on your social strategy? No problem! Let GoDaddy Social do the work for you. Our experts not only manage your presence on your social networks, but also can help turn an online interaction into a lifelong customer.
5. Don't focus on the numbers; focus on the Instagram engagement
There is a popular adage in internet marketing that boils down to this: Followers don't make you money. Engagement does. And this couldn't be more true when it comes to social media.
You shouldn't get hung up on the number of followers you have.
Instead, focus on engaging with your true fans and converting them into business leads, prospects and sales.
The Nerdy Girls have built their following by focusing on real people, not metrics. They acknowledged that it would be easy to buy a bunch of followers to look like they are a bigger deal, but that wouldn't mean they are getting more business as a result.
The biggest change they have enjoyed since embracing Nerdy Girls is that they now feel like they're a real part of the community. They are more than just real estate agents who sell in Tampa. They are recognized as members of the community who also happen to sell houses.
"Because of Instagram and our social media, we've met and become friends with some amazing business people in our area," Kate says. "A surprising amount of people actually know who we are … which is weird and awesome."
6. Get more followers, the right way
Some people can't let go of the numbers, so I asked the Nerdy Girls what their advice is for getting more followers. Their answer probably won't surprise you: Spend more time on social media.
Their not-so-secret formula to earning more real followers is:
Post when your audience is most likely to engage with you.
Engage with your audience, such as commenting on their posts and replying to the comments they leave on your posts.
Follow hashtags that are in line with your brand.
Have a theme.
To get more followers, you could just buy them. But the only thing a bigger number of followers is guaranteed to boost is your vanity. It won't boost your bottom line. Period.
Related: A beginner's guide to social media for small business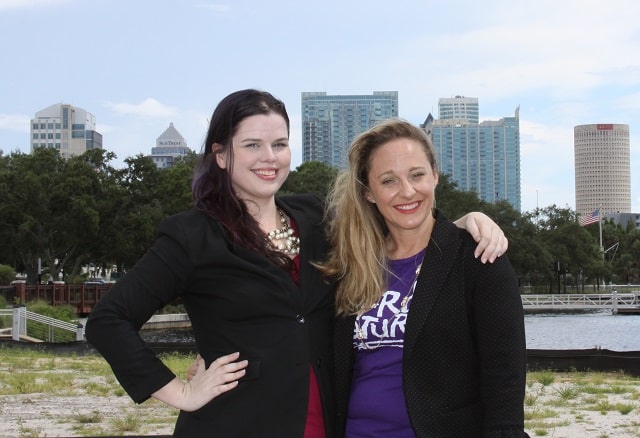 7. Don't act like a real estate agent on Instagram
What's the best way for real estate agents to increase Instagram engagement?
"Don't act like a real estate agent on Instagram," Kate says. "There are 10,000 Realtors® in our county. Odds are someone is already doing the typical real estate thing on Instagram and probably doing it better than you. Instead, focus on being yourself and why you're different than the other 9,999 agents. For us that means being nerdy, obsessed with local history, and just a tad bit silly/weird."
Bottom line: Be yourself for better Instagram engagement
Remember the saying: Be yourself — everyone else is already taken.
Embrace that when coming up with your Instagram strategy.
Who knows? You just might find that being authentically you on Instagram is the key to the success of your real estate business.