If you're looking for ways to encourage additional buying this holiday season, you're probably already thinking of the standard options, like gift wrap services, free shipping and discounts.
But what if there was a tool you could use that built trust with shoppers, could increase the size of their shopping cart, and helped you with SEO all at the same time?
That's exactly what buyer's guides and shopper's guides can do for your business.
Shoppers want to make the right choice for holiday gift-giving.
Your buyer's guides give them shopping ideas and reassure them that they're on the right track.
Related: 11 ways to get a head start on holiday ecommerce planning
What is a buyer's guide or shopper's guide?
Buyer's guides and shopper's guides are long-form content that help readers make purchasing decisions. The goal is to provide all of the necessary information to make a good decision, whether it's a side-by-side comparison of two products, a list of the best accessories or add-ons, or a list of gift ideas for a hard-to-buy-for person on the shopping list.
Your buyer's guide needs to be easy to read and navigate — holiday shoppers are even busier than usual. They won't spend a lot of time to find the information that they need. Instead, they'll just go back to their search engine and move to the next site on the list.
Make your buyer's guide or shopper's guide visually appealing and easy to use with comparison tables, infographics and images.
Your infographics are also a powerful marketing tool to share on social media, including Pinterest.
This combination of powerful, factual information with a visually appealing layout and shareable graphics inspires, informs and attracts readers to make a purchase while positioning you and your company as experts in the field.
Related: How to 'sleigh' your holiday marketing campaigns
Why are buyer's guides and shopper's guides important?
Educated consumers are more confident consumers — and more likely to buy. Your buyer's guide should give readers accurate, unbiased information that helps them ensure they're making the right decision.
Buyer's guides and shopper's guides can also achieve high search engine results placements for "A vs. B" searches and "best gift for" searches. Both of these types of searches show buying intent, so you'll be attracting searchers who are ready to buy.
Related: Beginner's SEO guide — Search engine optimization for small business websites
What are common formats for buyer's guides?
Buyer's guides and shopping guides can take several different formats, depending on the goals of the person that you're creating the guide for. Here are some common buyer's guides you can create:
Comparison guides
Comparison guides provide an unbiased, side-by-side comparison of similar products, like a Nikon vs. Canon DSLR. These are often used by people who have narrowed down their buying choices to just a couple of options.
First-time purchasing buyer's guides
New buyer's guides attract people who are looking at — you guessed it — making a purchase for the first time. They're filled with information that a new buyer needs to make the right choice.
This is an opportunity to make recommendations on the right purchasing decision.
Going back to our example of buying a camera, a first-time buyer's guide might actually steer them to either the Nikon or Canon.
Product add-on guides
Product add-on guides are great pieces of content to appeal to holiday shoppers who have a hard-to-buy-for friend or family member. A product add-on guide for a camera might include carrying cases, batteries, straps, lenses and filters.
"How to use a product" guides
Guides that share insights on how to use a product are similar to product add-on guides. In these guides, you'll focus on tips to make the most of the key product. But you can also include some additional products that help you make the most of the featured item.
Themed buyer's guide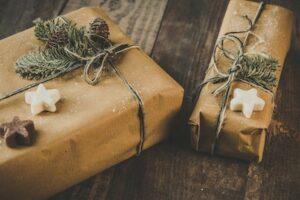 Themed buyer's guides are a hot guide for annual gift-giving. You can do themed guides based on almost any characteristic — from "Best gifts for new dads" to "Best holiday gifts for your single, rosé-loving gal pal" or "Great wedding gifts for 2020." These guides can be a mix of new products and best-sellers.
What should a buyer's guide include?
So, now that you know why you should have a buyer's guide, let's get into the nitty-gritty on how to create a buyer's guide or shopper's guide.
Informational and educational content
First and foremost, your buyer's guide should be informative and educational.
Providing the right information at the right time is key to building trust with shoppers.
But, if the information you're providing isn't accurate, the trust you were working to build falls apart quickly.
When you're including specifications on products, make sure you've got the right details by going directly to the manufacturer's information or investigating the products yourself. Be sure to keep your buyer's guide up-to-date with the latest models, product details, and availability.
Neutrality
Your buyer's guide needs to be neutral — especially if you're doing a comparison guide. Even if you only sell Nikon cameras, you need to be straightforward about the features and benefits of each product.
If you're an exclusive reseller of a specific product (for example, one brand of essential oils over another), it will be clear to the reader right away when they look at the rest of your site.
Maintaining neutrality in explaining the difference between the brands allows them to trust you (and your opinion on why the brand you represent is the best).
Friendly tone
Remember, the buyer's guide is building trust with your reader. Your tone should be friendly, helpful, and interesting enough to hold the reader's attention.
If you try to be too authoritative, it can come across as condescending or demeaning — definitely not the tone you want to use when you're building a relationship with customers and want to encourage them to trust you.
This is a good time to also leverage your brand voice, since you might be getting new traffic from search engines.
SEO optimization
To get the SEO benefit of the buyer's guide, you'll need to make sure your buyer's guide is optimized.
Strive for keyword density of around 2%, meaning for every 100 words you write, you'll want to use the keyword twice. You should also use your keyword or keyphrase in subheadlines and in alt tags on your landing page.
When you're doing keyword research for your buyer's guide or shopping guide, make sure you research a variety of phrases for the same guide. While you'll optimize your guide for the most popular phrase (for example, "Father's Day Gifts for New Dads"), you can include variations of the keyphrase to attract more searchers (like "Gifts for First Father's Day" or "New Dad's Favorite Father's Day Gift").
Related: Keyword research and content optimization tips
Images and infographics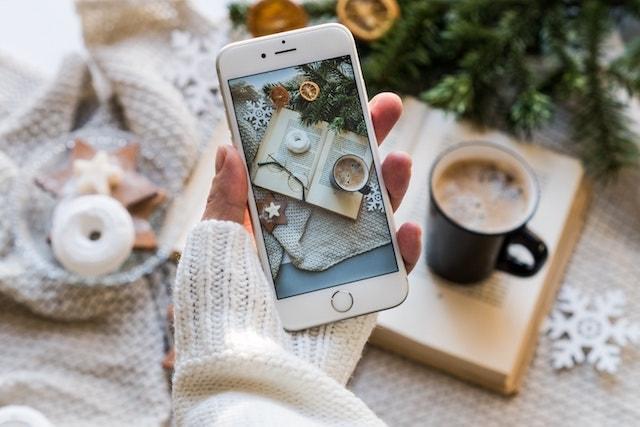 Images and infographics are powerful tools in your buyer's guide to help provide more insight into the topic for your reader. You can create side-by-side comparison images and infographics that give visitors information at a glance.
Finding images for comparisons does open up a slippery slope when it comes to image copyright.
The best option is to either take your own photos or source images directly from the manufacturer or creator that they have offered for editorial use.
If you're taking your own photos, remember to shoot the products in the same types of settings and lighting — even nuances such as the setting around an image can influence the perspective of the buyer.
Another great option is to share photos of the product in use, or take pictures of how something turns out when you use it.
If you're comparing digital cameras, take the same photo with both cameras at the same settings to show any differences in how they handle light or sharpness. If you're comparing cookware, cook the same dish in both pans, then show either the food or the state of the pan (depending on what feature you're discussing).
Related: How to take product photos that will help sell your goods
Links to buy the products
Don't make the reader go back to searching to find what you've just sold them on. Get them there by sharing links directly to any products that you're recommending. Buyer's guides aren't just for direct sellers either. You can create buyer's guides for your customers and use affiliate links.
How to use your buyer's guide
After you've created your buyer's guide, you'll want to share and promote it to get the full value for your business and to help as many shoppers as possible.
Link to the buyer's guide from appropriate product pages. If you have an ecommerce shop, link to your buyer's guide from the associated product pages.
Add links to your navigation. You can link directly to your buyer's guide or a collection of buyer's guides directly to your navigation.
Add links to related blog posts. You can help site visitors who are already reading your blog content to move into the consideration stage (and potentially buying stage) of the sales funnel.
Share on social media. Create and share your buyer's guide on social media with comparison graphics that grab a browser's attention. You can also add images and descriptions optimized for sharing, like Pinterest graphics and Facebook images so it's easy for your visitors to share as well.
Send in your email newsletter. One of the easiest ways to start building traffic and interest to your new buyer's guide is to share it with your email newsletter list.
Editor's note: GoDaddy's Ecommerce Store Builder makes it easy to build your online store and link it to your social media accounts. Need to send out marketing emails? No problem! You can send and track emails with ease.
Great buyer's guide examples
If you need some extra help with creating your buyer's guide, check out these examples.
Side-by-side comparison
Nikon vs. Canon. It's the equivalent of Coke vs. Pepsi in the photography world. But if you're just getting into the world of DSLR photography, it's hard to know which you should choose. That's where great guides like the one from Expert Photography give you the information you need to make the right choice.
Sample Guide: The Great Debate: Canon Vs. Nikon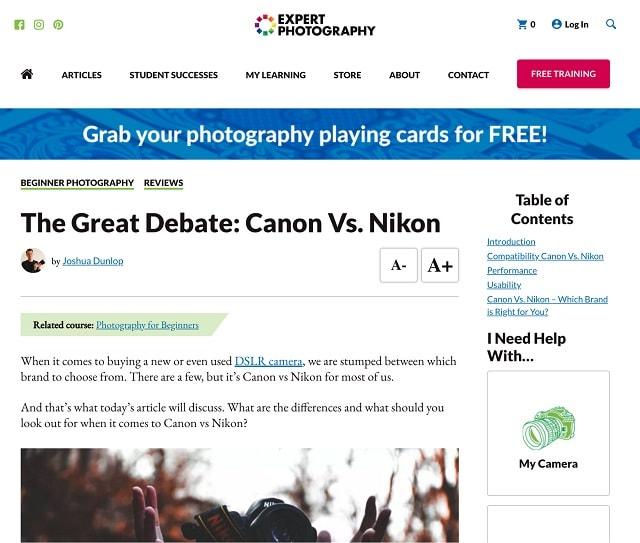 First-time buyer's guide
Buying a diamond is a big investment. And it's something that most of us are unprepared for. They don't teach about cut, clarity and color in our high school economics class. That's why first-time buyer's guides for diamond buying like the one on The Diamond Pro site are incredibly valuable.
Sample Guide: The 7 Step Guide to Buying a Diamond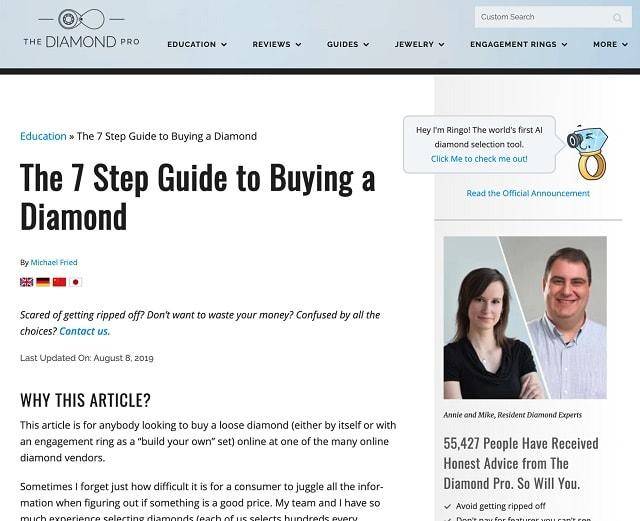 Product add-on guides
One of the most popular product lines for accessories and add-ons is smartphones. MacRumors maintains a guide to popular accessories you can use with your iPhone, from cases and screen protectors to headphones and gaming accessories. While your add-on guide might not be as extensive as theirs, it's a great model to follow.
Sample Guide: iPhone Accessories Guide: Our Favorite Picks for 2019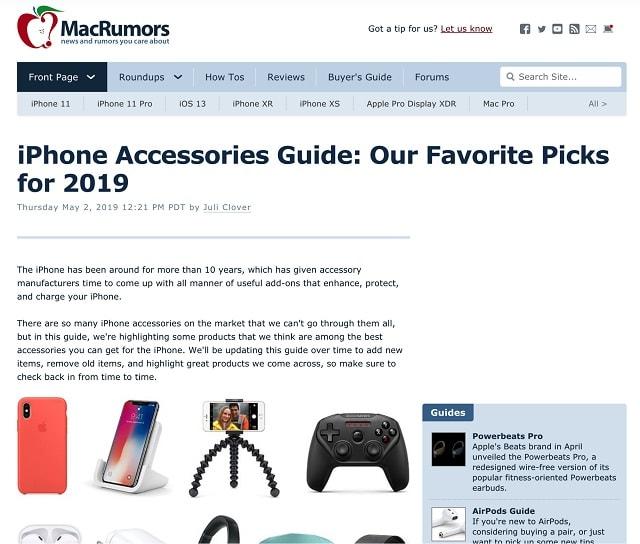 How-to product guides
Thousands of creatives around the world use vinyl cutting machines to create customized products, from water bottles to home decor. But those products don't just work like magic straight out of the box.
There are different kinds of vinyl, different cutting settings and more. Vinyl Cutting Machines put together this guide on how to use the Cricut Explore Air 2, and filled it with links to more products that you can use with your fancy new vinyl cutting machine.
Sample Guide: How to Use a Cricut: Beginner's Guide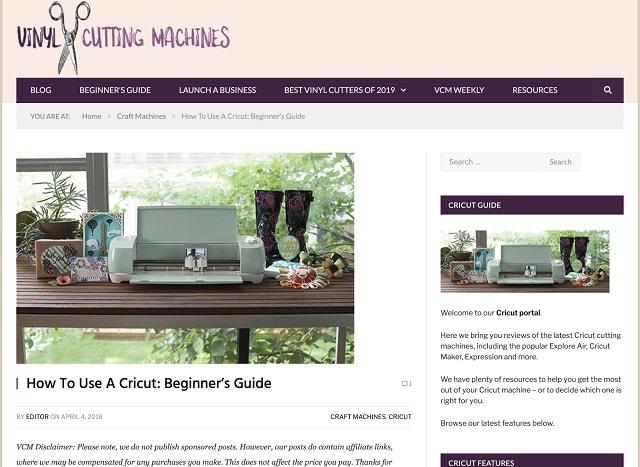 Themed guides
Lucie's List is legendary in the world of buyer's guides and shopper's guides for mothers and mothers-to-be. They incorporate their recommendations for the best products in any one category without being disparaging to the other contenders.
Sample Guide: Best Convertible Car Seats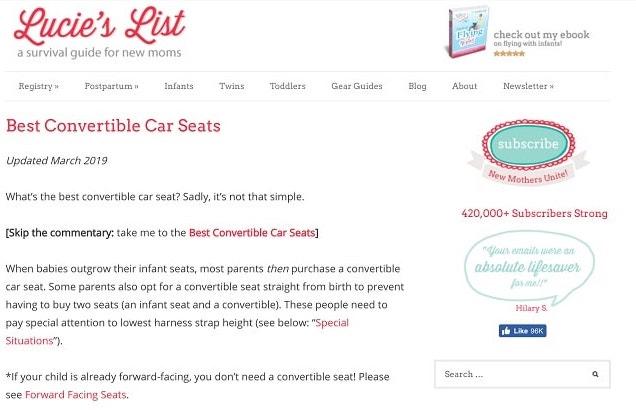 Wrap it up
There are a lot of buyer's guide options out there. With these guidelines and examples to build on, you're ready to start making your recommendations and creating buyer's guides to support your customers' holiday shopping needs.