Business owners, digital marketers and SEO professionals understand how important it is to rank in the top 10 on Google. The higher a site's organic search results are, the better. A higher search engine ranking can lead to tons of traffic, which in turn can lead to higher conversions and stellar revenues. It's no wonder that every digital marketer dreams of securing that coveted spot, No. 1 on Google. But what if I told you that it is actually possible to rank higher than No. 1 — at No. 0 — with a featured snippet?
While there are many different types of snippets, "Reviews" is one of the most important. In this article, I'm going to explain why you need this featured snippet and guide you in setting up Reviews on your site.
What is a featured snippet?
Basically, a featured snippet is a short answer to a user's query that is displayed at the top of search result pages, like this: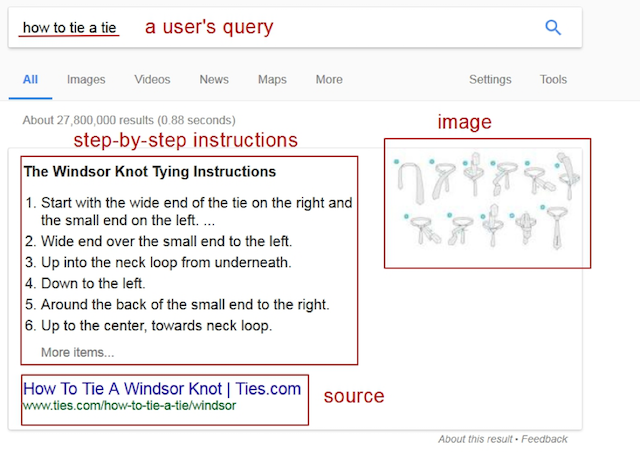 In the example above, the "list" snippet answers the inquiry "how to tie a tie." It features a listicle with instructions, a descriptive image and an external site that users can visit for more details.
Featured snippets come in different shapes and sizes. The most popular ones include:
Text snippets
Ordered or unordered lists (depending on markup)
Images
Lists and images
Charts and tables
Knowledge Graphs
Each featured snippet helps users get immediate answers to their questions and, theoretically, avoid clicking through endless search results.
Don't worry that potential customers won't visit your site. Surprisingly, websites that implement featured snippets report huge gains in CTR.
Let's dive into this further.
Featured snippets: CTR and other KPIs
Rather than driving browsers from your site, featured snippets actually help your click-through rates improve. Here's how:
Featured snippets are displayed at the very top of Google, making them more noticeable than other search results.
Answers pulled in from featured snippets rank twice: 1) in snippets and 2) in actual search results (see example below).
Featured snippets are informative, increasing credibility and incentivizing users to visit the source website.
Only rich search results such as featured snippets are featured for voice search queries.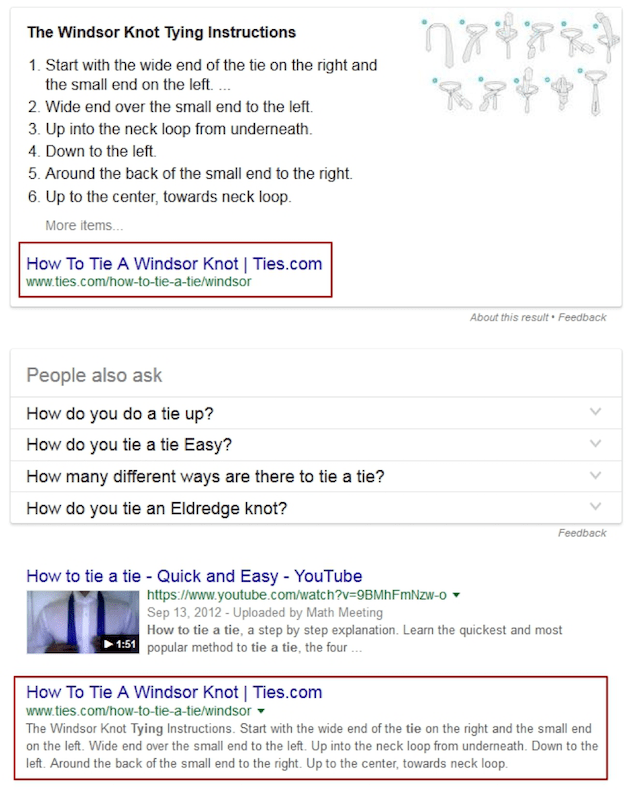 This influences not only organic CTRs, but other crucial SEO KPIs that can also improve substantially when microformats and schema are properly used. These other SEO KPIs include:
Organic traffic
Number of traffic-generating pages
Nonbranded organic traffic
Organic conversions
Number of backlinks
What is the Reviews featured snippet, and why should I use it?
The Reviews featured snippet is a rich search result tool that displays someone's evaluation of something like a business, product, movie, book or any other creative work. There are two main groups of Reviews snippets:
1. Critic reviews
These are pulled by Google to appear in the Knowledge Graph sidebar. You have no control over these reviews because they are written by a third party.
2. Review snippets
These snippets are displayed in both the Knowledge Graph and in search results. Use the Reviews microformat and related schemas to implement these snippets.
Here you can see the difference between the two: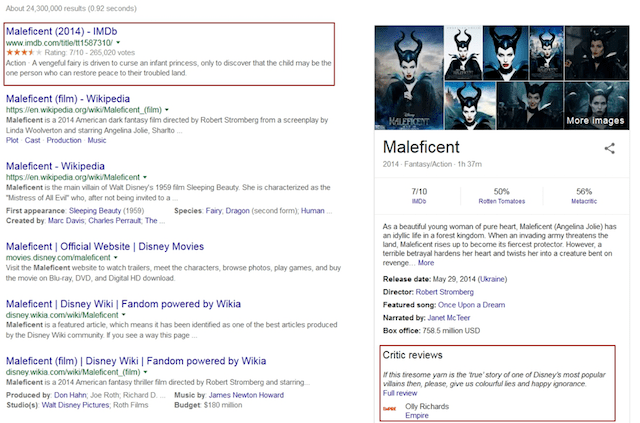 Critic reviews are pulled in only for businesses, movies and books while ordinary reviews are broader and can also be displayed for music, products, services and other creative works. This is important because markup levels depend on the number of properties, structured data and schema.org types used to set up snippets.
So why should your business utilize the power of the Reviews featured snippet? Well, Reviews can:
Provide special treatment in SERPs for related queries.
Catch customers' attention due to prominent search placement.
Showcase social proof to potential customers.
Generate more qualified traffic.
Encourage users to check out complete reviews.
Increase search engine rankings.
Improve direct conversions.
The Reviews featured snippet is a valuable psychological tool.
They immediately catch the eyes of searchers and encourage them to peruse reviews and eventually access the desired site. They demonstrate the value of a business to potential customers, which can increase CTR and direct conversions.
How to set up the Reviews featured snippet
Now that you understand the importance of rich search results like featured snippets, let's learn how to set them up. Fair warning: Snippets are fairly technical and can require the expertise of a developer.
In this post, I will provide only basic recommendations. To learn more about these properties, review and markup types, ratings and aggregated ratings, check out Google's guidelines.
Here is an introductory guide to setting up Reviews featured snippets:
1. Select pages to add featured snippets to
Start with your most competitive web pages, the ones that showcase products and services. To rank as a local business, you will need to start with your home page. You should also consider using analytics or consulting your digital marketing team to map out a clear strategy.
2. Optimize the selected pages with an SEO perspective
Google algorithmically chooses which parts of a page to display in rich search results, so optimizing the selected pages to satisfy Google is an absolute must. Insert targeted keywords into headlines, and add bulleted lists and images into long-form content. This improves your site's chances of being pulled in for a related request in snippet form.
3. Add reviews, ratings and aggregated ratings
WordPress, Magento, OpenCart and other CMS tools let you incorporate these elements straight into a site's template. This makes it easy for visitors and customers to leave reviews and rate comments, and it provides information that can be displayed in featured snippets. You may need to ask a developer to help you set this up.
4. Consult your developer about what properties to add
Because your developer might not know SEO as much as you do, it's your job to explain why you need to incorporate featured snippets. Select the desired snippet properties, and choose values that should be pulled into the snippets. Once you explain what properties you want to add, your developer can then implement the desired changes on the code level.
5. Check to make sure featured snippets are implemented correctly
This last step is fairly simple. To access a page's code, press CTRL+U and see if the <head> tag includes all of the required properties. If you don't want to check every page manually, try running Google's Structured Data Testing Tool. Be sure to type in targeted queries on Google and test to see if your featured snippets are displayed correctly.
Rank right above No. 1— for free
Featured snippets like the Review featured snippet have enormous potential to fuel the growth of every business. They enable rich search results and create a meaningful online experience for searchers looking for a trusted source.
Clearly superior to ordinary organic search results and even PPC ads, featured snippets can help you rank your website right above the No. 1 spot for free — leading to amazing CTRs, higher traffic and better SERPs for your entire site. Learning how to properly implement the Reviews featured snippet is absolutely worth it for your business in the long run.