When I visit websites, I regularly pop into the contact page to see if they're using contact forms for selling online. Frequently, however, I find that forms are too general and aren't gathering the kinds of information that could be very useful to the site owner.
Today's contact forms are way more than just a place to solicit general questions.
The same holds true for online stores. If you are just starting your online store in WordPress, or reviewing your current site and trying to figure out where you can improve conversions, it might be a good time to pay some serious attention to this little gem.
When the topic of contact forms and WordPress comes up, we are typically talking plugins. Some free plugins — such as Contact Form 7 — have been around for a long time. But in order to create dynamic forms, you may want to look at other options, including WPForms, Ninja Forms, Gravity Forms and Caldera Forms — just to name just a few.
4 tips to take advantage of the power of contact forms for selling online
Regardless of the type of contact form you're using, there are a few tips you should keep in mind if you want to sell more online.
Revisit your contact page form.

Use conditional logic.

Collect more information on product orders.

Conduct polls, questionnaires and more.
If you're ready to implement using contact forms for selling online, then keep reading.
1. Revisit your contact page form
This is the perfect place to start. Remember, this is typically where many customers — current and new — will end up when they have a pre-sales question or an inquiry about some other aspect of the purchasing process.
A simple name, email and, "What can we help you with?" won't suffice if you're creating contact forms for selling online.
People need help focusing on their problem, and offering them choices (but not too many) helps guide them through the steps they need to take.
2. Use conditional logic
The problem with some contact forms for selling online, especially when someone is on the verge of purchasing a product, is that the answer to their question is not easy to find. It's often buried somewhere among many other fields, which can be confusing to your customer.
This is where conditional logic comes in. It's really a simple concept: If "a" happens, then "b" will happen.
So, it allows you to do a specific action based on certain behaviors of the customer. And depending on your customer's answers, you can either show or hide form fields, send different confirmation messages after submission, or even send the user to other pages.
Now if you have tons of different products, you might have to get a little more creative, but let's say you sell coffee brewing machines. When they land on the form, it's simple to start with.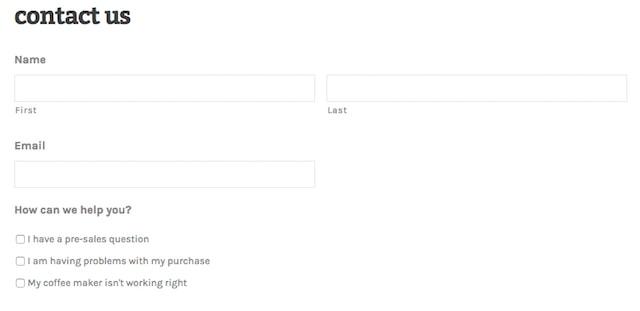 Now if they choose a pre-sales question, it gives the option to choose the brand and a field to submit their question.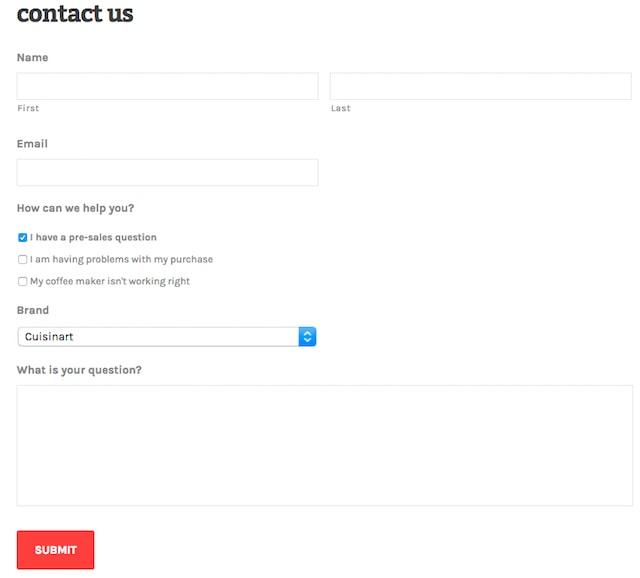 If they are having problems with purchasing, they are given three choices. If it's a credit card issue, instead of going further with this form, you can recommend two other options.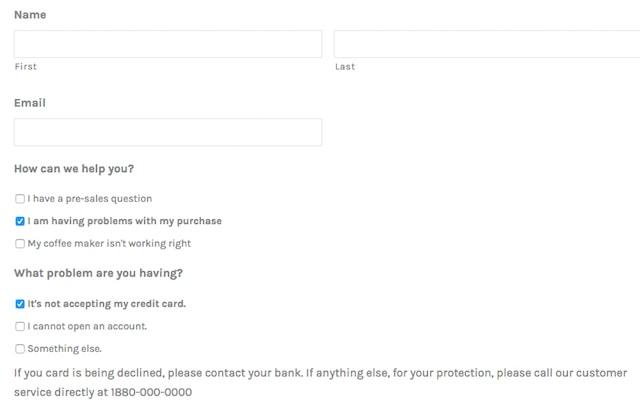 But if they cannot open their account, they can send you the details.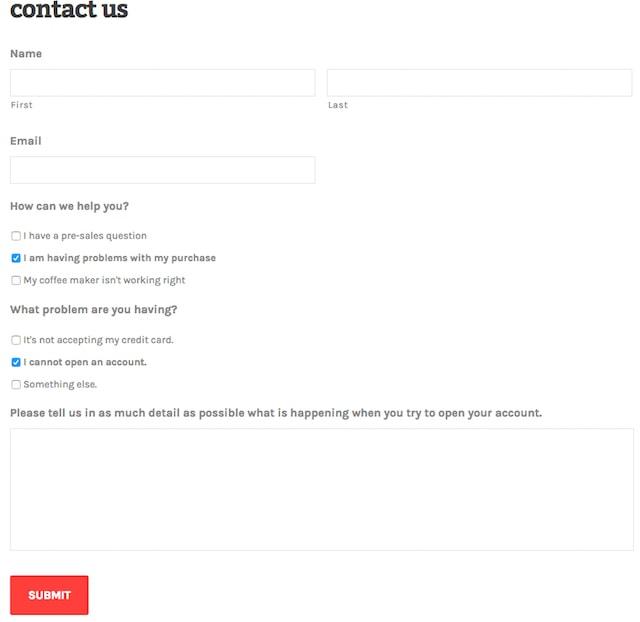 And lastly, if they are having problems with the coffee maker they purchased, give them the option to choose the brand, as well as to leave more details. Of course, you might also add an option for the model number of the brand as well, if you have more than one.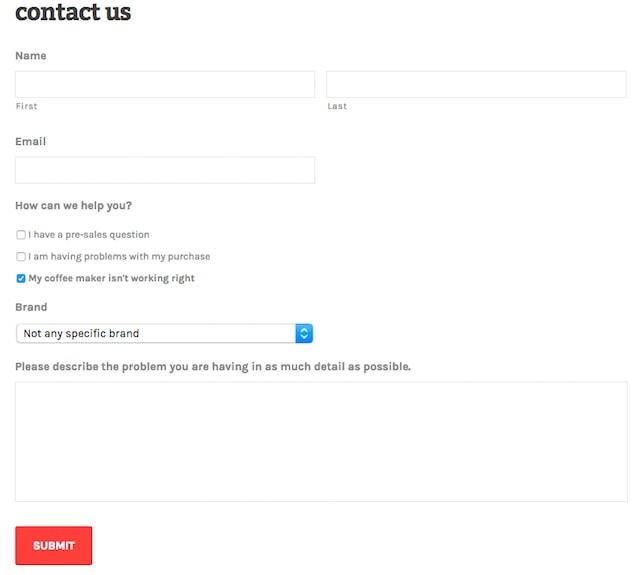 Conditional logic can also be used to send the form submission to the correct email. Pre-sales questions likely would go to someone in sales instead of someone who answers technical questions.
3. Collect more information on product orders
Most WordPress eCommerce plugins will integrate with some of the more popular contact form plugins, giving you the ability to add additional fields when someone is placing an order. For example, if you sold metal engraved signs, you can easily add a field for what the customer wants the engraving to say.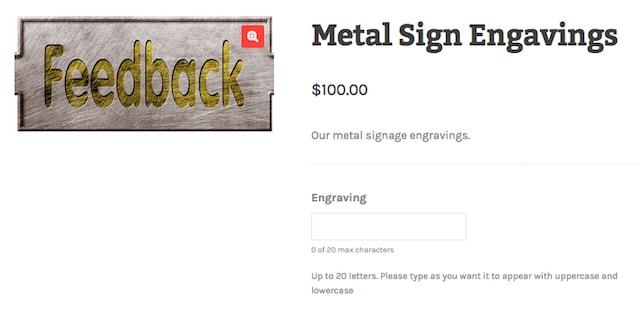 Or maybe you allow artwork to be engraved for an additional $50.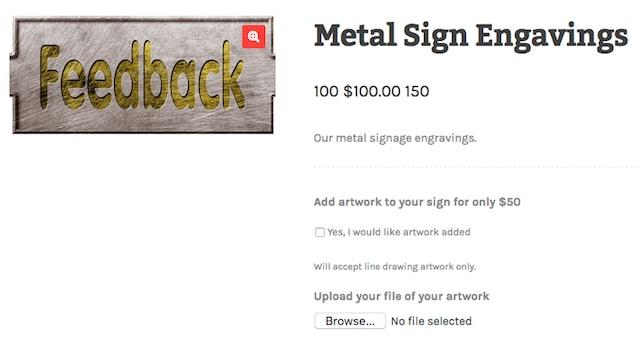 4. Conduct polls, questionnaires and more
Most robust WordPress contact plugins give you the ability to create polls and questionnaires, both of which could be invaluable for future and existing products — and even to extract data for your sales team to use.
There might be times when you choose to use a service for gathering these kinds of data. But in many instances, it's great to have a bit more ownership and the flexibility of adding a questionnaire or survey to your site wherever and whenever you need it. It could be as simple as two or three questions, or as complex as a multi-page form. In either case, you are able to collect data as needed.
I'll add a side note here from experience: People only have so much time, and customers are sometimes overwhelmed with requests to rate a product or give other feedback. So make your questionnaire quick and easy to fill out, and even offer a small reward of some type to those who take the effort to complete it.
Closing thoughts on contact forms for selling online
These four tips will give you some food for thought as you take a look at using contact forms for selling online. The sky is the limit on what additional information you can extract on existing orders and the ways you can make it easier for customers to laser-focus on their reason for contacting you.