After the last several years of uncertainty in business, there was a definite shift towards digitally-directed marketing tactics. The social media influencer reigned supreme. However, as demand drifts back towards in-person events, some business owners are struggling to shift gears and are searching for ideas to promote their events.
We've gotten so used to measuring our brand's success in digital numbers — followers, SEO, retweets, sales, shares, sign-ups — that it's easy to forget that living, breathing human beings really make or break our marketing efforts. It's good to hang out with them now and again.
Similarly, your products spend so much of their time trapped behind the glass screen of our phones and computers, that they risk becoming mere images or ideas if you don't bring them into the real world every now and again.
That's where hosting events comes in.
But the real power of event promotion goes beyond showcasing what you have to offer. It's all about community: finding one, growing yours, and engaging with them. A candid conversation with a loyal user or prospective customer could also contain invaluable insights for your brand.
In the virtual space, events are far less cost-prohibitive, so they needn't have a big return on investment (ROI) to be worthwhile. Now is an amazing time to find, grow, and engage an audience with content, skills, information, inspiration, and interactions via virtual events. Down the line, this could equate to big sales opportunities, but right now you might be better off focused on authentic community building.
True sincerity is instantly detectable.
Be aware of the opportunities inherent in finding new ways to do business. If you're trying out video content for the first time, as many of you might be, remember that you're not just filling a gap, you're creating excellent content. You're also developing new approaches, finding your target audience, and exploring new methods and ideas that could potentially unlock growth for your brand.
If you're putting an event together, the action doesn't all have to center on your brand. You might coordinate activities that express your values and passions more than your product. It's a great idea because it's authentic, and that's worth a whole lot to consumers.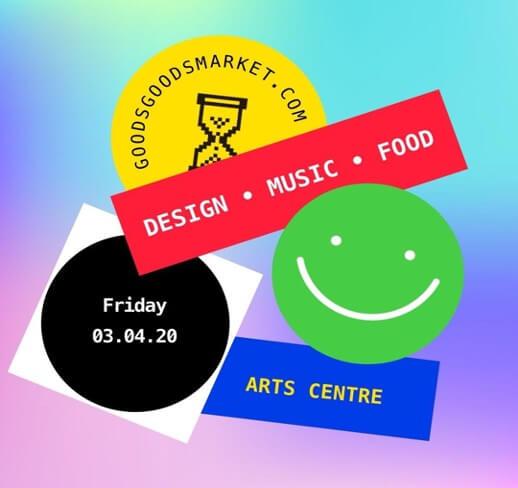 Event marketing is business marketing
Events are also known as "mega awareness generators" (or at least they should be). Nothing's better to stir up some buzz and help create a brand community, by getting the right people to take notice.
Physical gatherings carry more weight than digital posts — anybody can post an Instagram Story, but getting people off the couch together in one space takes some clout. So it's important to pop your head up above the competition when it comes to audience building.
Gaining trust is another upside of event marketing. If we can see your brand in the flesh, we know you're for real. This alone could give you the edge in your market, the next time we're online shopping.
Your event could even occur in the form of an annual or seasonal in-store promotion. A big ol' summer sale is as good a reason as any to put up an event page, bake cupcakes, and invite your followers to a morning worth spending. Surprise giveaways, live DJs, a bouncy castle — there are definitely creative ways to market your event.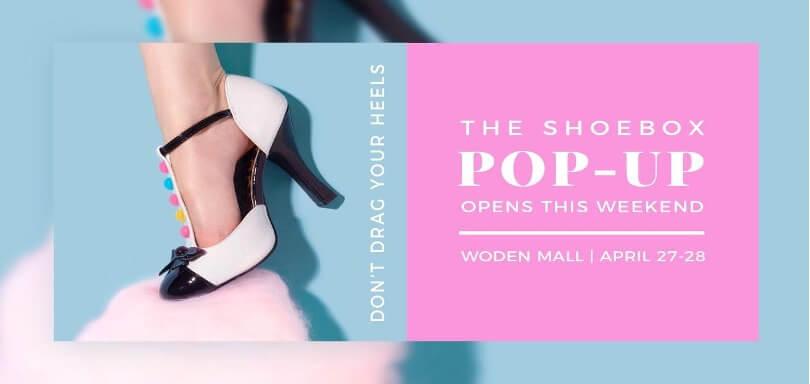 Event planning is a marketing strategy
If you're putting an event together, the action doesn't all have to center on your brand. You might instead plan activities that express your values and passions more than your product. It's a great idea because it's authentic, and that's worth a whole lot to consumers.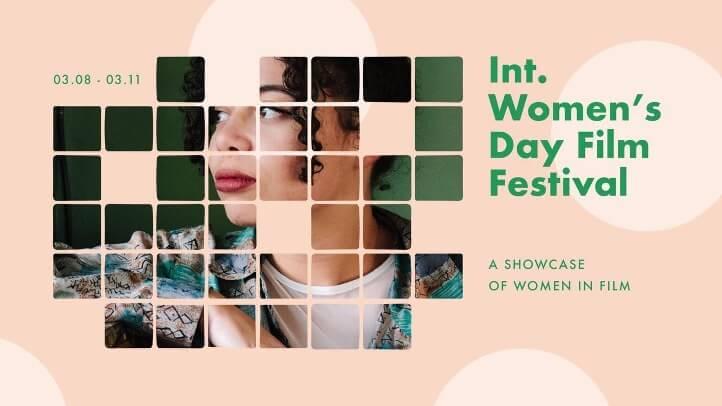 For example: If you're a brand that puts the natural environment front and center — using recycled plastic or only raw, organic ingredients in your products — then a beach clean-up day makes a lot of sense.
When it comes to audience building, this is showing the world that your ideals aren't just a hashtag on social media — you're ready to roll up your sleeves and turn that inspirational quote into inspirational action.
Better yet, make it on World Environment Day, or during Plastic-Free July, so you can make your next event part of the global conversation. It's amazing that you're doing it for all the right reasons (we don't doubt that for a second), but make the effort work in your best interest by generating brand awareness while you're at it.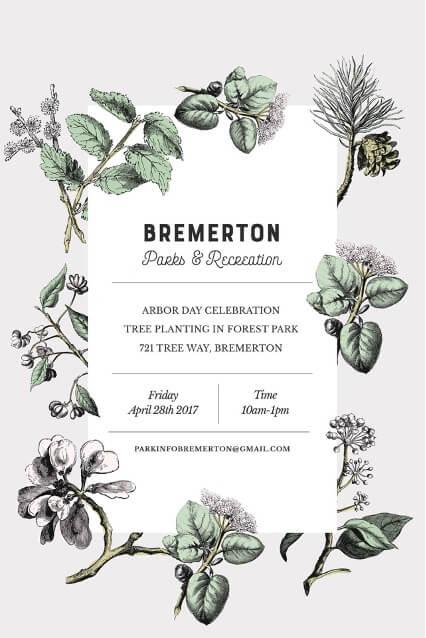 Of your thousands of Instagram followers, maybe only 30 potential attendees will show up. But those 30 event attendees will be perfectly aligned with your values, and unmistakably engaged with your ideas. Here's your chance to really get to know your ideal customer IRL.
Use the calendar for marketing ideas
Because so many brands are intricately connected to activities — running, gaming, surfing, painting, baking, hiking, biking — event promotion is a brilliant marketing strategy to focus on things they love doing anyway. And if it's during a specific time when the whole world does it too, well that's just you being a globally relevant brand.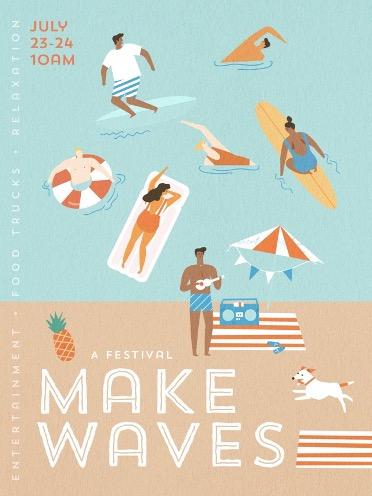 When it comes to audience building, one level better than a once-off event is a regular one. This might involve sponsorship, but if you're clever, you could run the whole show and ingrain yourself with a particular demographic. Create an event that your brand brings to life, and people look forward to.
Standing out
If you build it, they will come.
We're not sure who said that first, but it's definitely about event promotion strategy — even bands hoping to fill stadiums know this. It's no exaggeration to say that a standout promo design (and a plan to get it in front of as many eyeballs as possible) is the most crucial ingredient for a successful event.
Nobody knows about it? Nobody's coming.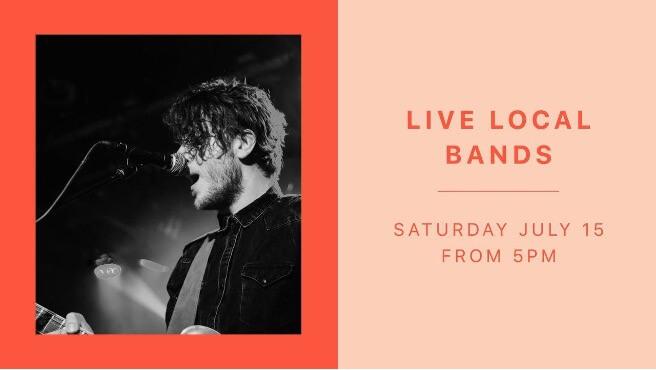 Your event promotion is also your first and best opportunity to entice. Your event teaser design can communicate the event's spirit, so choose your design elements (photos, graphics, fonts) carefully. Words alone can't do it.
Give us some indication of the vibe: psychedelic, futuristic, elegant, old school, spiritual. Your aesthetic will instantly angle your event towards the right target audience.
Use design hierarchy to make the most important info BIG and BOLD. What's happening, where, and when? We'll decide very quickly if we're interested, and if we can make it.
Secondary information also needs to be there but might appear smaller or further down the page. Do we need to buy tickets? Can anybody come? Is there an event website? Will there be snacks?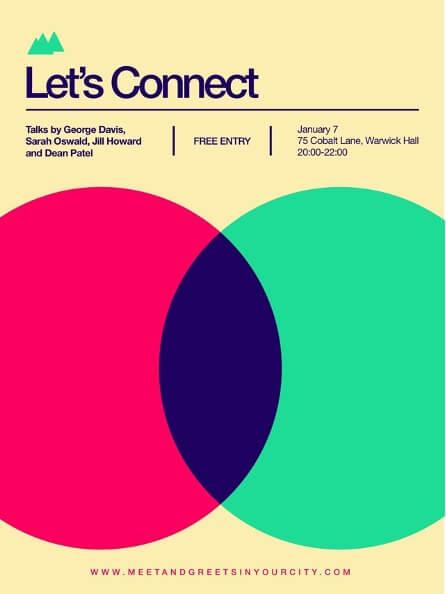 Event promotion ideas
You probably have some idea of the type of event your brand might be good at hosting, but if you're at a loss, here are some suggestions to consider:
The pop-up
Most very small businesses operate almost entirely online. That figures, but there's value in at least making cameo appearances IRL. Pop-up venues are a great opportunity when they present themselves — especially for retail or food. You can stir up some physical energy for your company and create extra brand awareness for a few weeks (free swag is a great way to gain awareness), and use it to generate more leads for your online business.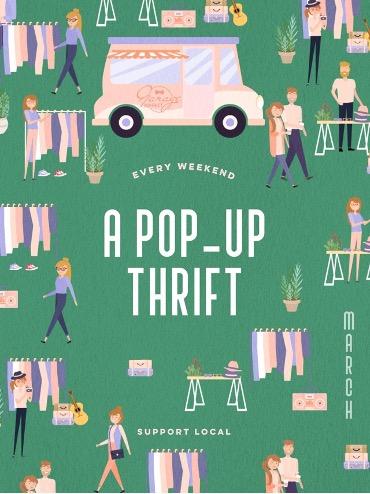 Related: Pop-up shop ideas for your business
Markets and festivals
If you're not up for staging your own in-person events regularly, tag on to another one and offer something that contributes to the greater experience. You might even think of them as recurring pop-ups.
Putting up a stall once a week is way cheaper than a monthly shop rental, and puts you smack dab in the middle of a super-charged consumer occasion.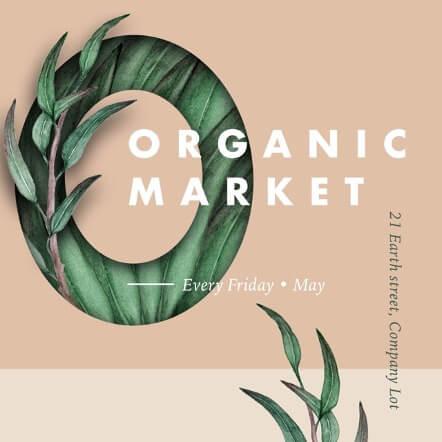 Community events
Doing something positive for your community can have a remarkably positive effect on building an audience for your brand, and the increased trust, loyalty, and likeability that result are worth their weight in gold.
Put the hard sell to one side, and show us your human heart — in the form of a fun run, a blanket drive, a river clean-up, or a mural for the local kindergarten.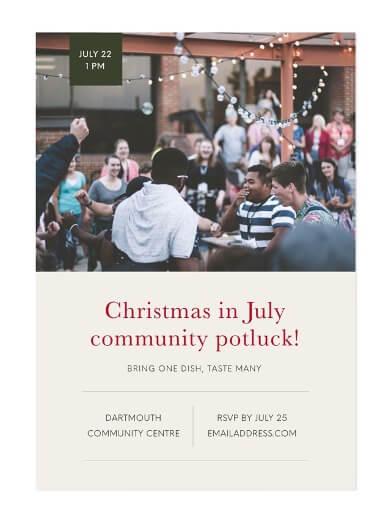 A party
Do we really need to give you a well-researched reason to throw a party? Getting people together with song and dance in the name of fun is always a good idea. The positive energy is your barometer for success: if everybody's having a good time, your promotion is undoubtedly going well. Musicians, DJs, promoters, bars, and alcohol brands know this better than most.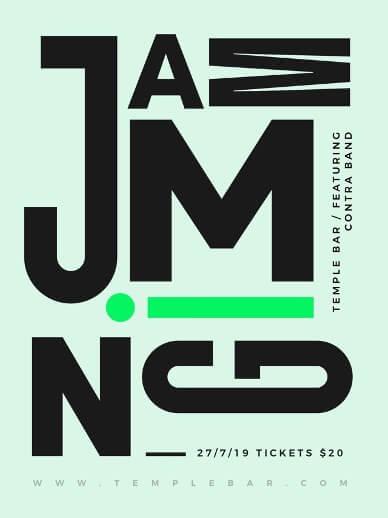 An exhibition
Any kind of creator needs to get their work out into the big scary world at some point. There are so many ways to market and sell your art online these days, but putting it on the wall still retains prestige. It doesn't have to be in a fancy gallery.
Get creative, and find a less conventional space — like a café, or a friend's dad's cousin's barbershop standing empty until June. Go for it!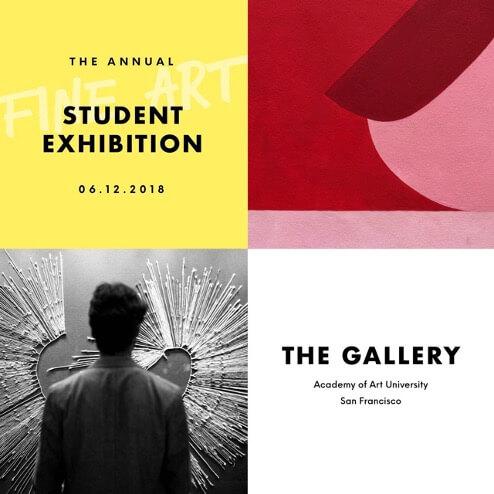 A workshop
Workshops let you engage meaningfully with your most high-value customers, building a loyal audience from potential attendees. They're perfect for sharing your expertise and offering your customers something of value in return. They can add a service component to your product, or focus on something more specialized than you usually offer. Photographer? Teach a studio portrait workshop. Craft beer brand? How about an IPA home-brewing course at your distillery?
Virtual gatherings
Get-togethers don't always have to be IRL. Sometimes a live stream is enough. Virtual equivalents of the workshop (a webinar, perhaps), the pop-up sale, the exhibition, or the auction, are all easy enough to imagine, and simpler to set up than physical events. You might even consider trying out virtual events first, to test the waters before committing to a bigger event. As long as there's an internet connection, there's potential for human connection.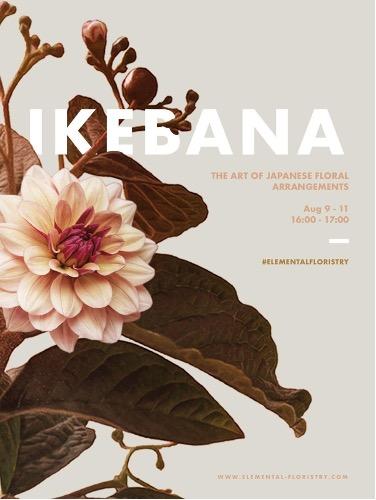 Related: How to host virtual community events
Event marketing checklist
Before you open the front doors to your event — actually, before you even consider having an event in the first place — make sure the fundamentals are in place:
Poster/flyer
An eye-catching invitation, flyer, or poster is critical to the success of your event. Reach is one factor (how many eyes you get on your poster will be directly related to how many people show up), but the design of your marketing material also sets the tone of your event, and can be the difference between something we glance over absentmindedly, or something that excites us.
Well-thought-out event branding is key.
A beautiful, professional design imbues your upcoming event with a sense of planning and care. If your flyer looks bland, or tacky, or rushed, we're inevitably going to associate these impressions with your event. If it's slick, stylish, and well thought out, you're far more likely to get a second thought.
And don't forget to create an event hashtag on any social media platforms that your business uses. Hashtags can be a great way to attract attention during or after your event (FOMO is real).
Timing
Choose your date well in advance, and stagger the announcements in phases leading up to the big day. Put out the word early, and remind people closer to the date. Consider event registration so that you can get a rough estimate of attendance. Also, check the calendar so that you don't clash with much bigger events.
The venue
Make sure the location for your event is all locked down before any announcements begin. Does the venue have all the facilities you need? Do you need any permits to be there?
Access
Can folks find you with ease, and get inside without a hitch? Do they need to park three miles away? Do you need security to control who enters the space? These seemingly small details can have a big impact if they're ignored.
Signage
The last few yards are crucial. Make sure people can clearly see they've arrived at the right place on the right day. Important information should also be up at the entrance. Oh, and don't forget printed signs for navigation (folks need to know where to find the entrance, exit, toilets, sign-up, merchandise, and so on).
When it comes to creating awareness around your unique brand and then building on this loyal audience - holding an event is a powerful way to go about it. After all, nothing beats meeting your community face to face. So get organized and get out there!
Explore thousands of professionally designed event flyers and poster templates in GoDaddy Studio. Try out the app for free today for iOS and Android.