You're probably creating websites with the goal of connecting with more customers and growing a business. But if you want to connect with more customers, you need a lead generation guide to help you to optimize those websites.
This process involves finding ways to reach customers, like optimizing the site for search engines, as well as setting up a site so that it's designed to generate as many leads as possible from the traffic it generates.
In this post, we're going to cover everything that you need to know about lead generation.
We'll start with an introduction to lead generation and why it's important. Then, we'll share some actionable tips that you can implement on a website to start generating more leads today.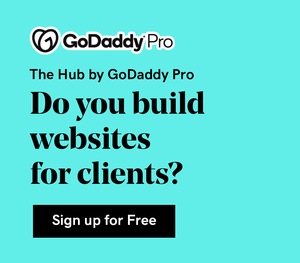 What is lead generation?
Lead generation is the process of generating interest in a product or service. A person who is interested in what you have to offer is called a "lead." Once you generate a potential lead, you want to "capture" their information, which is why you'll see the term "lead capture" used alongside "lead generation."
Typically, you'll "capture" a person's information using some type of form or chat — this could be a form in the site's content, a popup, a chatbot, a notification bar, etc.
Lead generation isn't just about collecting the contact information of as many people as possible, though.
You want to go after qualified leads, which are people who really do have a genuine interest in a product or service and are likely to convert into paying customers or clients.
Typically, lead generation works something like this:
You attract traffic to a website using strategies like search engine optimization (SEO) and content marketing. You want to try to reach the type of people who might be interested in the product(s) or service(s) offered.
Once you get people on a site, you use web forms or chatbots to collect their information. You can then store that information in a customer relationship management tool (CRM) to more easily track and engage with leads.
With a person's information in the CRM, it's time to start converting them into a customer, either with additional marketing content or direct sales (or both!).
Why is lead generation important for a website?
When you're building websites for your clients, optimizing for lead generation is very important.
Your goal for the website probably isn't to just have "a website." Instead, you want the website to help achieve a business need. In most cases, that business need is getting more customers, which requires lead generation.
When building websites, it's easy to get caught up in the design and just focus on creating a great-looking end product. But having a good-looking website isn't the only thing, or even the most important thing. You also need to have a website that gets results.
Think about this… would you rather have:
A stunning website that wins design awards and generates 50 leads per month.
A good-looking website that won't win design awards, but generates 250 leads per month.
Of course most people want both! But if you had to pick, option #2 would be the best, right?
And that's the really important thing to understand.
If you can move beyond creating just a website and get to a website that generates leads, the business will be much more successful, with a steady stream of potential customers for whatever it's offering.
How to optimize a website for lead generation
Now that you know what lead generation is and why it's important, let's get into some tactics for how you can optimize the websites that you build for lead generation.
Optimize for search engines
Ranking your site's content in search engines like Google is one of the best ways to reach qualified leads. With search engines, you already know that people are searching for keywords that relate to a business — all you need to do is get them onto the site to capture their information.
Here are some tips to do that:
Optimize content to match search queries
One of the best ways to generate qualified leads is to create content that potential leads might be interested in. You can then rank that content in Google so that people find it when they're searching.
The content doesn't have to be directly promotional. In fact, it's often more authentic to not be overtly promotional in the content that you create. Instead of trying to sell people right away, focus more on getting them onto a site and collecting their details — you can always convert them later on once you have a relationship.
For example, let's say the site is for online personal training and your client is looking to reach potential clients. You could write an article on a topic like "the best ways to get bigger biceps."
This article isn't directly promotional — it's just providing information. However, the same types of people who are interested in learning how to get bigger biceps are also the types of people who might be interested in hiring a personal trainer to help them achieve their goals.
Once you get them on the site, you can capture their information and start working to convert them into customers.
Of course, creating content is only one part of the puzzle — you also need to optimize the content for SEO. To do that, here are some tips:
Perform keyword research — Keyword research helps you discover the queries that people are searching for so that you can match your content to the exact phrases people use in search engines.
Write for humans, but pay attention to SEO — You should always write content for humans, but it's still important to include the target keyword in your post, especially in the title and periodically in the body of content.
You can learn more about content optimization in this post.
Install essential SEO plugins
If you're trying to optimize a WordPress site for SEO, it's essential to install a dedicated WordPress SEO plugin so that you can implement good on-page SEO best practices.
A good SEO plugin will help you:
Set SEO titles and meta descriptions — These let you control what users see when a site appears in Google.
Analyze SEO optimization — Many SEO plugins can analyze content for a focus keyword and help make improvements, such as optimizing the keyword density of content.
Implement technical SEO — SEO plugins help you implement important tactics like redirecting attachment pages and just generally making the core WordPress software more SEO friendly.
Integrate with Google Search Console — Plugins can help you integrate a site with Google Search Console to track its performance in Google search.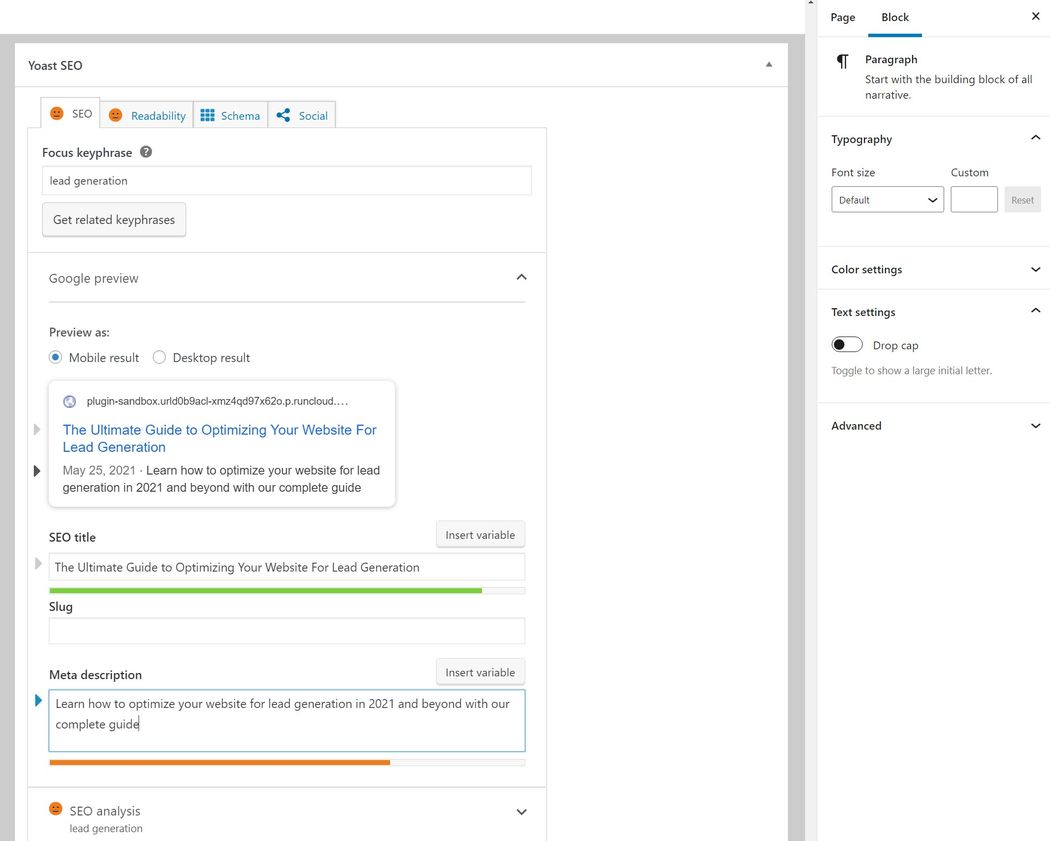 There are lots of great SEO plugins, but here are some of the best:
All of the plugins above have free versions available at WordPress.org.
Optimize for Page Experience (speed and user experience)
In 2021, Google will launch its new Page Experience update, which is an update to its search algorithm to factor in page speed and other user experience metrics as SEO ranking factors.
If you want to set up a site for success in Google, that means you also need to focus on optimizing the website for performance.
There are a lot of ways that you can optimize for performance:
Use page caching to reduce server processing time.
Minify your site's JavaScript and CSS code to reduce its size without changing functionality.
Reduce the size of your pages, as paying special attention to image optimization can usually result in large reductions in page size because images account for about half of the size of the average web page. You can also use server compression technologies like Gzip and Brotli.
On WordPress, make sure you're using a lightweight theme and try to limit the number of plugins that you use to only those that are essential.
Consider using a content delivery network (CDN), especially if your site has a global audience.
You can use tools like PageSpeed Insights and WebPageTest to analyze your site's performance. In general, Google recommends that your site's Largest Contentful Paint time be under 2.5 seconds to do well in the Page Experience algorithm update.
Optimize for Security
A site's security can play a key role in lead generation, as security issues can reduce trust with your potential leads and also cause issues with your search engine optimization efforts.
Use HTTPS
HTTPS is a technical protocol that encrypts the data that moves between visitors' web browsers and a website. In order to activate HTTPS on a website, you need to install an SSL certificate.
There are two ways that using HTTPS can improve a site's lead generation:
First, using HTTPS boosts trust with visitors and lets them know that the data they submit via lead generation forms is secure. In fact, if you have a lead generation form on a site and you don't use HTTPS, some web browsers (like Chrome) will even mark the page as insecure — you can see an example in this blog post from the Chromium team.
Second, using HTTPS can also help you optimize a site for search engines, which is important for reasons that we discussed in the previous section. Since 2014, Google has used HTTPS as a small ranking factor in its search results, so adapting HTTPS will give your website a slight edge in the search results. Every little bit counts when it comes to SEO, so you shouldn't ignore any advantage that you can give your site, no matter how small it is.
Consider a security plugin
Beyond using HTTPS, it's just generally important to keep your site secure. Malicious actors are always on the lookout to find ways to infect your site with malware or spammy SEO links. Having your site infected will hurt trust with your potential leads and can also cause issues with your site's search engine optimization, as Google removes infected sites from its results and many browsers will block access to infected sites (e.g. Google Chrome Safe Browsing).
To help mitigate threats, you can use a security plugin like Sucuri Security for WordPress.
Optimize for mobile
When you're optimizing for lead generation, it's important to pay special attention to mobile visitors.
It's easy to focus on desktop visitors when you're optimizing a site for conversions, but more than half of all website traffic happens on mobile devices nowadays, so you're missing out on a huge source of potential leads if you don't optimize for mobile lead generation.
Implement response design
Optimizing for mobile starts with responsive design at a minimum.
What is responsive design?
It's the idea that your website will automatically adjust to show an optimized design no matter what device a visitor is using. Someone browsing on a desktop will see a desktop-optimized design and someone browsing on a smartphone will see a smartphone-optimized design.
Nowadays, most content management systems (CMS) include built-in features or themes to make responsive websites. For example, most themes for WordPress are responsive by default. The same is true for most website builders.
Test for mobile-friendliness
In addition to having a responsive design, you also want to make sure that a site doesn't have any mobile usability issues that might make it difficult for mobile visitors to interact.
Google will also start using mobile-friendliness as an SEO ranking factor in its Page Experience update, so optimizing for mobile-friendliness is another useful tactic to optimize for SEO.
To see if a site has any issues, you can use Google's free Mobile-Friendly Test tool. The tool will flag any issues on your site and give you some tips for how to fix the problem.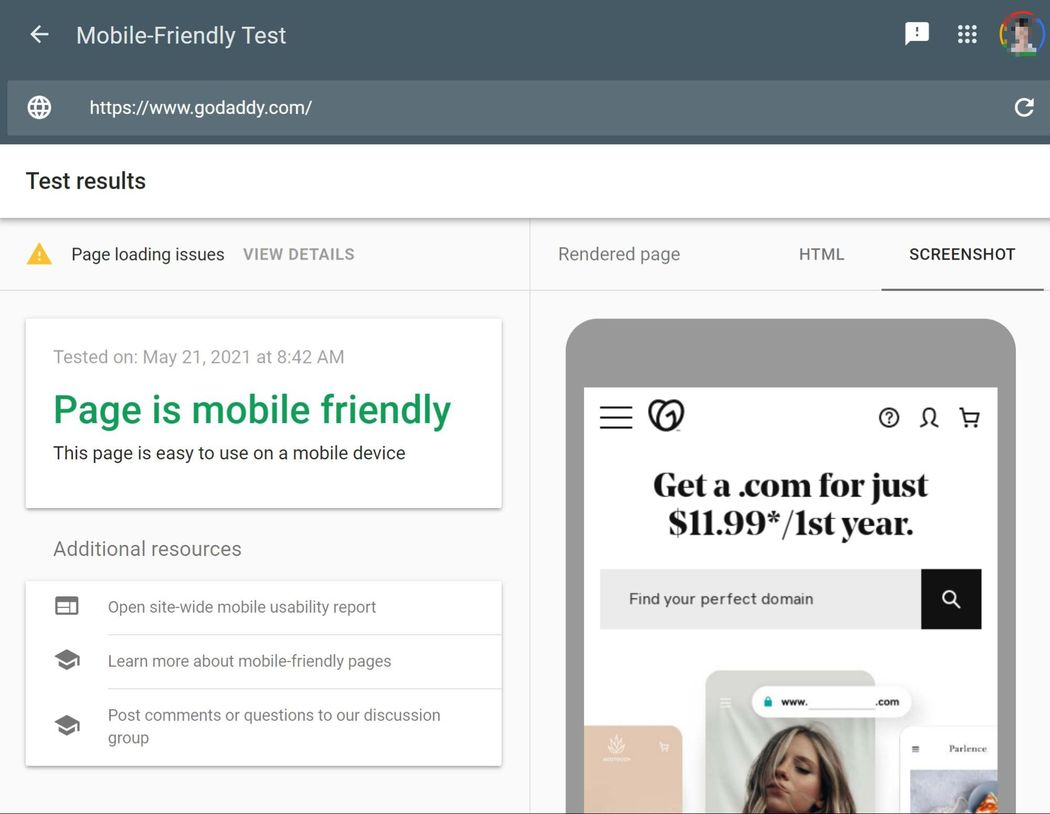 Google Search Console also includes a report that lets you see mobile issues that Google discovers.
Optimize for lead capture and conversion
If you've done everything so far, you're ready for the last step — the actual lead generation forms.
There are lots of different ways that you can capture leads' information. Here are some popular options:
Web forms — Place lead capture forms in the actual content, either on a dedicated landing page or as part of a page, such as in the sidebar.
Popups — Experiment with different types of popups, such as modals, slide-ins, notification bars, and more.
Live chat — Use live chat and/or chatbots as an interactive way to capture lead information in a more conversational format.
Tools like HubSpot can help you create customizable web forms to place anywhere on your site. HubSpot also offers a free WordPress plugin that lets you create forms from inside your WordPress dashboard, along with other types of lead capture tactics including popups and chatbots.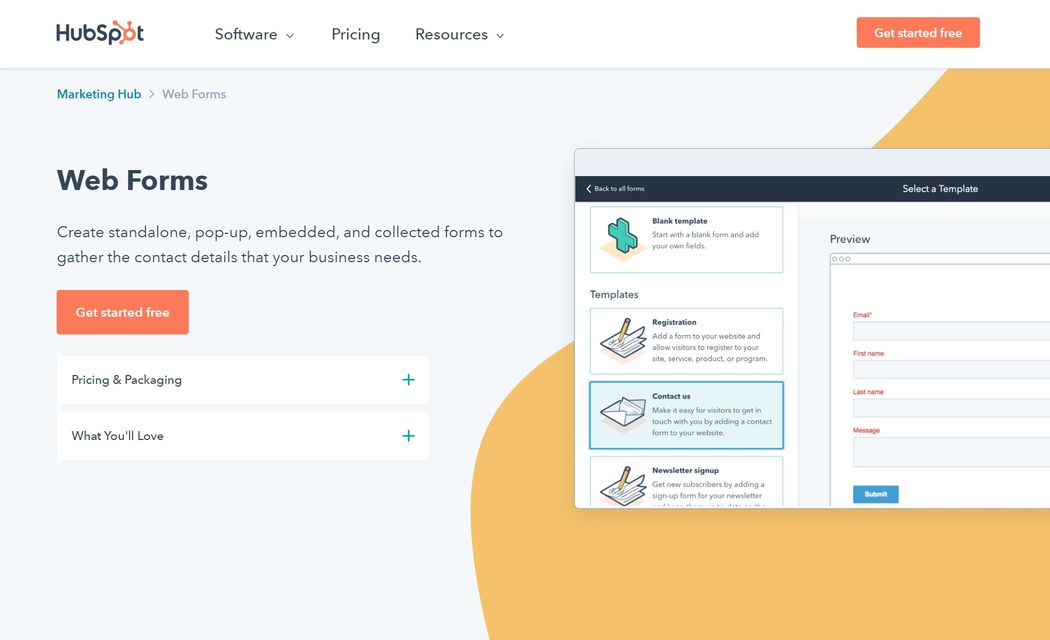 When creating your forms, you need to think about what fields you include in your forms. There's a fine line between using too few form fields and too many. As a rough rule…
More form fields equal lower conversation rates for your form.
Fewer form fields equal less qualified leads because you don't have as much information about a person.
For most businesses, the optimal lead capture form will be somewhere in the middle. You want enough form fields to add at least some lead qualification, but not so many fields that you discourage visitors from filling out the form and lower conversion rates.
Beyond the form itself, you should also experiment with different placements and lead capture methods.
For example, you can see if a modal popup generates more qualified leads than a basic web form. Or if your interactive chatbot is more effective than the popup.
Experimenting with these types of details can help you boost your conversion rates, which means more leads end up in your CRM.
Use our lead generation guide to start optimizing websites today
If you want to create successful websites, optimizing for lead generation is key. Having a website is great, but having a website that generates leads is what will help your business grow and succeed.
In this post, we've introduced you to what lead generation is and why you need to care about it.
We've also covered some of the most important areas that you need to focus on if you want to optimize your website for lead generation.
Implement these tips today and you'll be generating more leads in no time.