Starting and running your own interior design business takes a lot of time and money. You have a million things running through your head at any given time, from finances to marketing, customer service and operations. If that isn't enough, being successful at owning your own business also requires you to have an online presence.
This begins with a quality website. Consumers are highly dependent on what information is available to them when considering a purchase, and with the internet putting everything at their fingertips, not being one of those online sources can stall your business growth.
When you are a small business, paying someone else to build you a website can be a substantial investment — but it's important to make getting online a priority.
Why you need a great interior design website
Your interior design website is your online hub. It's where customers can learn about your background, get your contact information, and see what you can do. A website connects you directly with your audience, making it a direct pathway to growing your business and increasing brand awareness.
To be effective, your website needs to look great and function well.
It should convey the same style and impression your designs would, while making it easy for customers to explore your previous work examples and get in touch. Having a quality website is critical for interior designers (as with every other business out there) because it not only shows your customers your personality and talent, but it makes you more accessible.
So where do you start? You are a professional designer for spaces, but building websites is a whole different game. Can you build your own website if you have no technical experience or background in programming?
The answer is yes – with GoDaddy's DIY Website Builder (WSB).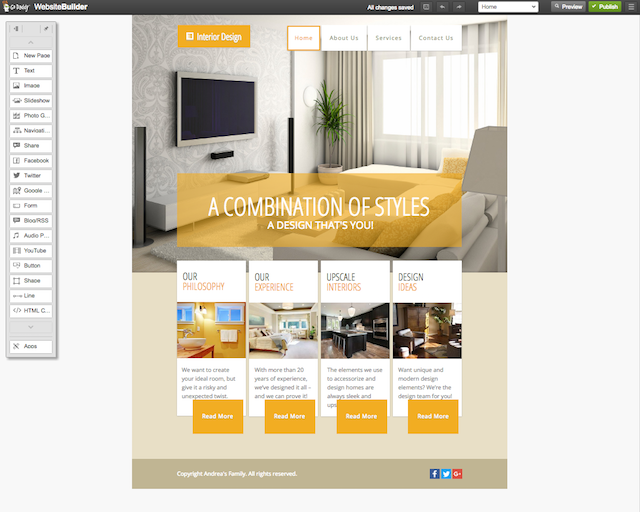 GoDaddy's WSB: An easy website builder tool
Our No. 1 goal at GoDaddy is to make it easier for our customers to run successful businesses. With that in mind, we have developed a web design tool that allows the average person to build their own fully functioning website in just a short amount of time – with minimal training.
WSB is so intuitive and easy to use, if you decide to try it yourself, you can create your own beautiful interior design website on your own at home.
What makes WSB so great? With hundreds of available themes spanning an array of industries, you can build your website to your exact liking. If you aren't sure what you are looking for, we have even created a special interior design theme that you can customize with your information, logo and colors. We provide the structure to get you started, and then leave it to you to create your dream website. In one, easy website builder tool.
Once you have a direction, using the interface is extremely easy. Simply select and drag the elements you want to put on the page, and with a few clicks, you can change sizes, images, colors and fonts, among other things. With WSB, you can easily create sound pages with any of the following elements:
Text
Images
Shapes
Slideshows
Photo galleries
Navigation menu
Social connections
Google Maps
Videos
Forms
You'll get all of the functionality necessary to create a customized interior design website in this one tool.
You don't have to know any code and, as an extra benefit, WSB saves your work as you go so you won't lose anything along the way. This web design tool allows you to work at your own pace, whether you need to get your site up immediately or have time to make every detail perfect.
If website design is not your thing, don't worry. We have other solutions that are designed to help you get your website up and running – and growing your business.
Let us build your interior design website
We understand the life of an interior designer is a busy one. While GoDaddy's Website Builder makes it very easy to create your own website, if you don't have the time to dedicate to the build, it might not get done.
Fortunately, we have an affordable product solution and GoDaddy expert website builders who are dedicated to helping you and your business. Our Professional Web Services team is made up of skilled content writers, web designers and developers. We work together to help you achieve your business goals and satisfy your customers through an outstanding and unforgettable website.
Just think – in a few weeks, we could get your business online with a professionally built site designed to attract and satisfy more customers.
For small businesses just trying to establish an online presence, this is an affordable way to quickly get your website up and running. Even the simplest tools have a learning curve, and it takes time to figure out how everything works – and then actually do it.
When you hire our Professional Web Services to build an interior design website for you, it comes complete with the benefits of an expert build:
Effective written content
On-trend, intuitive designs
SEO and UX-friendly layouts
A mobile-friendly experience
Sound HTML page structure
Whatever method you choose for building your interior design website, GoDaddy can be of assistance.
Video: Building an interior design website
If you want to build your own website and are ready to get rolling on WSB, watch our video of handy tips and basic instructions to see how easy it can be. You can also review our convenient WSB Help Guide at any time for additional assistance.
And don't forget, if you ever have any questions about your website, whether you build it or we do, please don't hesitate to reach out to GoDaddy's technical support team at (480) 505-8877.