If you're in the site-building market, you'll likely encounter a Ninja Forms WordPress contact form. Creating forms is essential for any type of online business, and while contact forms are common, there are countless other options that frequently appear:
Registration forms
Payment forms
Newsletter sign-up forms
Feedback forms
Content creation forms
Job application forms
As a result, there are thousands of different options for WordPress forms. A search for "forms" on the WordPress plugin directory produces more than 1,000 plugins. Some of these form creators are amongst the most popular in the WordPress world:
So how do you choose which WordPress contact form to use? It's not easy, but fortunately many of them are free to download and test. For the purpose of this guide, we'll use Ninja Forms to create a WordPress contact form.
Ninja Forms
Ninja Forms is highly flexible and enormously popular. If you're short on time, watch this video below, which is taken from the free WordPress Beginner class on YouTube.
Ninja Forms WordPress install
Because of Ninja Forms' popularity, some installations of WordPress (like Managed WordPress from GoDaddy) come with the plugin pre-installed. If you're not on GoDaddy's Managed WordPress, you can install Ninja Forms from the plugin area of your WordPress site:
Click Plugins then Add New.
Search for Ninja Forms.
Click Install Now and then Activate.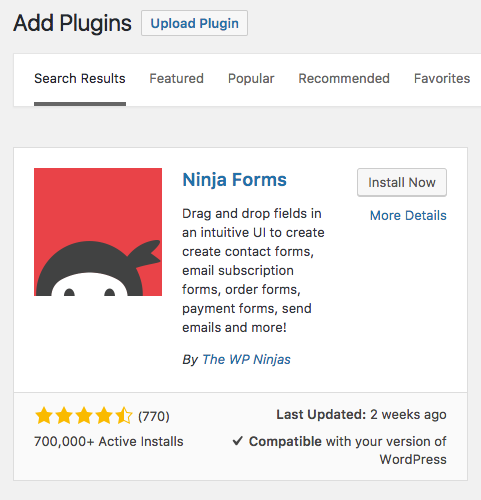 View and edit your first form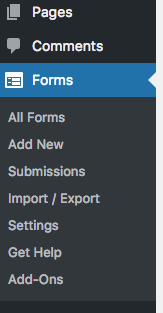 Ninja Forms adds a new menu link called Forms. If you click on the Forms link, you'll see that Ninja Forms has a default Contact Me form. To modify it, click on Edit to bring you to the following page: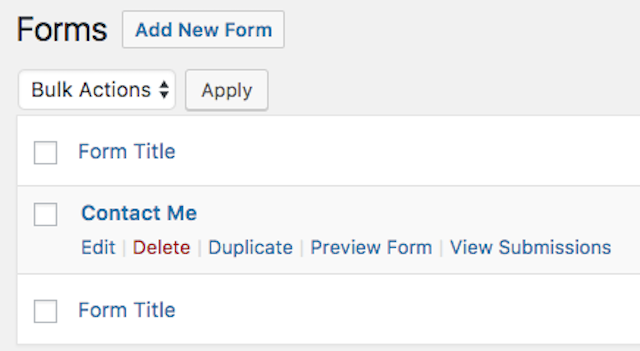 It's important to note that Ninja Forms takes over the WordPress admin screen. You'll notice that Ninja Forms goes full-screen, so you have more room to work on your forms.
This Contact Me form is already set-up and ready to use. It has Name, Email and Message fields, plus a Submit button.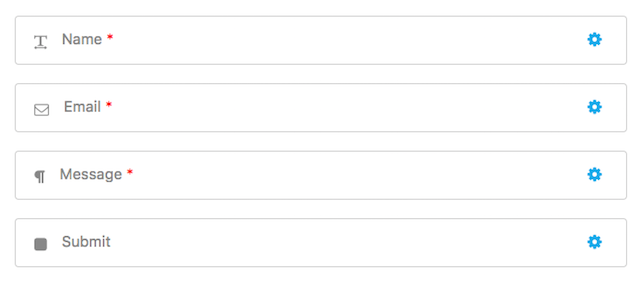 At the top of the page are three tabs: Form Fields, Emails & Actions and Advanced. There's also a small eye icon that you can click to preview your form. Everything works right out-of-the-box. If you test the form, four things are going to happen:
The submission details will get stored in your WordPress site.
The user will get an email confirmation.
The user will see a success message.
You will get an email notification, saying the form has been used.
If you click the eye icon, this next image shows what your form will look like: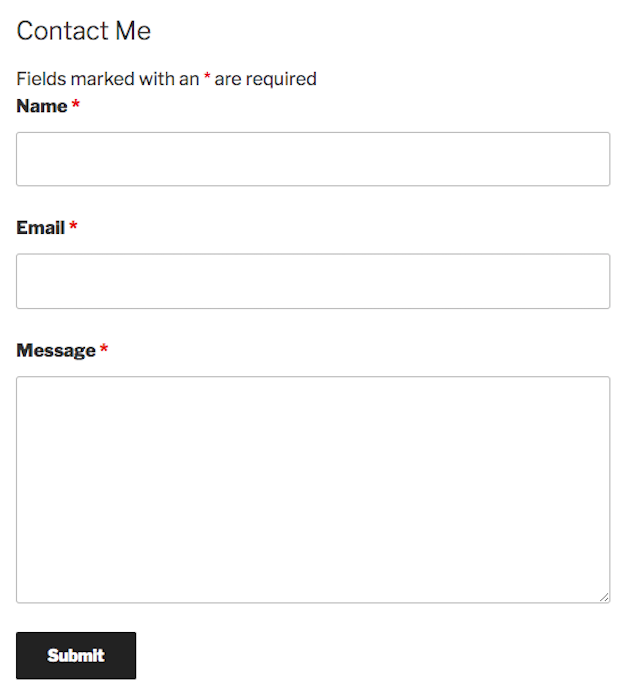 So by simply installing Ninja Forms, you have a completely working contact form.
Customizing your first form
If you want to expand the form and collect more data, click the blue icon in the bottom-right corner of the screen while editing.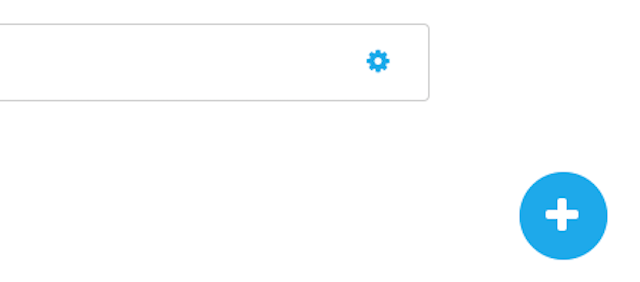 This will produce a large set of different field choices, far more than we can explain in this tutorial. The fields are broken down into several groups: Common Fields, User Information Fields, Pricing Fields, Layout Fields, and Miscellaneous Fields.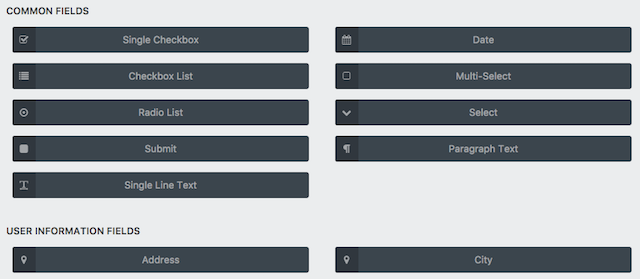 Pro tip: Clicking on a field, such as Address, only turns the field blue — you will need to click the blue Done button in order for the field to be added.
You can edit each field separately by clicking the cog on the right-side of the field's row:

With this address field, you can change the label, the position of the label and also make the field required. Click the blue Publish button to make any changes.
Adding a form to a post or page
To allows visitors to use your forms, you will need to use WordPress shortcodes. Shortcodes are small text snippets that you can copy-and-paste. On the main Forms page, you'll see a column that's specifically for shortcodes.
In this example, the shortcode I'll use is [ninja_form id=1].

All you need to do is add that shortcode into a WordPress post or page:

Important: If you use the shortcode, you'll see "Contact Me" twice — both as the name of your page and the name of your form. I would recommend hiding the form title by doing the following:
Click Forms.
Click Edit for your form.
Click the Advanced tab.
Toggle the DISPLAY FORM TITLE setting to the disabled status.[Image ALT: Ninja Forms WordPress Disable Form Title]
Viewing form submissions
Whenever anyone uses the form, their entries will be recorded under the Submissions link inside WordPress.
Connecting Ninja Forms to other services
At the beginning of this tutorial, I outlined many of the popular uses for WordPress forms, including marketing, eCommerce and content creation.
Ninja Forms can be expanded into many of those areas thanks to Add-Ons. Click the Add-Ons tab inside Ninja Forms and you'll see many extra features that are available.
Collect email addresses.
Accept payment via PayPal or Stripe.
Create posts, pages or other content types.
In conclusion
All in all, Ninja Forms WordPress plugin is one of the best free forms available for use. They have free support available via their website, plus paid support for customers. Speaking from personal experience, their support staff is friendly and fast! There might be more than 1,000 WordPress form plugins for you to test, but Ninja Forms should be high on your list.