Humans are very visual beings and consumers often buy with their eyes. They just can't help it! Shiny, pretty things help your brand stand out to sell more. But having a great product or service isn't enough.
You need to let everybody know why your goods are unique and make them appear irresistible.
This is especially true in the social media marketplace, where getting noticed in a busy crowd is crucial. From your brand's first impression to the presentation of your products, beautiful visual content is a fantastic tool to set you up for success.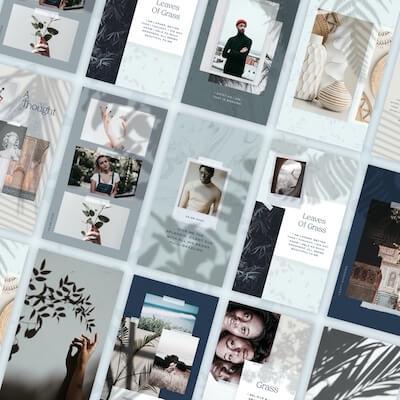 Luckily, you don't need to fork out big bucks for an agency to help you do this. GoDaddy Studio has all the tools and content you need to start upping your game. Along with being simple, easy, and stylish, our extensive array of templates help you activate specific selling techniques.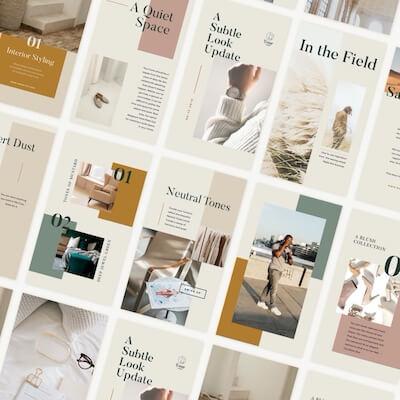 Want to jump on the seasonal sale bandwagon? Promoting a new menu? Any sales campaign you can think of, we've thought of it too. Choose from plenty of templates to help get you there and make your brand stand out. Here are a few tips to help unlock your true selling potential, with examples of our templates to get you going.
Look legit
With so many options out there, you need to have a strong brand identity. This helps build your credibility with your target audience and shows off your expertise.
First impressions count and social media is a visual-first universe.
While your long-term work is to develop your brand's persona, your audience will generally get a sense of what you're about in a matter of seconds.
A coherent design infers an organization with a:
Unified vision
Clarity of purpose
Confidence in who they are
Ability to function in harmony
Looking professional makes people trust you and want to proceed further with you. It encourages people to take a closer look at what you have to offer. If a customer senses a product might not arrive as promised, you may lose out on your chance to win over their loyalty.
Get on all the right platforms
Meeting your customers where they are is key to boosting engagement. Consider asking yourself the following questions to see if you're truly maximizing visibility:
Which platforms enable your brand best?
Can you create shoppable posts selling directly from your social account? (Pinterest, Facebook, Instagram and WhatsApp all do this)
Are you on third-party selling platforms like Etsy or Amazon?
It's important to have a unified message and identity across platforms. Things like header images and profile pics should be in sync, but bear in mind the nuances of each channel you post them to.
Each platform has its own content trends and the only way to sense their differences is to spend time on them. Try to stay up to date with the ones that are most relevant to your business, then experiment with some new ideas in your content strategy.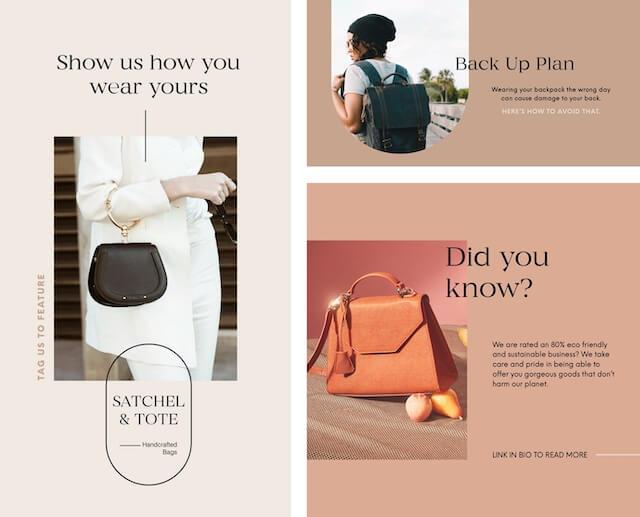 Meaningful communication
One advantage small businesses have is the ability to offer a more personalized customer experience. This typically means there's:
No call centers
No 3-day waits for generic email responses
No bots
Make sure you've allocated time to engage with users on your social channels by:
Responding to messages
Sending DMs where necessary
Thanking your followers for any positive comments
But don't just wait for it — elicit it too. Create content designed to start conversations and be present at the other end. Questions, polls, and surveys can all be great tools to learn more about your customers. If it's presented in an engaging or creative way, it's less likely to feel like market research or sales spam.
Aim for creating a space where like-minded people can share ideas.
Making your small business feel like a more personalized, bespoke experience is a powerful move toward selling a service successfully.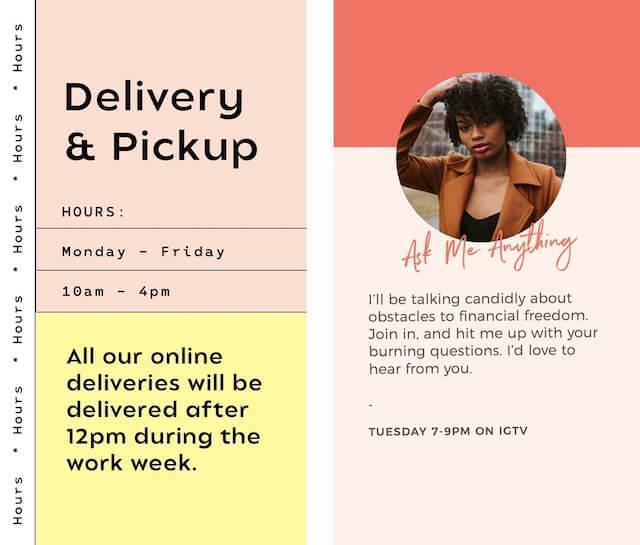 Show up consistently
With your brand identity in place and channels identified, ensure you have a content plan in mind to keep it flowing.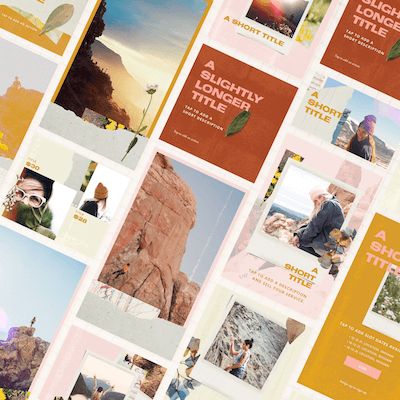 It's important to stay top of mind and maintain a presence on your follower's feeds. Today might not be the day they need you. But you'll want to have your product and message ingrained in the back of their minds when they finally do.
Don't just post at random.
Hone in on a few key topics, messages, or formats you use regularly.
This could include things like:
Product of the week
Motivational Monday
Blog posts
Testimonials
Tutorials
Whichever fits your criteria, do your best to develop a reliable cadence. You'll also want to make sure some of your regular content is designed with the shopping cart in mind. This could mean including a link in the bio/caption or shoppable products in your posts. The key is to make the call to action (CTA) unequivocal. Social media shouldn't be a hard sell, but it's still part of your marketing arsenal.
Identify seasonal opportunities
Take a look at the calendar for upcoming months and try planning your content around special occasions like: an awareness month, a holiday, or a cultural celebration. You'll want to circle the days that have particular relevance for your brand, product, and audience.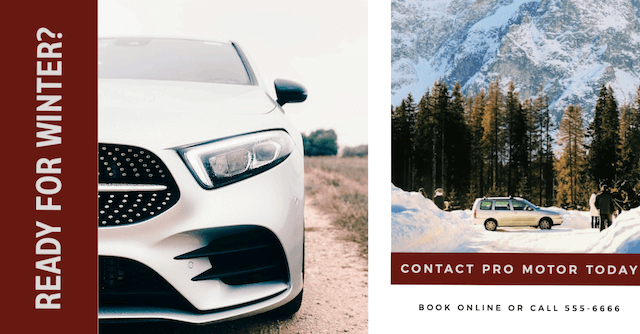 Then, use times like these to:
Launch a sale
Run a competition
Collaborate with another brand
These opportunities allow you to cut through the noise and get more attention.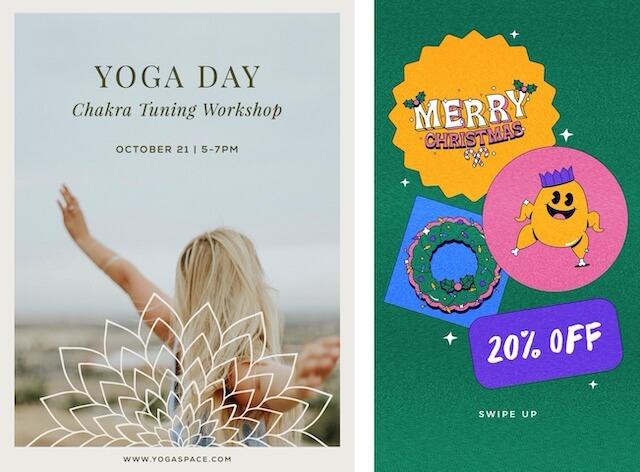 For example, a yoga brand might identify the beginning of spring as the perfect time to run a special. They might use this time to:
Encourage people to start exercising more
Run an event on International Yoga Day
Offer a free trial during National Wellness Month
Your own special days, such as your company anniversary, also count.
Make your products pop
You owe it to your products to make them look as beautiful as possible. With a decent phone and GoDaddy Studio, you can edit your images and even remove the background at the touch of a button. No need for a professional photographer!
Removing clutter from the shot helps focus attention on your product and gives it that professional studio-look polish. You could also play with background colors and textures to add some personality to your virtual showcase.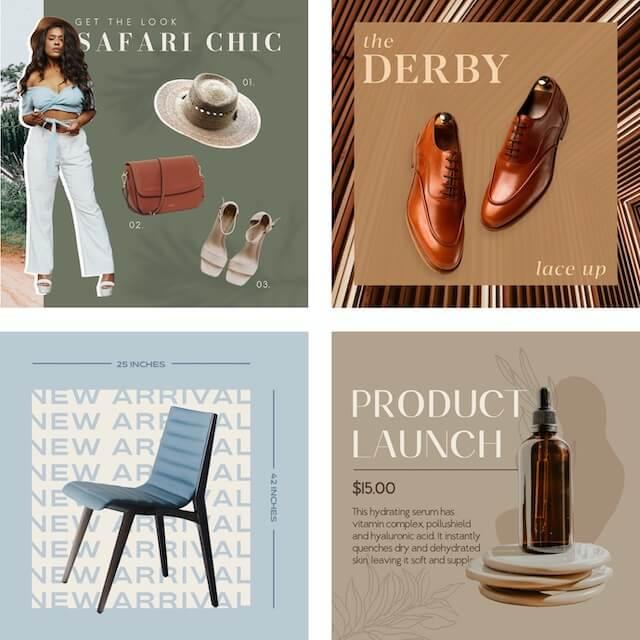 If you're running promotions or product carousels on social media, you could take things a step further by using :
Graphics
Gradients
Illustration elements
Use these to turn your product showcase into a beautiful design or embed them into a gorgeous collage.
Get seasonal: Your products may look even more desirable surrounded by colors that reflect the season (like the warm colors of Fall). GoDaddy Studio has templates for every season to make your products relevant and inspiring — no matter what time of the year it is.
Related: How to take product photos that will help sell your goods
Talk about your story
Never underestimate the power of a good story. Your brand probably has a good one and it should be highlighted via:
Your personal journey
The reason your product came into being
The difference your product seeks to make in the world
Your insights and ideas
The more your products have a story behind them, the more likely your audience is able to relate to them. With so many products and services on the market, it's important to determine what makes your brand different. Posting about your brand's story could help define that difference.
Regardless of what you're selling, we all love a human story.
One way to do this is by focusing on the people behind your brand. This could include showing appreciation for your:
Employees
Suppliers
Collaborators
Customers
Highlighting their stories can make for great content that attracts people to your brand in a very personal way.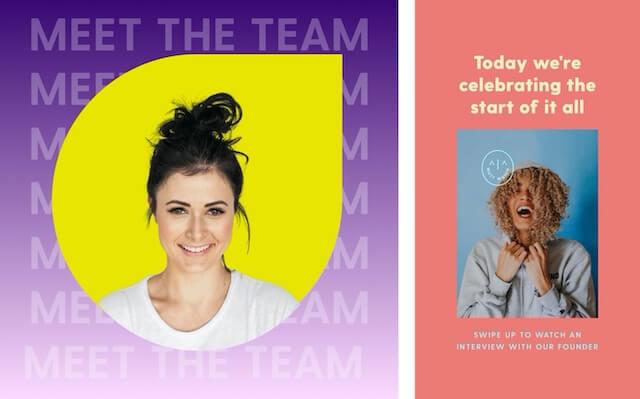 Find the right words to unlock your brand's potential
Words should always work in tandem with your designs — whether that's in the design itself or the captions that accompany your social posts.
Your tone of voice, humor, and topics of conversation are all a reflection of your brand's personality. Done right, it can be a compelling reason for customers to choose your brand and your products.
Words aren't only important for evoking feelings and connection — they also have a very practical function in terms of search engine optimization (SEO). Phrases and words related to your product can help boost your visibility on the internet. The more you use, the better chance you have of being discovered by people searching for those terms. Consider writing blog posts on your website or adding detailed product descriptions to beef up your SEO for search engines.
Share positive experiences
Want to know what's better than telling people why your products or services are the best? It's letting satisfied customers do it for you.
In a world increasingly distrustful of advertising, word-of-mouth marketing has huge value and is living proof of the promises you make.
If customers do share positive feedback with you, post it on your site. You can use GoDaddy Studio to add some design magic and showcase them as visual content on social media.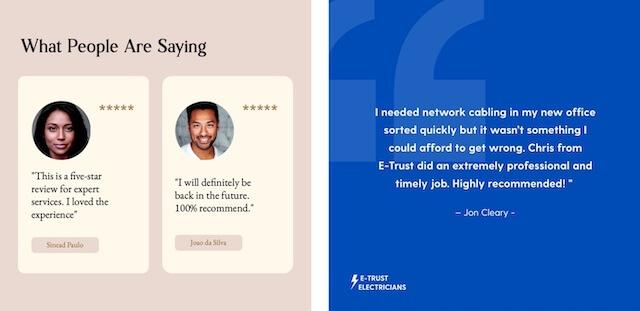 User-generated content (UGC) is pure gold on the internet and it often comes in the form of:
Images and videos of people using your products
Talking about your products to friends and family
Sharing positive results on social media
Additionally, it won't always come out of nowhere. You can incentivize feedback and UGC by:
Running competitions
Promoting surprise giveaways
Offering discounts to customers willing to share their experiences
Along with validating your service or product, positive experiences also contribute to your social content output. You could then use these to form part of your content strategy.
Related: Generate reviews — 8 ways to get more product reviews
Don't forget video
Social content and ads with video tend to perform better than their static image counterparts. It's just how our brains are wired: we can't help watching pictures that move. Although you may be hesitant to invest in video at first, this kind of content adds professionalism to your brand's presence. It can be a game-changer worth giving a try!
But don't panic – this doesn't mean video shoots, editing suites, and advertising agencies.
All you need to do is focus on breathing some life into your posts from time to time.
Thankfully, GoDaddy Studio has hundreds of stock video clips and a curated library of animations. Use these to make your ads and social posts irresistible and engage your audience's natural gravitation toward visuals with motion.
You could even create simple product videos using your phone. Not only will this bring your audience closer to your product or service, but it'll make them seem more real too. Edit the clip or add some text and graphics to it. This will boost your odds of getting viewers to pause and take another look.
Create ads
Organic content is free to make and publish. Over time, it's the best way to build a community of engaged customers. But sometimes you could set aside a special ad fund to help boost your sales.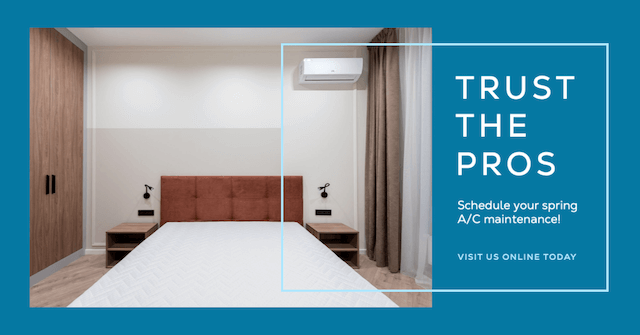 It's worth it to consider paid advertising on the channels you're on. You can use this to enhance your chances of driving customers to your page or feed. A simple way to save money is to design your own ads with GoDaddy Studio. This allows you to better allocate limited marketing dollars and promote your products more widely.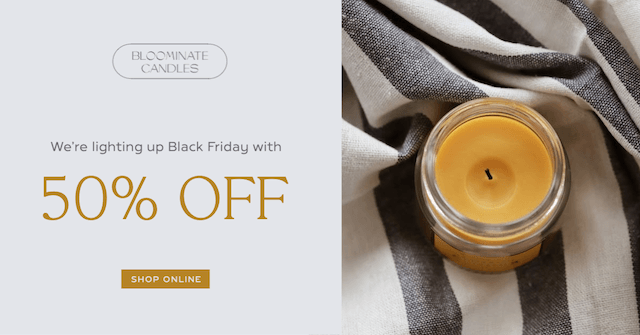 Even a few dollars gets you much more mileage for your efforts and you can use it toward focusing your ads on specific audiences.
Get started today
As an everyday entrepreneur, your goal is to stand out and sell more. But sometimes you can lose this focus when handling all your other business needs. That's why it's important to find ways to simplify your workload where you can – especially when it comes to content creation.
GoDaddy Studio allows you to easily hone in on creating content that keeps your brand relevant, appealing, and top of mind with your audience. It's also a hassle-free way to create stunning visual content that yields results in the long-run.
Try GoDaddy Studio for free today and unlock your brand's full potential with beautiful visual content.