Maintaining good customer service extends past the point of sale. Follow-up is a vital resource for a business in discovering how they are doing overall, understand what customers think of them and instill customer loyalty. The problem comes in when customer service follow-up meets advertising; bombarding customers with excess junk mail and spam. So how much is too much post-sale customer service before a business becomes a pest? Keep reading!
Related: What drives customer loyalty?
How much is too much follow-up?
No one wants to provide contact information that will lead to an inundation of affiliate and marketing materials arriving in their inbox and voicemail. With post-sale customer service, keep in mind that other departments might also have mailings sent to some of (or all) of the same contacts.
This means minimizing the number of follow-up attempts per department to avoid excessive mailings and email blasts with your post-sale customer service.

Follow-ups
These should consist of the main survey with a few relevant questions to the service or product received. After that, it is acceptable to respond to inquiries, complaints and other survey responses. Additionally, semi-annual check-in campaigns can verify that the customer is still satisfied and has no needs at that time.
Related: Conduct a survey to find out what your customers are really thinking
Sales
For the sales team's post-sale customer service strategy, the number of sales campaigns should reflect the type of promotional plan the company implements and will vary depending on whether the company does weekly, monthly or daily specials.
Customers should be able to "opt out" of any one or all of these options when signing up for information — and these requests need to be strictly followed through upon.
Remember: The more sales campaigns a company promotes, the fewer mailings and email blasts (specials) other departments should be sending out.
Related: Email marketing guide for small businesses

Company maximum
To avoid being labeled as a spambot or perceived as a junk mail generator companies should look for the ideal mix of marketing campaigns and follow-up contacts to fit their niche or industry.
That said, to avoid falling into the pest category it is best to consider using a company maximum per month of how many mailers and email blasts will be sent to each customer.
A reasonable number would be no more than 10 per month combined.
Managing post-sale marketing and follow-up campaigns
Setting up policies and procedures to minimize duplicate or unwanted marketing campaigns will help keep marketing attempts from running wild as you wrangle your post-sale customer service plan. This includes creating databases that allow for multi-option "opt-in" functionality, allowing customers to select the types of material they receive and how often it is received.
However, creating an efficient database only works as far as it is maintained.
That means that a strict data entry policy regarding the entering of customer data be put in place so that customer accounts and contact information is accurate and current. Keeping the customer database preferences accurate and up-to-date minimizes duplicate mailings, extra emails and annoyed customers.
Related: 5 best practices for customer data management
Be sure to provide customers with a detailed "opt out" option on any data collecting materials generated with post-sale customer service. Too many companies provide a basic yes or no option to receiving emails and mailed information. This does one of two things:
Irritates the customer because they cannot opt out of sales material without opting out of the actual information they want.
Eliminates the soft sales that are often generated through basic targeted information and marketing because the customer opts out entirely to avoid marketing materials and sales ads.
Related: 4 ways the GDPR will affect your eCommerce business
Choosing what to send and what not to send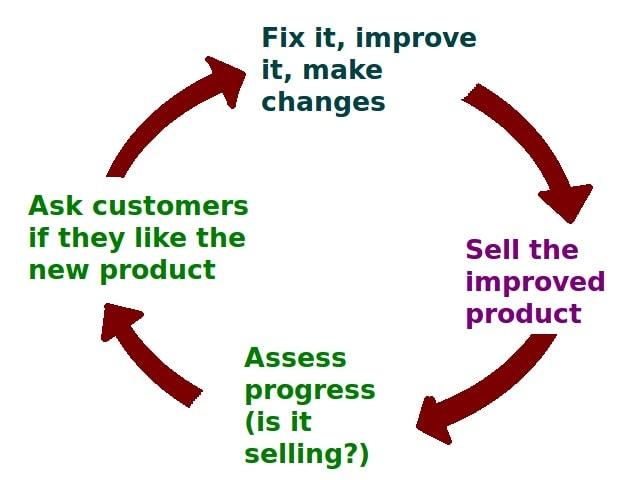 Before sending out a general email blast to every contact, think about how many emails get received during the day and how many of those go straight to the trash bin without even being opened.
When a business or professional has already developed a professional rapport with a customer the last thing they want to do is damage that relationship by annoying the customer with excessive emails, mailings, texts and phone calls.
That makes it crucial to scrutinize every piece of communication that goes out before it is sent.
Follow-up surveys
These should be succinct and efficient. The important thing here is to figure out what information is most important to compile and format surveys in a way that keeps them short, sweet and informative. For those unfamiliar with writing a survey, there are sites such as Survey Monkey and Poll Daddy that provide information gathering platforms for building and compiling surveys and questionnaires.
Related: What to include in a customer survey
Post-sale eMarketing
It is easy to want to send out email blast after email blast of every deal or product available once a sale is made. That is not the best way to work with previous clients or customers. These interactions create customized marketing that relates to the products or services formerly purchased by the customer.
This increases the chance of a successful marketing campaign by informing customers only about items they are actually interested in. It also reflects a company attitude of understanding, consideration and customer value.
Avoid long email marketing letters
Time is money and consumers do not want to sit and read pages and pages of rambling testimonials and repetitive information.
Avoid templates that promote long letter format. Including only pertinent information, a brief company background, and no more than three testimonials should be plenty for any email letter marketing campaign. More than that and consumers blank out and begin to skim, missing important details or simply close out without finishing reading what has been written.
Post-sale customer service marketing tools
With so many social platforms available it is easy to create marketing campaigns that incorporate social media, email, text and more.
Creating a well-rounded post-sale customer service plan that incorporates many avenues of contact creates a wider visual presence than sticking to a simple email campaign. Bonus: It also minimizes the number of emails received by past customers.
Some tools to help with this task are:
Gramblr — This free tool allows you to schedule and post directly to Instagram for future dates allowing users to schedule an entire week or more worth of posts in one data entry session.
JustRetweet — Tweeting is time-consuming. This tool allows followers to share specific tweets expanding visibility, follower base, and exposure.
Hootsuite — This social media platform allows users to manage multiple social media accounts at once using scheduling, media monitoring, and analytic tools to track social media results.
Editor's note: Need a team to help you grow your business's social media presence? Connect with the experts at GoDaddy Social!
Post-sale customer service is about more than generating repeat sales. Quality post-sale customer service procedures and policies not only foster customer loyalty, in turn increasing sales, it also provides valuable insights into the company's performance, areas of potential improvement or areas of success.
The idea is to make the most out of this valuable resource without becoming a nuisance.