Today, user experience (UX) has a considerable impact on search engine optimization (SEO). How did we reach a point where UX SEO matters so much?
SEO has evolved drastically over the past decade. Years ago, you were able to achieve first-page ranking on Google by just stuffing your website full of certain keywords. However, this phenomenon caused serious problems for search engines, in that it skewed their search results. Spammy websites were starting to outrank the proper websites, and users were becoming annoyed. Google and Bing gradually rolled out several rounds of algorithm updates to fix this problem.
Today, search engines employ hundreds of different factors in determining search results, to return the best possible result for the user.
While backlinks and keywords are important, they are only a piece of the puzzle. Search engines now look at many aspects of your website design and your user metrics to assess how relevant your website is to a specific search query. This is where UX SEO has become a key factor.
Because of this, we focus on the usability of your website and ask questions like:
Is your website visually attractive?
Is the layout/design confusing?
Is the text easy to read?
Is the content well laid out with engaging headers?
Is the menu visually appealing and minimalistic?
Related: Beginner's SEO guide — Search engine optimization for small business websites
It means putting yourself in their place to see what might be confusing or how you can improve your presentation. Good UX lends itself to the overall credibility of your brand. First impressions are extremely important to a customer's perception of your brand image, and proper UX can go a long way to improve that first impression.
Websites with poor UX, on the other hand, are generally perceived as lower quality, since the user tends to associate website quality with the quality of your overall product or service.
The bottom line is that when your website has good UX design, it's likely that you'll be rewarded with better search ranking.
In this article, we will cover various factors that will help make your website more user-centric and provide you with increased UX SEO benefits.
Related: How to use Bing Webmaster Tools to improve your site's SEO
User metrics that affect your rankings
There are several user metrics that search engines really pay attention to and use heavily in their ranking algorithm. These metrics tell the search engines how relevant your content or website are to a given search query. The search engine will use this information to adjust your rank accordingly.
Page dwell time
Dwell time determines how much time was spent on a certain website or page within a website. So basically, when you have high dwell time it sends a signal to Google and says, "The user is spending a lot of time on this page, so it must be useful and relevant to this search query," and then Google looks at this signal and adjusts your rank accordingly.
When your website provides useful content, which is relevant to what your viewers are looking for, they will tend to spend more time on your website — driving up your page dwell time metrics and boosting your overall search ranking.
However, this metrics goes both ways. If your website isn't engaging and relevant, users will quickly leave, and your search ranking will take a hit.
Bounce rate
In terms of UX SEO, bounce rate determines the percentage of website visitors who navigate away from a website after viewing only one page. When your website has a high bounce rate, it means that a lot of your viewers find a reason to leave your website before clicking past the initial page.
There are quite a few reasons why a user might quickly exit your site. They might not like your design, your content wasn't what they were looking for, your website took too long to load or many other reasons.
This is a huge UX SEO problem, because like dwell time, your bounce rate is used heavily to assess the relevance of your website and subsequently affects your search rankings.
Related: Quiz — Are you making these 15 website design mistakes?
UX SEO design factors
Now that we know about some of the user metrics that can affect our SEO and search ranking, let's look at some of the UX SEO factors that can help to improve our user metrics.
Page speed/load time
There are a few things that will annoy your users more than having to wait for a slow-loading website. With each second that passes, your users become increasingly likely to leave your site — increasing your bounce rate.
Fast load time is important, because search engines take note of your bounce rate and assume that the site was either useful or irrelevant to the search query. The higher the bounce rate, the stronger the signal that your site is irrelevant to the user. As discussed, above, this high bounce rate — due to your slow page speed — negatively affects your search ranking.
Below, is a snapshot of our website's speed test results: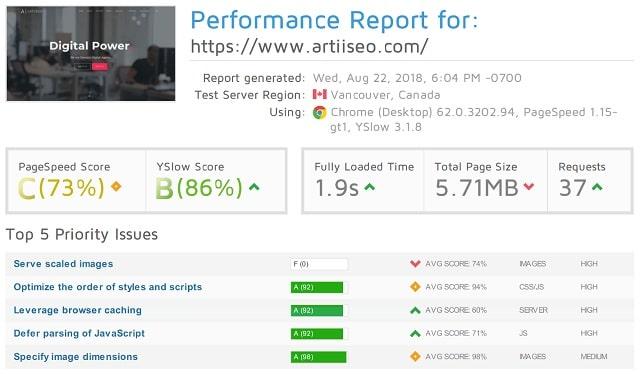 Mobile friendliness
Mobile responsiveness and usability have become an incredibly critical feature of any modern website design. With more than 50 percent of all web traffic now coming from mobile devices, mobile compatibility has never been more important for UX SEO.
If your site is not mobile responsive, you are losing more than half of your
potential site traffic — right from the start. Those mobile users that do find your site will
quickly exit, increasing your bounce rate.
So, if your website makes mobile users do things like pinch and squeeze their screens just to see your content, you've lost more than half your potential audience just because your website isn't optimized for mobile users.
You can check your site's mobile responsiveness using the Google's Mobile Friendly Test tool.
Related: How you can prepare your website for Google's mobile-first index
UX navigational best practices
These UX best practices can help to improve your website's SEO:
URL structure. Your URL structure is one of the most important — yet underappreciated — aspects of effective UX SEO. You've probably seen websites with jumbled, illegible URL structures. These URLs are not helpful to the user, and can damage your search rankings. Why? Search engine crawlers cannot decipher the URL meaning, so it does not use the URL to help index and rank your page or website — a massive blow to any UX SEO efforts!
Instead, use URL structures that are understandable by both your user and the search engine.
Both the user and the search engine crawler use legible URL structures to help understand what the page is about. For illustration, this example shows an effective URL structure:
URL hierarchy. Your URL hierarchy is another important factor, both in terms of your UX design and your overall SEO ranking. The URL hierarchy deals with which pages are "top level" pages, and which pages are sub-pages (subfolders). It also pertains to how many levels your website has.
From an SEO perspective, the fewer subfolders, the better.
This is because as you get deeper and deeper into your website, your pages become less powerful and are therefore less likely to rank well. For the sake of a general rule, we'd recommend a maximum of four subfolders for the best results, like these examples:
Citycars.com/vehicle-type/sedan/make/honda/accord/year/2017/color/blue/
Citycars.com/sedan/Honda-accord/2017/blue/
The first example uses nine subfolders, whereas the second uses only four. We would always recommend that you structure your URLs with the least subfolders possible. This makes it easier for your website user to understand, and is more likely to rank from an UX SEO perspective.
Menus
Have you ever accessed a website only to be confused with what you were supposed to do, how to do it, or even where to go? This is an extremely frustrating situation for the user who merely wants to access your website without deciphering a complex layout or figure out where everything is.
Websites with complicated layouts will experience abnormally-high bounce rates, due to most users promptly exiting your site — often without even reaching the content that originally attracted them there.
Menus are the most important form of navigation that you can implement when you're designing your site's layout, so we will discuss this UX SEO topic a little more in depth.
Streamline your menus. Your site's menu is essentially a map of your entire website. To avoid confusion, you should only ever have one navigation bar at the top of your website. Even if your website is very complex and has a lot of links, you need to organize everything into categories that will be displayed in the site's menu for ease of navigation.
This will improve your UX SEO by helping your audience locate what they're looking for more easily.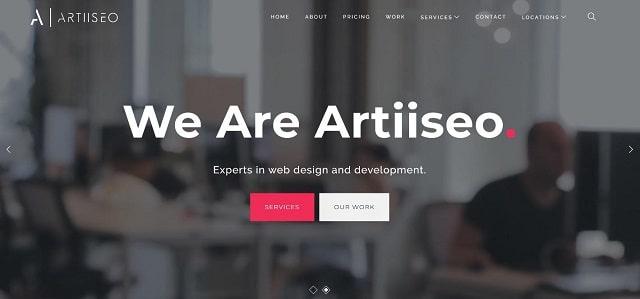 Limit the menu items to seven or less. Menus can quickly become cluttered with too many different items. Yes, you want your users to be able to find everything — but cramming everything into the menu bar isn't the way to do this.
Use your menu bar to list broader categories and if necessary create sub-menus. In this case, try to stick to seven items and break those seven menu categories down and add subcategories of five to seven items per subcategory. This will ensure that each sub-category can be found from the main menu while maintaining a clean visual appeal.
If your menu bar is overcrowded, it becomes harder for your users to find what they're looking for, and therefore creates a bad user experience.
Related: Moving friction from the online buying experience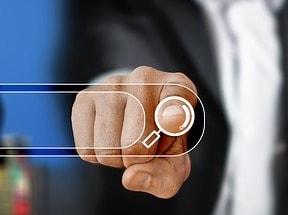 Collapse the search bar. Since it's common for the menu to quickly become crowded with items, you may want to save some room by minimizing the search bar to a collapsible search icon. The best way to do this is to tuck it under a magnifying glass icon so people know it's there but it's out of the way and saving you some space.
Most of your users will know what the icon means, so you don't have to worry about it causing any confusion. While you might not need a search icon, it's smart to have if you ever plan on growing your website or adding a lot more content down the road like eCommerce, blog, in-depth content, etc.
Summary
To sum it up, UX is an important part of any SEO strategy, since the UX design directly affects your SEO rankings through user engagement metrics. When you focus on UX design — from an SEO perspective — it becomes a dynamic duo that can help you achieve the rankings that you deserve.
By taking the time to improve your UX design, you will also see improved SEO rankings, increased brand credibility and better audience retention.
Editor's note: Struggling in the rankings? Let GoDaddy's SEO experts help your business get found. Tell them about your business, and they'll get to work helping your business to grow.