If you're looking for an email management program, you're looking for an email client. There are many, many desktop email clients (and web-based email systems) out there for you to choose from. Mainly, your decision will come down to your operating system, your budget, and your personal preference. Email itself has been around for decades, so companies have had quite some time to pack their versions of email with features, but in general, the basics remain the same.
What is an email client?
Desktop email clients are software applications that you install on your computer to manage, send, and receive email. Popular desktop clients include, Outlook and Apple Mail, and the most popular web based email system is Gmail. However, there are plenty more big names out there — do your research before you decide which option is right for you.
Outlook is designed to handle everything from your email to your calendar and enables users to easily create and manage tasks, contacts, and messages. Enterprise-level versions of Outlook (which you can use with Exchange email, such as with Office365 from GoDaddy), allow for an even greater level of collaboration.
Apple Mail allows you to consolidate your email from across the Web and various email servers. Apple Mail is also closely integrated with calendar and, if you get an email with an invitation to a meeting, Apple Mail recognizes that and makes it easy to create an appointment in iCal.
Gmail is a Web-based email client and is extremely popular, not just because it's free, but because it is feature-rich. Like Apple Mail, Gmail allows you to pull email from other servers and organize them in one location. Gmail also excels at filtering and tagging, helping you to organize your email messages.
Email types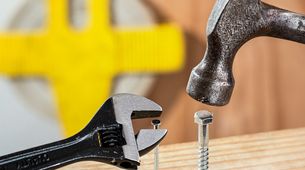 Deciding which email client you're going to go with seems easy enough. But, when setting up your email, you need to decide what email protocol will work best for you. The three main protocols are IMAP, POP, and Exchange. This is where picking the right tools makes all the difference.
"So, what's the difference between IMAP, POP, and Exchange," you ask? Well, each of these email protocols operates on a Web-based system to transfer messages from a server. In addition, each one supports most, if not all, email clients. So, no matter which email client you choose, you can access your email on a remote server. What makes them different is how you access and store your messages.
IMAP supports both online and offline account access. It provides advanced sync features, and lets you view and manage messages without removing them from the server. Therefore, any changes you make are saved and reflected from all locations.
POP lets you read email messages without a constant Internet connection. POP downloads the messages from your server to your local computer or phone. While you can save a copy of the messages on your server, changes made from the local device are not saved on the server.
Exchange provides a robust syncing tool for all of your email, calendar, contacts, and other communications between your desktop, mobile device, and Internet connection. With your Hosted Exchange Email account and your Exchange ActiveSync-enabled phone, you have secure access to communications from anywhere.
For easy and safe access to your email accounts, IMAP is recommended. If you're a small business or need access to more than just email, Exchange provides the highest level of communication and synchronization.