Do you ever sit down to write your email newsletter and wonder what the heck to say? To keep your audience's attention, you need to be useful — whether that means providing information, making people laugh, being inspirational, or offering deals people can't find elsewhere. You need email newsletter ideas and you need them now!
That's why in this post we've gathered 50 email newsletter ideas you can use right now to create engaging and informative newsletters your customers and clients can't wait to open.
But before we dive into email newsletter ideas, let's talk about how to write a captivating newsletter.
How to write a captivating newsletter
You're probably subscribed to at least a few email newsletters. Most of us are in this age of the internet and information galore. But I bet there are some you read all the way through, some that you skim, and others that you delete without even opening.
Why do you read some until the end and others not-so-much?
I'm willing to bet that the email newsletters you love the most are rife with stories — they may be funny stories, uplifting stories, motivating stories, horror stories or cautionary tales.
We humans are natural-born storytellers and story seekers.
We look for ways to relate to one another and to find our place in this vast universe that we live in, often through story. It's how we bond.
So, by strengthening your storytelling mojo, you just might strengthen your bond with your readers as well.
3 great reasons to write story-driven email newsletters
As you can see, storytelling is an important aspect to creating a newsletter. Now, it's time to understand the reasons you should be writing story-driven newsletters.
1. Storytelling helps your audience relate to you
Telling stories makes you relatable, which strengthens your bond with your readers.
Everyone has stories to share with the world about lessons they've learned, funny things that have happened to them, interesting encounters, sadness and heartbreak.
Every story you share with your readers and with the world could potentially be the exact words that someone needs to read right now.
Sharing yourself and all that you've experienced is one of the greatest gifts that you can give to the world and to your readers. They'll think you're far more interesting if you talk about what's really going on with you than if you solely send out promotional emails and lists of upcoming events.
Related: How to write an email that people will read
2. Storytelling makes writing your email newsletters a breeze
Telling stories actually makes it easier to write your email newsletter, because all you have to do is think about what's happened to you recently that could be of value to your readers.
Obviously, you'll want your stories to be tied into your business and whatever you normally write about, but your life is ripe with content.
For example, maybe you're a musician with an upcoming gig you want to promote in your newsletter.
Perhaps you could lead into it by telling your readers about this really funny thing that happened with your drummer in rehearsal last week, and how you don't know if you'll make it through your next gig without cracking up about it. Oh, and by the way, readers — you should probably come to the gig, because it's going to be the best time ever!
See how that works? Tell a story and invite people into your world.
Interesting things that are share-worthy happen all the time.
Start thinking about what's happened in your world lately that your readers might be interested in.
3. Storytelling helps you strengthen your brand message
If your brand is all about caring for the Earth, you could share personal stories about how excited you were about the new water-saving showerhead you purchased.
If your brand is all about punk music, you could write about an amazing punk show you went to and share a pic of you and you friends there.
Stories give your brand more depth. They can show that you're walking the walk, so to speak.
What is your brand all about? What stories can you share about yourself and from your life to deepen that message?
Start keeping a small notepad with you so you can write down interesting things that happen, funny things that you see, strange encounters you have, and conversations you overhear. It's all fodder for amazing, story-driven email newsletters.
Now that we've covered why storytelling should be at the core of your email newsletters, let's go over actual ideas you can use right now.
Related: What's your brand personality? Take our quiz to find out!
50 email newsletter ideas you can use right now
Below you'll find a collection of 50 different email newsletter ideas that you can use to connect with your audience, build brand awareness, and promote your offers.
Keep in mind that not all of these email newsletter ideas will work for you — it depends a lot on your industry, the tone you're going for, and your target audience.
However, they are a great starting point that you can save and refer to over and over again when you're facing writer's block and feel like you have nothing to say.
Feature something (or someone) awesome — the soup du jour of your email newsletter

Customer or member of the day, week or month
Employee or volunteer of the day, week or month
Product, artwork or song of the day, week or month
Quote, poem, scripture, recipe, joke or word of the day, week or month
Deal of the day, week or month
Your own achievements (Have you been recognized as a leader in your industry? Share your achievement with your email subscribers as there is no better way to build your expert status, not to mention your customers love celebrating with you.)
Have some fun
Themed "horoscopes" (e.g., gardening horoscope, career horoscope, writing horoscope)
Contest or giveaway (This can be in your newsletter, or through one of your social media channels.)
Creative signature (If you usually sign off with "sincerely," try an alternative like"cheers," "until next time," or maybe even "XOXO" if it's appropriate.)
National day or holiday (Highlighting those days works great on social media and adding it to your newsletter can encourage your subscribers to interact with you on their preferred social media channel.)
Related: How to 'sleigh' your holiday marketing campaigns
Provide useful, DIY information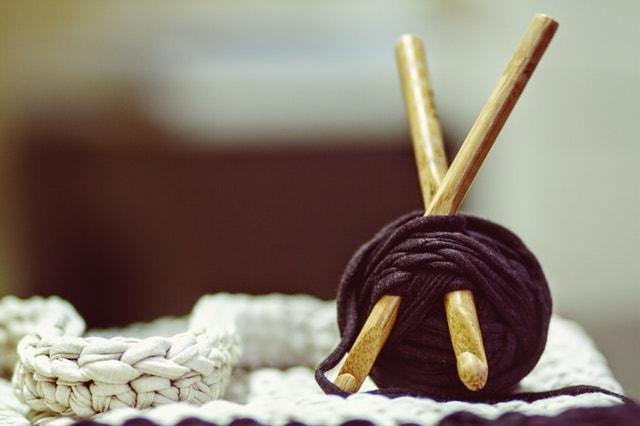 Simple DIY instructions for how to make a [blank] (e.g., floral arrangement, killer resume)
Five tips and tricks on a topic relevant to your audience (e.g., productivity, living frugally, networking, parenting, entrepreneurship, mindfulness)
Simple instructions for how to start a [blank] (e.g., book club, email newsletter, Etsy shop)
Three steps to do [blank] better, faster, saner or cheaper
Make an announcement
Milestone announcement (e.g., sold your 100th house, celebrated the five-year anniversary of your business)
Upcoming events (These can include your own and/or other relevant events in the community.)
Pre-sale or pre-registration alert
Product launch or new feature announcement
Last-chance alert for a product, sale or event registration
Job openings (Are you thinking about expanding your team and bringing new employees on board? Consider inviting your email subscribers to apply as they often make the most loyal employees.)
Curate fabulous content
Teaser for your video, podcast or blog post
Blog post roundup (including links to posts by you and/or others in your industry)
Best free online resources on [blank] (topic relevant to your business)
Links to the latest authoritative research on [blank] (topic relevant to your business)
Must-listen podcasts on [blank] (topic relevant to your business)
Product or behind-the-scenes video (When you launch a new product, consider making a video about the product in use or film the process of making it. Video is a great way to drive engagement.)
A roundup of all the top-ranking content about your topic (Similar to a blog post roundup, consider creating a roundup of all the news about your topic from the most relevant sites in your niche. A great example of this is wpmail.me, a newsletter curating the latest news, tutorials and articles about WordPress.
Give it a personal touch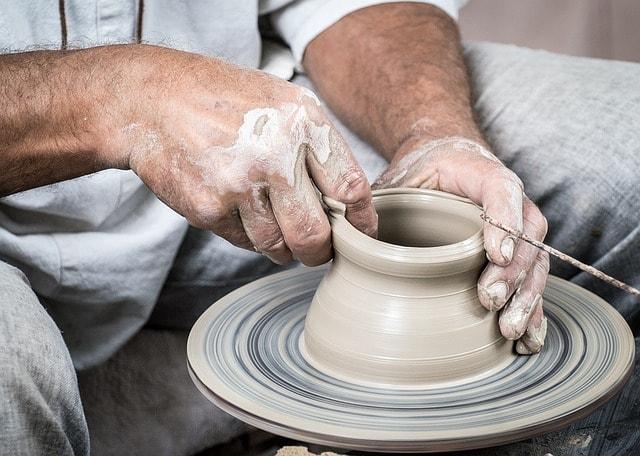 History of your organization or business
Things or ideas you're loving right now
Mission statement for you or your organization or business
The best advice you ever got about [blank] and how it can help your readers
Behind-the-scenes glimpse of your organization or business
Personal anecdote that helps your readers learn more about you and your organization or business
Books you're reading or want to read
A tool or a resource that helps you be more effective in your business
Lessons you've learned from running your own business
Mistakes to avoid in your industry
Go visual
Unexpected or metaphorical photo or drawing
Professional photo of you in your element
Infographic
Quote graphic (Create your own using a free tool like Canva.)
Make it about them
Customer or member testimonial or success story
Timely call-to-action (Why should they do it now? What's in it for them?)
Subscriber-exclusive offer
Customer or member survey (Collect feedback and report results in a future newsletter.)
Headline, image or story that taps into your readers' aspirations (e.g., be more fashionable, generous, business-savvy or fit)
Crowdsourcing for a future product (Ask readers to vote on which product or service you should release next.)
Sincere note of thanks and appreciation to your audience
Local community incentives and happenings (If you're running a local business, this is a great way to show your involvement in the community.)
Email inspiration can strike anywhere, at any time. Keeping a running list of ideas on your phone or your computer can really help you strategize and send thoughtfully.
Ultimately, the effectiveness of your email newsletter has the most to do with its content.
Email inspiration for your newsletter ideas
Check out the inspirational emails below to get your creative juices flowing.
How Morning Brew curates business news
Morning Brew is an excellent example of curating useful news in the business niche. After all, in today's busy world, who has the time to read the entire business section?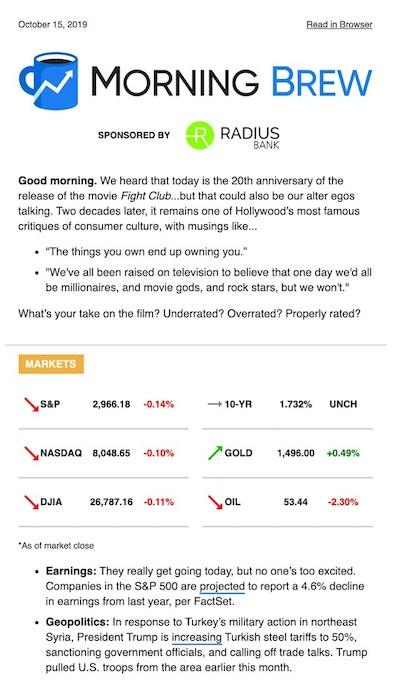 Morning Brew gathers all the important news and information and delivers it in neat overview.
The newsletter also has fun prompts that can get you some cool prizes and if you share their newsletter with your friends, you can win Morning Brew swag.
Be inspired with James Clear's '3 ideas, 2 quotes, 1 question'
James Clear is a New York Times best-selling author. Each week, James sends a newsletter to his list that has three ideas, two quotes and one question, hence the name.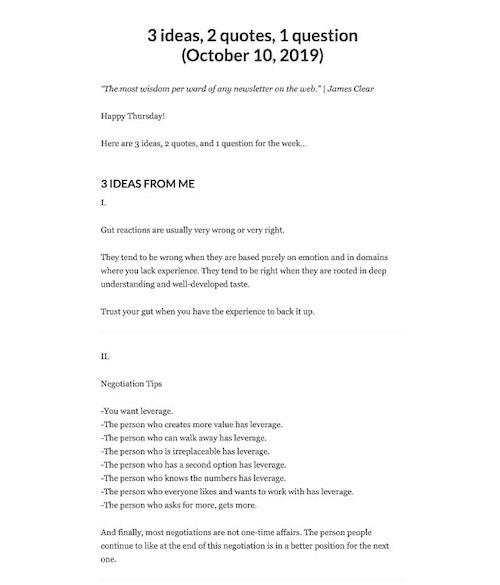 The ideas and questions are a good food for thought and a nice way to generate engagement from your subscribers, especially if you invite them to reply and share their opinion on the subject.
Final thoughts
There you have it — 50 email newsletter ideas to invigorate your email marketing campaigns. The ideas on this list will help you share an actionable tip, an inspiring story, or show the human side of your brand.
Keep in mind that it's a great practice to have a very clear outline of the content you want to communicate, and the way you want to communicate it, before you sit down to compose your email newsletter.
You'll save yourself time and make it most likely your email newsletter hits its mark with your readers.
You probably already are applying some of these content ideas in your mind right now and thinking about ways to incorporate storytelling into your email marketing.
The most important things to remember are to be useful, be creative, and have fun.
With that said, go forth, create, engage and drum up some new business!
Start today by signing up for GoDaddy Email Marketing and start creating captivating newsletters your subscribers can't wait to receive.
This article includes content originally published on the GoDaddy Blog by the following authors: Emma Wilhelm and Jessica Swift.