Why should you care about domain hacking? With about 350 million domains in existence today, it can be difficult for business owners and domain investors to snag their desired domain name — even more so if they're trying to hand-register a domain name that is valuable enough to be flipped for a profit.
One creative yet sometimes overlooked method to get a unique domain name is through a "domain hack."
No, I'm not suggesting underhanded methods to obtain a domain.
In the context of domains, the term "hack" denotes a clever way to produce meaningful domain names by innovatively combining the parts on the left and the right of the dot.
That's where hand registration comes in, using your own imagination, without the use of automated bots that search for and register possible domains.
What does domain hacking mean?
A "domain hack" is a domain name that suggests a word, phrase or brand by combining two or more adjacent parts of the domain.
Traditionally, a domain hack is created by using Country Code Top Level Domains or ccTLDs such as .ly, .me, etc., to come up with domain names such as wholeso.me, moji.to, e.xplo.it.
The limitation to such a hack is that they can be very specific, whereas a domain investor would want to attract interest from as many startups or companies as possible.
With the introduction of hundreds of new domain extensions, there now exists a whole new way to hack domains for creative domain investors.
Related: Domain extensions guide
A brief history of domain hacks
Matthew Doucette coined the term "domain hack" in 2004 to imply an "unconventional domain name that uses parts other than the SLD (second-level domain) and third-level domain (www) to create the title of the domain name."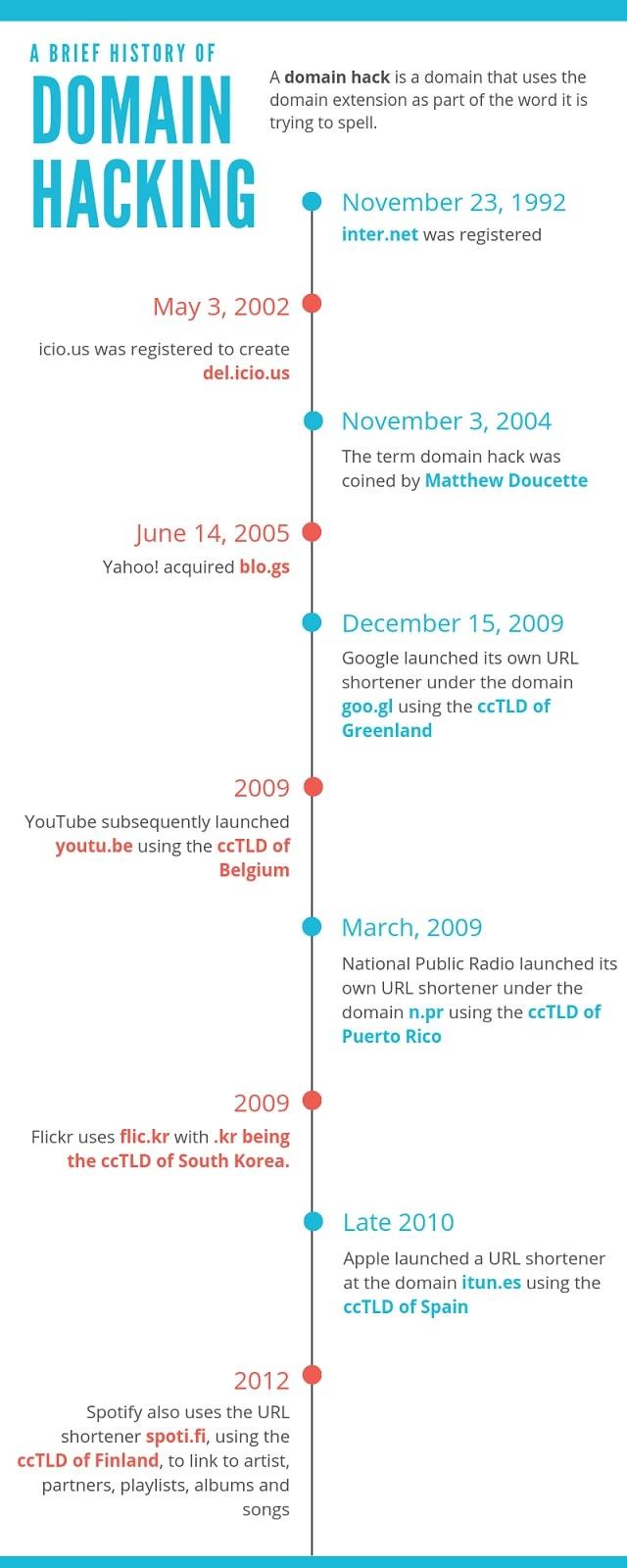 How do you find a good domain hack?
Experiment with these strategies to come up with innovative domain hacks.
1. By breaking up a word
Since ccTLDs consist of two letters, such as .in (India), .us (USA), .ca (Canada), etc., they can help with creating one- or two-word domain hacks. For example, prestigio.us.
Editor's note: Some ccTLDs have unique registration requirements, so be sure to check with your domain registrar.
As you might have seen, URL shortening services such as Bitly use domain hack bit.ly for their unbranded free links. These are useful when posting on social media, and look clean and meaningful.
Many brands and personalities have used a "domain hack" to brand their custom links on the internet. Popular examples are:
pep.si
nyti.ms
virg.in
instagr.am
b-gat.es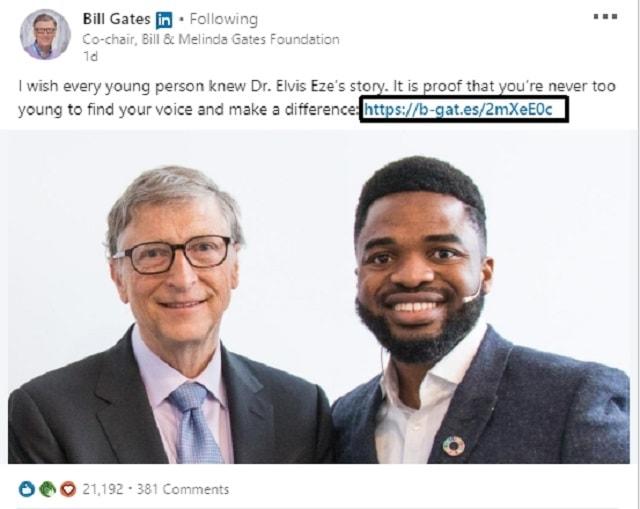 2. By bringing together two meaningful words
Generic top-level domains (gTLDs) are new domain extensions that started launching in 2012.
These are meaningful words to the right of the dot — such as .tech, .store, .space, .fun, .press — that can help you create multiple fun and quirky domain hacks. You can use these newer domain extensions to form a meaningful phrase with a dictionary word on either side of the dot, like re.store or bench.press.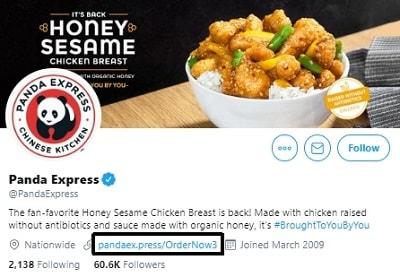 Benefits of domain hacking using new domain extensions
One can apply conventional hacking to new domain extensions to create domain hacks such as pandaex.press.
The wide variety of available domain extensions offers endless possibilities for creative domain hacks.
With new extensions, domain hacking can be a lot more meaningful in the following ways:
1. Splitting a word to form two meaningful words on the left and the right
Web.site
Net.work
Video.games
2. Combining the left and right of the URL to form a popular keyword or search term
Real.estate
Talk.show
Auto.loan
It's worth mentioning that some of the top domain sales in new extensions have come from such domain hacks. In fact, four of the names listed above were sold for a combined $375,000!
Related: Top 25 most expensive domain names
Creative ways to come up with domain hacks for investing
To come up with possible domain hacks, you could consider these opportunities based on the scope of the keyword(s):
Top industries
Popular search terms
Related: Finding the best food and hospitality domain names
Tools for finding domain hacks to invest in
Check out the following tools to explore potentially profitable domain hacks:
To find domain name hacks based on the keyword's monetary value, you can use:
Spyfu: It will find profitable keywords for paid and organic search. The tool helps you discover keywords that websites and businesses are bidding on and ranking on.
Keyword Keg: It will help you find search volume, Cost Per Click (CPC) and competition data for keywords in bulk. They also have a fantastic Chrome extension.
To find domain name hacks based on the available new domain extensions, you can use:
The Free Dictionary Word Finder (or any other word finder tools available online): It will let you find words ending with the domain extension of your choice to help you come up with possible domain hacks.

Once you have these keywords, you can search for them on GoDaddy's Domain Investing page to find possible domain hacks. Here's an example of a domain name we found available through this process:

Some of the domain hacks on new domain extensions registered on GoDaddy include:
Open.space
Thegeneral.store
Off.site
Buildmy.website
These are premium domain names.
Related: What are premium domain names?
Here's an example of a domain hack that's also a premium name available on GoDaddy (as of September 2019):

Related: Should you buy a premium domain name for your business?
What are the advantages of investing in a domain hack?
Domain hacks are a potential investment opportunity because their unique structure often makes them more attractive than conventional domain names. Consider this:
Book.store is more memorable than bookstore.com
Decom.press is wittier than decompress.com
Camp.site is more brandable than campsite.com
Co.host is more distinguishable than cohost.com
Back.space is more remarkable than backspace.com
Related: What are the five most common domain extensions?
What are the disadvantages of using a domain hack?
There are certain drawbacks to consider before you register a domain hack, particularly using ccTLDs:
1. The political instability of ccTLDs
Many ccTLDs are administered by foreign government institutions that have the power to shut down the use of a domain, leaving you with no recourse. For instance, .io was in the news due to outages, and injustice involving lack of payment to the Chagos Islanders.
2. Google's ccTLD policy
Google is partial towards certain ccTLDs and is perceived to treat them differently when it comes to local searches. A bunch of these TLDs cannot be geo-targeted in the Webmaster Tools because of their localized nature. You can refer to the list of all domains that Google recognizes as international here.
3. Clarity of the domain name
Despite being clever, domain hacks can be misunderstood when spoken.
This is especially important in the context of voice search.
When thinking of a domain hack, it's crucial to pay attention to how it sounds as compared to how it looks in print. For example, a user will easily understand sample.com if you mention it in a conversation. However, they may not be able to understand samp.le or cr.yp.to as easily.
A lot of websites that started as domain hacks reverted to more conventional web addresses as their primary domain name.
Related: Voice search and SEO
Conclusion
The relative novelty of gTLDs has made it possible to find domain name hacks that are meaningful and promise to be a great opportunity from an investment perspective.
So if you have an idea spinning in your head, it's time to bring it to life and flip it for a profit! Until next time, pleasedonotdisturb.me.