Is your website feeling a little stale and outdated? Perhaps your sales are stagnant? If you answered yes, it might be time for a website redesign. And while redesigning a website might seem daunting, with the right pre-work and a solid plan, any small business owner can reap the benefits of a website overhaul.
A website redesign can help you breathe new life into your website, revive your sales, and bring you new clients.
However, there are a few key things to consider before you embark on a website redesign journey.
In this article, we'll cover:
Let's get started!
When is the right time to redesign your website?
First, let's talk about timing. Redesigning a website is an investment in your business — an investment of time and, often, money. So you want to be sure now's the time for a website redesign. Take a close look at your current website and ask:
Is it fresh?
If your website feels stale — especially when you look at it against competitor sites — and it's been several years since the last overhaul, it's a good idea to redesign your website. This gives you the perfect opportunity to modernize the design and ensure your website looks professional.
Are your sales stagnant?
If your sales have slowed or you're not getting enough client inquiries or new leads, this could be a sign that your website is hard to navigate or that your visitors can't find the information they want. Redesigning your website will enable you to make your website easier to use as well as improve your conversion rate.
Is it current?
If you've pivoted your business and your website still lists services and products you no longer offer, it's time to embark on a redesign journey. By redesigning your website, you'll be able to list the current services and offers and eliminate visitor confusion about what you provide.
How to approach redesigning a website
When it comes to website redesign, you can opt for a minor website refresh or take on a complete redesign.
Website refresh
As the name implies, a website refresh refers to making minor changes and updates to the content that's already there. This can include changing up the photos used on the website or updating your color scheme.
A website refresh is recommended when you're generally happy with your website but it could use a fresh coat of paint. You can complete a website refresh relatively quickly.
If only a handful of pages need updating, you're better off choosing to refresh your website.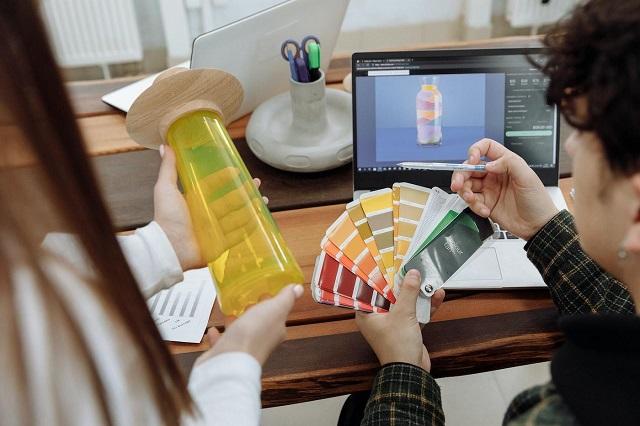 Website redesign
Unlike a website refresh, redesigning a website is more involved. It means completely changing the look and feel of your website as well as writing new copy, replacing images/videos, and coming up with a new site structure for easier navigation.
A website redesign can take weeks, maybe even months, depending on the size of your website.
But if your website is not bringing you sales or your conversion rate is low, then it's better to choose the website redesign option to give your website a new life.
What to consider when redesigning a website
Now that you know if your website needs a refresh or a redesign and when you should redesign your small business website, let's talk about what you need to keep in mind.
1. Perform a website audit
First things first — audit your current website. This will help you determine if you need to redesign the entire website from scratch or simply update a few key pages. A few elements to look out for include:
The number of pages you have and if they are still relevant to your offers
Outdated website copy
Broken links that need to be redirected to new or current pages
Your website traffic and visitors so you can compare the results of your redesign
You also can create a website survey and ask your current clients and customers to fill it out. This is a good way to get a firsthand account of how your target audience uses your website and what they struggle with.
2. Identify your website goals
Decide what role your website has in your overall business strategy. In other words, what do you want your visitors to do once they land on your website? This might include:
Signing up for your email list
Checking out your online shop
Booking a consultation call
Based on your website goals, you can determine the customer journey and decide what the call-to-action (CTA) should be on each page of your site. Make it as easy as possible for your website visitors to take that next action.
3. Decide on your visual style
Next, choose the visual style for your website.
Your website should match the rest of your brand and appeal to your target audience.
It's also a good idea to visit a few competitor websites and note styles and features that inspire you. Just remember, your website should uniquely represent your business — no copy and paste allowed!
Alternatively, you might decide to go in the opposite direction to stand out more. This is a good idea if your market is overly saturated and you want an edge over your competitors.
Editor's note: GoDaddy's Websites + Marketing solution makes it a snap to create a cohesive look across your website, social media profiles, email marketing and more!
4. Gather all your content
So you've got your visual style, you've decided on your website goals, and you know exactly what needs to be updated and changed. Now is the time to gather all the content you'll need for the redesign.
This can include:
New copy for all the pages on your website, including customer testimonials
New photos — which could mean you need to arrange a photoshoot
List of tools, plugins and other integrations that need to be added to your website
Time-saving tip: Ask for testimonials from satisfied customers every time you complete a job, fulfill an order, etc.
5. Decide if you want to DIY or hire a designer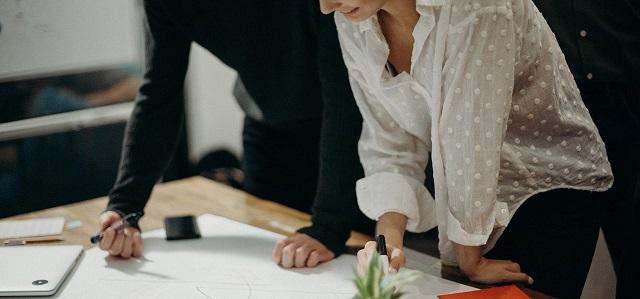 Again, redesigning a website is an investment. Do you have the time, money, skill and/or willingness to learn? Or would you rather hire a professional to do the heavy lifting?
With the do-it-yourself (DIY) approach, you might redesign your website using a premade template or theme and replace the content with your own. Or you could invest in a DIY website design course that walks you through the entire process of creating a site from scratch (or more from scratch).
Hiring a designer means you'll work with a professional web designer to complete the redesign. While you'll need to provide your designer with the content for your website, they'll do most of the work — freeing up your time to focus on what you do best.
Both methods come with their own set of pros and cons. We'll address those later on, but keep in mind that the final choice depends on how much time you have and the budget you have available. This brings us to the final point you need to keep in mind when redesigning a website — allocating a budget.
Related: 7 reasons why it's worth investing in professional website development
6. Allocate a budget
As mentioned earlier, you can choose to do a website refresh or opt for a complete redesign. Depending on the complexity of your project, you need to allocate the appropriate budget.
For example, if you're completely redesigning a website, you also need to think about whether you'll hire a professional copywriter or write the copy yourself. Similarly, if you need a brand photoshoot, you'll have to add that to the cost of your website redesign.
Plus, hiring a designer will be more expensive than using the DIY approach — so that's another thing to keep in mind when it comes to your redesign budget.
Pros and cons of redesigning your website yourself
Using the DIY approach to redesign your website is certainly a viable method. But as with anything else in life, there are pros and cons.
Pros of DIY website redesign include:
You'll save money by not hiring a designer, copywriter, photographer, etc.
You'll get to know your website platform inside and out.
You'll be able to confidently update your website whenever you need to.
The downside of redesigning a website yourself is that it can be quite time-consuming, especially if you're a beginner.
Pros and cons of hiring a designer
If you don't have a lot of time on your hand, hiring a designer might be your best option.
Pros of hiring a designer include:
Frees up your time so you can focus on other tasks in your business.
You'll end up with a unique website that looks professional.
Your website will stand out and be set up in a way that helps you reach your goals.
The downside of hiring a designer is that it can be an expensive option. Plus, some designers have a long waitlist, which means you might have to wait a few months for your project to be done.
Redesigning your website with WordPress
If you're using WordPress to redesign your website, you have a couple of options. You can opt for a complete redesign with a custom-coded theme. This option will probably be the most expensive if you're hiring a professional designer.
Alternatively, if you have the time and the will to learn code, you can create a custom theme yourself. Keep in mind that this can be quite time-consuming if you're a beginner coder.
Another option is to use a premade WordPress theme as the base and customize it with your colors, fonts and content. This option is quite effective as it allows you to redesign a website quickly and is often cheaper, even if you're hiring a designer.
Using a website builder to redesign your website
With a website builder, your redesign can be a lot simpler. Most website builders use a drag-and-drop interface, which makes it easier to complete the redesign yourself. There's also no complicated code so you can complete the redesign much faster.
You can compare best business website builder and choose one that offers easy setup, links to social media accounts (Facebook, Instagram, Google, Yelp), built-in SEO and marketing tools, appointment booking, and online payment capabilities.
Depending on the website builder you use for your website, you might have to redesign the pages from scratch. However, some website builders come with built-in templates so you might just need to switch to a new template and add your content, colors and fonts.
Redesign your website with GoDaddy's Website Design Services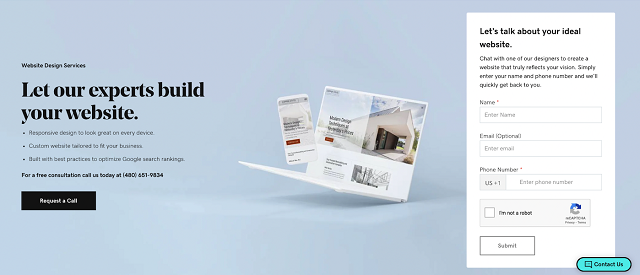 If your website is in dire need of a redesign, GoDaddy's Website Design Services could be a great solution. Unlike many independent designers, the GoDaddy design team offers a fast four- to six-week turnaround so you can launch your new website quickly. Plus, with more than 20 years of experience, you can rest assured that your website will look polished and professional.
GoDaddy Website Services offers a range of web design packages suitable for websites of all sizes, from simple websites to online stores. Best of all, your website will look great on all devices and be optimized for search engines.
Let's wrap it up
Redesigning your small business website might seem like a daunting task. But once you know your options and what steps are involved, it's a lot easier to put together a game plan to redesign your website.
To recap, you can redesign your website using the DIY approach with the help of a premade theme or a course. Or, you can hire a web designer to do it for you. No matter which option you choose, keep the following in mind:
Give your website a thorough audit to determine what content and features need updating and what needs to be removed
Identify the primary goal for your website
Define your visual style
Keep your target audience in mind to ensure the redesigned website still appeals to them
Once you've completed the steps above, gather all your content and use the tips outlined in this article to help you redesign your website. And if you want to hand over the redesign to a trusted professional, chat with one of GoDaddy's expert designers to create a website that truly reflects your vision.