This article was originally published on July 24, 2015, and was updated on November 8, 2019.
An estimated 34 percent of the web runs on WordPress, the open-source content management system beloved by techies and technophobes alike. And for good reason — WordPress is easy to use, highly customizable, and incredibly powerful.
At GoDaddy, we relish the dual simplicity and complexity of WordPress.
It's a great platform to help entrepreneurs with a touch of tech-savviness get online. Our Managed WordPress Hosting platform is perfect for the aspiring author, the Main Street coffee shop, or the indie musician — people who want a gorgeous, functional website without a lot of fuss or expense.
On the flip side, we also help professional web designers and developers host fully customized WordPress sites for their clients. These web pros live and breathe WordPress, and with our GoDaddy Pro program, we've made it easier for them to build and manage WordPress sites for their clients.
Related: 7 benefits of WordPress websites
We're big fans of WordPress, and we're here to tell you all about GoDaddy Email Marketing as a natural companion to the platform. Here's why:
GoDaddy Email Marketing and WordPress embrace simplicity
GoDaddy Email Marketing is WordPress-friendly
GoDaddy Email Marketing is built for bloggers
Like WordPress (or a fine wine), GoDaddy Email Marketing has complexity
Ready to take a closer look? Let's go.
GoDaddy Email Marketing and WordPress embrace simplicity
The team behind WordPress is proud of its simplicity and for good reason! They've brought classy web design to the masses — no easy feat. Our mission is to do the same for email marketing, and GoDaddy Email Marketing might just be the simplest email marketing on the planet.
Our software is designed to help you create a clean, modern, branded email in minutes.
Our email composer makes it easy to drag and drop a variety of text- and image-based modules to build the perfect email. You can also create a unique Theme with colors and fonts that reflect your brand.
With GoDaddy Email Marketing, your emails aren't weighed down by complex, multi-column templates. Why does that matter?
Emails designed with our software are highly readable (check out a few GoDaddy Email Marketing examples here). When your emails hit the inbox, your subscribers will be able to read them with ease and (hopefully) heed your call to action.
That means more clicks and sales for you.
GoDaddy Email Marketing is WordPress-friendly
WordPress and GoDaddy Email Marketing are both simple to use, and they're also simple to use together with our GoDaddy Email Marketing Signup Forms plugin, which allows you to place — you guessed it — a signup form on your WordPress site.
If you're not currently collecting email addresses on your site, you're missing out on gobs of potential business!
For instance, here's a simple WordPress site for my imaginary doggie cafe.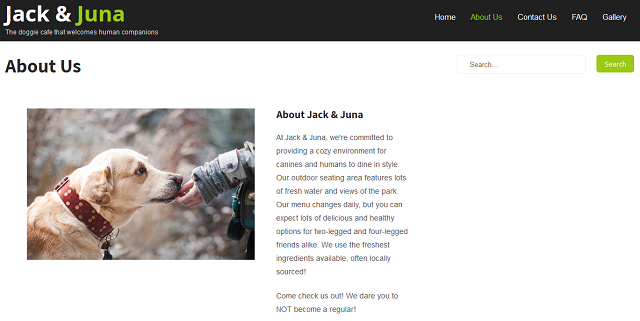 With email marketing, I don't have to wait for customers to come back to my site — I can reach out with an email chock full of entertaining, useful content. Even if customers don't open every email, seeing my subject line might remind them to stop by.
WordPress users with a GoDaddy Email Marketing account can use the plugin to add signup forms using (1) a widget (great for sidebars), (2) a shortcode (great for inline text) or (3) a template tag (great for developers).
There's no need to worry about matching up fonts and colors. When you use the plugin, your signup form will automatically match the style of your WordPress theme.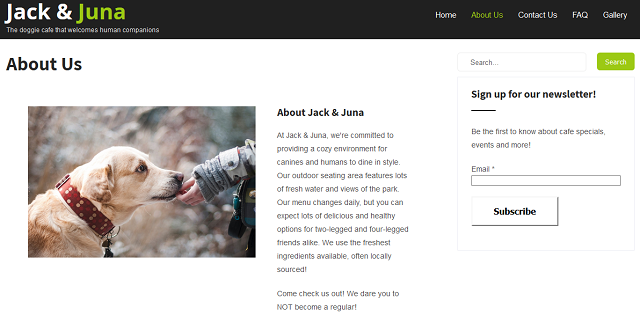 WordPress users can easily add our plugin from their WordPress dashboard. Just go to Plugins, click Add New and then type "GoDaddy" in the plugin directory search bar. Locate the plugin and click Install Now.
Complete setup instructions are available in our help section.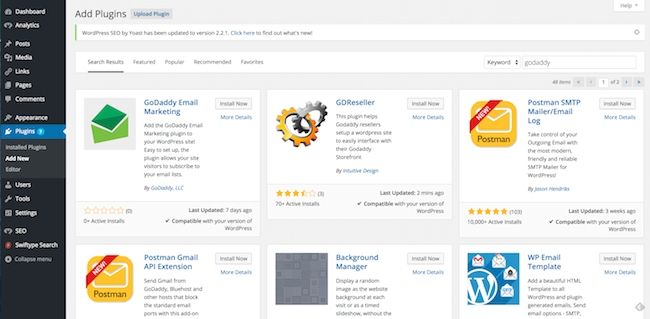 GoDaddy Email Marketing is built for bloggers
WordPress-based bloggers will feel right at home on the GoDaddy Email Marketing dashboard. Like WordPress, we make it easy to draft, edit and send (or post) content. But why should bloggers care about email marketing?
Savvy bloggers use email marketing to create a deeper connection with their followers.
They use email to connect with their tribe on a different level, often with a chattier writing style.
Many bloggers set up a welcome email with our autoresponder feature — a great way to tell new subscribers what to expect and point out key resources on your site.
If you also sell products and services, you can use email to run subscriber-exclusive deals, host email-based courses or send coupons on subscribers' birthdays.
But if I had to pick just one email marketing tool for bloggers, it would be RSS to Email, the mother of all email-based blogging tools. With this tool, you can automatically send your latest posts to your subscribers in a gorgeous, branded email. You add your blog feed, design a quick email and specify the frequency. Huzzah — your blog just became a little more sophisticated!
Like WordPress (or a fine wine), GoDaddy Email Marketing has complexity
By design, we've kept the complexity of GoDaddy Email Marketing out of view. But like WordPress, it's a sophisticated tool, and when you're ready for more advanced options, we're ready for you! We offer add-ons like personalization tags and triggers and have a host of useful integrations with apps like Facebook and Eventbrite.
So whether you're new to WordPress or you haven't missed a WordCamp, GoDaddy Email Marketing is designed for you. And while it's easy to get started with GoDaddy Email Marketing, we offer GoDaddy's signature 24/7 support to help you get the most out of your account.