GoDaddy guide to domain investing.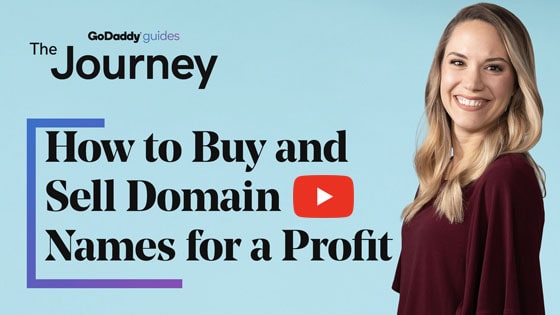 Wanna start investing in domain names or up your game as a domain investor?
Whether you're considering domain investing as a side hustle, looking for insights into how to buy and sell domain names for bigger profits, or seeking inspiration from folks who've mastered the art and science of domain investing, you're in the right place.
Domain investing resources
We've put together a collection of content aimed at educating aspiring domainers and providing established domain investors with additional tools and tips to grow their domaining ventures.
"Domain investing is hard work, but at the end of the day, it can be super rewarding." ~ GoDaddy Aftermarket Director Alan Shiflett
If you're just scoping out the world of domain investing, learn why domaining might be a great business opportunity. Then get to know the terminology that helps to define this exciting field.
Read our nifty 11-step guide to get started with domain investing. This includes learning the basics to getting involved in the active domain investment community.
Dig into the nitty-gritty of buying domain names so you can begin to build a strong domain name portfolio. You'll learn how to gauge the potential of expired domains and dropped domain names, as well as get best practices and tools for valuing domains.
Then get expert tips for selling domain names for profit, including an explanation of the practice known as "domain flipping" and insights into using GoDaddy Auctions and Afternic for selling domains.
Learn how domain parking can generate passive income. Explore the possibility of working with a professional domain broker to buy or sell domain names.
And see how state-of-the-art domain investing tools such as GoDaddy's free Investor App and Domain Name Value & Appraisal service can improve your odds for success.
"Technology can make the difference between losing premium domains and walking away with the asset you need to take your business to the next level," says Paul Nicks, GM and VP for Aftermarket Products at GoDaddy.
If you're ready to take the first step or the next step, we hope the domain investing resources on this page will support you along all stages of your journey.
You've got this.