Join GoDaddy and Adam Griggs, CEO & Founder of CLARAfi.io, for our January 26th virtual meetup, as Adam shares his top recommend apps and how they can help you to be more successful in your business.
This post was originally published on Sept. 18, 2017, and was updated on August 9, 2021.
I'll let you in on a little secret — ecommerce isn't going anywhere. In 2021, the number of online shoppers is expected to reach 230.5 million. And why not? When you can browse for goods from the comfort of your bed, purchase a product with the click of a button, and expect it to be shipped quickly (and sometimes for free), it's not hard to see why so many shoppers are turning to ecommerce options. Not sure how to make a website to sell stuff? Worry not. Today, we're here to help you find the best way to sell things online with a solid ecommerce site.
Whether you're just starting out or already have a brick-and-mortar store, you can sell products online to take your business to the next level. In this comprehensive guide for ecommerce success, we'll touch on everything you need to know to sell stuff online.
Why you should consider making a website to sell products
There are definite advantages and disadvantages to selling products online. However, with the ongoing boom in ecommerce following the business upheavals in 2020, offering a route for buyers to find you online is practically an expectation these days.
In fact, even excluding 2020 factors, ecommerce is growing 23% year-over-year, yet 46% of American small businesses still don't have a website. Don't risk missing out on that huge potential growth, get your business online ASAP!
What you need to sell stuff online
To realize the full potential of your site, and to sell stuff online, take a few preliminary steps before starting your online store.
Let's take a closer look at each step below.
1. Find items to sell online
This first step might seem a bit obvious, but you'll need to carefully consider the types of products that will sell well online. From new and used products to digital services and goods, there's a wide range to choose from.
If you already own a business, then the process of selecting items to sell online becomes much easier. You're likely already passionate about the products, goods or services that your business sells, so this decision becomes much easier.
However, if you're not sure where to start, you'll want to consider the types of products that sell well online and what's selling well currently. What's trending at the moment? Are there any current events that you could market your products towards? Do your products or services solve a problem?
Related: Best products to sell online in your ecommerce store
2. Check if there is a market for the products you want to sell
Once you've brainstormed the products or services that you'd like to sell online, you'll need to see if there's a market for those products. To do this, there are market research tools online that you can use.
For example, Google Trends can provide useful insight into the general interest levels of a particular idea or product in any region you'd like to research. If you need to find out what people are searching for, Google Trends can help.
Related: 11 steps to create a marketing plan for your business
3. Decide where you want to sell
After you've determined that there's a market for your product or service, now's the time to figure out where you'd like to sell your product.
For more regional products and services, setting up a brick-and-mortar location would be ideal. Additionally, you can also look into selling at trade shows, farmer's markets, or street fairs.
If your market is a bit larger, selling online would be a natural fit. GoDaddy Online Store Builder is the perfect online solution for selling products, whether you're familiar with building ecommerce sites or you've never done it before.
Related: Tips to boost sales in 2021 with Websites + Marketing
4. Register a domain name
This might seem like a no-brainer since we're talking about an ecommerce business venture, but there are certain tips and tricks you can take advantage of when it comes to establishing your business online.
First, you'll need to acquire a domain name. Generally speaking, you'll want a name that is easy to type, short, memorable and preferably incorporates relevant keywords or your specific location (i.e., BestSushiPhoenix.com). Spend some time researching ideas, and then pitch them to friends and family to see what sticks.
While .com extensions are far and away the most popular domain ending, don't limit yourself to a .com if it means sacrificing the clarity of your name.
There are plenty of alternative domain extensions perfect for ecommerce. Options like .shop and .store immediately tell shoppers that your website has a shopping element. How's that for instant recognition? In the hustle and bustle of the internet, the faster you can stand out (and be memorable), the better. To sell products online, you need to stand out.
Ready to look for yourself? Try it now:
5. Get a website
Now that you have a domain name, you'll need a website. Since you want to sell stuff online, look for a website building platform that can process payments, display products, help with cart abandonment and more. We'll discuss the options below, but two clear ecommerce frontrunners are WordPress with WooCommerce or a site builder with ecommerce functionalities like GoDaddy GoDaddy's Online Store Builder.
Related: Introducing GoDaddy Payments — Fast and secure payments for small businesses
6. Start selling on Marketplaces
In today's market, customers are increasingly turning to known social networks to research products before they buy. 43% of users, in fact, find and research products via social media. Websites + Marketing offers the ability to seamlessly sell your products and services directly on your own website, as well as on Marketplaces, which includes Google, Amazon, Facebook, Instagram, Etsy, etc.
7. Build your product profile
This step is a bit more involved, and we'll be covering it in-depth further into this article. However, it's vital to your online business to have clear, descriptive and concise product titles and descriptions. In many cases, this information will be the customer's first introduction to your business and products, so it's important to be accurate.
Additionally, you'll want to be sure that you're including clear and useful product images for your website. We'll jump into this topic later in this article as well.
8. Publish your product online
Once you've completed all of the steps above, it's time to make your website live. You'll want to be sure to fully review your website before taking it online to ensure that there aren't any embarrassing typos, dead links or broken images.
How to sell products online best practices
Now that you understand the basics of how to start an online store, let's dive into some best practices to get the most out of your site.
We're going to start with the meat and potatoes of your ecommerce site — its content.
1. Research market pricing
An important first step in selling stuff online is figuring out the price ranges for your products and your competition. Pricing is a complicated mix of factors that will directly impact customer perception of your brand.
Not sure where to start? Our comprehensive guide here has you covered.
2. Create compelling content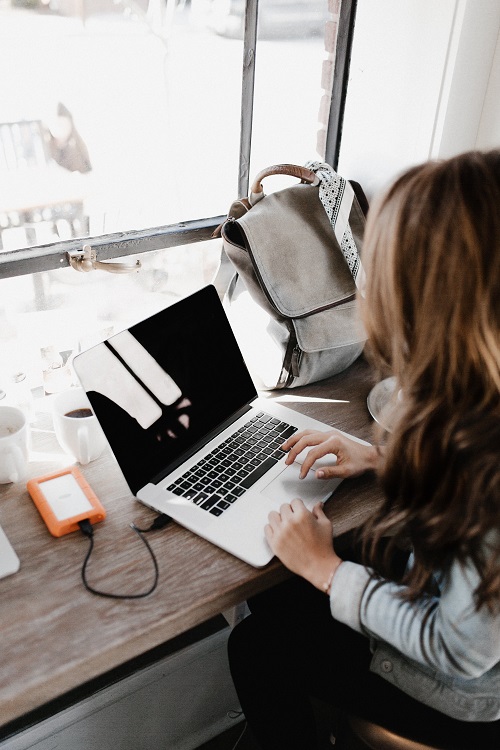 Before you write anything, you'll need to first determine your target audience. We mentioned the importance of this earlier, but it's especially relevant when it comes to crafting your web content. You wouldn't use stuffy, hard-to-comprehend lingo for selling T-shirts to kids, and if you're in the market of selling insurance, you wouldn't lean on humorous language to inspire trust.
Consider your audience to determine your tone, and then start by writing your business story — how did you get here, why are you in business, what matters most to you — and include it in your Home and About Us page. Answering these questions puts a face to your brand and provides incentives that could turn visitors into consumers.
3. Focus on the product page
While you're considering your compelling content, you'll need to also write up some product descriptions. But remember — there's more to compelling content than listing a bunch of features. Features are things that make up a product (i.e., colors, textures, sizes), and benefits answer the age-old question, "Why would I buy this?"
In other words, benefits define the value of what you're selling to the customer.
Writing web content doesn't have to be difficult. Stay true to your brand, incorporate relevant keywords when applicable, and consider your consumer. And of course, always, always, ALWAYS use relevant calls-to-action.
4. Describe your products in detail
So now that you have a rough idea of the content that needs to be added, it's time to describe your products for your customers. The product detail may be tempting to rush through, but take your time when writing.
If you need guidance and inspiration for your product information, our detailed how-to guide will help you with your task.
5. Take captivating product photos
People say a good photo is worth a thousand words — and they're not wrong. Especially when it comes to selling stuff online. Because consumers are missing out on the tangible aspect of shopping, they're relying entirely on your words and images to sell them the product.
Even if you're not a professional photographer, you can take pro product photos with your smartphone.
It's true — all you need is a few key styling tips:
Use natural light when possible.
Focus on the details of your product.
Take photos from multiple angles.
Show them in action.
Use editing tools to give your images an edge.
For the most part, you'll probably want to take your own product pictures. It's perfectly fine to use stock photography on occasion, but you don't want to falsely represent what you offer. If you're going to use stock photography, stick to incorporating them throughout your web content and not as the product images.
6. Include contact information and testimonials
Including pertinent contact information, both on a dedicated Contact Us page and throughout your site, is key to creating a seamless shopping experience.
If your customers ever run into issues, you want them to be able to contact you immediately — not get frustrated and abandon the sale altogether. A contact form is a great solution, but make sure your phone number and business hours are visible, too.
In addition to contact information, it's important to display testimonials from your customers. Customer reviews inspire trust. They show potential buyers that your products actually solve pain points for real people. They're absolutely vital for ecommerce sites, and you can curate them by sending out customer questionnaires.
To generate meaningful, authentic reviews, ask your customers things like:
Why did you buy this product?
What problem were you previously having that's now solved because of this purchase?
How do you use this product?
How do you feel about this product or the business?
How often/when do you use this product?
Be sure to encourage specifics and shy away from yes or no questions. And of course, always make it known that you're going to share their thoughts or secure permission first.
7. Consider providing discounts and offers
During your journey to sell stuff online, it's a good idea to offer incentives and discounts in order to attract customers early on. However, you'll want to be sure that you're not inadvertently cutting into your bottom line.
When determining the discount amount, the main number to consider is the profit margin. Luckily, there's a simple equation for this: (retail price – cost) ÷ (retail price). Because sales will cut into profit, this number will help you determine the markdown amount that makes sense for your business.
Once you've decided on an acceptable profit margin, you'll want to consider the types of discounts you'll offer. Do you want to drive customers to your company newsletter? Offering a newsletter signup discount would be a great option. Want to drive repeat sales from your customers? Consider offering loyalty discounts. Just remember to keep your profit margins in mind.
8. Use an easy navigation and checkout process
Both WordPress and Websites + Marketing make it easy to design a site with ecommerce in mind. So when you're customizing your layout, incorporating pictures, and crafting compelling content, it's also important to consider how you'll convert visitors to shoppers.
A good web design always considers function before flash.
Group like products together, make the checkout button easy to find, make your call-to-action clear, use related products or cross-selling features, and make sure your shopping cart is easy to edit.
Your goal is to make online shopping as smooth as possible. If the journey to your shopping cart is frictionless, customers are more likely to complete a purchase.
Related: 10 best practices for website navigation
9. Pack your products well
You've successfully directed your customers from site visitors to buyers. Now is when you'll need to direct your attention to how well you pack your products. Your buyer is excited to receive their purchase, so you'll need to ensure that it arrives fully intact.
Beyond keeping the products safe in transit, consider adding fun flourishes or creative packaging to make your brand really stand out. If you have samples, consider adding a few to entice further purchases. Your packaging represents your brand, so make it memorable.
Related: Top-notch shipping tips for your online store
10. Market your products
An important piece of the puzzle when selling things online is to continue marketing your store and products. In today's crowded marketplace, it can be tough to stand out from the competition, so if you need some inspiration, our marketing campaign guide will help you out.
11. Respond quickly to customers
You'll want to also be sure that you're keeping an eye out for customer correspondence. Help requests or feedback can come from numerous sources, from social media to customer reviews. Stay on top of customer feedback, whether good or bad, to foster a positive experience with your ecommerce business.
Related: Update online reviews to increase trust in your business
12. Beware of scams
An unfortunate reality for ecommerce website owners is fraud. Return fraud can be a complex and frustrating issue, so it's important to make sure that your online store is prepared. Not sure where to start? Our ecommerce fraud guide can help.
How to sell stuff online with GoDaddy's Online Store
Now for the fun part! It's time to build a website so you can sell stuff online. If you're like most budding entrepreneurs and small business owners, you already have your hands full with the day-to-day tasks associated with running your business. You probably don't have time to learn how to code or spend hours teaching yourself how to navigate the back-end of a content management system (CMS). The good news is, you don't have to.
With Websites + Marketing, you can easily create a beautiful
online store
with all the ecommerce bells and whistles — no experience required.
And, as icing on the ecommerce cake, it's free to get started. Don't delay, build your free online store now!
Related: How to start an online store in 3 steps
How to sell your items online with WordPress and WooCommerce
If you're looking for a more robust ecommerce solution without the hassle of learning HTML, then GoDaddy's Managed WordPress Ecommerce Hosting might be the option for you. With our Quick Start Wizard, you can be up and running in no time. It simplifies the process by collecting information about your business during the simple setup and then sharing beautiful themes and content based on your industry.
Within WordPress, WooCommerce is a powerful ecommerce platform that makes setting up an online store simple. Ready to sell with WooCommerce? You can get started or see it in action here.
This article includes content originally published on the GoDaddy blog by Maxym Martineau.